Last updated on January 1st, 2023
There are a lot of air purifiers that are marketed for medium-sized rooms, yet not all of them are good. Many are plagued by bad design choices preventing them from cleaning the air from dust or allergens, while others are too pricey or just broke too fast.
To help you decide which air purifier you want to have in your medium room I have compiled a list of 5 air purifiers that are 100% working and of high quality. Three of them I consider the best, based on their qualities and capabilities.
TOP 3 Air Purifiers for Medium Room
Note: the room coverage is based on 4.8 air changes per hour a.k.a. ACH. This is the recommended value for people who suffer from allergies and looking for an air purifier that can provide relief. An air cleaner can be used in a larger area, but it's not recommended to use it if it doesn't achieve at least 2 air changes in one hour. You can find the value of your selected air purifier yourself using this calculator; there I also have a table with recommendations for each room.
And here's more information about Clean Air Delivery Rate.
If you don't see the whole table, scroll it horizontally
Model

Blueair Blue
Pure 311 Auto

Tracs
TM 250 HEPA&UV

Air Health
Skye HEPA&UV

Image

Price

Under $250

Under $800

Under $700

Best For

Dust, Dander, Allergies

Viruses, Smoke, Mold, Dust, Allergies, VOCs, gases

Odors, Bacteria, Mold, Allergies

Room Coverage

388 sq. ft.

450 sq. ft.

453 sq. ft.

CADR

250 CFM

250 CFM

290 CFM

Filter Life

6 months

5 years

6 months

Filter Replacement

~$40

~$150

~$80

Auto Mode

WiFi

Noise Levels

23 - 53 dB

44 - 59 dB

22 - 59 dB

Max Power

3 - 35 Watts

100 Watts

10 - 50 Watts
Blueair Blue Pure 311 Auto: Affordable & Reliable
Blueair Blue Pure 311 Auto is an ideal portable air purifier if you have pets and your main concerns are dander and allergies. Blueair air purifiers usually pass an independent test from Association of Home Appliance Manufacturers (AHAM) and the Blue Pure 311 is certified for medium sized rooms of 388 sq. ft.
The Blueair's pre-filter makes sure to capture pet hair and dander, while the HEPA air filter removes fine allergens and other airborne pollutants. The odor filtration is handled by the Activated Carbon filter, yet it's not as good as charcoal filters used by air purifiers like Tracs or Air Heath. However, it can eliminate light smoke and other smells.
As you probably already guessed the Blue Pure 311 features an Auto mode. In this mode the air purifier automatically controls air cleaning speed without any assistance: if air pollution gets worse, the speed is increased, if the air inside a room is clean, the speed goes down. At maximum speed, the air purifier produces 53 decibels of noise which sound similar to a quiet office, dehumidifier or refrigerator while at the lowest speed it is almost inaudible.
Maintenance costs are also low (around $100 per year), so Blueair Blue Pure 311 isn't going to burn a hole in your pocket as time goes on.
Tracs TM250: Best US-made HEPA & UV Medical-grade Air Purifier for Viruses, Bacteria, VOCs
| | |
| --- | --- |
| Room Coverage: | 470 sq. ft. |
| CADR: | 250 CFM |
| Filter Life: | up to 5 years |
| Replacement Filter: | Check Price |
| Noise Level: | 44 - 59 dB |
| Power: | 100W |
| Dimensions (WxDxH): | 15.5" x 15.5" x 21.5" |
| Weight | 46 pounds |
Tracs TM250 is a USA-manufactured, HEPA and UV air purifier for medium living rooms and large rooms. The construction is made entirely from welded steel and finished with a powder coat to last for decades. This air cleaner makes the previously reviewed Blueair look like a baby.
The same can be said about Tracs filters. The main HEPA H13 filter is tightly sealed and provides medical-grade filtration, to ensure even the finest particles won't get through it. The additional Merv 8 Carbon filter eliminates VOCs and gases. The HEPA filter can last up to 5 years (!) while the Carbon pre-filter needs a replacement each 3 to 6 months.
In addition to filters, the Tracs air purifier features 254nm UV-C lamps, placed in a special chamber inside a unit. When the air passes through the chamber, Ultraviolet Germicidal Irradiation destroys diseases and bacteria present in the air. The lamps need a replacement as well, however, their lifespan is expected at around 12 months.
This combined 3-stage air cleaning technology removes all kinds of airborne pollution, including allergens, viruses, VOCs, dust, mold, tobacco smoke and other odors. And maintaining this air purifier isn't costly at all as it employs the long-lasting HEPA filter and bulbs.
To sum up, the Tracs TM250 is the best air purifier for medium sized rooms if you want to breathe 100% clean air inside your house.
Air Health Skye: WiFi Air Purifier for Bacteria, Mold, Dust, Germs
| | |
| --- | --- |
| Room Coverage: | 453 sq. ft. |
| CADR: | 301 - 288 CFM |
| Filter Life: | 6 months |
| Replacement Filter: | Check Price |
| Noise Level: | 22 - 59 dB |
| Power: | 10 - 50W |
| Dimensions (LxWxH): | 11.3" x 11.4" x 26" |
| Weight | 30 pounds |
Air Health Skye is another AHAM-verified air purifier that features high airflow capable of removing all air pollution in a medium room. Similar to the Tracs air cleaner, this one also uses UV bulbs to kill viruses and bacteria, but the filtration process is a bit different. I recommend checking my review where I more thoroughly explain how the system works.
Here I'm just going to mention 2 things:
This air purifier employs both HEPA and UV filtration, meaning it can kill bacteria and mold spores as well as dust and odors;
Its Carbon filter absorbs tobacco smoke very fast.
This is also the best air purifier when it comes to automatic air filtration. Thing is, most air cleaners use one sensor for determining air quality and often they can't recognize the air pollution. This results in an air purifier slowing down the speed, and harmful particles continue floating all around.
Air Health has been present on the market for decades and they know the drill. The Skye uses 5 sensors, two of them for VOCs and gases. Therefore it's a walk in the park for the unit to detect any kind of airborne allergen, gas and other irritants, and adjust the speed to remove them as quickly as possible.
To make it even easier, the Skye features a WiFi connector that allows you to connect it to a phone and run the cleaner with an iOS or Android app. The app is extremely easy in use, so even a grandma can control the unit with her smartphone.
At night this air purifier produces even less noise, due to the special Night mode.
All in all, the Air Health Sky is an extremely powerful and user-friendly air purifier, that efficiently cleans the air in medium sized rooms (AHAM recommends to use it in 453 sq. ft. rooms). It filters smells, dust and germs at an astonishing rate, keeping everyone healthy and energetic.
Winix PlasmaWave 5500-2 Air Purifier w/Washable Filters
| | |
| --- | --- |
| Room Coverage: | 360 sq. ft. |
| CADR: | Dust 243 / Pollen 246 / Smoke 232 |
| Filter Life: | 12 months |
| Replacement Filter: | Check Price |
| Noise Level: | 27.8 - 54.8 dB |
| Power: | 70W |
| Dimensions (LxWxH): | 8.2" x 15" x 23.6" |
| Weight | 14.8 pounds |
Winix PlasmaWave 5500-2 is also a popular air purifier for medium rooms. It doesn't feature a UV lamp, so its ability to remove viruses is somewhat reduced. However, its pre-filter, HEPA filter and Charcoal filter make sure to get rid of allergens, dust, smoke, pollen and smells at a high rate.
What makes the PlasmaWave 5500-2 interesting, is the washable Carbon filter. Instead of replacing the filter each time, you can wash it and put it back again saving up the money. Just make sure it's dry before getting it back!
To bolster air filtration, the Winix uses an ionizer, that uses ions to help the filter catch smaller particles. It produces a tiny amount of ozone which makes the air smell fresh. In a case you don't like that, the ionizer can be turned off.
The Winix PlasmaWave 5500-2 is a good option if you don't want to spend a lot of money on an air purifier, but want to get rid of the most common pollutants like dust, kitchen or bathroom odors and allergens.
Honeywell HPA300: Great Room Coverage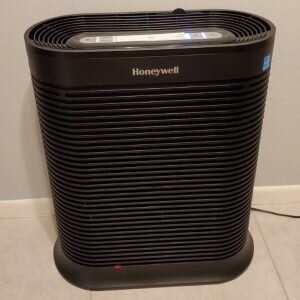 Click Here for More Specs & Full Review
Honeywell HPA300 is an air purifier mostly designed to remove dust, allergens and smoke due to its high CADR rating. However, the air purifier doesn't feature a pre-filter, which is why I have put this air purifier in the fifth spot.
Another thing I dislike about the HPA300 is the extremely high noise level when it runs at the maximum speed. Sometimes it sounds like a rocket ready to start in a few seconds! Just kidding, but 70 decibels are considered too high nowadays. So if you are intended to quickly clean the air  in a medium room, better to get out for some time and let the machine do its job.
However, low price and maintenance costs can make up for the cons. Honeywell is known for their affordable air filters, so maintaining the HPA300 isn't going to be a burden on your yearly budget.
Hopefully, now you have picked an air purifier for your medium-sized room. You can also take a look at air purifiers for 300 sq. ft. and 500 square feet rooms which I consider the best for the mentioned areas.