Last updated on January 17th, 2023
Some time ago I figured out that I need an air purifier for the whole house. I'm living in an old house and it often gets dusty, with dust floating all around, polluting space and the whole space was often filled with a musty odor. It's safe to say it wasn't a pleasant experience to just be at home sometimes. As you could've guessed, cleaning did help, but not for long.
I've already had A/C installed, so I've figured why not expand it with some cleaning device. It was early 2020, Coronavirus was already expanding into the US causing some panic and whatnot. After some time I narrowed my research down to GPS 2400 and RGF Reme Halo, later picking the latter mostly due to it being more powerful (6400 vs 2400 airflow) and having a 5 year warranty, as buying from eBay wasn't something I wanted to do.
Now I own the Reme Halo for a few months. In this review I will share my experience with this Reme Halo UV air purifier, whether it's good or not, what its pros and cons are, is it safe and other stuff. Let's start!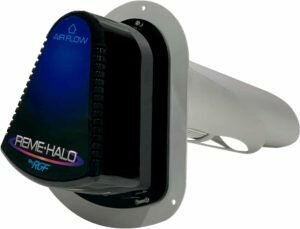 Specifications
My Reme Halo Air Purifier Review
What's in the Box
Reme Halo unit
Adhesive-backed foil mounting ring
4 mounting screws
UV lamp
24 VAC transformer
User manual and warranty card
Review
I purchased my unit for a little over $450, don't remember the exact price. It had a detailed installation manual, which came in handy for me as I've decided to install it myself without hiring a HVAC technician. Later I found out that a warranty isn't eligible if the air purifier is installed by someone without a proper license (Oops!..), but what's done is done.
At a time I didn't document how I installed my Reme Halo air purification system as I didn't know I was going to start up this website dedicated to air cleaners. I wish I had made a video about the installation process, but we are all smart in hindsight, right?
In short, to install and run Reme Halo you have to hook up 2 wires to your transformer and 2 to connect to the unit itself. It's also necessary to make a 3″ hole through a duct box and the unit itself must be installed in the supply or discharge side plenum of your HVAC system. Make sure you're drilling the box, not the mechanical parts of the HVAC system!
Pretty basic stuff, with the help of the manual it is like walking in the park.
There is a lot of information on YouTube regarding the installation of the Reme Halo in a duct. Here's a good example of such a tutorial:
It's short and on point, without unnecessary talking.
What next? After successful Reme Halo installation I powered it on and the indicator had let me know that UV bulb works (sorry for the quality):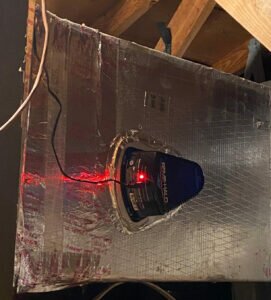 Now to the more interesting part. Does Reme Halo really work for me and my family? What has changed? Here are my notes after using it for a few months.
Visually, there is a lot less dust in the whole house after I installed this air purifier. And it's not floating freely anymore like it was before.
This is backed up by the fact that my A/C filters are now filled with dust, dirt, and sometimes some fungi and mold. Before I was changing filters every 4-5 months, now they get really dirty only after 2 months, after that they require replacements.
Before buying Reme Halo I read some reviews and people suggested running it 24/7 and not relying on the Auto option. I followed this advice and it seems working for me.
My wife likes to cook and despite her cooking is always delicious, the grease smell didn't go out quickly. After installing this air purifier the smell doesn't get to other rooms, it simply "disappears" in the kitchen.
Now the whole home smells fresh air like it's after heavy rain. It is attributed to ozone that is released into the atmosphere with Reme Halo's UV light. I really like that smell, it makes me more active throughout the day if I'm at home, no matter what weather is outside the windows.
At the same time, some people cannot stand even the slightest increase in the ozone level in the air, as this will lead them to have a sore throat and other health issues. If you're asthmatic or have any other breathing issues, I'd strongly suggest you get medical advice before getting Reme Halo as it might be dangerous for you. It works for me, but for you, it may have side effects on your health. Better avoid them altogether!
Now regarding viruses, Covid-19 to be precise. From what I understand, nowadays UV bulbs are the only real things that are proven to deactivate viruses, they are used in hospitals and other medical facilities to disinfect the air. In a regard to Covid-19, I and my family weren't affected by this virus. Did Reme Halo play a role in this I don't know, but hope things stay this way (fingers crossed!).
That's basically it. I've been running Reme Halo UV light for a few months now and haven't had any issues with it so far. The bulb is expected to work for at least 2 years, so I'm down to only $20 per year in maintenance.
How Fast Reme Halo Cleans Air
Reme Halo can clean 6500 cubic feet of air per minute at max. Here's an example table of how fast the air purifier cleans the air in a room of different sizes.
| | | |
| --- | --- | --- |
| Room size | How long does it take to clean the air | ACH (What's that?) |
| 1500 sq. ft. | 2 minutes | 32 |
| 3250 sq. ft. | 4 minutes | 15 |
| 4860 sq. ft. | 6 minutes | 10 |
| 9700 sq. ft. | 12 minutes | 5 |
| 24000 sq. ft. | 30 minutes | 2 |
If you want to check how fast Reme Halo can clean air in your room size use our calculator.
Reme Halo Maintenance Costs
When it comes to Reme Halo replacement parts, there aren't many – the only part you have to change from time to time is the bulb cell. Everything else doesn't need a replacement and can work for decades. That's why overall costs of maintaining the air purifier are relatively low.
Electricity Costs: ~$1,7 per month, ~$20 per year if used 24 hours per day. Calculate electricity usage for your house.
Reme Halo UV Bulb: ~$200 every 2 years for a cell replacement. Check availability and price.
Overall costs:
$20 first year
$20 second year
$220 third year
$20 fourth year
$220 fifth year
Pros & Cons
The Good
Easy to install (installation instructions are included)
Removed dust and odors in my house
Sanitizes the air and eliminates bacteria and viruses
2-year lifespan of Reme UV bulb
Supports extremely high airflow up to 6400 CFM, check the table above for references
A great solution for whole house air cleaning, no matter how big a house is
Will work greatly for commercial, public and industrial spaces
The Bad
Limited warranty – there were cases when the warranty was eligible only if a HVAC technician installed Reme Halo
Releases a small amount of ozone, may not be suitable for some people
Installation costs could be pretty high
FAQs on Reme Halo Air Purifier
Here are some frequently asked questions about Reme Halo UV air scrubber. Some of them I already answered in this review, but here they are anyway:
Can I keep running RGF Reme Halo all day?
I run it 24/7 and currently do not have any issues with it.
Can the UV light cause damage to materials present inside the air handler, such as plastic or gaskets?
I keep it at a distance of 2 feet from elements that are not metal.
How long can the Reme Halo UV light last?
The RGF company says UV bulbs last around 2 years and it is necessary to replace the cell once it starts wearing off.
Where is the best location to install the unit?
The prime position to install your unit is inside the plenum, next to the air handler. Choosing the correct position will help with the proper air cleaning.
Does Reme Halo air purifier produce ozone?
Yes, but a negligible amount. You may notice a slight ozone smell.
What about Reme Halo ozone reviews? I have asthma, can I use it to purify the air?
In this case, better avoid any air purifiers that release ozone into the air. Reme Halo is certified to release ozone below a dangerous threshold and the vast majority of people aren't affected by it.
But in your case, Reme Halo might trigger several side effects like sore throat, headaches and other unpleasant experiences.
If you have asthma it is recommended to buy an air purifier that employs passive filtration with a HEPA filter and does not release ozone (I have listed some of them down below in the Alternatives section). You can also contact your physician for more information on this matter.
Reme Halo not working! What should I do?
Do you mean your Reme Halo indicator light isn't on? 99% chance the bulb isn't working. Check it first.
Apco X vs Reme Halo: which one should I buy?
Stick to Reme Halo. Apco X isn't sold separately so you can't install it yourself which raises costs. And it's really the same, just slightly more powerful.
Does Reme Halo kill mold?
After a while, I found inside my A/C filter parts of mold after running the air purifier for a week or so. After that none was found. I guess it does kill mold spores. If you are having mold allergies you probably should try Reme Halo.
Does Reme Halo kill Covid-19?
As I pointed out earlier, UV-bulbs employed by this air cleaning system is the most effective thing against viruses. Until the vaccine is developed, these are the only somewhat reliable killers of viruses, including Coronavirus cells.
Reme Halo vs Reme LED
Let me first throw in some specs for you:
If you don't see the whole table, scroll it horizontally
| Model | Reme Halo In-Duct Air Purifier | Reme LED In-Duct Air Purifier |
| --- | --- | --- |
| Max. Supported Airflow | 6500 CFM | 6500 CFM |
| Light Source | UV bulb | LED Bulb |
| Light Lifespan | 2 years | 4.5 years |
| Ozone-Free | | |
| Power | 17W | 17W |
| Weight | 6 pounds | 6 pounds |
| Dimensions (L x W x H) | 13.8" x 6.5" x 7.5" | 13.8" x 6.5" x 7.5" |
| Warranty | 5 years | 7 years |
| Price | | |
To sum them up, Reme LED uses a different kind of light source that doesn't produce any ozone at all and has twice the lifespan: 4 and a half years vs only 2 years. Plus the warranty period has increased from 5 to 7 years (if installed by a licensed HVAC technician).
Other than that, they are identical except for the price which has risen to almost $750. If you are an asthmatic, then Reme LED is a must have air cleaner.
Reme Halo vs iWave-R
Here are specs difference:
If you don't see the whole table, scroll it horizontally
| Model | Reme Halo In-Duct Air Purifier | Nu-Calgon iWave-R 4900-20 |
| --- | --- | --- |
| Max. Supported Airflow | 6500 CFM | 2400 CFM |
| UV-light | | |
| Power | 17W | 10W |
| Weight | 6 pounds | 1 pound |
| Dimensions (L x W x H) | 13.8" x 6.5" x 7.5" | 6" x 4.8" x 2" |
| Warranty | 5 years | 3 years |
| Price | | |
iWave-R is smaller, cheaper but less powerful air purifier when compared with the Reme Halo. It also uses different kind of air cleaning: instead of UV bulb it employs an ionizer. I recommend you to check my iWave-R review to get a better understanding of what it is and how it works.
Bright side: iWave-R doesn't release ozone. If you are worried about any side effects you might experience with Reme Halo, you won't have them with iWave.
Alternatives of Reme Halo Air Purifier
Here are some conventional air purifiers that use HEPA air filters and are completely safe for anybody. If you are worried about the side effects you might have with the Reme Halo, you want to take a look at the air purifiers listed below.
Alen BreatheSmart 75i
Alen BreatheSmart 75i is considered a great HEPA air purifier by many due to its ability to capture smoke and other kinds of odors. On the downside, the HEPA air filter has to be replaced every 12 months, as well as pre-filter (lifespan 3-6 months).
Coway AP-1512HH Mighty Air Purifier
The Coway AP-1512HH Mighty Air Purifier is one of my favorites. It has auto mode, eco mode, air quality and filter change indicators. The product uses a true HEPA air filter to capture dust, pollen and smoke. For the price it's one of the best, considering the high CADR rating and general performance.
Honeywell HPA300 Air Purifier
Honeywell HPA300 is another popular portable HEPA air purifier that does not produce ozone and is safe for everyone. It reduces airborne particles including dust, comes in a compact size and also has a carbon filter that helps to reduce odor.
Final Thoughts
So, was the Reme Halo worth the price I paid? Absolutely! It's a really powerful whole house UV air purifier that removed the "dust problem" in my home.
Should you get it? Definitely! If you're planning to install it yourself then it's probably the most powerful air purifier up to date, if we count the amount of air moved per minute. It outperforms other UV air purifiers greatly, including iWave-R.
If we take into account Reme Halo installation costs, then it's slightly less great deal moneywise but still one worth considering.
Reme Halo warning: due to RGF policy, your warranty will be voided if you purchase the air purifier from any online retailers including Amazon. As I've mentioned previously, installing the unit isn't rocket science and many people do exactly that without any problems. However, you have been warned.
2022 UPDATE: My Reme Halo is still working, several days ago bought a new replacement bulb for less than 200 dollars. The previous one worked for 23 months and then died. RGF says it should work for 2 years, so it's ok. The light wasn't on one day, good that I developed a habit of checking it from time to time.
I've had some people contacting me and asking whether Reme Halo is worth the money now. Hard to answer in one go, honestly. On one hand, it works flawlessly, doesn't require maintenance and is super cheap when it comes to power consumption. On the other, a unit installed by a HVAC technician may make your wallet dry: in some US states the price goes above $2000!
If your HVAC technician offers you Reme Halo for this price, run from him, run! For a lower price, you can get an all-in-one portable air purifier with UV lights to kill germs, bacteria and inactivate viruses; a HEPA filter to capture airborne particles and large Carbon filter for odors. The prime example of such an air purifier would be Tracs UV HEPA TM 250, go check my review here. It's also ozone-free and replacement bulbs are cheaper. In addition to that, the Tracs TM250 doesn't require any installation and the manufacturer offers a 5-year warranty.
If Coronavirus is your main issue, then Reme Halo is still on the top. In October 2020 RGF has tested the air cleaner and it inactivated 99.9% of particles associated with SARS-CoV-2.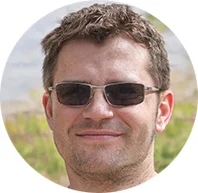 My name is Alex Evans and I own this website. I have been in air purifier industry for several years now and nowadays I write about air purifiers, their features, benefits and downsides. Cheers!