Last updated on December 2nd, 2021
If you are looking for a large area air purifier that is eco-friendly, powerful, and easy-to-use, the NuWave OxyPure Air Purifier is a product worth considering. You may be familiar with it from its As Seen On TV advertisements.
As a smart air purifier, this device automatically adjusts its fan speed to the quality of your air, ensuring that you never spend more on purifying your air than you need to.
In this NuWave Oxypure review, you will learn in-depth about the features and benefits of this air purifier. We will answer various frequently asked questions about this home appliance and take a look at what customers have to say. I will share my personal experiences with you as well. Let's begin this review!
Shop NuWave OxyPure w/4 filters on Official Website
Specifications
| | |
| --- | --- |
| Space Coverage | 1,245 square feet (calculate ACH for your room) |
| Virus Removal | 99.96% |
| Bacteria Removal | 99.99% |
| Filtration Technology | Advanced 5-stage air filtration technology |
| Filter Life | |
| CADR Ratings | 332 (Smoke) / 369 (Pollen) / 346 (Dust) |
| Max CFM of Air Moved | 350 |
| Speed Settings | 6 |
| Auto Mode | |
| Sleep Mode | |
| Sensors | |
| Noise Level | 29 – 50 dB |
| Wi-Fi | |
| App | |
| Power | 125 Watt (How much Electricity will it use?) |
| Weight | 26 pounds |
| Dimensions (L x W x H) | 14.2″ x 14.2″ x 26.3″ |
| Warranty | 5 years on unit |
My NuWave OxyPure Air Purifier Review
Now that we have gone over the specifications of NuWave OxyPure, let's learn more about its features.
A Powerful, Long-Lasting Five Filter System
The NuWave OxyPure uses a five-filter system to clean your air. The filters include:
A reusable, Stainless-Steel Pre-Filter: The pre-filter in the OxyPure is the component that removes dander, pet hair, pollen, and other larger contaminants. When the filter becomes dirty, you can take it out and wash it, and then put it back in. If you take good care of it, it can provide you with up to 20 years of performance before you need to replace it.
A Bio-Guard Filter: To remove smaller particles from the air, the OxyPure features an Electrostatic Precipitation (ESP) Bio-Guard Filter. Even particles as small as 0.09 microns will be caught by this filter. This is significantly smaller than the 0.3 microns that a lot of competing products capture. The filter can last 20 years.
An Ozone Emission Removal Filter: It can bring the level of ozone gas in your air down to below 1 ppb. The EPA sets the ozone gas standard for households at 70 ppb. So, this filter more than does its job. Like the other two filters above, it can last you up to 20 years.
A Combination HEPA/Activated Carbon Filter: Finally, the last two components of the five-stage filtering system for this product are combined into one. The HEPA/Activated Carbon Filter helps to remove a wide range of pollutants from your air. Mold, pollen, dust mites, emissions, cleaning chemicals, and volatile organic compounds don't stand a chance. This is also the part of the filtering system that helps to remove unwanted odors from your home.
The Combination HEPA/Activated Carbon Filter isn't washable and reusable like the rest, and it doesn't last 20 years. But the good news is that NuWave provides you with four replacement filters at no additional cost when you buy their air purifier.
I have owned this unit for a year now, and it was only just this past month I needed to replace my original HEPA filter.
Eventually, of course, you will need to buy additional HEPA filters. Each one retails for $50.00 + $11.95 packing and handling.
To purchase replacement filters, you need to head to https://www.nuwaveairpurifier.com/parts/. You can contact an agent on chat to manually place an order, or you can call the company and make your order over the phone. Alternatively, you may find an offer with additional filters for Nuwave Oxypure air purifier.
I am really impressed both by how well the five-filter system does its job, and by the longevity of each filter.
My previous air purifier required much more frequent filter replacements, which meant the long-term costs were really stacking up.
I am saving a lot of money since switching to this product with its long-lasting filters.
I am also breathing easier with a lot less mold and pollen in my household.
No Negative Ions
You probably have noticed that a lot of air purifiers on the market these days produce negative ions. The reason this is a big trend right now is because the negative ions that are present in some outdoor settings (i.e. the beach or near waterfalls) appear to impact health in a beneficial way.
But data is still mixed on whether producing large quantities of negative ions artificially has the same positive effect.
Not only that, but a lot of negative ion generators you can buy for your home actually introduce unwanted ozone.
On top of that, they tend to draw more power than devices that don't attempt to ionize your air.
It was really important for me to get a product that is eco-friendly and cost-effective. I also didn't want to worry about increasing ozone levels in my home.
So, I was happy to learn that the NuWave OxyPure does not produce negative ions.
Rapid Removal of Mold and Bacteria
Do you live in a part of the world where mold tends to build up? This product does a phenomenal job of removing mold from the air. Not only that, but it does it fast.
In fact, within just two hours of detection, OxyPure not only removes the mold, but kills it. This device does the same thing with bacteria.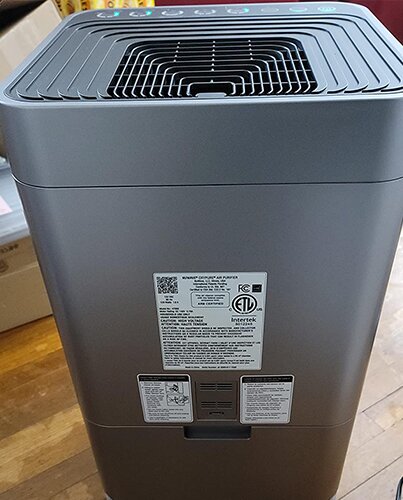 Both the speed of removal and the additional step of killing the bacteria and mold are advantages over other air purifiers.
Competing products often do not work this rapidly, nor do they kill what the filters catch. As a result, when you have to clean or change the filters, you are doing a really dirty job. You are potentially exposing yourself to harmful living pathogens.
But when you take out the filters from your OxyPure to clean them, you won't be endangering your health. Everything the filter caught will be dead and inert, no longer able to harm you.
Six Fan Speeds and Odor Levels
You have a high degree of control over this device thanks to its versatile settings. There are six different fan speeds to choose from.
To help eliminate guesswork, the display provides you with a visual indicator of how clean your air is. That way, you will know when it is time to run the device at turbo level to really give your air a good cleaning.
Also, you know how sometimes it can be hard to tell how bad your air smells, because you are used to it?
The OxyPure tells you how strong the odors in your household are on a scale of 1-6.
That way, you will never be caught off guard again. This is especially helpful when you are inviting guests over.
Protect the Environment and Save Money with Eco Mode
One of my favorite features of the NuWave OxyPure is Eco Mode. This is a large part of what makes it a "smart" appliance.
If you set the air purifier to run in Eco Mode, the appliance never uses more power than necessary to do its job.
It maintains the lowest fan speed by default. But it monitors your air quality as it runs. If it notices a change in your air quality necessitating more aggressive filtering, it will increase the speed of the fan.
Once the additional pollutants are removed from your air, the OxyPure will detect the improvement. It will then adjust the fan speed back down automatically.
NuWave writes:
The OxyPure is so energy efficient that you can leave your OxyPure running at fan speed setting1 for 24 hours a day, 7 days a week for 365 days a year and it would cost you less than 10 dollars on your energy bills!
This language is somewhat confusing, because it isn't clear what the company means. $10 a month? $10 a year?
In any case, from my own personal experience, I have found the OxyPure very cost-effective. It seems to run several dollars on my energy bills each month. It has added up to more than $10 over the course of the year, but it has been incredibly reasonable.
Calculate Energy Use of Nuwave Oxypure for yourself
I also have been impressed with how well Eco Mode works. It has allowed me to take a "set and forget" approach to purifying my air. Plus, when I see my low energy bill, I am happy about what I am doing with respect to the environment.
Sleep Soundly All Night
Are you using a noisy air purifier right now that wakes you up in the middle of the night? Nothing is worse than struggling to get back to sleep after an abrupt change in fan speed on a loud device.
The OxyPure solution is Sleep Mode. When you run the device on this setting, the lights switch off and the purifier doesn't use high fan speeds. That way, it stays dark and quiet in your room.
So far, this appliance hasn't woken me up even once. That is not something I can say about previous air purifiers I have used.
Excellent Ease-of-Use
As you will discover when you read the instructions I have included in one of the next sections, this product is extremely fast and easy to set up and use.
With indicators for air quality and filter status, you always know what you need to do to clean your air optimally.
Even better, you do not need to be standing in front of the OxyPure to check its status or change its settings.
You can download the NuWave Connect app to your device and adjust settings and check your air quality. So, no matter where you are in your home, you can control your air purifier.
This feature is extra convenient since you can use the OxyPure to clean the air in a relatively large space (see below).
Clean Air in Spaces as Large as 1,200 Square Feet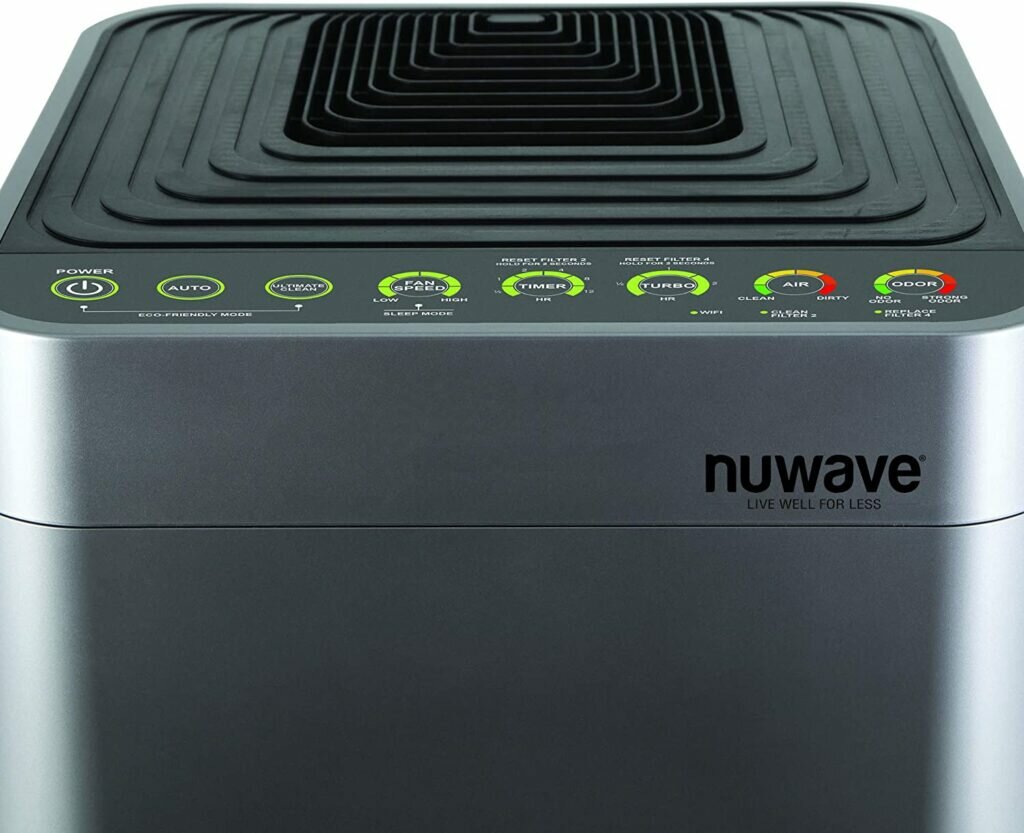 This product is rated to purify the air in spaces up to 1,200 square feet. That means you can purify the air in a large room, or even possibly several rooms if they total up to that much square footage or less and you have a reasonably open floor plan.
If you do need to move the air purifier from one room to another, doing so should be relatively easy thanks to the included wheels.
For comparison, many other air purifiers can only handle several hundred square feet. As such, they are ideal only for small- to medium-sized rooms, and usually cannot handle multiple rooms.
Considering that fact, if you went with one of those products and you do not live in a studio apartment or other small dwelling, you might have to purchase more than one.
That means that even if each unit were less expensive than the NuWave OxyPure individually, they could still add up to more money.
A Fully Certified Product
It is always important to check whether any air purifier you are thinking of buying has received certifications. That is how you know that the product has been tested successfully to meet rigorous standards.
The NuWave OxyPure has been certified by the California Air Review Board (CARB) and the Environmental Protection Agency (Energy Star).
That means you can expect it to perform up to CARB and EPA standards.
Suitable Room Size for NuWave Oxypure Air Purifier
Nuwave Oxypure can effectively cover spaces up to 1245 square feet. It is even more effective in eliminating bacteria in smaller rooms.
| | | |
| --- | --- | --- |
| Room size | How long it takes to clean room | ACH |
| 360 sq. ft. | 8 minutes | 7.3 |
| 580 sq. ft. | 13 minutes | 4.8 |
| 870 sq. ft. | 20 minutes | 3 |
| 1245 sq. ft. | 29 minutes | 2.1 |
| 1740 sq. ft. | 40 minutes | 1.5 |
| 2240 sq. ft. | 50 minutes | 1.2 |
Under normal conditions, ACH 2-3 is enough for bedrooms and living spaces. If you have allergies and/or asthma, you should look for air purifiers with air changes per minute rating around 4-5 or better. Minimum ACH rating of 8 is recommended in heavily smoked rooms.
If you want to calculate air changes per hour for your room using Nuwave Oxypure for air cleaning and get a closer look what are the general recommendations, go to the ACH calculator & recommendations page.
Maintenance Costs
Replacement Filters: ~$50 per year for a set of Activated Carbon filter and True HEPA filter. 5-year or 10 year supply for filters priced at $200 and $350 saving up to $50 and $150 in the long term respectively. For more details visit https://www.nuwaveairpurifier.com/parts/.
Electricity Costs: ~$6 per month running 12 hours per day on maximum speed. Use our Energy Consumption Calculator to estimate electricity usage and costs of the Nuwave Oxypure air purifier based on your local electricity rates.
Since the NuWave Oxypure comes with 3 additional filters, maintenance costs per year are as follows:
1 year: $75
2 year: $75
3 year: $75
4 year and beyond: $125
Pros & Cons
The Good
Setting up this air purifier is fast and easy, as is adjusting the settings.
The filtering system includes five different filters which work together to cleanse your air of dust, mold, pollen, dander, bacteria, viruses, smoke, volatile organic compounds, and other contaminants.
There are six odor levels to help you remove unwanted smells from your home.
Special modes for restful sleep and eco-friendly operation are available.
The long-lasting filters help save you time, money and hassle.
The Bad
On the highest setting, the fan can be pretty noisy.
Occasionally, these units seem to stop working after several months. Thankfully, the majority appear to be unaffected by this flaw.
Customer support quality can vary. Sometimes it is great, while other times it is hard to reach someone.
Shop NuWave OxyPure w/4 filters on Official Website
How to Use NuWave OxyPure Air Purifier
Now you are familiar with the features and benefits of the NuWave OxyPure. But how do you use this air purifier?
The filters are preassembled when you receive the appliance, so you do not need to do anything with them when you are just starting out.
Getting Started
Remove the purifier from its packaging and plug it in. You will notice the "Power" light is red. That means that the OxyPure is on standby.
To take the device out of standby mode, push on "Power" button. The light will switch from red to green.
Select a mode, for example, "AUTO."
You will hear the fan start running at this point. If you look next to "AIR" and "ODOR," you also will notice a couple of bars. These are the air quality indicators.
If you want to turn off the device, you can push on "Power" one more time.
Along with a selection of modes, the OxyPure also allows you to manually adjust the fan setting or set a timer.
Cleaning and Replacing the Filters
At some point down the road, the air purifier will alert you that it is time to clean and replace your filters. It will do this by switching on lights next to various indicators, i.e. "CLEAN FILTER 2."
Initially, you will see a blue light for a washable air filter. That is a strong suggestion that you clean it.
But eventually, you will see a red light. That means you must clean it.
Also, if you see a red light for FILTER 4, you have to replace it. That is the HEPA/Carbon filter.
Look at the back of the appliance. You should notice a handle for the Filter Slot Cover. Use it to remove the cover.
Remove the air filter you want to wash or replace.
Follow the instructions in the manual (I have included the link below these instructions) to wash the filter according to the specific instructions for that filter.
Set aside the newly-washed filter and wait for it to dry.
Put the filter back inside the purifier (or insert a brand new filter, if you are replacing one).
Put the Filter Slot Cover back. Make sure it is secure. If the purifier does not switch on, double check the cover. You probably didn't secure it correctly.
You are also going to want to regularly clean the filter sensor and vents.
You can view the full manual for the NuWave OxyPure here.
FAQ
You have basic instructions now for how to use the NuWave OxyPure. Let's take this moment to answer some frequently asked questions about this air cleaner.
Is NuWave OxyPure worth the money?
A: Absolutely. It is true that you will pay more upfront for this air purifier than for some competing products. But in the long run, you should end up saving money and enjoying superior performance.
Following are the reasons why this is a cost-effective purchase offering excellent value:
The OxyPure can purify air in up to 1,200 square feet. As a lot of other purifiers only cover 300-500 square feet, you might need to buy more than one of them.
The filters are incredibly long-lasting, reducing the overall amount you will spend on replacements over the lifetime of the purifier.
With Eco Mode, you can keep your energy usage to a minimum, and your electric bills as well.
Is NuWave OxyPure legit?
A: Definitely. This product has certifications from the California Air Review Board (CARB) and the Environmental Protection Agency (Energy Star).
Additionally, this is a popular air purifier, and you can find many reviews from users testifying to the quality of the device.
Can you wash NuWave OxyPure air purifier filters?
A: You may wash the Stainless Steel Pre-Filter and the Bio-Guard Filter.
But you cannot wash the HEPA/Activated Carbon Combo Filter or the Ozone Emission Removal Filter (OERF).
Nevertheless, it is not a big deal that you cannot wash the OERF, as it has a 20-year lifespan, just like the Bio-Guard Filter or the Stainless Steel Pre-Filter.
How long do NuWave OxyPure filters last?
A: As just mentioned, the Stainless Steel Pre-Filter, Bio-Guard Filter and Ozone Emission Removal Filter all last 20 years each.
In the instruction manual for this product, NuWave claims that the HEPA/Activated Carbon Combo Filter may only need replacement every five years, "depending on how often the unit is running in its environment."
But realistically, many users can expect to need to replace the HEPA/Activated Carbon Combo Filter roughly once a year.
What is CADR for Nuwave Oxypure?
A: CADR (Clean Air Delivery Rate) is 346 for Dust, 369 for Pollen and 332 for Smoke. This is one of the highest rating among all purifiers – only cleaners from $700 perform better.
How do I clean my NuWave OxyPure?
A: You can wipe down the outside of the unit with a dry cloth. If necessary, you can dampen it.
As for the top vent and the in-flow vent, a soft brush should do the trick. You can also use a damp cloth if necessary.
Sometimes, you may need to clean the odor sensor opening as well. A soft cloth is all that is necessary. Never spray anything through the grill.
Here is how to clean the filters:
Bio-Guard Filter: First, spray the filter with a mild degreaser. Then, wait for 2-3 minutes before submerging it in warm water. Do this as many times is necessary to get it clean. Rinse it thoroughly. Then, wait for it dry before reinserting it.
Wipe off accumulated lint and dust using a paper towel. If necessary, you can vacuum it off. Wash it in soapy water, rinse it, and wait for it to dry.
Make sure to reset the filter and air quality indicators after you are done. Additional cleaning instructions for other parts of the OxyPure can be found in the user manual.
Does NuWave OxyPure produce ozone?
A: No, it does not. In fact, it helps to filter ozone out of the air.
Are free HEPA replacement filters included if I order at Amazon?
A: Yes, though the exact quantity appears to vary based on customer reviews. It could be that this offer has changed over time. I ordered my unit at the official website and received four additional filters. Personally, I recommend ordering Nuwave Oxypure from there.
Does Nuwave Oxypure capture and eliminate smoke?
A: Yes, it does! It one of the fastest devices that eliminates cigarette smoke in large and small rooms.
What are the dimensions of the NuWave OxyPure?
A: This air purifier measures just 14.2 x 14.2 x 26.3 inches. Since it has rollers, it should go on the floor, not on top of a table or counter.
Where is the NuWave OxyPure manufactured?
A: The NuWave OxyPure is manufactured in China. It was designed in France and engineered in the United States.
How it helps with Coronavirus?
A: The Nuwave Oxypure doesn't have any direct impact on treating or preventing Coronavirus.
If you'd like to see more questions answered about this air purifier, go check this FAQ page.
Warranty
The NuWave OxyPure comes backed by a 5-Year Limited Manufacturer's Warranty.
You can read the full details of the 5-Year Limited Manufacturer's Warranty here.
NuWave OxyPure Air Purifier User Reviews
I have shared some of my own experiences with you regarding the NuWave OxyPure. But you probably are interested in more opinions than just mine. What do user reviews and consumer reports say about this product?
On the whole, user reviews are overwhelmingly positive. Customers are pleased with the high quality materials and build, the washable, long-lasting filters, the user-friendly controls, and the effectiveness of the filtration system. The flexible settings and the ability of the device to sense the air quality and respond automatically are more points of praise.
Most complaints seem to involve units that worked fine for a few months, and then abruptly died.
The vast majority of customers do not experience this problem. It is also worth pointing out that this is a common complaint with just about any appliance you can purchase. There is always going to be the occasional unit with a defect.
There are some users who feel that this product is a bit loud, but there are others who feel it is quiet. So, your mileage may vary with respect to the volume level of the air purifier.
Get more customer reviews (both positive and negative) about NuWave OxyPure by clicking links down below:
NuWave OxyPure Air Purifier Reviews on Official Website
Comparisons
Alternatives
With its budget-friendly features, quiet settings, and powerful five-filter system, the NuWave OxyPure air purifier should satisfy many customers' needs. But the following alternatives are also worth considering.
Winix 5500-2 Air Purifier
If you are on a budget, the Winix Air Purifier might fit the bill. This product is not as high-tech as the OxyPure, but it does sell in a lower price bracket.
The Good
This air purifier features 4-stage air cleaning with Pre-filter, HEPA filter, washable AOC Carbon Filter and PlasmaWave technology.
You can remove dander, pollen, dust mites, chemical vapors, odors, allergens and pollutants.
This appliance is equipped with Auto Mode, Sleep Mode and Smart Sensors.
Purify the air in rooms as large as 360 square feet.
You can filter particles as small as 0.3 microns.
The Bad
This device does produce negative ions and ozone. The ozone is not at unsafe levels, but some customers feel uncomfortable with it anyway.
The higher fan settings can be loud.
Buyers say that finding the right replacement filters can be confusing.
Buy Winix Air Purifier at a discount
Consider this product if you want to save money, but stick with the NuWave OxyPure if you want to filter smaller particles and avoid ozone technology. Also, the OxyPure is more appropriate for larger spaces.
Honeywell HPA300 Air Purifier
The next product you might want to investigate is the Honeywell Air Purifier. In terms of cost, it falls roughly between the OxyPure and the Winix 5500-2 Air Purifier.
The Good
Filter the air in rooms as large as 465 square feet.
Remove particles as small as 0.3 microns.
This product contains a HEPA filter as well as a pre-filter.
Three air cleaning levels are available.
Remove mold, bacteria, viruses, dust, pollen, dander, VOCs and smoke.
The Bad
There is no indicator you can use to check your air quality.
This product sometimes seems to produce a foul odor.
Customer service experiences are mixed.
Read My Honeywell HPA300 Review
Buy Honeywell HPA300 at a discount
This product has enough positives to recommend it, but not over the OxyPure or the Winix model. If you need to cover more square footage than the Winix can handle, but you don't want to spend as much for the OxyPure, this product might be a suitable middle ground.
Coway AP-1512HH Mighty Air Purifier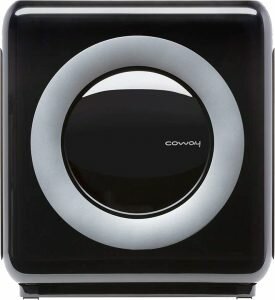 Another budget option we suggest checking out is the Coway Mighty Air Purifier. This unit is available at a competitive price, but there may be some issues with quality control.
The Good
You can choose between black and white to suit your décor.
With this product, you can filter the air in a room as large as 361 square feet.
The four-stage system includes a pre-filter, deodorization filter, True HEPA filter and vital ion filter.
You can filter out particles as small as 0.3 microns.
The product monitors air quality and includes helpful indicators.
There are three fan speeds.
An Eco Mode is included.
You can set a timer.
Indicators tell you when to replace the filters.
The Bad
The Coway AP-1512HH Mighty Air Purifier unfortunately has a reputation for being pretty noisy at times.
There are multiple reports from buyers involving fans exploding and sending plastic shrapnel flying around. This issue appears to only affect a small number of units, but that is quite a quality control problem.
Read My Coway AP-1512HH Mighty Air Purifier Review
Buy Coway Mighty Air Purifier at a discount
If you are willing to risk dealing with the issues above, this product offers a lot of excellent features for a relatively low price. Chances are more than good that you won't have your fan explode, but it is still a concern.
Conclusion
You have now had a chance to learn all about the NuWave OxyPure. We have gone over its pros and cons, how to use it, and what customers are saying about it.
Although this air cleaner carries a higher cost than some competing products, it provides you with a lot more bang for your buck.
It can filter out much smaller particles, it won't add ozone to your home atmosphere, it can handle a much larger square footage than most air purifiers, it offers great ease-of-use, and it can help you to save on your electric bills.
So, in the long run, the NuWave OxyPure may save you money over products that you can buy with a lower initial outlay of cash.
That means it offers you a higher value and it is ultimately more cost-effective.
Plus, sometimes there is a coupon or promo code that can significantly decrease the cost to purchase this item.
Where can you find the NuWave OxyPure for sale? To get this powerful five-stage air purifier now, click on the links below.