Last updated on May 15th, 2022
What air purifier can cover 3000 sq. ft. of space? Not many, to be honest. And manufacturers that claim their products can do that in reality won't do much difference at all.
But among the ocean of false advertising and overpriced air cleaners there a few gems that really make a difference and can deliver clean air in extra large spaces whether it's a house, office, school restaurant and so on.
Here I present for you the best air purifiers for 3000 sq. ft. space that are efficient and reliable in cleaning air from different pollutants, including dust, mold, allergens, bacteria and viruses.
Aprilaire 5000
Aprilaire 5000 is the most powerful air purifier available today for the 3000 square feet whole house. With airflow of 2000 CFM it cleans air in 3000 sq.ft. space in just 12 minutes!
The Aprilaire 5000 captures 80% of all airborne pollutants down to 0.1 micron, including viruses as small as 0.1 micron.
Bigger particles at 0.35 micron are captured in 94% of all cases. These particles include, but not limited to various odors (tobacco, smoke, wildfires, smells, kitchen and bathroom odors, etc.), bacteria, VOCs, gases, mold spores, allergens and dust.
The air purifier doesn't require much maintenance as well. The air filter has to be replaced every 12 months; in addition the ionizing wires and control electrode require wiping time from time.
The unit operates silently, without producing any sound. It also has a filter indicator that will let you know e=when to change the filter.
Overall, Aprilaire 5000 is extremely good at cleaning air in 3000 sq. ft. rooms and spaces. The price is also extremely low when compared to the air purifiers with similar characteristics and the replacement filters are cheap too. Electricity usage is also low, at only 60W which translates to approximately 70 USD per year.
I can definitely recommend getting this air purifier, especially if you are allergic and need relief from your conditions.
TRACS TM-1250 Industrial HEPA Air Purifier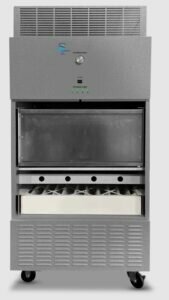 TRACS TM-1250 is an industrial HEPA air purifier with high clean air delivery rate and medical-grade air filtration is another option for air cleaning in 3000 sq. ft. spaces.
This large air purifier has 3 air cleaning stages:
Pre-filter stage. The air passes through the 24″ x 24″ x 4″ antimicrobial pre-filter, that captures large particles and bacteria. This filter lasts up to 3 months on average.
HEPA stage. 24″ x 24″ x 11.5″ HEPA H13 medical-grade certified air filter provides air cleaning at 99.99% efficiency for particles down to 0.3 micron. It is sealed within the metal cabinet inside the air purifier and designed to last up to 5 years.
Ultraviolet Germicidal Irradiation stage. At this stage the 4 22″ UVC-lamps bombard the area inside the air purifier with UV-light, killing the viruses and bacteria trapped by air filter. The lamps require a replacement every 18 months.
After all these stages, the air released by the Tracs TM-1250 is similar to the sanitized and disinfected air in hospitals and other medical institutions. It's a no surprise, that Tracs air purifiers are used in medical facilities all around the country.
Learn more about Tracs Air purifiers
The Tracs TM-1250 works greatly in extremely large spaces, whether is't an office, hospital, school, laboratories, food processing centers and any other industrial or commercial spaces.
It might be an overkill to put it inside a residential house, but if you need medical-grade air filtration, than nothing is better than Tracs TM-1250.
Airganics 2000
Airganics 2000 air purifier features 2 speeds (1000 and 2000 CFM) and is capable of cleaning spaces up to 3,750 sq. ft.
The cleaning process is similar to the Tracs, with an addition of a Carbon filter but lack of any irradiation in the process.
Pre-filter used in Airganics 2000 is also designed to trap larger particles as well as protect the inner filters from wearing out too fast.
At the second stage of filtration the air gets passed through either a 35-pound Fil-Pure HEPA filter or an even bigger and heavier Carbon Fusion tray filter. The HEPA filter is used to trap particles down to 0.3 micron at 99.97% efficiency whereas the Carbon Fusion filter focuses on odor removal.
It's not possible to use both filters at the same time, so if you decide to get the Airganics 2000 you need to understand for what purposes you're getting it. If odor is your main concern, get the version with the Carbon Fusion tray filter installed. In other cases buy the HEPA version.
In addition, Airganics 2000 features Carbon Pleated Filter as a means to filter out smells from the air.
The air purifier uses standard 12 inch ducting and can be easily connected to bring in the fresh air or exhaust the filtered air.
The air purifier is used primary in growing applications, but sometimes it is installed in large mansions too.
Canarm HFB-24 Air Purification Kit
Canadian-made Canarm HFB-24 air purifier is a good option if you have a HVAC system in place and just looking for an air purifier that will clean air in your whole house. The HFB-24 cleans air effortlessly in spaces up to 3,750 sq. ft. delivering 5 air changes per hour, making it great for removing allergens and proving relief for asthmatics.
The metal frame is durable and provides a stable enclosure for the HEPA filter. This air filter is designed to last at least 6 months on average and it has high resistance to moisture in an environment with a high humidity level.
The unit isn't hard to install and the installation instructions are provided by the manufacturer.
The system can be installed everywhere, from schools to homes, offices, medical facilities, kitchens, bathrooms, restaurants, airports and such. It's extremely durable and doesn't require any sort of maintenance except for the filter replacement every 6 months.
See also: