Last updated on January 1st, 2023
Medify Air is a popular brand of air purifiers designed by Medify Air LLC. The company was founded in Florida in 2017 and despite being so young compared to the already established brands like Coway, Winix or Honeywell, it managed to get its place under the Sun.
Similarly to the companies mentioned above, Medify uses only true HEPA air filters in their portable air purifiers. Not only that, but the filters are rated H13 meaning they can capture particles down to 0.1 micron at 99.99% efficiency. Virus particles measured 0.1 – 0.3 micron, making these air purifiers quite effective at removing them from the air.
In addition to the main HEPA air filter, all Medify air purifiers employ pre-filters and carbon filter. The first one is a must have for any air purifier, as it offers an additional stage of air filtration for dust particles and extends the life of the main filter.
Activated carbon filters are great at removing various smells from the air. The larger and thicker carbon is, the better it would capture different odors, including kitchen and bathroom smells.
What also interesting is that the company guarantees lifetime warranty for all their purifiers if they are properly managed and only genuine Medify HEPA filters used.
Now let's review Medify Air purifiers one by one, starting from the most popular one – Medify Air MA-40. One word of caution though: if you are looking for the really quiet air purifiers better take a look at the Rabbit Air, they are the best in this regard.
Enough intro, let's see what Medify offers today!
Medify Air MA-40
| | |
| --- | --- |
| Room Coverage: | 350 sq. ft. |
| CADR: | 224 CFM |
| Filter Life: | 4 months |
| Replacement Filter: | Check Price |
| Noise Level: | 46 - 66 dB |
| Power: | 64W |
| Dimensions (LxWxH): | 10.5" x 11" x 22" |
| Weight | 15.6 pounds |
Medify Air MA-40 is the most popular portable HEPA air cleaner manufactured by the Medify company you can ever find. It mostly comes down to the 2 factors: price and specifications.
When it comes to price, this air purifier is often on sale and anyone can grab it under $250.
As for the specifications, the MA-40 offers 4.8 air changes per hour for rooms up to 350 square feet. This is a great news for people who suffer from breathing conditions or are allergic to anything.
In regular conditions the air purifier can be used in rooms up to 850 sq. ft. delivering 2 air changes per hour. This is enough for bedrooms and living rooms.
Thanks to it 4-stage air filtration system that includes pre-filter, HEPA filter, Carbon filter and Ionizer, the Medify MA-40 is able to capture airborne contaminants, bacteria, odors and viruses. Filter requires a replacement every 4 to 5 months.
MA-40 also features Sleep mode and Child lock. The Sleep mode comes in handy if you are intended to place the air purifier into a bedroom and run it at night. In this mode the fan works slower and quieter than "Low" speed (there are 3 speeds: "Low", "Medium", "High"). Child lock is useful if there are kids or pets in a house, preventing them from accidentally changing the settings.
Timer allows to schedule air cleaning procedure up to 8 hours.
Overall, the Medify MA-40 worth every penny it is asked for. Not only I, but many consumers recommend the MA-40, especially when it is sold at a discount.
Medify Air MA-25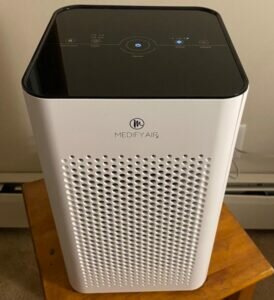 Medify MA-25 is a cheaper and less powerful version of the HEPA MA-40 reviewed previously. It has the same design and features, except for the CADR rating, lack of an ionizer and filter lifespan. The latter is reduced by 1 month.
If you are looking for an air cleaner that can make wonders in 200 sq. ft. places MA-25 is a great option. In larger rooms it is less effective.
Medify Air MA-112
| | |
| --- | --- |
| Room Coverage: | 1050 sq. ft. |
| CADR: | 667 CFM |
| Filter Life: | 4 months |
| Replacement Filter: | Check Price |
| Noise Level: | 70 dB |
| Power: | 95W |
| Dimensions (LxWxH): | 16" x 15" x 28" |
| Weight | 33.5 pounds |
Medify Air MA-112 is known to have great air cleaning capabilities due to the large HEPA H13 filter and high CADR rating at 667 CFM. It delivers 4.8 ACH per hour in a 1050 square feet room. If this says nothing to you, I'll explain.
There are not many air purifiers that can actually clean air in a large spaces. Many of them are pricy (EOS for example), some require HVAC technician to install the system and others aren't powerful enough to cover large rooms.
Medify MA-112 is a rare exception: it's fair priced, has powerful enough fan to circulate air and large air filter to capture airborne pollutants like asbestos, smoke, pollen, dander, dust, anthrax.
This air purifier can also be used in offices and other large spaces. Definitely a great option if you don't want to overspend on an air cleaner but at the same time want to have a powerful yet affordable machine with a lifetime warranty.
Medify Air MA-125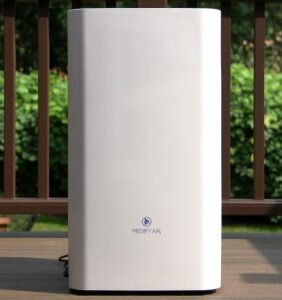 Compared to the previously reviewed air purifier, the Medify Air MA-125 features slightly lower CADR and, thus, room coverage. At the same time it has several benefits over the MA-112:
Better HEPA filter H14;
More speed settings (9 vs 4);
Installed UV-light for the better virus and bacteria treatment
Auto mode that automatically adjust speed based on the air quality;
PM2.5 Pollution Indicator for an easy air quality monitoring
All these features make the MA-125 great air purifier for large bedrooms, nurseries and offices.
Medify Air MA-14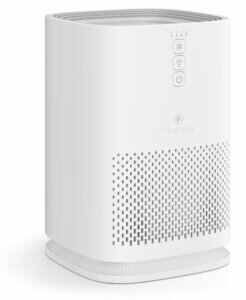 MA-14 is the first Medify air purifier that I wont recommend. You might get excited seeing its low price, but look at the price for the replacement filters – the pack of 2 will cost you almost 80 bucks, so every year you're going to spend at least 150 on replacements.
Medify Air MA-15
Medify MA-15 is slightly more powerful compared with the Ma-14 and the replacement filters are also cheaper. It also doesn't consume much energy and is quiet if compared to any other Medify air purifier.
If you are looking for an air cleaner for a small bedroom, kitchen or bathroom the MA-15 is a great choice. It can be run 24/7 to keep air clean.
Medify Air MA-35
| | |
| --- | --- |
| Room Coverage: | 320 sq. ft. |
| CADR: | 171 CFM |
| Filter Life: | 3 months |
| Replacement Filter: | Check Price |
| Noise Level: | 66 dB |
| Power: | 40W |
| Dimensions: | 23.2" x 3.9" x 15.6" |
| Weight | 13.7 pounds |
Medify Air MA-35 is less powerful compared to the MA-40, but it can be placed on a wall. If maintenance costs are taken into the consideration, the MA-40 is definitely a better option, but if you consider having a wall option "a must" then the Ma-35 is worth the price.
It uses the same air filtration as the MA-40 and the HEPA H13 filter does a great job cleaning the air in any room.
Medify Air MA-45
Medify Air MA-45 is an improved version of the Ma-35. Due to its improved design it has higher airflow allowing for more cubic feet of air cleaned every minute. At the same time, noise levels remained the same at 66 dBA at the maximum speed.
Price has also increased, but that was expected. So if you in a need of a wall-mounted air purifier for 300 – 500 sq. ft. rooms the Medify Air MA-45 is your go to option.
Medify Air MA-50
| | |
| --- | --- |
| Room Coverage: | 460 sq. ft. |
| CADR: | 293 CFM |
| Filter Life: | 3 months |
| Replacement Filter: | Check Price |
| Noise Level: | 35 - 56 dB |
| Power: | 70W |
| Dimensions (LxWxH): | 9.87" x 9.87" x 21.25" |
| Weight | 16 pounds |
Medify Air MA-50 is an improved version of the MA-40. It features higher CADR rating for larger space coverage and UV-C light for virus inactivation and air disinfection. Contrary to the MA-40, the MA-50 lacks an ionizer, but that's not a big deal since UV-light are way more effective in destroying bacteria.
The timer range was modified from 0 – 8 hours to 2 -12 hours. The number of fan speeds has increased by one (4 in total).
The MA-50 is extremely effective air purifier for allergies in a rooms up to 500 sq. ft. In larger rooms it doesn't manage to clean air as fast as it is required. For that you have to take a look at either MA-112 or MA-125.
Medify Air MA-22
Medify Air MA-22 is a small air purifier that would be very useful in small rooms. It features improved design compared to the older models MA-14 and MA-15 which has resulted in prolonged filter lifespan, better cleaning and lower noise levels.
At the same time, price for the Medify air replacement filter has remained the same, resulting in lower maintenance costs.
Medify MA Car
Medify MA Car air purifier is one of those air cleaners that offer cleaning from air pollutants and odors and not taking much place in a car.
As any other Medify air purifier, it features 3-stage air filtration which is something unique when it comes to the car air purifiers, as they often have only HEPA air filter which cannot filter out smoke from the air as good as a carbon filter.
As a cherry on top, this air purifier also has an ionizer which not only makes the air fresh but also helps the air filter to capture particles.
In the end, most of Medify air purifiers are fairly priced and offer high standards of air cleaning for residential houses.