Last updated on January 1st, 2023
800 sq. ft. spaces require thorough cleaning, especially if you live close to the industrial zone, wildfires, highways or in a big city. The pollution levels nowadays rise up exponentially and having a powerful air purifier is a must in some areas.
Today there are a lot of air cleaners that are claiming to clean air in large spaces, yet not so many can really deliver on their promises. This is due to them not having enough power or having too small filters for the task.
To help you pick an air purifier for 800 square feet room, house or any other space, I have made this list of 5 best air purifiers. All of them have their pros and cons, so you are welcomed to take a look at this list and pick the one that fits your needs.
Blueair Pro L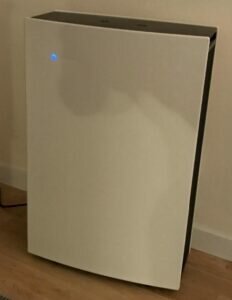 When in comes to the best portable air purifier for 800 sq. ft. space, Blueair Pro L is the best option to look at first. Why is that? Here are the answers.
First and foremost, it has the highest CADR – clean air delivery rate – for pollen, dust and tobacco. The Pro L was independently tested by AHAM and it has put the following numbers for pollutants:
Dust: >600 CFM
Smoke: >540 CFM
Pollen: >450 CFM
These are very high numbers and they perfectly suit large rooms 800 sq. ft. and over. Not many air purifiers can clean 600 cubic feet of air from dust and the Blueair Pro L does exactly that.
It is a great news for allergic and asthma sufferers too. The Pro L is 100% ozone-free, and can deliver over 4 air changes per hour in a 800 sq. ft. space (room, art studio, etc.) making it suitable for allergic people.
Another great advantage of the Blueair Pro L is the noise levels. The air purifier has 3 available speeds: low, medium, high. At the lowest speed it produces only 32 decibels of noise, which is practically silent. At the highest speed it makes 55 decibels of sound – this compares to a normal conversation at home.
Such low sound levels are available due to the special HEPASilent filter technology used in the Blueair Pro L. This technology is also used in other Blueair air purifiers. It allows for filtration of the tiniest particles down to 0.1 micron at 99.97% efficiency.
The HEPA air filter requires replacement every 6 months. The price for the filter is below $70 and the Pro L requires 2 of them to run with a maximum efficiency.
To sum it up, the Blueair Pro L is a great air cleaner that removes all major airborne pollutants, chemicals and delivers fresh air for the whole house. It's extremely effective in removing VOCs, fungus, dust and smoke from the air, as well as various allergens.
Medify Air MA-125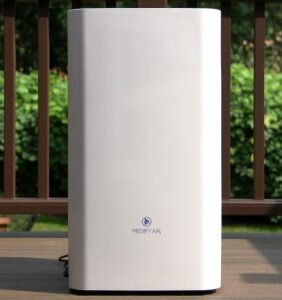 Medify Air MA-125 is designed by the renowned Medify Air company which is well-known for their air purifiers. This model was manufactured specifically for the homes and spaces 800 sq. ft. and larger.
What makes Medify MA-125 special is the standard, yet effective procedure to clean air that includes:
Pre-filter for large particles (hair, fur, pet dander).
Medical-grade HEPA H14 air filter to capture 99.99% of particles down to 0.1 micron. That includes bacteria, virus, smoke, dust, pollen, allergens, smog and other harmful particles.
Activated Carbon filter to remove odor from the household.
The MA-125 has a selection of 9 speeds: this allows for fine tuning of air cleaning for your specific needs.
Compared to the previously reviewed Blueair Pro L, the Medify MA-125 isn't the quietest air purifier out there. But taking into consideration the price and it's ability to filter out dangerous particles from the air I'd say this this is one of the best air purifiers for 800 square feet spaces.
In addition, the MA-125 features auto mode (automatically adjusts speed based on air pollution level), PM2.5 sensor to track air quality, child lock and 0-24 hour timer. All these functions are very useful in various situations, so the MA-125 is definitely worth the price.
But this review wouldn't be complete without mentioning the one big downside the MA-125 has. And that's price and longevity of the true HEPA H14 filters. These filters are extremely good, but they last only for 4 months and 3 of them (1-year pack) will cost you around $400-450.
So in a long run you will spend quite a lot of money to make use of the Medify MA-125 air purifier.
Austin Air HealthMate Plus HM450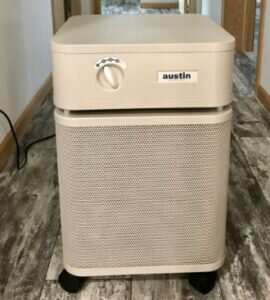 Compared to the previously reviewed MA-125, the Austin Air HealthMate Plus HM450 air purifier doesn't have the problem of high yearly maintenance costs. The HEPA replacement filter for the air purifier is priced above $400, but it doesn't require a replacement more often than once in a few years.
The Austin Air HealthMate Plus HM450 offers medical-grade air filtration for 800 square feet. There are 4 filters used in the process of cleaning and purifying the air:
Pre-filter
Large particle pre-filter
Carbon Filter
HEPA filter
The several stage air filtration process makes this air purifier ideal for allergy and asthma sufferers and people who has high sensitivity for any kind of chemicals. The system is capable of cleaning the air from 99.97% of particles down to 0.3 micron and 95% of particles down to 0.1 micron.
Apart from that, the HealthMate Plus HM450 removes mold spores, tobacco smoke and other odors. 15-pound Carbon filter does a great job at absorbing various chemicals and odors from the surrounding air, making it clean and fresh. Whether it's a basement, living room or any other space – a smell won't stand a chance!
5-year warranty is offered by the manufacturer, which is by the way, located in the USA. The Austin Air HealthMate Plus HM450 is somewhat an old-school heavy air purifier with casters, its whole body is made from steel to serve as a major household air cleaner for decades.
Airpura H600
| | |
| --- | --- |
| Room Coverage: | 1050 sq. ft. |
| CADR: | 560 CFM |
| Filter Life: | 60 months |
| Replacement Filter: | Check Price |
| Noise Level: | 28.1 - 62.3 dB |
| Power: | 120W |
| Dimensions (HxWxD): | 23" x 15" x 15" |
| Weight | 35 pounds |
Airpura H600 is another excellent 800 sq. ft. air purifier. It is available in three colors (Black, Cream, White) and comes in 2 versions: H600 with HEPA air filter and H614with Super HEPA air filter.
At the glance the difference between the 2 models might look negligible: the HEPA version captures 99.97% of 0.3 micron particles where the Super HEPA captured 99.99% of particles.
But the thing is, the H614 is designed to capture the most dangerous particles that floating in the air, i.e. bacteria and viruses. This alone makes it worth the investment.
Apart from the different air filter, the Airpura H600 models are identical. They utilize the same 3-stage air filtration process that includes:
A large pre-filter, that traps large particles, including allergens, pet hair, dander. The pre-filter is vacuumable.
306 sq. ft. of carbon media absorbs gases, fumes, odors, chemical pollutants, VOCs.
40 sq. ft. HEPA or Super HEPA air filter captures the remaining 99.97% or 99.99% particles as small as 0.3 micron.
The Airpura H600 is equipped with smooth-rolling casters, making it very easy to move around and clean air in the whole house.
The housing is made out of metal, preventing plastic off-gassing and extending the life of the machine. The H600 is also free of polychlorinated biphenyls a.k.a. PCBs.
Overall, the Airpura H600 is another powerful air purifier for 800 sq. ft. houses.
Coway Airmega 400S
| | |
| --- | --- |
| Room Coverage: | 731 sq. ft. |
| CADR: | 350 CFM |
| Filter Life: | 12 months |
| Replacement Filter: | Check Price |
| Noise Level: | 22 - 52 dB |
| Power: | 6.2 - 66W |
| Dimensions (HxWxD): | 22.7" x 14.8" x 14.8" |
| Weight | pounds |
Coway Airmega 400S is the least powerful air purifier present here, but it has one interesting feature: WiFi capability allowing for the air purifier to be controlled with a smartphone.
It is also super quiet, beating even the Blueair Pro L: at a maximum speed the Airmega 400s produces only 52 decibels of noise. At the lowest speed the air cleaner is practically silent.
When it comes to the air cleaning capabilities, the Airmega 400s falls down behind previously reviewed Blueair, Airpura and Austin Air, mostly due to less powerful motor and filter size.
At the same time it is the most affordable air purifier for 800 sq. ft. spaces. The replacement filters are cheap and last for about 12 months and with the low power consumption of 6.6 to 66 Watts the Airmega 400s operating costs are extremely low at around 140 dollars per year.
So if you are not concerned about allergies and heavy smoke or odor, but you do concerned the amount of money you're willing to pay for having clean air at home, then the Coway 400s is the best option you can go for.
Coway Airmega 400s is available in gray and white colors.
See also: