Last updated on May 25th, 2022
Air purifiers for large rooms are beasts when compared to small air purifiers. However, not all of them feature good air filters or have enough power to circulate and clean the air inside a room. To be able to clean air in any large (500 sq. ft and bigger) room any purifier has to have:
High CADR rating
Powerful fan to circulate air
High-quality air filter (usually HEPA)
Activated Carbon Filter for smells (pets, human odor, smoke of any kind)
Enough power to deliver at least 4 air changes per hour, so it makes sense for people with allergies, asthma or any other breathing conditions to buy it
On this page, I present to you the best air purifiers for large rooms that I have already reviewed.
Air Health Skye: Best Air Purifier for Allergies, Dust, Mold, Odors and Viruses
Click Here for More Specs & Review
Air Health Skye is my top pick for a large room air purifier for several reasons:
It employs 5-stage air cleaning that mixes mechanical filtration (HEPA filter) with ultra-violet lights. It ensures the removal of all kinds of particles (PM10, PM2.5, PM1.0) including dust mites, bacteria, mold spores, VOCs and viruses;
Activated Carbon filter removes all kinds of odor, including heavy smoke from cigarettes or general air pollution;
10 speed settings allow for fine tuning the fan power;
Several sensors that adjust the speed in Auto mode;
It can be connected to a phone with WiFi and controlled from there;
Good filter lifespan of 6 months;
AHAM-Verified CADR ratings for Smoke (293 CFM), Pollen (301 CFM) and Dust (288 CFM);
Very low white noise, making the air purifier viable to run at night.
If you ever wanted to have a smart and portable air purifier for a large room, there isn't a better option rather than the Air Health Skye.
Airdog X8 w/ Washable Filter for 1000 sq. ft.
Click Here for More Specs & Review
Airdog X8 from the Silicon Valley Air Expert Inc. company is the best air purifier for 1000 square feet rooms. It's incredibly efficient in removing all kinds of smells, air pollution and bacteria. In addition, it doesn't require any filter replacement, so in the long run maintenance costs are extremely low.
This air purifier is heavy compared to the previously reviewed Skye, but increased performance requires more power, so that's understandable. What I really dislike though, is the lack of wheels as sometimes moving this machine isn't an easy thing to do. However, it is surpassed by its extreme efficiency in removing all airborne pollutants and delivering clean air for large rooms, 1000 sq. ft. and over.
Alen BreatheSmart 75i with Customized HEPA Filters for Allergies, Odors, Dust, Smoke
Click Here for More Specs & Review
Alen BreatheSmart 75i from the Alen's BreatheSmart air purifier series is the top pick if you want to have some sort of control over the air filters you are using. In general, air purifiers use the same type of air filter for all kinds of pollution (viruses, bacteria, odors, hair, etc.). This results in lower costs for a seller and buyer, but at the same time, the efficiency is somewhat the same for different pollutants most of the time.
When it comes to the Alen, they developed a few HEPA filters, each one designed to target specific needs, whether it's an allergy, heavy smoke, pet odors, etc. It has made the filters more expensive, but at the same time they have shown better results in removing specific smells or particles.
So if you want to deal with a specific kind of air pollution in your large room, the BreatheSmart 75i is the best option.
Tracs TM250: American-Made Air Purifier for Smoke, Allergies, Viruses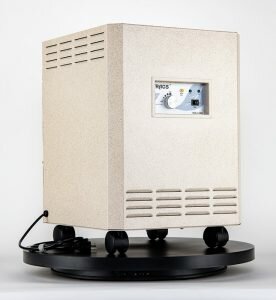 Click Here for More Specs & Review
Tracs TM250 is a portable UV HEPA air purifier made in the USA. It doesn't have the largest room coverage, but it does have an excellent build quality utilizing a large medical-grade HEPA filter. The manufacturer ensures that this machine will work for decades and provides a 5-year warranty on the entire unit.
The medical-grade, tightly sealed air filter is used in hospitals all over the country, so if you are worried about viruses and bacteria floating around freely in the air inside your house, you should no more: the air filter will get rid of all types of airborne pollution, including mold spores, various dust types, smoke, bacteria and viruses.
The Tracs TM250 has been in use for years, and it's one of those units that are made to last for decades.
Medify Air MA-112 for Dust and Pets Allergies
Medify MA-112 from the Medify Air company is one of those rare air purifiers, that have an extremely high CADR rating capable of cleaning a 1000 square feet room in just 12 minutes from dust and other pollutants.
Considering the quite low price the MA-112 is sold, you should expect to change filter more often compared to the more pricier units. It also is extremely loud at maximum speed: at 70 decibels it sounds like a washing machine or a dishwasher. You want to be there when this air purifier does its job.
On a good note, it really does the job. After several cleaning cycles the air feels better and many reviewers have confirmed that this air purifier is good in removing allergens (mostly from pets) and providing such a necessary relief for people.
IQAir Health Pro Plus: Swiss Air Purifier for Allergies & Asthma
Click Here for More Specs & Review
IQAir Health Pro Plus made by the Switzerland company IQAir is an air purifier designed to deal with allergies, asthma, bronchitis and other unpleasant breathing conditions that are caused by bacteria and viruses. It is possible with several stage air filtration technology that employs large and high-quality filters.
This air purifier has been present on the market for years and it has been proven to help with allergy and flu symptoms. The price for one unit isn't low, but it's worth every penny.
Blueair Blue Pure 211+ Auto: Best Budget Air Purifier for Large Room
I haven't personally reviewed Blueair Blue Pure 211+ Auto, but many people have recommended this air purifier as the budget air cleaner for large rooms of 500 or 600 sq. ft. It doesn't employ the best filters, providing the best air quality, however, for the price you're paying it's the best what you can get.
In addition, Blueair is a well-known and reliable company, so there is no problems with replacing filters or customer support if there's a problem with their air purifier.