Last updated on January 17th, 2023
Austin Air produces old-school, USA-made air purifiers. They do not add fancy features like WiFi support and do not have neither sleep mode nor auto mode. Why would you buy such expensive air purifier then?
There are several reasons for that. First of all, the Austin Air company is has released their first air cleaner "HealthMate" in 1990 and has been improving it since than. Their air purifiers designed to work continuously with the best possible outcome in removing harmful airborne particles.
All Austin Air purifiers are made in the USA with high-quality gauge steel. Bought once, an Austin Air HealthMate will work for decades. And this is backed up by 5-year warranty. Yes, you can get a cheaper air purifier, but how many manufacturers provide such long warranty period for their air cleaning products? Tracs comes to mind, and Blueair support extending warranty up to 5 years. And that's it.
But the most important thing you should know about Austin Air purifiers is their filtration system. That's the major reason people buy these machines.
The larger an air filter is, the more particles it can capture from the air and more effective it is in cleaning indoor air. The machines use powerful fan that reaches up to 400 CFM (cubic feet per minute) of air moved, meaning an Austin Air purifier can perform 4 air changes per hour (ACH) in a 750 sq. ft. space.
Why it is important? Well, 4 ACH is considered the minimum requirement for an air purifier if a person is suffering from breathing conditions (asthma being the primary example) or allergies. So it's safe to say that almost all Austin Air purifiers are designed to clean any home from allergies, providing such a necessary relief.
In a case allergies aren't a concern, then these machines can be used in 1,500 square feet spaces, like basements, offices, school rooms, large kitchens and other commercial and public spaces.
But what about air filter utilized by any Austin Air unit? It's all good here too. All machines using medical-grade true HEPA filter capable of filtering 99.97% of particles down to 0.3 micron. The filter is also designed to work for a very long time – up to 5 years. The price for a replacement filter ranges from $250 to $500. You may say that it too expensive, but look from this perspective: an average filter life is 3 to 6 months and the cheapest filter costs $30. It's $60 per year and $300 for 5 years. Now the price tag doesn't seem so high, eh?
All Austin Air purifiers are also come with large 15-pound activated carbon filter. This filter is designed to target and destroy VOCs, gases, chemicals and odors.
For the reference, usually an air purifier employs 2 to 3 pound carbon filter. And more carbon means better odor removal. Heavy odors like cigarette smell, musty odors, pet smells sometimes are very hard to catch, but not for an Austin Air purifier.
Finally, Austin Air portable indoor air cleaners equipped with easy-casters and are very easy to use. They do not require any installation procedures and are easily maintained throughout the years.
Austin Air HealthMate HM400: Best Air Purifier
Best Deal on Austin Air HealthMate
I consider Austin Air HealthMate HM400 the best air purifier manufactured by Austin Air for a few reasons:
It is fair-priced;
HealthMate HM400 replacement filter price is below $300;
It effectively removes various odors, chemicals, VOCs, gases, allergens due to a mixture of carbon and zeolite present in the filter and high CADR;
Air filter is of medical-grade HEPA type featuring 60 sq. of media capable of removing 99.97% particles down to 0.3 micron and 95% down to 0.1 micron. It means it can capture the smallest viruses and bacteria too!
Pre-filter effectively captures large particles like dust, pet hair, pollen, dander and others
Overall, the 4-stage air filtration system (pre-filter, Medium filter, Carbon filter, HEPA filter) removes wide range of known airborne irritants without releasing ozone.
If you wonder which Austin Air HealthMate you should buy, this is the best deal you can get.
Austin Air HealthMate Plus HM450 HEPA Air Purifier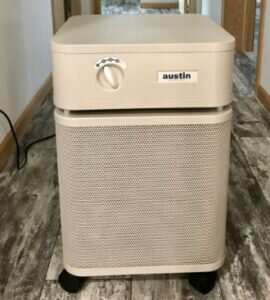 Best Deal on Austin Air HealthMate Plus
Austin Air HealthMate Plus HM450 is pricier when compared to the HEPA air purifier reviewed above, but it mostly due to the filter used for air cleaning. The price for the replacement has risen to above $400 due to the added potassium iodide.
Potassium iodide is known to absorb formaldehyde, ammonia, and many other VOCs, chemicals and gases.
If you don't need air cleaning from such particles, get the HealthMate HM400. Otherwise, Austin Air HealthMate Plus HM450 is an obvious choice.
Austin Air Allergy Machine B45
Best Deal on Austin Air Allergy Machine
As you could've guessed from the name, the Austin Air Allergy Machine B45 focuses mostly on removing allergens from the air.
This is reflected in a new filter design that differs from the air filters used in previously reviewed HM400 and HM450.
The air filter used in the B45 uses consists of pre-filter, medical-grade HEPA filter and Medium filter, but instead of a usual 15-pound Carbon Blend filter it features a HEGA Filter. This High Efficiency Gas Absorption filter is constructed from military-grade activated carbon and effectively traps gases, fumes, odors, chemicals, vapors and VOCs.
Other than that, the Austin Air Allergy Machine B45 is not different from the other Austin Air purifiers.
Austin Air Bedroom Machine: All in One
| | |
| --- | --- |
| Room Coverage: | 750 sq. ft. |
| CADR: | 250 CFM |
| Filter Life: | 5 years |
| Replacement Filter: | Check Price |
| Noise Level: | 67 dB |
| Power: | 135W |
| Dimensions (WxDxH): | 14.5" x 14.5" x 23" |
| Weight | 47 pounds |
Austin Air Bedroom Machine is the only air purifier that features 5-stage air filtration system using filters and 100% ozone-free air cleaning.
5-stage air cleaning procedure features:
PERMAFILT Pre-filter for large particles (hair, pet dander, dust);
Medium Filter for allergens, mold, pollen and dust mites;
Activated Carbon filter for odors, fumes, gases;
Medical-grade true HEPA filter for viruses, bacteria and other particles as small as 0.1 micron;
HEGA filter for VOCs, dangerous chemicals, gases, smells like tobacco smoke and other heavy odors.
The Austin Air Bedroom Machine is the most expensive Austin Air purifier and prepare to spend almost $1000 for a new unit and prepare another several hundred dollars on a replacement filter. Thankfully, as I mentioned in the beginning, all Austin Air filter have a long lifespan, so you won't need a replacement in the next few years.
Austin Air Healthmate Standard (Outdated)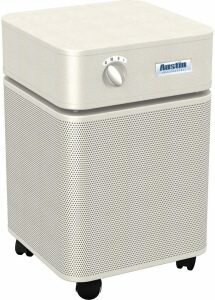 Best Deal on Austin Air Healthmate Standard
The Austin Air Healthmate Standard is an outdated model of the company's air cleaners. I do not recomend getting it unless you stumbled upon a huge discount.
Austin Air vs Airpura Air Purifiers
I recommend getting an air purifier from Austin Air if you mostly concerned with allergies or you need to have an air purifier to keep breathing clean air. Airpura air purifiers are the better option if you have to tackle gases, heavy odors, VOCs and chemicals.