Last updated on August 8th, 2022
Rabbit Air, founded in 2004 in California, is a popular brand of air purifiers. They aren't the cheapest, but offer high quality air cleaning with several stage filtration system that includes true HEPA medical-grade air filters. All their air purifiers are manufactured in South Korea and have 5-year warranty.
Nowadays Rabbit Air offers 3 portable air purifiers: A3, MinusA2 and BioGS 2.0. I review and compare all of them on this page.
Rabbit Air A3 SPA-1000N
Buy Rabbit Air A3 Air Purifier
Rabbit Air A3 ultra-quiet portable air purifier SPA-1000N is the latest release of Rabbit HEPA air cleaners. The air purifier features 6-stage air filtration system, Auto and Sleep mode, and is designed for large spaces. It also has an app that allows to control the air purifier with a phone.
What makes Rabbit Air A3 to stand out among its competitors like Alen, IQAir or basically any other air purifier is their air cleaning procedure. For most air purifiers the next thing is true: air gets sucked inside, it passes through pre-filter first, then HEPA and Carbon filter. Sometimes Carbon filter is placed in a unit before air filter. Lastly, some models feature an ionizer.
Rabbit Air A3 isn't like that. It has 5, I repeat, FIVE filters! Let's see what they do.
Pre-filter. Doesn't require replacement and is washable. Traps large particles including pet hair, dust, pollen, mold and fungi. Protects other air filters, requires cleaning every 3 months.
Medium filter (dimensions: 16.65″W x 14.65″H x 0.20″D). Placed right after the pre-filter and captures all particles that are larger than 1 micron. Now bacteria are also captured.
Large Activated Carbon filter (dimensions 16.65″W x 14.65″H x 0.39″D) with high-granular charcoal. This is the major odor filter present inside the SPA-1000N air purifier. It designed to capture different kinds of household smells like cooking and bathroom odors, smoke. Carbon filter also traps volatile organic compounds (VOCs), reduces gases and fumes present in the air.
True HEPA medical-grade air filter (dimensions 16.46″W x 14.49″H x 1.38″D) at 99.97% efficiency of capturing particles 0.3 micron in size and 99% of 0.1 micron particles. Most bacteria, viruses and other tiny airborne particles are smaller than 1 micron in size and Rabbir Air HEPA filter does remove them out of the air.
On top of that the Rabbit Air A3 offers a customized filter that is placed right after the HEPA filter. The options are as follows: Germ Defense, Toxin Absorber, Pet Allergy and Odor Remover. He
Germ Defense provides an additional filtration of viruses, bacteria and mold. In our Covid-19 times it is the filter you should get for the A3 air purifier.
Toxin Absorber is designed to trap VOCs and chemicals.
Pet Allergy is very well suited for pet owners as it captures pet dander and, more importantly, pet allergens that usually float freely all around the house.
Odor Remover is the best pick for smokers and people who hate any kind of cooking odors. Very efficient in removing all odors, including pet smell.
Basically, this additional filter cleans up everything that was left after passing A3's 4-stage air filtration. And a good thing is, the price doesn't increase at all: you are free to choose any filter you like whether it's germ, toxin, pet or odor without paying additional money.
In addition to 5-stage mechanical filtration, Rabbit A3 provides in-built ionizer. It produces negative ions that attach themselves to airborne particles, making them bigger, heavier and easier to capture. If you are concerned about ozone emission you shouldn't: the SPA-1000N passed CARB requirements and it's not dangerous at all. In any case you can turn it off.
Compared to the popular Rabbit Air MinusA2, the newest A3 offers higher CADR rating for pollen, smoke and dust particles and the overall room coverage was increased from 815 sq. ft. to 1070 square feet. The thing you should know though: this room coverage is based on 2 air changes per hour. For allergy sufferers you have to have at least 4 air changes per hour. In this case, the Rabbit Air A3 can perform air cleaning in 535 sq. ft. space. More info on air changes per hour is here.
If you need an air purifier for extra large rooms over 600 square feet, take a look at Blueair air purifiers (Pro series). Tracs also offers ceiling mounted air purifiers for extra-large spaces, but they are priced accordingly.
What I really like about the A3 SPA-1000N is the ability to put it on a wall. Yes, it is a real game changer for me. Often you have to spend over $1000 for an air purifier that is designed to be placed on a wall, but in some instances you are forced to pay extra for a wall-mount kit. In the case of A3, wall-mounted kit is already present in the box and Rabbit Air carefully provided a detailed wall-mount guide too. So it's super easy to place this device on a wall without a need to pay someone to do the job.
In short, Rabbit Air A3 is an improvement to the Minus A2 air purifier. Despite having a more powerful motor, it's really quiet (only 20 decibels at a slowest speed) and energy-saving although the difference in this regard is marginal. The air purifier is also quite lightweight at only 20 pounds, so it's quite easy to move and place whenever you need it. Currently the Rabbit Air A3 is only available in white color.
Rabbit Air MinusA2 SPA-780A
Buy Rabbit Air MinusA2 SPA-780A
Rabbit Air Minusa2 ultra-quiet HEPA air purifier SPA-780A is quite similar to the A3 reviewed previously. It also features 5-stage mechanical filtration with an additional ionizer and can be mounted on the wall but at the same time it's different. And difference lies not only in price. Here are major differences between the Rabbit Minus A2SPA-780A and A3 air purifiers:
Rabbit Air Minusa2 is available in black and white colors.
It doesn't have app support (only the model Rabbit Air SPA-780N)
Fan produces more noise at the slowest speed: 25.6 dBA vs 20.3 dBA on A3. The noise isn't irritating at all, but it is still something to consider.
Carbon filter is smaller: 16.65″W x 14.65″H x 0.20″D vs 16.65″W x 14.65″H x 0.39″D.
Medical-grade HEPA filter is also smaller: 14.69″W x 15.44″H x 1.0″D vs 16.46″W x 14.49″H x 1.38″D.
Cheaper replacement filter.
Lower CADR ratings: for pollen it stands on 200 CFM vs 315 CFM, for dust its 193 CFM vs 262 and for smoke its 180 vs 257.
The Minusa2 comes with a remote control.
Filter cover isn't magnetic.
The basic model Minusa2 SPA-780A retails at $599, which is $150 cheaper when compared to A3. Is it worth saving the money? Yes, if you are looking for an air purifier for a 400-square feet room. If the total area of space that needs cleaning is higher, I'd recommend getting the newer Rabbit A3 air purifier.
Rabbit Air MinusA2 SPA-780A Artist
Buy Air MinusA2 SPA-780A Artist
Rabbit Air MinusA2 SPA-780A Artist has the same specs as the SPA-780A reviewed above, but features different design for extra $20. Artists may have find it fitting design of their art studio.
Rabbit Air MinusA2 SPA-700A
Buy Rabbit Air MinusA2 SPA-700A
Rabbit Air MinusA2 SPA-700A is similar to it's pricier brother SPA-780A. You can take a look at the table below which shows the differences between the two air purifiers.
| | | |
| --- | --- | --- |
| Model | SPA-700A | SPA-780A |
| Room Coverage (2 ACH) | 700 sq. ft. | 815 sq. ft. |
| Room Coverage (4 ACH) | 350 sq. ft. | 408 sq. ft. |
| CADR (Pollen, Dust, Smoke) | 171 / 173 / 166 | 200 / 193 / 180 |
| Power Consumption | 7 – 47 W | 7 – 61 W |
| Noise Levels | 20.8 – 45.6 dB | 25.6 – 51.3 dB |
Rabbit Air MinusA2 SPA-700A is slightly less powerful than SPA-780A and retails at $50 less too. It employs the same filters, and the air cleaning capabilities are the same.
Rabbit Air MinusA2 SPA-700A Artist
Buy Rabbit Air MinusA2 SPA-700A Artist
Rabbit Air MinusA2 SPA-700A Artist has the same specs as the SPA-700A reviewed above, but features different design for extra $20.
Rabbit Air BioGS 625-A
| | |
| --- | --- |
| Room Coverage: | 313 sq. ft. |
| CADR: | Dust 165 / Pollen 189 / Smoke 152 |
| Filter Life: | 12 months |
| Replacement Filter: | Check Price |
| Noise Level: | 22.8 - 50.4 dB |
| Power: | 5 - 39W |
| Dimensions (HxWxD): | 22.2" x 16.6" x 9.8" |
| Weight | 16.8 pounds |
Rabbit Air BioGS 625-A is totally different air purifier when compared to the previously reviewed A3 and MinusA2. In Rabbit air purifiers line-up it takes the part of a budget-friendly air cleaner for middle and small rooms.
The BioGS 625-A has a standard 3-stage mechanical air filtration with washable pre-filter, Activated Carbon filter and medical-grade true HEPA filter. Built-in ionizer also helps to trap particles with negative ions. Filters require replacement every 12 months on average.
Rabbit Air 625-A is also quiet and energy efficient. The initial price and CADR rating might seem low at first sight, but if we consider its air cleaning capabilities, build quality, warranty period and maintenance costs, Rabbit Air BioGS 2.0 price doesn't seem so high anymore. Although it doesn't have an app support, a nice remote comes in the box.
The only real flow of this air purifier is a lack of Sleep mode. Rabbit Air 625-A runs very quietly, but lights shine too bright, especially when the BioGS 625-A switches speed in Auto mode. So you either have to cover up the top panel or set a speed manually before you go to sleep.
Rabbit Air BioGS 550-A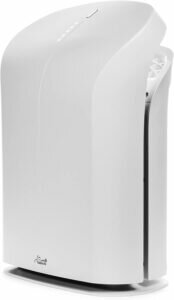 Rabbit Air BioGS 550-A utilizes the same design of BioGS 625-A air purifier, however it is less powerful. Down below is a table that will let you quickly compare it to the BioGS 625-A.
| | | |
| --- | --- | --- |
| Model | BioGS 550-A | BioGS 625-A |
| Room Coverage (2 ACH) | 550 sq. ft. | 625 sq. ft. |
| Room Coverage (4 ACH) | 275 sq. ft. | 313 sq. ft. |
| CADR (Pollen, Dust, Smoke) | 162/ 149/ 136 | 180/ 165 / 154 |
| Power Consumption | 5 – 29 W | 5 – 39 W |
| Noise Levels | 22.8 – 48.6 dB | 22.8 – 50.4 dB |