Last updated on June 13th, 2023
I present for you my best air purifiers for 500 square feet spaces that include living rooms, offices, public spaces, kitchens and so on. All air purifiers listed here:
So without further adieu let's dive in!
Air Health Skye
| | |
| --- | --- |
| Room Coverage: | 453 sq. ft. |
| CADR: | 301 - 288 CFM |
| Filter Life: | 6 months |
| Replacement Filter: | Check Price |
| Noise Level: | 22 - 59 dB |
| Power: | 10 - 50W |
| Dimensions (LxWxH): | 11.3" x 11.4" x 26" |
| Weight | 30 pounds |
Air Health Skye is considered the best air purifier for 500 sq. ft. spaces for several reasons:
High AHAM-Verified CADR rating of 293 for smoke, 301 for pollen and 288 for dust. The Air Health Skye achieves 4 air changes per hour in a 550 sq. ft. space: it means, this air purifier is a go-to option for allergy sufferers as they need at least 4 ACH in a room, to get a relief from their symptoms.
5-stage air filtration technology that incorporates Pre-filter, true HEPA H13 filter, activated carbon filter, PCO and UVC light. The combination of these filters provides air cleaning from airborne particles, viruses, various odors, chemicals, gases, VOCs and bacteria. The filter has a lifespan of 6 months which is twice the life of an average 3-months filters.
Smart functions: auto mode automatically adjusts the speed based on the indoor air quality. The Skye can also be controlled via smartphone app.
10 speed settings allow for a fine tuning of a speed the air is getting cleaned. Majority of air purifiers have 3 to 4 speeds.
Ease of use and maintenance. This air purifier doesn't require much maintenance apart from replacing filters and UV-C bulb which is very easy thing to do.
Overall, I recommend Air Health Sky if you need a portable, durable, high-quality and effective HEPA & UV air purifier for you 500 square feet room, office, basement or any other space that requires cleaning from dust, allergens, bacteria, viruses and gases.
Pros & Cons
Pros
Exceptional 5-stage air purification system with unmatched performance.
Removes a wide range of pollutants, including dust, mold spores, odors, pollen allergens, bacteria, germs, viruses, smoke, pet dander, dust mites, fungi, and VOCs
Smart capabilities, including auto-mode, app control, and Wi-Fi connectivity.
Real-time air quality monitoring with 7 sensors and automatic fan speed adjustment.
Very easy in use
Cons
Premium price range
Plastic design may not suit everyone's aesthetic preferences
Installation of filters and bulbs requires laying the unit on its side, which may be slightly inconvenient
Tracs TM250
| | |
| --- | --- |
| Room Coverage: | 470 sq. ft. |
| CADR: | 250 CFM |
| Filter Life: | up to 5 years |
| Replacement Filter: | Check Price |
| Noise Level: | 44 - 59 dB |
| Power: | 100W |
| Dimensions (WxDxH): | 15.5" x 15.5" x 21.5" |
| Weight | 46 pounds |
Tracs TM250 is another effective air purifier for 500 square feet spaces. It has lower CADR rating, but still achieves great results due to several reasons:
Large, high-quality, certified medical grade HEPA air filter that easily covers 500 sq. ft. of space and has an extremely long lifespan of 3 to 5 years!
Antimicrobial carbon pre-filter that effectively removes any odor from the space.
Two 254nm UV-C lights, that deal with viruses and bacteria indoor. They also prevent the growth of mold.
The USA-made TM250 offers high durability, powerful fan motor, and removal of any airborne particles inside the 500 sq. ft. space. It also proven to be extremely effective against wildfire or tobacco smoke.
Tracs air purifiers are used in schools, office buildings, medical facilities and other public, commercial and industrial buildings. They aren't cheap ones, but provide real change in air quality indoor.
Pros & Cons
Pros
Three-stage air purification with UVC, carbon, and HEPA filters
Solid steel construction
Lowest annual operating cost among UV air purifiers
Eliminates viruses, pet dander, smoke, dust, odors, mold, bacteria, pollen, and VOCs
Extremely powerful fan, blow air very good
Comes with a 5-year mechanical warranty
Cons
Expensive
Heavy and bulky due to solid steel construction
Not the quietest on the market
Rabbit Air A3 SPA-1000N
| | |
| --- | --- |
| Room Coverage: | 535 sq. ft. |
| CADR: | Dust 262 / Pollen 315 / Smoke 257 |
| Filter Life: | 12 months |
| Replacement Filter: | Check Price |
| Noise Level: | 20.3 - 51 dB |
| Power: | 5 - 60W |
| Dimensions (HxWxD): | 19.7" x 18.9" x 8.4" |
| Weight | 20.3 pounds |
Rabbit Air A3 SPA-1000N should serve as the main air purifier if you value quiet operation above everything else. At the lowest speed the air cleaner is extremely quiet, you won't even notice that it is working. At the highest speed it makes 51 dB sound which is an equivalent of a quiet office.
Obviously, quiet operation not the only reason I put the Rabbit Air A3 SPA-1000N into this list. This air cleaner is a newest release from the Rabbit Air company which is known for their high-end air purifiers.
This air purifier has 5 filters: washable pre-filter, charcoal filter, medium filter, medical-grade HEPA and a customized filter. The latter can be chosen amongst germ defense filter, toxin absorber, pet allergy or odor removal.
Basically, the A3 SPA-1000N offers a customizable solution for your problem. If you have pets or want to get rid of odors associated with them you get the Odor Removal filter. If you have allergy on pets then Pet Allergy filter is your obvious choice. And so on and so forth.
In addition, the air purifier has an ionizer that also helps the filters to catch pollutants in the air. It can be turned off.
The Rabbit Air A3 SPA-1000N can also be installed on walls with an additional accessories.
Pros & Cons
Pros
Thorough purification with 6 stages of filtration and deodorization
Customizable filter options to tailor the system to specific needs
Smart features with three-element sensing and WiFi capability for remote monitoring and control
Cons
Slow performance in odor removal compared to other reviewed air purifiers
App functionality could be improved, especially in comparison to other apps
High initial cost and expensive filter replacements.
Oransi MD01 mod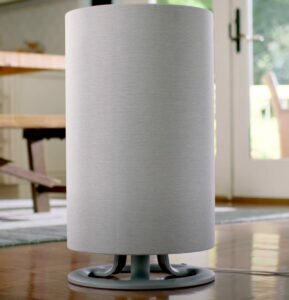 Oransi MD01 mod air purifier is considered the best when it comes to removing pollen particles from the air. If you suffer from allergy in the spring and the reason for your allergic symptoms is pollen, then getting this air cleaner is a must.
The reasons for which the Oransi MD01 mod is extremely effective against allergies are:
HEPA air filter, capable of capturing 99.96% of pollutants down to 0.3 micron;
CADR rating of 412 CFM for pollen. With the Oransi MD01 mod a 633 square feet of space are cleaned in just 12 minutes. Incredible performance!
The air purifier is extremely quiet at a low speeds, so you can easily run it at night. In addition to this, the manufacturer offers an insane 10-year warranty on the unit! No one else offers such a long-term warranty on any of their air cleaners.
All in all, I strongly recommend getting the Oransi MD01 mod air purifier is allergies are your major concern, although it also does a great job in removing pet hair, animal dander, dust, asbestos, and other harmful particles from the air.
Pros & Cons
Pros
Mostly eliminates allergies
Unique cylindrical design with an integrated handle for easy handling
Glass user-interface for simple control and settings adjustment
Cons
Doesn't removes cigarette smoke good enough
Blueair Blue Pure 211+ Auto
| | |
| --- | --- |
| Room Coverage: | 550 sq. ft. |
| CADR: | 350 CFM |
| Filter Life: | 6 months |
| Replacement Filter: | Check Price |
| Noise Level: | 23 - 56 dB |
| Power: | 4 - 38W |
| Dimensions (LxWxH): | 13" x 13" x 20.5" |
| Weight | 12.5 pounds |
Blueair Blue Pure 211+ Auto is a budget air cleaner for spaces up to 500 sq. ft. It's not the best in terms of noise levels or air cleaning – the air purifiers reviewed above have larger filters and better filtration system overall.
But despite that, the Blueair Blue Pure is still a good option if you are tight on money. It has 3-stage air filtration (pre-filter, activated carbon filter and HEPA) and the unit can automatically adjust the speed of air cleaning due to built-in particle sensor.
If you need an air purifier for spaces that require constant cleaning from pollen, dust, smoke and other odor then the Blue Pure 211+ Auto is a decent option.
Pros & Cons
Pros
Reduces allergies and odors
Auto mode adjusts fan based on pollutant levels for optimal air quality.
Low energy consumption
Cons
Auto functions sometimes mailfunction
Honeywell InSight HPA5300
Honeywell InSight HPA5300 500 sq. ft. air purifier is another cheap air cleaner for large spaces. It's also the only Honeywell air purifier that is suitable for 500 sqaure feet.
The filtration system is similar to Blueair's, but lacks a pre-filter. The price for this air purifier is below $300 and often it gets as low as $250 with a discount code.
This portable air purifier is not small and quiet – it's quite big and noisy. If you want to place it in a large bedroom and use it at night I strongly suggest not doing it unless you have a high tolerance for noise.
Apart from noise, the Honeywell InSight HPA5300 is also not energy efficient – it uses a whopping 126 Watts of power at a maximum speed.
But if you don't care about the sound or energy efficiency, then the Honeywell InSight HPA5300 is the best option for 500 sq. ft. if you don't want to spend over $300.
Pros & Cons
Pros
Good at eliminating allergens from the air
Cons
No pre-filter
Uses a lot of energy
Noisy
Costly replacement filters
See also: