Last updated on January 1st, 2023
Air purifier for small rooms whether it's bedroom, bathroom or any other living space, has to be:
Reliable
Quiet
Affordable
Provide relief for allergic people and people who suffer from flu or any other breathing conditions
Using this list as a guide, I have managed to compile a list of the best air purifiers for small rooms that are used by millions of people in the US myself included.
TOP 3 HEPA Air Purifiers for Small Rooms
If you don't see the whole table, scroll it horizontally
| Model | Blue Pure 411 | Levoit Core 300s | Coway Airmega AP-1512HH |
| --- | --- | --- | --- |
| Image | | | |
| Price | Under $150 | Under $150 | Under $250 |
| Best For | 100 - 150 sq. ft. | 200 - 250 sq. ft. | 300 - 350 sq. ft. |
| CADR | 105 CFM | 141 CFM | 233 CFM |
| Filter Life | 6 months | 6 months | 6 months |
| Filter Replacement | ~$20 | ~$30 | ~$50 |
| Auto Mode | | | |
| WiFi | | | |
| Ionizer | | | |
| Noise Levels | 17 - 46 dB | 24 - 48 dB | 24.4 - 53.8 dB |
| Max Power | 10 Watts | 26 Watts | 77.8 Watts |
These air purifiers I consider winners among all others. All of them are affordable, reliable air cleaners, that use true HEPA filters to remove the tiniest particles from the air inside the room. Whether it's dust mites or mold spores, allergens like pollen or hair, cigarette smoke, body odor or any other unpleasant smell – every pollutant is going to be trapped inside the filter.
Down below I go into more detail about each of the air purifiers. In addition, I have added 2 more interesting air purifiers that are worth your attention.
Coway Airmega AP-1512HH: The Best HEPA Air Purifier for Small Room
| | |
| --- | --- |
| Room Coverage: | 326 sq. ft. |
| CADR: | Dust 246 / Pollen 240 / Smoke 233 |
| Filter Life: | 6 months |
| Replacement Filter: | Check Price |
| Noise Level: | 24.4 - 53.8 dB |
| Power: | 4.9 - 77.8W |
| Dimensions (LxWxH): | 9.6" x 16.8" x 18" |
| Weight | 12.3 pounds |
Coway Airmega AP-1512HH also known as Mighty Air Purifier is one of the best HEPA air cleaners for any home that was certified by the AHAM. It employs 4-stage air filtration technology that includes:
HEPA filter for a smaller particulate matter like dust, bacteria, allergens, virus, mold, smoke and other smells. The built-in indicator constantly checks the filter quality and if the time has come to replace it, the indicator shines red;
Carbon filter to absorb heavy odors;
Ionizer to help filtration process and improve the general air quality inside a room. It releases a small amount of ozone and can be turned off.
The Coway Airmega AP-1512HH also doesn't require any manual operation: it's often used as a portable autonomous air cleaning system due to the presence of the particle sensor. Based on data received from the sensor, the unit automatically adjusts its speed without any human assistance.
The air purifier is quiet at the lowest speed (produces white noise), so it can be used at night, sometimes helping people get to sleep. The only downside is lights that can't be dimmed.
The price for 1 pack of filters (1 HEPA and 2 Carbon) is slightly above $50. If the air purifier runs at low speed 24/7 or is used rarely, the filters wear down slower, so one pack of replacement filters can last up to 1 year. With a low power consumption (the unit has a certificate from Energy Star!) it results in approximately 100 USD per year.
The Coway Mighty Air Purifier can also be used in larger spaces due to its high CADR ratings. Set up the timer, leave it for a few hours in any room and after your return, the air is fresh and clean from all airborne germs and irritants.
Here's an example from my own life. I once made a renovation in my small home office and also added new furniture. To remove construction dust and fumes I set up the timer and let the AP-1512HH run for 4 hours and left (the air purifier initially was bought for my living room). After I got back, the air was clean like never before. To keep it that way I have manually set the speed to 'Low', so my unit now runs 24/7 without a break discounting the necessary filter changes.
Basically, it is a universal home air purifier, for any room type that is 300 sq. ft. and bigger. In rooms smaller than 300 square feet in size, this Coway air purifier is extremely efficient in keeping the air free from viruses, allergens, mold spores and any other odors usually present in a household.
Levoit Core 300s: Smart HEPA WiFi Air Purifier for Small Rooms
| | |
| --- | --- |
| Room Coverage: | 219 sq. ft. |
| CADR: | 141 CFM |
| Filter Life: | 6 months |
| Replacement Filter: | Check Price |
| Noise Level: | 24 - 48 dB |
| Power: | 26W |
| Dimensions (LxWxH): | 8.7" x 8.7" x 14.2" |
| Weight | 5.95 pounds |
Levoit Core 300s is somewhat similar to the previously reviewed Coway air purifier, as it also utilizes a HEPA filter to trap particles of dust, bacteria, germs and VOCs. However, there are a few differences.
First off, it lacks an ionizer. It's not necessarily a bad thing, as some people don't like having a unit in their home that produces even the slightest amount of ozone.
Secondly, the filters aren't separate – all three (pre, HEPA, Carbon) are merged together and are sold in one piece. On one hand, less hassle as there is no need to wash filters or open up the air purifier. On the other, this leads to more often filter changes, because if one part of it is too dirty this negatively affects the entire unit's performance.
Thirdly, the unit is smaller and has a lower CADR rating and less power. It is only usable in 200 – 250 sq. ft. rooms or smaller spaces.
Fourthly, the Levoit Core 300s is a smart HEPA air purifier: it can be controlled with voice (requires Alexa) or the VeSync app via WiFi. The app also has more advanced settings for the air cleaning process, yet it's very easy to use.
Finally, the price. Levoit air purifiers are often sold at a discount and the Core 300s is no exception. Often the price difference between the Coway Airmega and the Core 300s reaches $100 or more, so people get two or three units in one go, so they can place it wherever the air quality is the worst. Placing two or three air purifiers in a large room is also possible.
In addition, this HEPA cleaner has a mode called "Sleep" or "Night" mode when the sound level is inaudible. Perfect for small bedrooms!
All in all, I for sure recommend getting the Levoit Core 300s, especially if you are a fan of controlling things with voice, phone or tablet.
Blueair Blue Pure 411: Budget HEPA Air Purifier
| | |
| --- | --- |
| Room Coverage: | 161 sq. ft. |
| CADR: | 105 CFM |
| Filter Life: | 6 months |
| Replacement Filter: | Check Price |
| Noise Level: | 17 - 46 dB |
| Power: | 1.5 - 10W |
| Dimensions (LxWxH): | 8" x 8" x 16.7" |
| Weight | 4 pounds |
Blueair Blue Pure 411 is a simple portable air purifier: it neither has any smart modes (Sleep or Auto) nor it is controlled via voice or any app. In return, it's cheap and offers great performance in small rooms up to 150 square feet.
The Blue Pure 411 also uses a pre-filter, however, it is sold separately (check price) from main HEPA and Charcoal filters and is available in several colors: black, blue, pink, white and yellow. One pre-filter comes in a box, and it traps hair and dander from getting inside and flogging the HEPA and Carbon filter. It increases their lifespan which is around 6 months on average.
The Blueair 411 is often used in small bedrooms or bathrooms, because of the quiet operation and small dimensions (it's a usual thing for Blueair Blue Pure series). In most cases this air purifier is used 24/7 on low or medium speed, keeping the air quality high, and electricity bills low.
I strongly recommend getting the Blueair Blue Pure 411 for small rooms up to 150 sq. ft., especially if you have pet allergies or want to remove any smell from a limited space. Many consider this HEPA air purifier the best, due to its price to performance ratio.
Winix PlasmaWave H13(A230, A231): Tower HEPA Air Purifier for Small Spaces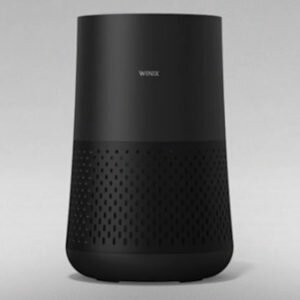 Winix PlasmaWave Tower H13 A230 and A231 (the only difference between them is color, A230 is gray while A231 is white/gray) are Energy Star certified tower air purifiers with a 4-stage air cleaning system similar to the Coway Airmega AP-1512HH mentioned above. It has the mesh pre-filter, HEPA and Activated Carbon filter that are boosted by the built-in ionizer PlasmaWave. The latter can be turned off.
This tower air purifier is very useful when put in a center of any smell, as it has a 360° air intake and the combination of HEPA and carbon filters effectively removes cigarette smoke, vaping smell, body odor, pet urine and so on. The small size and light weight make this unit very easy to place in different locations in a room.
Despite the small size, the Winix PlasmaWave Tower H13 is a very capable air purifier. It has a very decent CADR rating, so it can be used effectively is rooms up to 230 square feet by allergic people delivering 4.8 ACH (more about air changes per hour read here), and up to 300 sq. ft. by people whose main concern is dust and not-related to health airborne pollutants.
Winix air purifiers are known to be powerful, yet affordable and this one isn't an exception. Sleek design and great performance in small rooms make it one of the best air cleaners available on the market today.
Airdog X3: Best Filterless Small Room Air Purifier for Viruses, Bacteria, Germs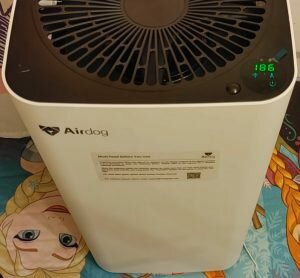 Airdog X3 is an interesting air purifier that does not employ a traditional HEPA filter to capture dust, allergens, mold, germs or VOCs. Instead, like other Airdog air purifiers, it uses a system of mechanical filtration achieved by the pre-filter for hair, dander and other bigger particles and electronic (ionic) filtration. Air, passing through the electric field, generated by wire frames, gets rid of viruses, bacteria and germs which end up on the collecting plate. This plate is washable and doesn't require a replacement later.
As a result, the air is sanitized from dangerous bacteria that cause flu and reduce the chances of getting a virus, including Coronavirus (Covid-19). If you suffer from sneezing, coughing, blockage or other unpleasant experience, the Airdog X3 is the way to go.
In addition, the X3 features a Catalyst frame to remove any smells (in a kitchen, bathroom, pet, human, etc.) from the air that passes through it.
The air purifier can be controlled via the app, and it's very easy to maintain. As it's very quiet on low speed and doesn't require much energy, the Airdog X3 is usually run 24/7 in small rooms, keeping the air quality clean and people healthy.
The major downside of this air purifier is its high retail price, over $400. However, to be fair there are no maintenance costs except for electricity bills (which are very low, you can calculate electricity consumption with this calculator), so in a long run, the operating costs don't get higher that much, compared to the usual HEPA air purifiers.
The Ultimate Comparison (Coway, Levoit, Blueair, Winix, Airdog)
This is the ultimate comparison of the aforementioned air purifies for small rooms 100 – 300 sq. ft. in size. Pick the one that fits your budget and the reason to buy an air purifier in the first place.
Model

Coway Airmega AP-1512HH

Levoit Core 300s

Blueair Blue Pure 411

Winix PlasmaWave Tower H13

Airdog X3

Image
Best For

Dust
Allergies
Odor
VOCs
Mold

Viruses
Bacteria
Germs
Bad Smells

Room Coverage
326 sq. ft.
219 sq. ft.
161 sq. ft.
230 sq. ft.
215 sq. ft.
CADR (CFM)
233
141
105
147
117
Filter Life
6 months
6 months
6 months
12 months
years
Filter Replacement
Price
Price
Price
Price
none
Cleaning Stages
4
3
3
4
4
Ionizer
Auto Mode
Sleep Mode
App/Voice Control
Noise (dB)
24.4 – 53.8
24 – 48
17 – 46
25 – 54.8
30 – 58
Power (Watts)
4.9 – 77.8
26
10
55
27
Dimensions (inches)
9.6 x 16.8 x 18
8.7 x 8.7 x 14.2
8 x 8 x 16.7
9.5 x 9.5 x 14.6
12.2 x 12.2 x 26
Weight (pounds)
12.3
5.95
4
7.1
14
Price

Check

Check

Check

Check

Check