Last updated on January 1st, 2023
Hunter air purifiers are mostly made for small and medium rooms. The company was started in 1886 by John Hunter and nowadays it manufactures air cleaners, dehumidifiers, fans and air conditioners.
Hunter air purifiers utilize 3-stage air cleaning system. The system includes:
Pre-filter for large particles like pet hair, dander, some dust particles. It also prevents growth of dangerous bacteria on the filter and protects the following filters;
Coconut carbon filter to treat VOCs, pet smells, kitchen smells and other odors;
True HEPA filter to remove small particles (dust, smoke, pollen and others) down to 0.3 micron at 99.97% efficiency
All Hunter-made air purifiers feature Sleep mode (produces less noise than the lowest speed), programmable timer (2, 4 or 8 hours), 3 fan speeds (low, medium, high) and are backed by 5-year warranty.
Hunter HP400 for Bathroom and Bedroom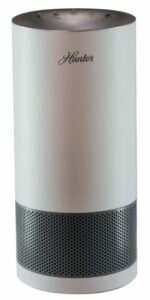 Hunter HP400 portable air purifier is an ideal machine to clean air in small bathrooms and kitchens. It can effectively remove air pollutants in spaces up to 100 square feet.
This air purifier can be run 24/7 as it doesn't produce much sound at the maximum speed, and it doesn't consume much energy: only 33 Watts of power is needed to run with maximum efficiency. It adds up only 40 bucks per year if used continuously. You can calculate power usage for yourself here.
The HP400 pre-filter requires replacement every 3 months (check price, pack of two).
Hunter HP600 for Small Rooms
Hunter HP600 air purifier has twice the room coverage of the previously reviewed HP400. This is due to more powerful fan, larger filter and increased CADR ratings. They are as follows:
Pollen: 144 CFM
Dust: 174 CFM
Smoke: 130 CFM
If dust is the main reason why you want to get an air cleaner for your small, 200 square feet room then the Hunter HP600 is an obvious choice. It's completely ozone-free, the HEPA filter lasts up on average 6 months (check price), it's pretty cheap and also includes 2 pre-filters. You can also buy pre-filter separately (check price, pack of two).
In the end, the Hunter HP600 is a decent air purifier for 200 sq. ft. bedrooms, living rooms and kitchens as it also can remove various smells from the air.
Hunter HP700 for Medium Rooms
Hunter HP700 is designed to clean air in 300 sq. ft. spaces. It works greatly in removing allergens, VOCs, odors and other particulate matter thanks to it 3-stage air filtration process that I've talked previously.
As usual, the pre-filter requires change every 3 months (check price, pack of two).
If I were to get one of the Hunter air purifiers listed here I would've definitely got the Hunter HP700 for one reason: it's one of the best air purifiers if we take into account performance per one dollar ratio. For less than $200 you get powerful, durable, with low operating costs air purifier that is capable of removing airborne irritants in 300 sq. ft. space.
Outdated models: Hunter HP100, Hunter HP800, Hunter HP980, Hunter air purifiers 30890, 30920, 30748, 30375, 30057, 30748, 30973, 30729, 30547, 30930, 30055, 30962.