Last updated on January 1st, 2023
I am presenting to you my top 3 air purifiers for a hallway that are affordable, reliable, portable and utilize HEPA filters to remove various pollutants from the air. Here are they:
If you don't see the whole table, scroll it horizontally
Model

Afloia Halo
Air Purifier

Levoit Core
300 Air Purifier

GermGuardian
AC5350B / AC5350W

Image

Price

Under $100

Under $100

Under $200

Best For

Smoke, Dander, Pet Odor

Dust, Dander, Odors

Viruses, Allergens, Odors

CADR

147 CFM

135 CFM

114 CFM

Filter Life

3 - 6 months

6 months

6 months

Filter Replacement

~$30

~$30

~$23

UV

Noise Levels

28 - 50 dB

24 - 50 dB

60 dB

Max Power

35 Watts

45 Watts

50 Watts
Down below I go into more details about each one of them and also review additional 2 air purifiers that I consider also good for air purification.
Afloia Halo HEPA Air Purifier for Hallway
| | |
| --- | --- |
| Room Coverage: | 165 sq. ft. |
| CADR: | 147 CFM |
| Filter Life: | 3 - 6 months |
| Replacement Filter: | Check Price |
| Noise Level: | 28 - 50 dB |
| Power: | 35W |
| Dimensions (LxWxH): | 8.4" x 8.4" x 17" |
| Weight | 5.3 pounds |
Afloia Halo is the best air purifier for a hallway in 2023. It uses a true HEPA filter that also incorporates a pre-filter for larger particles (hair and pet dander are the best examples) and a Carbon filter to capture odors, including cigarette smoke. This 3-stage air cleaning technology ensures 99.97% of particles up to 0.3 micron are captured inside the filter.
The filter itself must be replaced every 3 to 6 months, depending on usage. If the Afloia runs 24/7 you will have to change it every 3 months, but if you're planning to use the air cleaner from time to time, the lifespan is expected at 6 months.
When it comes to noise production, at the lowest speed this air purifier is inaudible, so it can be run even at night (lights can be dimmed too). At the highest speed, 50 decibel sound is equal to the sound of a refrigerator. You hear it clearly, but it isn't that loud.
The timer (which can be set up for 2, 4 or 8 hours) is also a nice addition.
Overall, the Afloia Halo is a lightweight, easy to handle, yet powerful enough air purifier with a unique design for hallways in any home.
Levoit Core 300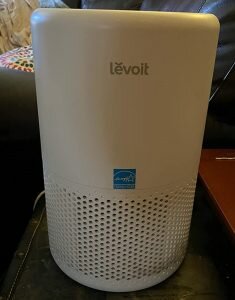 Levoit Core 300 is another great air purifier that can be used in hallways, bedrooms or other small rooms. When compared to the previously reviewed Halo, it has a similar price and performance with the 3-in-1 HEPA air filter (includes pre-filter and carbon filter as well). However, from my experience, it also does a little better job at removing dust and dust mites from the air. So if this type of air pollution bothers you the most, I recommend getting the Core 300.
When it comes to wattage or noise, the Halo and Core 300 are very similar: the latter is even more silent at the lowest speed, however, consumes 10 more Watts of power. Yet it results in just a few additional bucks per year.
All in all, the Levoit Core 300 is one of the best air purifiers for hallway and small spaces in general.
GermGuardian AC5350B / AC5350W UV Air Purifier for Hallway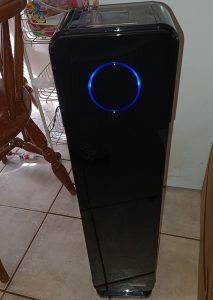 GermGuardian AC5350B and AC5350W are a bit different air purifiers. They are available in black (AC5350B) and white (AC5350W) colors, feature an extremely towered design and use a UV-C lamp for virus and bacteria removal.
UV-C radiation is well-known to kill viruses, bacteria and other microorganisms. It is recommended to disinfect the air, according to FDA. So if your major concern is viruses and germs present in the indoor air, I definitely recommend getting the GermGuardian.
It also does a good job of removing allergens, VOCs and smells from the air thanks to the charcoal filter. If odors from cooking are seeping into your hallway, it can easily capture them too. You can also take a look at my list of the best air purifiers for kitchen.
An interesting towered design and 5 speed settings (most air purifiers have only 3) are two additional reasons why I consider this air purifier the best for hallways.
Winix H13 Tower A230/231 with Auto mode & Ionizer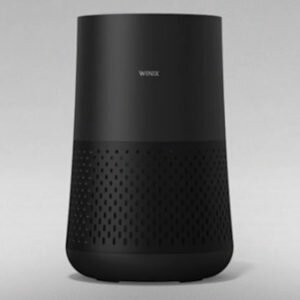 Winix H13 A230/231 tower air purifier (available in two colors) features not just a high CADR rating, but also the Auto mode and Ionizer. Let's take a closer look at these features.
Auto mode uses the built-in sensor to detect airborne particles. If there are many of them, the Winix will increase the speed until most of the pollution has been cleaned and air quality is high. Basically, in this mode the air purifier doesn't need a human touch at all.
Ionizer has 2 functions: it produces ions which help the filters to capture particles, but also it makes the air fresher. So if you want to buy not just an air purifier, but also a freshener, the Winix A230 or 231 will be a great choice.
When it comes to filters, there aren't any surprises: the pre-filter for larger particles, HEPA for bacteria, mold and dust mites, whereas the carbon filter traps odors. The 3 filters are merged into one that is designed to last on average 12 months. It is also pricier compared to the filters that are used by air purifiers reviewed previously.
Honeywell HPA100: Old but Gold
Honeywell HPA100 is a relatively old AHAM-certified air purifier, but it still going strong. It's not the quietest one, but its great design, good and cheap air filters have made it popular among other air purifiers, including ones from Honeywell.
The motor of the HPA100 is loud, but if you don't mind the noise, you can be sure that this air cleaner delivers on its promises: it removes allergens, odors and dust efficiently, without any hassle.
Where to Put an Air Purifier in Hallway?
My air purifier sits right in front of the door, slightly to the wall. This way it covers the whole hallway allowing it to faster and better clean the area, and at the same time, it doesn't obstruct passage for me, my family members or guests.
Do not put an air purifier too close to the wall – you have to have at least 20 inches between it and the wall. If you put it too closely it will result in worse airflow generated by an air cleaner, which directly affects its performance in a negative way.
I run my air purifier in hallway 24/7, since it doesn't consume much energy and it's keeping the air clean 100% of the time.