Last updated on January 1st, 2023
Airdog is an US-based company focused on designing and manufacturing portable air cleaning units and accessories for them. They have started their business in 2007 and since that time has patented over 100 innovations in air purification technology.
Contrary to their major competitors like Winix, Honeywell or Coway, all Airdog air purifiers are utilizing their own patented TPA air cleaning technology. It does not require filter changes and their air cleaning components (pre-filter, collecting plates) are washable. Hence, despite the initial higher price in the long term they become more cost efficient as time goes by.
If you want to have a quality air purifier for your home or car you may consider Airdog as your primary supplier of air cleaners.
Airdog X8 for Large Rooms
| | |
| --- | --- |
| Room Coverage: | 1000 sq. ft. |
| CADR: | 470 CFM |
| Noise Level: | 63 dB |
| Power: | 110W |
| Dimensions (LxWxH): | 15" x 15" x 30" |
| Weight | 43 pounds |
The whole Airdog X-series and X8 in particular features 5-stage air filtration system using Pre-filter, Wire frame, Collecting Plates and Composite catalyst. The name of the system Two Pole Active technology (TPA). Let's quickly recap how it works.
After air was absorbed by Airdog X8 it enters the pre-filter stage. The pre-filter screen not only traps pet hair, dander and other 'big' particles, but also prevents them getting forward and polluting other filters decreasing their effectiveness.
After big pollutants were filtered out, air passes through Wire frame that creates and electro field that zaps particles. Ionic filed annihilates bacteria and germs.
Finally, washable collecting plates traps charged particles and composite catalyst filters out odors, VACs and anything that wasn't filtered out previously, releasing fresh air.
When compare this system to the traditional HEPA there are 2 big differences in favor of TPA technology: it cleans 99,99% harmful particles down to 14.6nm (compared to 0.3microns) and doesn't require filter change every 3 to 12 months.
Hands down, TPA air cleaning technology is very effective and in the long-term more cost-effective compared to the HEPA-based air purifiers.
Airdog X8 in particular suits for ventilation big rooms and large spaces. It has extremely huge airflow of 470 cubic feet per minute, capable of cleaning 1000 square feet in just 17 minutes. If you have a large living room, the X8 will do the air cleaning job properly.
Regarding asthma, allergies and other breathing conditions. EPA recommends 4-5 air changes per hour to remove bad air conditions and Airdog X8 is capable of that too. It can clean air every 15 minutes in 890 sq. ft. spaces and every 12 minutes in 700 sq. ft. rooms. Use our ACH calculator for your room.
If you're a heavy smoker, recommended ACH jumps up to 8. In this case, X8 can clean air in 440 sq. ft. room.
Overall, Airdog X8 is very powerful, capable and quite pricey (at first glance!) air purifier for large rooms that is capable of cleaning area effectively in 1000 sq. ft. space. It works flawlessly in large spaces or in medium but heavy-polluted rooms. Read our review (the link is above) to know more about this air purifier.
Airdog X5 for Medium Rooms
| | |
| --- | --- |
| Room Coverage: | 400 sq. ft. |
| CADR: | 220 CFM |
| Filter Life: | washable, permanent |
| Noise Level: | 22 - 63 dB |
| Power: | 60W |
| Dimensions (LxWxH): | 12.4" x 12" x 25.6" |
| Weight | 23.6 pounds |
Airdog X5 features the same TPA air cleaning technology presented in the X8 version. If you aren't familiar with it we recommend scrolling up and checking it out it – won't take much time to figure out what's what!
Compared to the pricier X8, the X5 can effective clean air in medium rooms up to 400 square feet every 15 minutes. 4 air changes per hour is enough for allergy sufferers to remove negative effects of their conditions.
Less power means more energy saved. If the Airdog X5 works 12 hours per day on the maximum speed it will cost around 3 bucks per month or $36 on electricity bills per year.
Noise levels are identical to the X8 model. At the maximum speed the air purifier doesn't produce loud noise that would disturb even your neighbors. At the smallest fan speed the unit works quietly at night.
To sum it all up, the Airdog X5 is the middle ground for those who don't want to spend over $1000 on an air purifier but still have a piece of air cleaning technology that works, not some cheap junk trash. It is definitely pricy, but you will save up money in the long term (ordinary True HEPA air purifiers require at least $50-100 spent each year on filter replacements). And yes, customer support that can solve your problem!
Airdog X3 for Small Rooms
| | |
| --- | --- |
| Room Coverage: | 215 sq. ft. |
| CADR: | 117 CFM |
| Filter Life: | washable, permanent |
| Replacement Filter: | Check Price |
| Noise Level: | 30 - 58 dB |
| Power: | 27W |
| Dimensions (LxWxH): | 10.2" x 10.2" x 20.5" |
| Weight | 11 pounds |
Airdog X3 is the ultimate air purifier for bedrooms and small rooms (100 – 300 sq. ft). It is capable of ventilating air every 15 minutes in 215 square feet rooms releasing fresh air and removing negative effects for allergy or asthma sufferers.
Despite being quite, the X3 costs slowly but surely go down as the time goes by due to the 2 facts:
There are no filters that require replacements every 3/6 or 12 months.
Power consumption is only 27 Watts at the maximum speed.
This results in astonishingly low maintenance costs per year (only $12 on average). In three years the average HEPA-based air purifier will already cost around $300-400 depending on filter quality and electricity consumption. In 5 years the costs skyrocket to $500 minimum which already surpass the Airdog X3 price.
If you're thinking long-term and changing filters isn't your thing (and sometimes they are not available anywhere), the Airdog X3 is an ideal choice.
Airdog V5 Car Air Purifier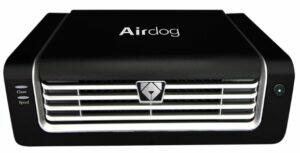 Check Airdog V5 price at official store
Airdog V5 air cleaning unit designed to fit cars, it won't work for rooms and other spaces. As any other Airdog air purifier, it costs more on average but comes with washable filter utilizing TPA technology and doesn't require replacements at all. Just clean it every 2 to 3 months and enjoy fresh air without any smell in your car.
The V5 comes with auto mode that automatically adjust fan speed to the air quality. Truth to be told, it's not always picking the right air conditions so you have to manually select the right mode. Manual control is available with 3 fan speeds (low, middle, high).
On a negative side, the Airdog V5 doesn't come with anything that keep the unit in place. At this price range the manufacturer could've come up with some idea to stop it crashing down.
Overall, V5 is pricey and good in cleaning air, but bulky, lacks any sort of fastenings and auto mode isn't always on spot.