Last updated on January 1st, 2023
We spend up to 90% of our time indoors, according to the EPA (alongside the 2x to 5x more polluted air than outdoors). We spend at least 8 hours per day in bed (if we're lucky). That is why the majority of individuals desire bedroom air purifiers.
Although any air purifier can be used in the bedroom, not all air purifiers are well-suited to the task. There are several guidelines to consider while choosing the best bedroom air purifiers. Among them are:
Completely silent operation. Nothing louder than 58 decibels.
True HEPA filters collect even the tiniest particles floating in the air.
Sleep mode (dimmed display lights & silent operation)
Smartphone controls are preferred. Because the last thing you want to do while you're tucked in is untuck and alter the air purifier's setting.
Ability to work 24/7.
Based on these parameters and specifications like as coverage area, CADR rating, airflow, and filtration technology, we will cover the 5 best air purifiers for bedrooms. They all filter out the most prevalent pollutant in bedrooms like fine dust, pet hair, pollen (if you have any animals at home), allergens, smoke and other odors.
Alen BreatheSmart 45i: Quiet and Powerful Air Purifier For Bedroom
| | |
| --- | --- |
| Room Coverage: | 380 sq. ft. |
| CADR: | 245 CFM |
| Filter Life: | 12 months |
| Replacement Filter: | Check Price |
| Noise Level: | 23 - 49 dB |
| Power: | 1.1 - 50W |
| Dimensions (LxWxH): | 15" x 8.5" x 25" |
| Weight | 15 pounds |
Alen BreatheSmart 45i is an extremely efficient yet quiet portable air purifier, that is superb for air cleaning 24/7 in a large bedroom. It can deliver 4 air changes per hour in 460 sq. ft. room or 4.8 ACH in a 380 sq. ft. room – ideal for asthmatics and allergies – at 4th speed producing just 49 decibels of noise. At the lowest speed it makes only 23 dB of sound, making it the quietest air purifier for your bedroom you can think of.
With the in-built particle sensor, the air purifier calculates the most efficient speed the air is cleaned. For example, if the sensor senses any smell in a bedroom (smoke or any other) it will increase the speed until the odor is completely removed. However, it is also possible to manually select any of the 4 available speeds and run the Alen BreatheSmart 45i for months.
Another great feature of this bedroom air purifier is the HEPA filters. First off, there are four available air filters for the BreatheSmart 45i customized for different air pollutants whether it's heavy smoke, allergens, mold, odors, VOCs. This customization allows for achieving great results in any particular situation.
The second great feature of Alen air filters is their lifespan. The majority of air filters last for 3-6 months; the BreatheSmart 45i HEPA filter is designed to last for at least 1 year if the air purifier runs 24 hours per day. Such a long lifespan is partially attributed to the pre-filter which also traps large particles (hair, for example). This pre-filter doesn't last for so long (on average from 3 to 6 months), however, it's very cheap (check price).
Overall, the BreatheSmart 45i air purifier from Alen is the best you can get for your bedroom if you value quiet operation and high-efficiency air filters capable of removing a wide range of pollutants from the air.
Levoit Core 300s for Small Bedroom
| | |
| --- | --- |
| Room Coverage: | 219 sq. ft. |
| CADR: | 141 CFM |
| Filter Life: | 6 months |
| Replacement Filter: | Check Price |
| Noise Level: | 24 - 48 dB |
| Power: | 26W |
| Dimensions (LxWxH): | 8.7" x 8.7" x 14.2" |
| Weight | 5.95 pounds |
Levoit Core 300s is the most popular Levoit air purifier for bedrooms. The one unit is capable of effectively cleaning the space from airborne pollutants, including odors, allergens, pet smells and dust.
Compared to the Alen air purifier reviewed above, the Core 300s is cheaper and works better for smaller bedrooms.
Coway Airmega 300s for Large Bedroom
Coway Airmega 300s is designed for large and extra large bedrooms and living rooms. Made by the Korean company Coway the air purifier features an extremely good air filtration using a large HEPA filter. In addition, the Carbon filter can deal with all kinds of bedroom odors, including diapers and body smells.
Rabbit Air MinusA2 SPA-700A: Ultra-Quiet Air Purifier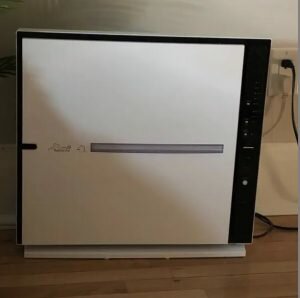 Rabbit air purifiers are known as the quietest air cleaners in the world and the Rabbit Air MinusA2 SPA-700A is no exception: at the lowest speed it doesn't exceed 20.8 decibels! If you don't want to hear even the slightest amount of white noise at night, this is your bedroom air purifier!
There are several air filters for this Rabbit Air unit, each of them targets a specific type of pollutant you want to get rid of in your bedroom (germ, odor, dust, etc.).
Airdog X3 w/ Washable Filter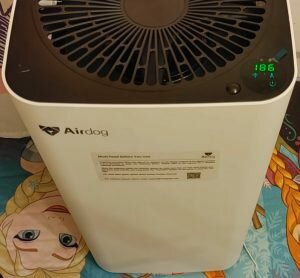 Airdog X3 stands out among all the air purifiers for bedrooms with the washable TPA filter. All other air cleaners require constant replacement of the air filters whether each 6 or 12 months, but the X3 isn't like that (and Airdog X5 and X8 too). Investing in this air purifier from Airdog means you won't need any investments in years to come, except for operating costs which are really low and consist only of electricity bills (approximately $12 per year).
Benefits of Air Purifier in a Bedroom
Is an air purifier for the bedroom a sensible choice? The correct answer can actually only be "not always, but sometimes". For example, those who suffer from allergies to animal hair and at the same time live with pets, can sleep better if an air purifier works in the bedroom.
What problems can occur in the bedroom?
Good sleep is extremely important. However, not all people manage to get a good night's sleep on a regular basis. In a study conducted by the Robert Koch Institute in 2012, 30.8 percent of women and 22.3 percent of men reported suffering from sleep disorders at least three times a week. This is by no means unproblematic.
On the one hand, the consequences of poor sleep can be a decline in concentration and reduced mental performance.
Lack of sleep can also have an effect on a person's mood: One becomes more irritable, may show signs of depression, and may even appear apathetic to those around him. Physically, lack of sleep can, for example, upset the hormonal balance of the human body.
What does an air purifier do?
Many air purifiers are also humidifiers. A humidifier can keep the relative humidity in a room in the optimal range between 40% and 60%. This is an advantage because the infectivity of germs decreases when the air is more humid. The devices for air humidification incidentally reduce the risk of any disease considerably. On the other hand, as the humidity rises, foreign particles in the air sink faster at higher humidity levels and are less likely to be inhaled.
But be careful: an air purifier in the bedroom should not be used as a humidifier, because sleeping people usually emit a lot of moisture and bedrooms therefore usually already have sufficiently high humidity.
However, it does not hurt to measure the humidity of the air in the bedroom with a hygrometer from time to time. Declared as purifiers, air conditioning devices remove potentially harmful foreign particles from the air we breathe through filtering and other techniques. To filter the air, they are equipped, for example, with coarse filters, activated carbon filters and / or so-called HEPA filters.
Thermo-hygrometer for the bedroom to measure humidity and temperature. The abbreviation HEPA stands for "High Efficiency Particulate Air filter". Glass fiber mats are often used as filter media for these types of filters. HEPA filters can remove even the tiniest airborne particles from the air.
These include dust, pollen, spores, viruses and bacteria, as well as odor particles.
Activated carbon filters in an air purifier have a similar effect. These filters are also effective against minute particles. This means, for example, that they can even rid the room air of cigarette smoke.
Also important: not too loud, please.
With an air purifier in the bedroom, noise plays a role in addition to performance. If, for example, someone with an allergy to animal hair is no longer bothered by allergens, that is of course good. However, if he still can not sleep better because of the noise of the air purifier, ultimately little is gained.
Anyone who wants to use an air purifier in a bedroom should therefore always pay attention to information on the sound producing level. That's why I have put the list with the best air purifiers for bedroom and it has only quiet air purifiers!
Sleep well and breathe clean air!