Last updated on January 1st, 2023
Blueair is a Swedish company established in 1996 by Bengt Rittri focused on air cleaning technologies. All their air purifiers are tested independently by Association of Home Appliance Manufacturers to verify CADR ratings and room coverage. Absolute majority of their air purifiers (except for Classic 205, Classic 280i and Pro XL) are Energy Star Certified by the Environmental Protection Agency as well.
On this page we review all portable Blueair air purifiers available today on the US market.
Blue Pure Series
Blue Pure Series is the most popular series of Blueair air purifiers. They cover from 165 sq. ft. spaces up to 620 sq. ft. rooms and are excellent choice if you are looking for a reasonably priced air cleaner without any additional and fancy features. All of them feature 360-dergee air intake and 3-stage filtration with pre-filter, HEPA and Activated Carbon filters.
Blueair Blue Pure 211+ and Blue Pure 211+ Auto for Large Rooms
If you don't see the whole table, scroll it horizontally
| Model | Blue Pure 211+ | Blue Pure 211+ Auto |
| --- | --- | --- |
| Image | | |
| Best For | Lower Price | Auto Mode |
| Price | Under $350 | Under $350 |
| Room Coverage | 540 sq. ft. | 550 sq. ft. |
| CADR | 350 CFM | Dust 347 / Pollen 380 / Smoke 353 CFM |
| Filter Replacement | Check Price | Check Price |
| Auto Mode | | |
| Noise Levels | 31 - 56 dB | 23 - 56 dB |
| Power Consumption | 30 - 61 Watt | 4 - 38 Watt |
Blue Pure 211 is the most popular air purifier from the Blueair company and rightfully so. It comes in two models: Blue Pure 211+ and Blue Pure 211+ Auto. As you can see from the table above they are similar except for the one big difference: 211+ Auto has an Auto mode which relies on an in-built particle sensor that automatically adjust fan speed depending on the air quality in a room. I reviewed many air purifiers and must say, sensor is capable of detecting air pollution very good.
For a little under $300 bucks (the model with an Auto mode enabled is more expensive by a few tens of bucks) you get:
A very powerful air purifier with certified CADR rating of 350 cubic feet per minute (CFM) of air moved for smoke, dust and pollen. Many manufactures (Alen being the prime example) sell their air purifiers with the same CADR double the cost of the Blue Pure 211+! So if money saving is one of your concerns, but at the same time you don't want to sacrifice performance of your air purifier, the Blue Pure 211+ or Blue Pure 211+ Auto is definitely the best option out there.
5 air changes per minute in 540 square feet room. You should use this calculator if you want to calculate how many ACH Blue Pure 211 will provide for your room.
Quiet air cleaning: at the lowest speed setting it is possible to watch TV without getting bothered by the sound usually produced by air purifiers. White noise is very consistent. At the highest setting the air purifier is loud, but bearable: I was having conversations without raising my voice at all.
Reasonable power consumption with 61 Watts of power at the maximum speed. At the speed one Blue Pure 211 consumes half of that and doesn't features any energy saving technology, but even without it electricity bills do not exceed 5 dollars per month. You can check how much electricity the unit will use by using this energy use calculator.
3-stage air filtration with washable fabric pre-filter (it is available in different colors to fit your room's design) and HEPA plus Carbon filter (check availability / 211+ Auto replacement filter; needs replacement every 6 months) . As opposed to many other air purifiers, Carbon filter located behind HEPA filter and it shows great results in capturing tiny particles of dust, pollen, animal dander and also significantly reduces household odors from smoking, cooking and pets!
All in all, Blueair Blue Pure 211 Plus is definitely worth the price. If you want to save up some money you can go without an Auto mode. I personally prefer to turn on the air purifier and set it running for a few hours at a maximum speed to clean up the air from pollution in my large room and dust and later switch it to the auto mode.
Blueair Blue Pure 211+ vs 211+ Auto
Blueair Blue Pure 411 / Blue Pure 411+ / Blue Pure 411+ Auto for Small Rooms
If you don't see the whole table, scroll it horizontally
| Model | Blue Pure 411 | Blue Pure 411+ | Blue Pure 411 Auto |
| --- | --- | --- | --- |
| Image | | | |
| Reason to Buy | Lower Price | Imncreased Airflow | Auto Mode |
| Price | Under $120 | Under $140 | Under $140 |
| Room Coverage | 161 sq. ft. | 185 sq. ft. | 190 sq. ft. |
| CADR | 105 CFM | 119 CFM | 123 CFM |
| Auto Mode | | | |
| Noise Levels | 17 – 46 dB | 17 – 46 dB | 18 – 48 dB |
| Max Power | 1.5 – 10 Watts | 1.5 – 10 Watts | 2 – 10 Watts |
Blue Pure 411 is a smaller (16.7 x 8 x 8 inches) and lighter (weights only 5.3 lbs) air purifier compared with the previously reviewed Blue Pure 211. It covers small rooms from 161 sq. ft. to 190 sq. ft and available in 3 models: the base Blue Pure 411, Blue Pure 411+ with an improved airflow and Blue Pure 411 Auto with built-in air sensor to automatically adjust 3 speeds. It also has a round design and features 360-degree air intake.
What makes this lineup of Blueair air purifiers great is their ability to work extremely efficient in capturing bathroom, pet or kitchen odors and particles but also a very quiet operation. Many purifiers out there are designed for small rooms, but they still produce a lot of noise, especially on a higher speed level. Blue Pure 411 is very quiet: at the lowest speed setting the air purifier doesn't make noise at all and at it can be run at night even in a case if you have sensitive ears. The only problem are lights on the top that can't be turned off, but you can use 1 3/4 inch felt pad to cover up the lights that also will not interfere with the airflow.
As you can see from the Blue Pure 411 vs Blue Pure 411+ vs Blue Pure 411+ table, power consumption is almost non-existent. There are one of the most energy efficient air purifiers out there if not the most energy efficient. They will add just a few dollars per year as maintenance costs. Replacement filters (price) are also cheap at around 20 dollars per piece.
The last thing I want to mention is that tthe Blue Pure 411, 411 Plus and Auto can be used in a larger rooms up to 200 – 220 sq. ft. and still be efficient air purifiers. You can also buy two or three of them for a large 400 – 600 sq. ft. room and place in different corners to cover the space completely.
See also: Blueair Blue Pure 411 vs 411+ vs 411 Auto Comparison
Personally I'd recommend getting either Blue Pure 411+ or Blue Pure 411 Auto since they are a bit more powerful and automatic speed adjustment is quite handy.
Blueair Blue Pure 121 for Extra Large Rooms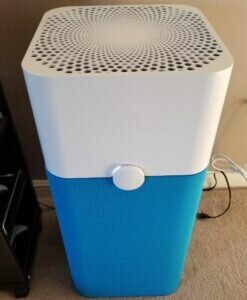 Blue Pure 121 is the Blueair air purifier for large rooms 620 sq. ft. and over. It has a similar design to Blue Pure 211, but more powerful: this air purifier has CADR rating of 400 for smoke, pollen and dust. The power consumption and noise remained at the same level of the 211 model.
As with all Blue Pure air purifiers, you can place the unit in a room above the recommended 620 sq. ft. For example, in 750 sq. ft. room you still achieve 4 air changes per minute! Not many air purifiers priced above $600 can achieve that and the Blue Pure 121 costs way less than $500!
Replacement filter priced a little over $100 and consists of 1 particle filter plus carbon filter.
See also: Blueair Blue Pure 121 Air Purifier vs 211+ vs 211+ Auto
Overall, the Blue Pure 121 is definitely an air purifier you should consider for large rooms, hands down.
Blueair Blue Pure 311 Auto for Medium Rooms
Blue Pure 311 is designed for medium rooms, to fill the gap between the Blue Pure 411 models and Blue Pure 211 models. It has been certified by AHAM for 388 sq. ft. rooms and features particle sensor that in charge of running automatic mode. As with all Blueair air purifiers, auto mode works great and can detect different levels of pollution adjusting the air purifier's speed accordingly.
What's good about Blue Pure 311 is that it almost silent at the lowest speed and is very energy efficient. This model isn't very popular, but you should definitely take a look at it as it's powerful, quiet and smart air purifier for the price way below you'd expect it to be.
See also: Blueair 311 vs 411
Classic Series
Blueair Classic air purifiers are made for people who want not only to remove odors and dust but also harmful gases, viruses and bacteria. All the air purifiers feature Alexa support, Wi-Fi capabilities, timer and pricier versions have wheels to freely move the unit around your house. Their housing is built from galvanized steel whereas the warranty can be expanded up to 5 years. All Blueair Classis air purifiers feature HEPASilent technology as their main filtration system that removes airborne particles down to 0.1 microns.
Blueair Classic 605
Check Blueair Classic 605 Air Purifier price at a discount
Blueair Classic 605 is the most popular air purifier in the Classis series and rightfully so. Just take a look at the CADR rating for pollen: it's 640 CFM of air moved! If you're suffering from allergy caused by pollen, the Classic 605 will make you free from it in a matter of a few hours. Despite being advertised for 775 sq. ft. rooms, it can perform 4.8 air changes per minute in 1000 sq. ft. space when it comes to capture pollen particles.
While being very powerful, the Classic 605 is also quiet. On speeds 1 and 2 it produces quiet white noise and it only becomes loud at the third speed.
A few words about HEPASilent technology. It's the patented Blueair technology that features dual filters as mechanical filtration (including high-porosity coconut activated carbon filter) and electrostatic charging as electronic filtration. As a result, 99.97% of particles down to 0.1 microns are captured; that include viruses, bacteria, pollen, dust, smoke and other household odors. The manufacturer recommends to replace filter every 6 months (check price).
The app allows to set up timer, Child Lock, configure LED brightness and perform other settings. Unfortunately, these functions only available via app (you may only control speed and turn on/off the unit with physical controls located at the top), so if WiFi connection disappears or the app is bugged there is no way to use them.
The air purifier is heavy (35 lbs.) and big when compared to any Blue Pure air purifier, but that's irrelevant when you consider the machine's capabilities and power. Plus the wheels make it easy to move around. I definitely recommend getting the Blueair Classic 605. It often sold at 20% or 30% off, so when you see the deal grab it immediately.
Blueair Classic 680i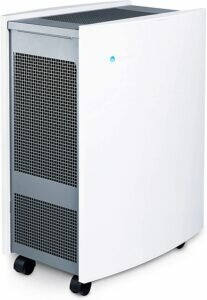 Blueair Classic 680i is similar to the 605 Classic and the major difference is the integrated automatic mode which adjust the speed based on data from 3 sensors that include:
Fine particle (PM 2.5) sensor
Gas sensor
Odor sensor
As for the maintenance costs they are higher when compared to the Classic 605 as replacement filters are available at a higher price tag for the standard filter and the DualProtection (check availability).
Whereas 680i's power consumption has remained the same, the actual CADR rating are lower in comparison to the Classic 605 air purifier. The airflow for pollen has dropped from 640 CFM to around 470-480 CFM (the official specs state CADR for pollen and smoke over 450 CFM). I can't really pinpoint as to why this happened and my only guess is that Blueair has decided to improve internal design of the air purifier that resulted in such airflow loss.
In conclusion, I can't really recommend the Blueair Classic 680i when you have the Classic 605 still available on the market. Don't get me wrong: this is an excellent air purifier with great performance and the built-in Auto mode is good, but having higher CADR is still better. So my advice would be getting the Classic 605 model (it's cheaper anyway even at the full price) and a few genuine replacement filters in a case the manufacturer decides to discontinue the product in the nearest future. And this may happen at any time without prior notice, as usual.
Blueair Classic 280i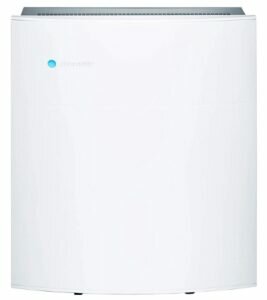 Check Blueair Classic 280i Air Purifier price at a discount
Blueair Classic 280i is packed with the same functions as the 680i reviewed above, and it designed to work in smaller rooms. The air purifier retails at a little over $400 which is a reasonable price for this 24 pound machine.
The air purifier has higher airflow for pollen and smoke, so if these types of air pollutants are your main concern you can place the unit in a space up to 300 square feet and get at least 5 air changes per hour. On the speeds 1 and 2 the air purifier is quiet and energy consumption is pretty low too.
Blueair Classic 480i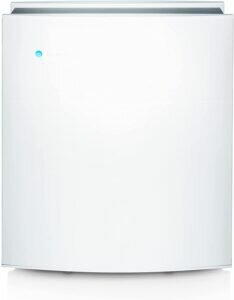 Check Blueair Classic 480i Air Purifier price at a discount
Blueair Classic 480i is a middle ground between the 280i and 680i air purifiers. It is verified by the AHAM for 434 sq. ft. rooms, but just like in the case of 280i CADR ratings for pollen and smoke are higher compared to dust, so the air purifier can achieve 5 ACH in 450 sq. ft. room. If you suffer from any breathing conditions, this air purifier will definitely help you breathe more freely.
Sound levels are also a bit lower, making it great to run at night.
Unfortunately, the Blueair Classic 480i lacks casters and it's quite heavy at 31 pounds. Durable galvanized steel is great for longevity but how about mobility, Bluear?
In conclusion, the Classic 480i is definitely a great air purifier for the price, especially when it's sold at a 10-15% discount. In a case you stumble upon that, grab this machine immediately!
Blueair Classic 205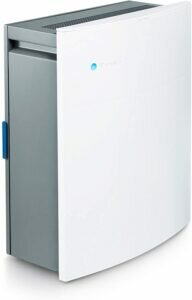 Blueair Classis 205 is an outdated model from the Classic series. It performs worse compared to the 280i model and has lower CADR rating. Buy it only if you can find a huge discount on this air purifier.
Pro Series
Pro series of Blueair air purifiers features 3 models: Pro XL, Pro L and Pro M. They all have sleek vertical design featuring large V-shaped filters, can be stacked up with an additional Carbon+ filter (check price) or SmokeStop Filter (price) for better odor filtration and Blueair AProAIM Air Intelligence Module (see price) to set them in Auto mode.
Blueair Pro XL
| | |
| --- | --- |
| Room Coverage: | 930 sq. ft. |
| CADR: | >600 Dust, Smoke / >450 Pollen |
| Filter Life: | 6 months |
| Replacement Filter: | Check Price |
| Noise Level: | 32 - 58 dB |
| Power: | 33 - 256W |
| Dimensions (LxWxH): | 10" x 20" x 44" |
| Weight | 66 pounds |
Blueair Pro XL is the extremely powerful air purifier with the highest CADR rating among all Blueair purifiers reviewed on this page. It can move 990 cubic feet of air per minute to clean 1180 square feet of space in just 10 minutes! Not a single bacteria, virus or VOC particle will survive the power such a beast.
On the other hand it is extremely expensive. It retails at a little over $2400 and you're going to get lucky if you find one being sold at a discount. On the other hand, replacement filters are comparatively cheap at $70 per piece.
So the main question is 'Does Blueair Pro XL worth the price?' Well…Yes and no.
Yes if you have an extremely large room over 1000 square feet in size and suffer from severe breathing conditions. In this regard, the Pro XL will definitely improve your breathing as it outperforms absolute majority of air purifiers present on the market. For example, Tracs air purifier, similar in performance to this one costs even higher.
If you need an air cleaning in your office or workspace, the Blueair Pro XL is also a good pick. Despite the powerful engine, it produces only 58 decibels at the highest speed. It is similar to the sound of a working household refrigerator.
If you don't have any breathing conditions and you are looking for an air purifier for the extra large room similar to 1000 sq. ft. in size, the Pro Xl is probably not the best pick. The Blueair Classic 605, 680i and Pro L will offer a decent performance in cleaning airborne particles and odor without having you to pay through the nose.
Blueair Pro L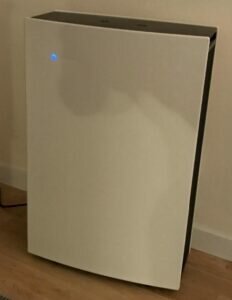 Check Blueair Pro L Air Purifier price at a discount
Blueair Pro L is similar in specifications to the previously reviewed Classic 605 and Classic 680i air purifiers, apart from the higher electricity consumption and lack of wheels. It is also priced a little higher but sellers sometime offer a 10% off.
This air purifier is only recommended for extra-large rooms, reception rooms, studios. It weights staggering 46 pounds, so moving around this machine is time taking.
At the speed 1 and 2 Pro L is quiet for the performance it offers. At the speed three the sound is noticeable, but you wouldn't run it like that for most of the time anyway, unless you put it in a large space that exceeds the recommended at least 1,5 times.
I personally would you recommend getting either the Classic 605 or Classic 680i models for 3 main reasons: price, functions and filter replacement availability. Buy the Blueair Pro L if you have extremely large room over 1,000 square feet or in a case you have an overcrowded space that you want to keep clean.
Blueair Pro M
Check Blueair Pro M Air Purifier price at a discount
Blueair Pro M is the last air purifier from the Pro series I can recommend. It is quite heavy (26 pounds) but lacks any wheels, it's priced over $600 but lacks features of the Classic 480i. Get it only if you love the design.
HealthProtect Series
Blueair HealthProtect series lists the only air purifiers that was confirmed to remove 99.99% of Covid-19 bacteria in the air with the help of GermShield technology. If Covid-19, other viruses and germs are your main concern to get an air purifier, then HealthProtect series is what you should take a look at.
| | | |
| --- | --- | --- |
| Model | HealthProtect 7470i | HealthProtect 7770i |
| Image | | |
| Reason to Buy | Lower Price | Large Coverage |
| CADR | 275 CFM | 435 CFM |
| Room Coverage | 418 sq. ft. | 674 sq. ft. |
| Power | 8 – 48 Watt | 8 – 76 Watt |
| Noise Level | 22 – 45 dB | 25 – 53 dB |
| Auto mode | | |
| Night mode | | |
| App | | |
| Price | Check Price | Check Price |
As you can see from the HealhProtect 7470i vs HealhProtect 7770i comparison table above, the major difference between them is CADR rating and, thus, room coverage. The Blueair HealhProtect 7470i covers 418 sq. ft. at 5 ACH whereas the 7770i covers 674 sq. ft. of space.
Both units can be run 24/7, as they are extremely silent and very energy efficient air purifiers. Additionally, it is possibly to set the speed anywhere from 1% to 100% via app. HealhProtect air purifiers definitely worth the price they are asked for.
Outdated models: HealthProtect 7410i, 7710i.
DustMagnet Series
If you room is overwhelmed with dust then DustMagnet air purifiers from Blueair are the right choice. Released in 2021, they are more expensive compared with the Blue Pure air purifiers, but their design focused entirely on trapping dust particles all over your room. If you're tired of vacuuming your room because of dust constantly settling all over it, this may solve your problem.
All DustMagnet air purifiers can be controlled with voice, has Wi-Fi support and feature Auto and Night modes. In the table below I listed the differences between different DustMagnet air cleaners.
| | | | |
| --- | --- | --- | --- |
| Model | DustMagnet 5210i | DustMagnet 5240i | DustMagnet 5410i |
| Image | | | |
| Reason to Buy | Lower Price | Premium Textile | Increased Coverage |
| CADR (Smoke) | 133 CFM | 133 CFM | 255 CFM |
| Room Coverage | 212 sq. ft. | 212 sq. ft. | 356 sq. ft. |
| Power | 5 – 22 Watt | 5 – 22 Watt | 7 – 42 Watt |
| Noise Level | 22 – 45 dB | 22 – 45 dB | 31 – 50 dB |
| Price | Check Price | Check Price | Check Price |
There is also a premium version of 5410i called 5440i with premium textile.
I hope this detailed review of the Blueair air purifiers was helpful for you. Blue Pure series is generally well-priced, Classic series offers additional functions and Pro is the ultimate killer of airborne pollutants. HealthProtect air purifiers are great for getting rid of bacteria whereas DustMagnet focuses on removing dust from any part of a room.
Comparisons, Troubleshooting, FAQs, Fixes: