Last updated on May 15th, 2022
Keeping the air clean from odors in a bathroom isn't an easy task. That's where air purifiers come in handy: they are portable and can be used continuously without crippling maintenance costs.
However, not all air purifiers are good for odor elimination. Some of them are badly designed and do not filter smells, while others broke too fast. Down below I have listed the 5 best air purifiers for bathrooms that you can buy in 2022 and that are good at doing their job.
TOP 3 Air Purifiers for Bathroom
Model

Blueair
Blue Pure 411

Coway Airmega
AP-1512HH

Alen
BreatheSmart 45i

Image

Best For

Dust, Smells

Odors, Dust, Mold

Musty Odors, Dust, Mold

Type

Air Purifier

Air Purifier, Freshener

Air Purifier, Freshener

CADR

105 CFM

233 CFM

245 CFM

Filter Life

6 months

12 months

12 months

Filter Replacement

~$22

~$55

from $70

Auto Mode

Ionizer

Noise Levels

17 - 46 dB

24 - 53 dB

23 - 49 dB

Power

10 Watts

4.9 - 77.8 Watts

1.1 - 50 Watts

Price

Under $150

Under $250

Under $450
The Blueair Blue Pure 411 is a cheap and compact air purifier for bathroom odors. The Coway Airmega is a way more powerful and better air purifier in general, while the Alen BreatheSmart 45i offers and exceptional musty odor elimination.
Continue reading if you want to know more about these air purifiers and two other interesting systems for bathroom odor elimination.
Coway Airmega AP-1512HH: Best Air Purifier for Bathroom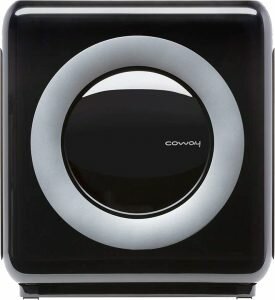 Click Here for More Specs & Full Review
Coway Airmega AP-1512HH I consider the best air purifier for any bathroom in 2022 for several reasons.
First of all, this air purifier is made by Korean manufacturer Coway which has been making air purifiers for decades now. The design of the air purifier is focused on providing the best airflow to capture air pollutants.
This air purifier employs a 4-stage air filtration system, including 3 filters (pre-filter, Carbon, HEPA) and an ionizer. The three filters provide mechanical filtration, capturing small and large particulate matter, including mold and odors. In addition, the ionizer helps freshen the air.
The multi-stage cleaning system helps to eliminate the most stinky bathroom smells, like sink drain, sewage, urine, poop odor and others.
For more convenient operation, the Coway Airmega uses a built-in sensor that automatically detects any smell or airborne pollutant and increases the speed to capture it faster. When the air is cleaned, it decreases the speed, saving up electricity.
The Coway filters are long-lasting: pre-filter is permanent and washable, while HEPA lasts for 1 year and Charcoal for 6 months. The air purifier has  an indicator, that will let you know when to replace them.
Overall, I recommend the Coway Airmega AP-1512HH as a primary option for a bathroom air purifier. For a little over $200 you get a reliable and powerful odor eliminator.
Blueair Blue Pure 411: Best Budget Bathroom Air Purifier
Blueair Blue Pure 411 is a budget air purifier for a bathroom from Blueair. It doesn't come with an ionizer, yet it doesn't affect its ability to capture bathroom odors.
Due to its compact size, this air cleaner can be put as close as possible to the source of the smell. The Blueair also employs 3 filters (pre-filter, HEPA, Carbon) to remove air pollution, including various bathroom odors. However, it doesn't have an automatic mode, so each time you have to manually set the speed.
The Blue Pure 411 is extremely quiet – on the lowest speed it is inaudible at 17 decibels. Power consumption is also almost non-existent, so running this air purifier in your bathroom 24/7 to keep the air clean is a way to go.
The Blueair was made not just for bathrooms, but for small rooms and bedrooms as well.
Alen BreatheSmart 45i for Musty Smells and Strong Odors in Bathroom
Click Here for More Specs & Full Review
Alen BreatheSmart 45i isn't cheap, but it is an ultimate solution for stinky smells in a bathroom, like sewage, urine and musty odors in general. If other means of eliminating the smells didn't work for you, then this air purifier from Alen is your lifesaver.
High efficiency in eliminating bathroom smells is achieved with 2 means: a high CADR rating at 245 CFM of airflow and a large 2-pound Carbon filter that comes with the BreatheSmart 45i. High airflow makes it possible for the air purifier to grab the air in the whole bathroom area, in the very corner of it while the Charcoal filter absorbs every smell that comes with that air, including sewer gas, sulfur, cigarette smoke and mildew.
The combined true HEPA and Charcoal filter is durable and long-lasting: on average it can clean air continuously for up to 12 months before needing a replacement. The filter indicator on the unit will let you know when to change it.
Similar to the previously reviewed Coway Airmega, the BreatheSmart 45i is equipped with a sensor, that checks air quality and if it senses any increase in polluted particles, it speeds up the fan until the smell is removed.
If your bathroom has a musty smell, or you struggle with any other unpleasant odors in the room, then the Alen BreatheSmart 45i is one of the best air purifiers to help you get rid of them.
Levoit Core 400s: WiFi Air Purifier for Bathroom
If you ever wanted to control an air purifier with your phone or voice, then the Levoit Core 400s is your pick. This air purifier has WiFi connectivity with which it can connect to Alexa or an Android/iOS device and be controlled from there.
When it comes to air cleaning, the Core 400s features a 3-stage filtration system 3-in-1 filter that includes pre-filter, HEPA and Carbon. The system captures dust particles and unwanted smells in a bathroom relatively well.
This Levoit air purifier lacks an ionizer, so the air in the bathroom won't get that fresh smell many like so much. However, it does have Auto and Sleep modes, along with a timer.
Fellowes AeraMax 100: Tower Air Purifier for Bathroom
Click Here for More Specs & Full Review
Fellowes AeraMax 100 is a tower air purifier, great to put in small limited spaces. It can purify the air in 100 – 200 sq. ft. rooms, so if your bathroom doesn't exceed this number, the AeraMax 100 is a good option.
It has 2 filters: HEPA (lasts for 1 year) and Carbon (lasts for 3 months). This air purifier doesn't employ a large Carbon filter, nor does it have high airflow, so if are bothered by musty smells in your bathroom it won't help much – it's better to get either the Coway Airmega or the Alen BreatheSmart 45i if that's your case. However, if you want to keep the air clean and remove light scent, then this air cleaner will do the job and its Auto mode will help you to achieve that.