Last updated on January 1st, 2023
Coway is a Korean-based manufacturer (like Winix) that was established in 1989. It's leading in air and water purification technologies and their series of Coway Airmega portable air purifiers has already conquered the US market. You are welcomed to take a look at our Coway Airmega reviews which help you to decide whether you should get one or not.
Coway Airmega AP-1512HH Mighty Air Purifier: Best Value for Money
| | |
| --- | --- |
| Room Coverage: | 326 sq. ft. |
| CADR: | Dust 246 / Pollen 240 / Smoke 233 |
| Filter Life: | 6 months |
| Replacement Filter: | Check Price |
| Noise Level: | 24.4 - 53.8 dB |
| Power: | 4.9 - 77.8W |
| Dimensions (LxWxH): | 9.6" x 16.8" x 18" |
| Weight | 12.3 pounds |
Coway Airmega AP-1512HH is one of those air purifiers that are capable of setting a standard for the entire industry. It's modern by design, fairly compact in size and capable of delivering clean air throughout the whole day in a small apartment while not being noisy and distracting everybody from their daily life. But first things first.
The air purifier has 4-stage filtration system that includes pre-filter, carbon filter, HEPA filter and Ionizer. Washable pre-filter captures pet hair dust, mold and other big particles in air; carbon activated filter removes VOCs and odors; HEPA Filter filters out 99.97% of remaining dangerous chemicals and ionizer deals the final blow to the germs as well as freshens the air.
Overall, this air cleaning system is very effective for people who suffer from asthma or allergies. Coway AP-1512HH simply filters out allergens and pollutants in air with the multi-stage filtration system.
Another good thing about this air purifier is the performance. The manufacturer suggested room size 326 square feet or smaller. But in that case air changes per hour are 6.2 which is above recommended due to the high CFM rating of 268. Using our ACH calculator you can calculate air changes per hour for your room.
Simply put, the air purifier will remain efficient in larger rooms whilst it is priced as an air purifier for small rooms. In many cases a marketing team advertises their product as a large room air purifier when in reality the unit barely fits the requirements (and sometimes doesn't meet them at all). Coway Airmega AP-1512HH is a quite an example for many out there: advertised as one thing but capable of outperforming air purifiers priced $100-200 more. It is capable of 4 air changes per hour in a rooms up to 502 sq. ft!
Another good thing about this air cleaner is the low energy consumption and low noise level. On the lowest fan speed it is very quiet and can be used at night without disturbing sleep. At the highest setting the noise is noticeable, but thanks to the built-in particle sensor the purifier is capable to configure the fan speed automatically.
Overall, the Coway Airmega AP-1512HH Mighty air purifiers is one of the best picks on the market today. It has a reasonable price and works flawlessly for small and medium rooms.
There is also a newer model AP-1512HHS that has in-built app support. I reviewed and compared it to the Mighty air purifiers on the Coway Airmega AP-1512HH review page, go check it out.
Coway Airmega 200M: Best for Small to Medium Rooms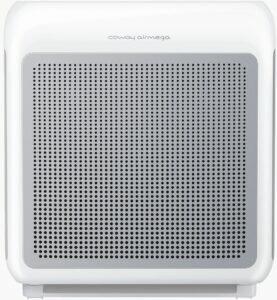 Click Here for More Specs & Review
Check Coway Airmega 200M Air Purifier price at a discount
Coway Airmega 200M is similar to the AP-1512HH model in many ways (air cleaning technology, filter life, power, noise level) but it has more power (298 cubic feet of air moved vs 268 on AP-1512HH) and features different design of the front panel. Maximum wattage remained almost the same as the difference is negligible.
Having more power means faster air cleaning. Coway 200M advertised to clean rooms up to 361 square feet, but it can be used in spaces up to 560 sq. ft. delivering 4 air changes per hour (with 8 ft ceiling; use our ACH calculator for different ceiling height). Thankfully, increase in power almost didn't affect noise level – the difference is negligible at 1.3 dB.
Overall, the 200M is yet another decent and affordable piece of technology made by the Coway company. It is also available in black and white colors to suit your room design.
Coway Airmega 250: Newest Arrival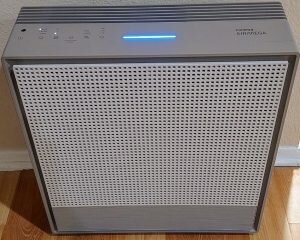 Click Here for More Specs & Review
Coway Airmega 250 is totally different beast compared to the previously reviewed AP-1512HH and 200M. And the reason lies not only in different design which is way more stern, but also the features and capabilities it provides.
First off, the Airmega 250 model features Max2 filter carbon activated filter that is just not more effective in trapping odor particles but also has longer lifespan – 12 vs 6 months. If look not only at a price tag but at the maintenance costs as well, Coway 250 is one of the air purifier you might consider from the get-go.
Secondly, it way more powerful whilst being even more energy-saving. At the maximum speed it uses only 64 Watts of electricity per hour – compare that with 82W of the 200M model. The difference is huge!
Coway 250 not just more powerful, but it gives you more control over fan settings. The previous models have only 3 (low, middle, high) whereas this one has 6 (Smart, Sleep, Low, Medium, High, Rapid)! Their names are self-explanatory.
To top it all off, the noise level remained the same whereas Coway expanded warranty on all 250 units to five years from previous three.
In conclusion, the Coway Airmega 250 air purifier is a great pick for very reasonable price. If you want to have an effective air cleaner for you medium-sized room, the Airmega 250 is definitely worth each penny.
Coway Airmega 250S: w/ App & Alexa Support
Coway Airmega 250S is identical to the 250 apart from one thing: it has built-in Alexa and app support so you can control the unit with your voice or mobile device. Whether these features are worth extra dollars or not is up to you – air quality will remain the same as if you were using Coway 250.
Coway Airmega 400: Best for Large Rooms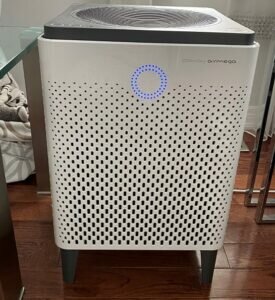 Check Coway Airmega 400 Air Purifier price at a discount
Coway Airmega 400 (available in white and gray) designed to suit large rooms. It is capable of ventilating 4 times per hour spaces of 731 sq. ft. and 2 times per hour spaces of 1,560 sq. ft.
The other air purifiers reviewed here are dwarfed in specs compared to the Airmega 400: this beast has 350 CADR rating for dust, pollen and smoke. It is capable of moving 410 cubic feet of air per minute at the max speed effectively removing chemicals, reducing odor and helping those who suffer from asthma or allergens present in the air. And there is no ozone generation too!
Coway Airmega 400 features Green-True HEPA Max2 filter designed for elimination dust and allergens, activated carbon filter for odor removal and washable pre-filter for large particles (pet hair in particular). Indicator on the unit will notify when the filters (carbon and True HEPA) has to be removed, but on average they last at least 1 year.
After the air purifier starts operating it will enable Auto mode, but it also has Sleep mode (very silent) and Eco mode for energy-saving. You can plug it in and left working for days and weeks, not worrying about excessive energy use or noise level. After heavy air cleaning is done, Eco mode turns in for saving energy and keeping air clean as long as the unit is powered.
The manufacturers also provides 5 year warranty on the unit itself.
In conclusion, the Coway Airmega 400 is perfect air purifier for large rooms with it powerful fan, high-quality filters and sensors for air quality monitoring and switching between different modes.
Coway Airmega 400S: w/ Additional Features
| | |
| --- | --- |
| Room Coverage: | 731 sq. ft. |
| CADR: | 350 CFM |
| Filter Life: | 12 months |
| Replacement Filter: | Check Price |
| Noise Level: | 22 - 52 dB |
| Power: | 6.2 - 66W |
| Dimensions (HxWxD): | 22.7" x 14.8" x 14.8" |
| Weight | pounds |
Coway Airmega 400S is identical to the previous model in terms of noise, design, filters, power consumption and performance. The only added feature is Alexa and app support. If you value having an app with whom you can control air quality or prefer voice commands, this the ideal pick for you.
See also: Coway Airmega 400 vs 400s
Coway Airmega 300: The Middle Ground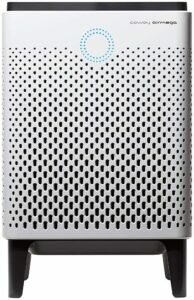 Check Coway Airmega 300 Air Purifier price at a discount
Coway Airmega 300 is very similar to the bigger brother Airmega 400 (and not just in design). It features the same filtration system (pre-filter, carbon filter and HEPA filter), same modes (Auto, Sleep, Eco), timer settings, fan speeds, noise levels and energy consumption.
The major differences between the Airmega 300 and Airmega 400 it is fan power and price. Airflow was reduced from 410 CFM to 340 CFM and CADR rating dropped from 350 for dust, pollen and smoke to 260.
What that means? Well, it simple means that Coway Airmega 300 has smaller space coverage – 694 sq. ft. if we are talking about 4 ACH and 1,256 sq. ft. of 2 air changes per hour.
Coway 300 is also $100-150 cheaper than the previous model. If you're satisfied with the space the Airmega 300 is capable of cleaning (use our ACH calculator to find it out for your room), then no reason to pay more since everything else is identical to the Airmega 400. Ah yes, the 300 model isn't available in grey color, but is it a problem?
Coway Airmega 300S: w/ Additional Features
Check Coway Airmega 300S Air Purifier price at a discount
Coway Airmega 300S is identical to the Coway 300 in terms of design, noise level, performance, filters and power consumption. The only additional feature is Alexa & app support. For someone who prefers controlling electronic devices with an app or voice, this is a good air purifier to consider buying.
Coway Airmega 150: Cheap and Quiet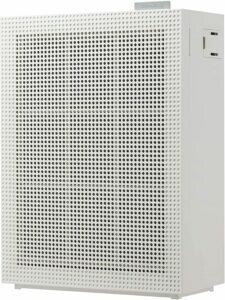 Coway Airmega 150 is the cheapest air purifier reviewed here, the regular price is often below $150 per unit. It is designed for small spaces below 214 sq. ft.
Despite being not so powerful as pricier models, there are few benefits to this: very low maintenance costs (at the maximum speed the unit consumes 35W of power each hour) and the lowest noise level of 48.3 decibels at the highest setting. These two factors alone make this model a desirable pick for small bedrooms and offices.
It does not have any additional features, but given the price it's understandable. Many air purifiers has WiFi and app support, but they fail to deliver clean air which is their main objection. Coway 150 does its job, plus it does not release any ozone due to the fact it does not have any ionizer inside.
Troubleshooting, FAQs, Fixes: