Last updated on January 1st, 2023
In today's world breathing clean air outside can be a problem, but you don't take your air purifier with you when visiting somebody. That's where a wearable air purifier comes in handy: it can be used outside, at work, in a gym and in other places.
Many of the wearable air cleaners are the size of a pinky, while others are slightly larger but in return offer even better pollutants removal. But which one to get in 2023?
I have compiled a list of the best wearable personal air purifiers that worth are the money. All of them are proven by tens of thousands of people, are reliable and clean the air from airborne irritants.
LG PuriCare Mini: Best Personal Wearable Air Purifier
| | |
| --- | --- |
| Battery: | 3,600mAh |
| Run Time: | 2 - 8 hours |
| Charge Time: | 4 hours |
| Charger Type: | Mini USB |
| Replacement Filter: | Check Price |
| Noise Level: | 30 - 48 dB |
| Power: | 12W |
| Dimensions (WxHxD): | 2.72" x 7.87" x 2.52" |
| Weight | 1.17 pounds |
LG PuriCare Mini is the best wearable air purifier you can find in 2023. It is certified by the British Allergy Foundation to remove dust, pollen, pet dander and other pollutants that may cause respiratory and skin diseases. The air purifier also passed certification from Intertek to remove 99% of all airborne particles as small as 0.3 micron.
The unit itself is very small, measuring only 2.72 x 7.87 x 2.52. It is powered by a 3,600mAh battery that lasts up to 8 hours in Low mode. In addition to 3 manual modes (Low, High, Booster) there is Auto when the air purifier automatically adjusts the speed of air purification based on the air pollution around.
The LG PuriCare Mini also features an Air Quality Indicator which provides data in colors: Green (the best air quality), Yellow, Orange, Red (the poorest air quality), Bluetooth and Filter Change Indicator that let anybody know when to replace the filter.
There are two filters installed inside the unit: one pre-filter and one Total Dust Care Filter. The replacement cost only $9.99.
Overall, the LG PuriCare Mini is a personal wearable air purifier that really works and cleans air from particulate matter like dust, pollen and other allergens, and smells. The LG company has managed to create a tiny, yet working air cleaner for anyone to use.
AirTamer A302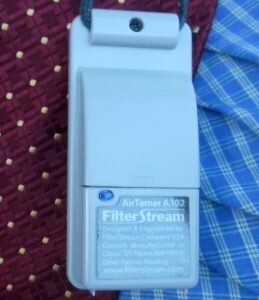 | | |
| --- | --- |
| Battery: | 2 CR2025 lithium cell batteries |
| Run Time: | 140 hours |
| Noise Level: | silent |
| Dimensions (LxWxH): | 3" x 1" x 1.25" |
| Weight | 1.76 ounces |
AirTamer A302 is made for people who don't want to spend as much money, but still need a personal wearable air purifier. So what does the AirTamer A302 offer?
For under $80 this electric air cleaner offers a silent air filtration by releasing ions into the air and creating a 3 ft. radius of clean and fresh air. It doesn't require a filter to work, hence it's totally silent.
The air purifier uses 2 non-chargeable lithium batteries that are designed to work for at least 140 hours.
A combination of price and capabilities has made the AirTamer A302 one of the most popular wearable air purifiers on the market today.
RSenr Personal Wearable Air Purifier & Mask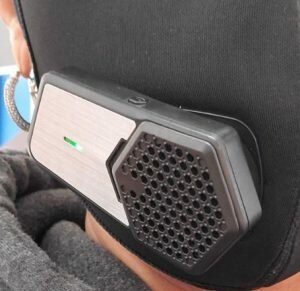 | | |
| --- | --- |
| Battery: | Lithium-polymer battery |
| Run Time: | 5 - 6 hours |
| Replacement Filter: | Check Price |
| Dimensions (LxW): | 22" x 7.8" |
| Weight | 1.06 ounces |
A personal wearable air purifier & mask made by RSenr provides the basic air cleaning from various airborne pollutants. It isn't as effective as the previously reviewed air purifiers, but better than nothing. And it is definitely better to wear this mask that does givs you access to the clean air rather than an ordinary mask that usually blocks the supply of air.
This mask features a small filter that needs a replacement from time to time. It runs on a rechargeable Li-po battery (charges comes in the box) that can power up the air purifier for 5 – 6 hours maximum. The outer face cover can be washed and reused for as many times as you want.
Overall, a good pick for anybody concerned about general air quality and virus spread.
AirTamer A310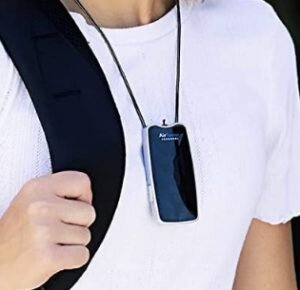 | | |
| --- | --- |
| Battery: | Rechargeable Lithium-polymer |
| Run Time: | 150 hours |
| Charge Time: | 4 - 6 hours |
| Charger Type: | USB |
| Noise Level: | silent |
| Dimensions (LxWxH): | 1.65" x 0.75" x 3.5" |
| Weight | 1.82 ounces |
AirTamer A310 is an improved version of the AirTamer A302 wearable air purifier. Compared to the cheaper model, it features a slightly higher running time, an "On" indicator and a chargeable battery with a charging indicator. In short, if you don't want to spend money on replacing batteries each time, it's better to get this model and charge just charge the battery when it runs out.
As for the air cleaning, this unit releases the same amounts of ions (>2 million) as its predecessor. So there is no difference in air cleaning capabilities between the two.
Bulon Wearable Air Purifying Necklace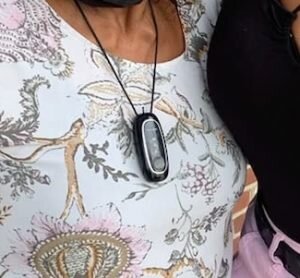 | | |
| --- | --- |
| Battery: | 1 lithium-polymer |
| Run Time: | 60 hours |
| Charger Type: | USB |
| Noise Level: | silent |
| Dimensions: | 3.14" x 1.37" x 0.9" |
| Weight | 1.6 ounces |
Bulon air purifying necklace is a budget air purifier that can be used anywhere to clean a small space around your head & neck. It works the same way as AirTamer air purifiers by emitting ions into the air and does not require any filter to work.
The battery used in this necklace is rechargeable with a running time of 60 hours.
AirHalo Wearable Air Purifier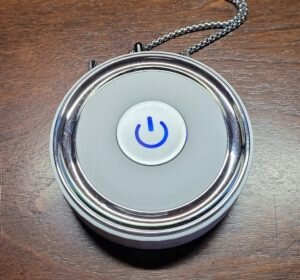 | | |
| --- | --- |
| Dimensions: | 5.28" x 3.86" x 1.02" |
| Weight | 4.3 ounces |
AirHalo is a simple and budget wearable air purifier. It purifies the smallest area compared to all other air cleaners listed here and has a comparatively short lifespan. This is a good pick if you want to test a wearable air purifier yourself, but do not want to spend much on one.
FAQ
Do wearable air purifiers work?
Wearable air purifiers work, but they clean only a small area around a person. You shouldn't expect them to clean heavy smells, VOCs or chemicals as they do not have sufficient power to do that.
How do they work?
It depends. As you can see, some of them work as ionizers air while others are more similar to the HEPA air purifiers using a filter or set of filters to trap harmful bacteria, chemicals and other particles.
What is the best wearable air purifier?
I consider LG PuriCare the best. It is developed by a trustworthy company, uses two filters for better particle removal and can make a real difference in air quality.
Are wearable air purifiers effective against Covid-19?
There are no studies that prove air purifiers to be working against Covid-19 100% of the time. However, a good air purifier can remove viruses and bacteria from the air, improving the general air quality and in a way strengthening your health.