Last updated on January 1st, 2023
Winix is a Korean-based (similar to Coway) manufacturer with a decent record of producing high-quality home appliances including portable air purifiers.
The company has been established almost 50 years ago and their products are made in South Korea, China and Thailand. Winix has many regional offices including ones in the US, Netherlands, Australia.
We have reviewed many of their air purifiers and you are welcomed to make yourself familiar with their products and find the best deal for yourself.
Winix PlasmaWave 5500-2: Best Value for Money
| | |
| --- | --- |
| Room Coverage: | 360 sq. ft. |
| CADR: | Dust 243 / Pollen 246 / Smoke 232 |
| Filter Life: | 12 months |
| Replacement Filter: | Check Price |
| Noise Level: | 27.8 - 54.8 dB |
| Power: | 70W |
| Dimensions (LxWxH): | 8.2" x 15" x 23.6" |
| Weight | 14.8 pounds |
5500-2 is the most popular Winix-made portable HEPA air purifier up to date. It is reliable, effective, user-friendly and energy-efficient purifier for small and medium rooms and small apartments in general.
The Winix 5500-2 PlasmaWave has all components necessary to be one of the best air purifiers out there. It utilizes PlasmaWave Air Cleaning technology along with AHAM-verified 4-stage filtration system to effectively reduce household odors and VOCs (smoke, cooking smells, pollen, pets etc.). The air purifier is capable of removing up to 99,9% of all airborne bacteria along with 99,6% of influenza strain H3N2 resulting in clean air all around your room.
AHAM-certified room coverage is 360 square feet which results in 5 clean air changes per hour – 12 minutes to fully ventilate the room! But that doesn't mean you cannot use 5500-2 in larger spaces. It capable of cleaning air in 20 minutes for 580 sq. ft. room or in 30 minutes for 870 sq. ft. Click here to find how fast Winix 5500-2 can clean air in your room.
Winix 5500-2 filters (pre-filter, Carbon) are washable while the HEPA air filter lifespan is guaranteed to be 12 months. This effectively reduces maintenance costs for buyers.
The air purifier is also very user-friendly. It has LED-colors to indicate air quality, 5 fan speeds for energy saving and remote control to control air quality on the go.
The only major downside of Winix 5500-2 is that it releases a bit of ozone. If you have zero tolerance for higher ozone level you can disable PlasmaWave to reduce ozone generation volume, but that might lead to decreased performance. If you are interested in ozone-free air purifier, look up to Nuwave Oxypure.
All in all, the Winix 5500-2 is still the best air purifier in 2023!
Winix 5500-2 vs HoMedics Total Clean Deluxe 
Winix PlasmaWave 5300-2: Cheaper Air Purifier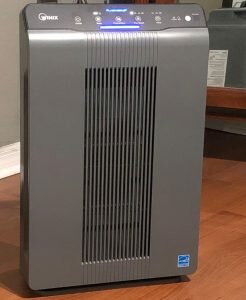 Winix 5300-2 is comparable to Winix 5500 in many aspects: room coverage, CADR ratings, same PlasmaWave technology for removing VOCs and odors from smoke, cooking and pets. But it has a few differences which reflect it lower price range.
First of all, Winix 5300-2 uses different sort of filter which is called Impregnated-type carbon sheet compared to Honeycomb-type activated carbon sheet used in 5500-2 model. The first one is considered the standard filter type used in most air purifiers. Second one is more rare.
Secondly, deodorization carbon filter life is reduced from 12 months to only 3. You can't wash it either, so maintenance costs for Winix 5300-2 is higher compared to 5500-2.
Finally, it has no remote control and the maximum noise level is a little bit higher compared to the higher-priced Winix 5500-2.
Winix 5300-2 is definitely loses to 5500-2 in long-term mostly due to shorter filter lifespan, so we recommend buying it for utility rooms, basements or any other spaces where it will have limited usage. Otherwise you will overspend on replacement filters which will quickly overcome the price difference between 5500-2 and 5300-2.
Winix PlasmaWave 6300: Older Version
Winix PlasmaWave 6300 is an older-generation air purifier. It features the same design as more recent models, but comes with a filter that lasts only for 3 months which is a very short lifespan if we compare it to other models. 6300 has no additional features and the main difference is that it pricier than 5500-2 and 5530-2. Thus, we do not recommend buying it, unless you find some refurbished version (I've seen selling such at $90).
Winix 5500-2 vs 5300-2 vs 6300-2
Winix HR900: Best Air Purifier for Pets
| | |
| --- | --- |
| Room Coverage: | 300 sq. ft. |
| CADR: | 220 - 194 CFM |
| Filter Life: | 12 months |
| Replacement Filter: | Check Price |
| Minimum Noise Level: | 27 dB |
| Power: | 90W |
| Dimensions (WxDxH): | 16.3" x 9.6" x 23.6" |
| Weight | 18.7 pounds |
Winix HR900 is an air purifier designed for pets in mind. It is especially effective combating pet hair, dander and other visible particles related to pets one way or another.
The main difference between HR900 model and other Winix purifiers listed here is additional Ultimate Pet Pre-Filter which adds up to 5-stage filtration system. Additional Fine Mesh Pre-Filter designed to capture large airborne particles. Both of them in combination with Carbon Filter and True HEPA Filter remove 99.999% airborne allergens and particles up to as small as 0.3 microns.
Many air purifiers that are advertised for pets struggle when there is only one dog or cat around. That's definitely not the case with the HR900. It effectively deals with pet odor, no matter how many cats, dogs or any other animals live with you! Winix HR900 also breaks apart other VOCs such as smoke, cooking odors or dust. If you have allergies for pets this air purifier will definitely help you overcome this problem.
Truly, this is one of the best air purifiers for pets I've ever seen! Although keep in mind, it is AHAM-certified for rooms up to 300 square feet meaning it can clean the room up to 5 times per hour. If you have larger room, it may not be as fast and effective.
Winix PlasmaWave AM90: Smart & User-Friendly Air Purifier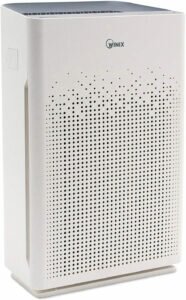 Check Winix AM90 Air Purifier price at a discount
Winix PlasmaWave AM90 is the only air purifier reviewed here that is able to connect to WiFi, Alexa or DRS with app. This allows you to control air quality in your room with voice following the information provided by air quality indicators on the top of the unit, app or by voice command. If you consider usability as the top priority when you decide which model to pick, Winix AM90 may be the best value for money.
Apart from that, AM90 is pretty standard air purifier manufactured by the Winix company. It features PlasmaWave 4-stage filtration system with True HEPA and carbon activated filter for effective removal of bacteria and mold in spaces up to 360 square feet. You may use it in larger rooms, but then clean air changes per hour would be lower than 5. If you have no pets (for them it is recommended to use HR900) or allergies it will not matter much. Look for ACH recommendations here if you want to know more about recommended air changes per hour for different spaces.
The only major downside we have found is carbon filter life. It lasts for 3 months only, which is a very short lifespan and it is not washable. In addition to that the AM90 carbon filter it is not as affective as the carbon filter of Winix 5500-2. But if you are not asthmatic and have no real pollutant in your room (pets, for example) Winix AM90 will do the job fine. Just remember to buy several filters as replacements.
Winix PlasmaWave AM80 w/ Washable Filters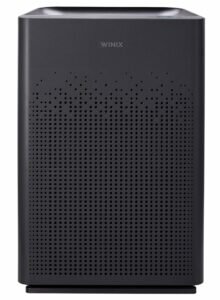 Best Deal on Winix AM80 Air Purifier
Winix PlasmaWave AM80 is similar to AM90 in terms of specifications, apart from 2 things:
It has no voice control and WiFi.
AM80 features washable carbon filter that has 12 months lifespan compared to 3 months of AM90.
Thus, if you you want to have a decent quiet air purifier that does it job and has no additional "fancy" features the Winix AM90 is the option to go by. Reasonable price for such a high-quality piece of technology.
Winix H13 A230/231: Ideal for Small Rooms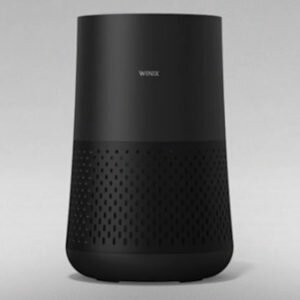 Check Winix A230/231 Air Purifier price at a discount
Winix 360° A230 and A231 (the only difference between them is color option) is an ideal choice for small rooms! Why? Because:
It is very quiet, even when compared to AM80. You can run it at night in sleep mode and the fan won't produce any noticeable noise.
It is the smallest Winix air purifier with 9.5 x 9.5 x 14.6 inches.
It soaks up air from all directions and not just one.
Winix A230/231 is also the most energy-efficient air purifier. At low speed it consumes only 20 watt of power per hour.
Overall, Winix A230/231 is a great tower air purifier designed for running entire day in small to medium rooms, even at night. If you're concerned with air quality in your or your children's bedroom, this piece of modern technology will do the job quietly and efficiently.
Winix XQ Pro: Dual 4-Stage HEPA Filtration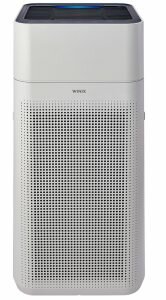 Winix XQ Pro is an extremely powerful smart air purifier that was AHAM-certified for 698 sq. ft. rooms. Its specs are similar to top-notch Blueair Classic air purifiers, namely the Classic 605 and Classic 680i.
I recommend getting this air purifier if you need to remove heavy smoke and other musty odors in large open spaces. It also removes dust particles and various allergens thanks to its 3 large filters (washable pre-filter and long-lasting HEPA and Coated DeOdorization Carbon filters) and the PlasmaWave ionizer. With the dual air filtration it stands out among many air cleaning units as the most capable.
Overall, the Winix XQ Pro with dual filtration is one of the best air purifiers for large rooms.
Winix XLC for Large Rooms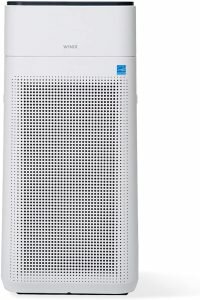 Winix XLC is old yet powerful Winix-made air purifier for large rooms 600 sq. ft. and bigger.
As many other Winix air purifiers reviewed here, this one employs 3-stage air cleaning process with washable permanent pre-filter, Washable AOC Carbon filter and HEPA air filter. In addition, it features PlasmaWave technology for better air cleaning.
The Winix XLC features WiFi capabilities and smart Sleep mode: it tracks the amount of light in a room and if it is lower than a specified threshold, the air purifier automatically lowers the speed, saving up energy and reducing noise level.
The air purifier has hidden casters that allow for an easy movement inside a household. It is a quiet and powerful air cleaner that is available at a fair price.
Winix PlasmaWave C545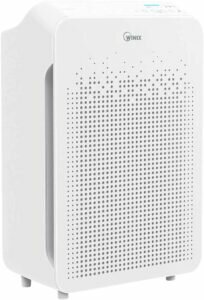 Winix C545 is an outdated air purifier compared to the machines reviewed above. It is not as powerful as newer models (5500-2 or AM80), its filter lifespan is short and it lacks any additional features. Buy only at a huge discount.
Discontinued products: Winix C535, Winix C555, Winix D360, Winix D480, Winix HR1000, Winix WAC9500.
Troubleshooting, FAQ, Fixes: