Last updated on January 1st, 2023
There are many air purifiers with washable filters except for the fact there aren't many…What? You haven't expected that here? You probably thought "ok, here is a bunch of useless text I have to skip to get to the actual information I'm looking for". I'm sorry to disappoint you, but "we don't do that here" 😉
On a serious note, though. Air purifiers with washable filters that are good in removing dust, allergies, smoke and other pollution are non-existent. Almost.
But you say "Hey, what about air purifiers that claim to have a washable filter?" or "Ok, you say they do not exist, but what about products listed down below?". Let me answer these questions.
Firstly, my friend, you have been misinformed by the marketing team of a selected air cleaner that you think has a washable filter. Have you made yourself familiar with what filter exactly they claim to be WASHABLE?
Oh yes, that's where the fun begins. You see, 99,99% of such claims are complete bullsh*t. People either don't read too much or just get baited by titles and don't get the full picture. Why? Because the filter that is washable and permanent is the pre-filter of an air purifier, and any unit has at least one (HEPA) – or usually two (HEPA and Carbon) – additional filters that in reality do most of the job, filtering out tiny particles from the air and eliminating odors.
I'm not going into the details now about air purifiers with HEPA filter and why the air filter isn't washable. In short, the structure of any HEPA filter is too fragile and even vacuuming – let alone washing – easily destroys its structure and makes it basically useless. So cleaning of any HEPA filter is simply not possible.
So yeah, air purifiers with a permanent and washable pre-filter do exist and many of them are good and do a decent job of removing odors, allergens and air pollution in general. But you still have to replace HEPA or HEPA & Carbon filters. And don't tell me that a major reason why you are looking for an air cleaner with a washable filter is that you don't want to spend money on filter replacements. Am I correct?
And you know what's even funnier? Washable pre-filters do not even cost that much on a grand scale of things. For example, the pre-filter used by the Tracs air purifier TM250 is almost five times cheaper compared to the HEPA filter – $35 vs $149. But the HEPA lasts for years, while the pre-filter has a comparatively short lifespan of 3 to 6 months.
So my point is this: if you were tricked into buying an air purifier with the washable filter but ended up having only one filter that can be cleaned with water or in any other way out of two or three, you still have to spend money on the replacements for those other filters. In the end, the whole idea just doesn't make sense.
Now let's answer the second question – what about the air purifiers down below. If I say there are no good air purifiers with washable filters why have I selected 3 as the best? The answer is very simple: one of them uses a different type of air filtration (Airdog) and the Winix has its Carbon filter washable. And only the third one -Honeywell – uses 2 permanent washable filters that can deliver on its promises. But, it doesn't use a HEPA filter.
If you don't see the whole table, scroll it horizontally
Model

Airdog
X5

Winix
PlasmaWave 5500-2

Honeywell
Air Genius 5

Image

Best For

Allergies, Viruses, Odors

Dust, Bacteria, Odors

Odors, VOCs

Price

Under $700

Under $300

Under $300

Room Coverage

400 sq. ft.

360 sq. ft.

250 sq. ft.

Washable

All Filters

Carbon, Pre-Filter

All Filters

Auto Mode

Ionizer

Noise Levels

63 dB

54.8 dB

60 dB

Max Power

60 Watts

70 Watts

40 Watts
And don't start me with "Hey, I have seen this cheap air purifier for 50 bucks with a washable filter". If you don't want to end up like me in this situation, you won't even notice these cheap Chinese-made "air purifiers" from fly-by-night companies that don't have proper customer support. You'd be lucky if they don't break the next day, let alone clean the air.
Hopefully, now you understand why there are close to zero decent air purifiers with washable filters. Let's take a closer look at the units that are worth investing your money into.
Airdog X5
| | |
| --- | --- |
| Room Coverage: | 400 sq. ft. |
| CADR: | 220 CFM |
| Filter Life: | washable, permanent |
| Noise Level: | 22 - 63 dB |
| Power: | 60W |
| Dimensions (LxWxH): | 12.4" x 12" x 25.6" |
| Weight | 23.6 pounds |
Airdog X5 is the best air purifier that can be put into a category of air cleaners with washable filters. Compared to the traditional HEPA air purifiers, it uses a different process to clean the air. Here it is:
The air gets sucked in by the built-in fan;
It passes through the pre-filter screen that removes pet hair, dander and other large particles;
Then the air gets through the ionic field generated by the wire frame that kills bacteria, viruses, odors, allergens and other pollution;
These "dirty" particles are collected on the washable collecting plate;
Lastly, the air is passed through the Composite Catalyst Filter that deodorizes the air.
The Airdog X5 also features Auto mode (automatically detects pollution and controls the fan speed) and it is relatively quiet. At the highest speed the airflow is high and the fan does make a substation noise; however, on average this air purifier produces only 34 decibels which is something between a whisper and a sound of a refrigerator. So you can watch TV, have a conversation or even sleep and not be bothered by the working unit.
The Airdog's retail price might seem a bit too much, but it is compensated by zero maintenance costs for filters and other replacements. On average, this air purifier will cost anyone around 30 – 40 dollars per year, while HEPA replacements usually add up additional 80 – 100 dollars each year. If you plan to use this washable air purifier for years it is totally worth the cost.
Winix PlasmaWave 5500-2
| | |
| --- | --- |
| Room Coverage: | 360 sq. ft. |
| CADR: | Dust 243 / Pollen 246 / Smoke 232 |
| Filter Life: | 12 months |
| Replacement Filter: | Check Price |
| Noise Level: | 27.8 - 54.8 dB |
| Power: | 70W |
| Dimensions (LxWxH): | 8.2" x 15" x 23.6" |
| Weight | 14.8 pounds |
Winix PlasmaWave 5500-2 is regarded by many as the best HEPA air purifier and I agree with this statement. The reason for this is simple: a combination of great air filtration (removes common pollutants like dust, bacteria, kitchen odors, pet smells and dander) and the price has made this Korean-made Winix air purifier very popular in our country.
There are 2 washable filters installed: the pre-filter and the Activated Carbon filter. The pre-filter is permanent, while the Carbon still requires replacement at least twice a year. Good thing is that it is relatively cheap and comes in a pack that includes also the HEPA filter.
The unit also employs a built-in ionizer that boosts it cleaning capabilities. And auto mode is a cherry on top for anyone who wants to have a machine that works 24/7 and needs no human touch.
Honeywell HFD320 Air Genius 5 w/ Washable Permanent Filter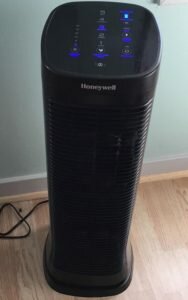 | | |
| --- | --- |
| Room Coverage: | 250 sq. ft. |
| CADR: | Dust 160 / Pollen 170 / Smoke 161 |
| Filter Life: | washable, permanent |
| Noise Level: | 60 dB |
| Power: | 40W |
| Dimensions (LxWxH): | 11.5" x 11.5" x 28.9" |
| Weight | 9.1 pounds |
Honeywell HFD320 Air Genius 5 is the only air purifier on the market today that uses only permanent washable filters, doesn't require any replacements at all and does not just circulate air in a room. However, it comes at a cost:
Price: it is relatively high and doesn't offer larger room coverage;
Air cleaning capabilities: the air purifier removes VOCs and odors but doesn't do much about tiny dust particles, bacteria and viruses as it doesn't employ a HEPA filter.
It also lacks any additional features like an ionizer or Auto mode. Yet it has an indicator that will let you know when it's time to clean the filters. On average, they require cleaning every 2 weeks, but it all depends on how often you use the unit and the general air quality.
As it's the case with the Airdog X5, the initial price for this Honeywell air purifier is higher than average, but in the long term it pays for itself.
Best Air Purifiers with a Permanent Washable Pre-Filter
Now let's take a look at the best air purifiers that still require  replacements for their main filter but use a permanent washable pre-filter.
Coway Airmega AP-1512HH
| | |
| --- | --- |
| Room Coverage: | 326 sq. ft. |
| CADR: | Dust 246 / Pollen 240 / Smoke 233 |
| Filter Life: | 6 months |
| Replacement Filter: | Check Price |
| Noise Level: | 24.4 - 53.8 dB |
| Power: | 4.9 - 77.8W |
| Dimensions (LxWxH): | 9.6" x 16.8" x 18" |
| Weight | 12.3 pounds |
Coway Airmega AP-1512HH is a popular air purifier for small and medium rooms, bathrooms and other places at home or work. It comes at an affordable price, has a high CADR rating and the replacement filters are relatively cheap and long-lasting.
The air filtration is identical to the one used by Winix 5500-2 and it includes a pre-filter, HEPA filter, Charcoal filter and an ionizer.
This air purifier is produced by another Korean company called Coway and I can recommend it 100% if you want to have a universal air cleaning unit with a washable pre-filter.
Blueair Blue Pure 211+ Auto
| | |
| --- | --- |
| Room Coverage: | 550 sq. ft. |
| CADR: | 350 CFM |
| Filter Life: | 6 months |
| Replacement Filter: | Check Price |
| Noise Level: | 23 - 56 dB |
| Power: | 4 - 38W |
| Dimensions (LxWxH): | 13" x 13" x 20.5" |
| Weight | 12.5 pounds |
Blueair Blue Pure 211+ Auto is another superb air cleaning device, this time from the well-known Blueair company. Compared to the Coway reviewed above, this one offers larger room coverage and lacks an ionizer.
What makes the Blue Pure 211+ Auto exceptionally good apart from its cleaning capabilities is an extremely low sound at the low speed, so it can be run 24/7 even at night. The low energy consumption also results in extremely low electric bills.