Last updated on January 1st, 2023
Honeywell is an American-based conglomerate corporation established in 1906. It operates in several areas of business, including home appliances. Among them there are humidifiers, leak detectors, thermostats and portable air purifiers. At this page we have reviewed several recently released air purifiers manufactured by Honeywell corporation.
Honeywell HPA300: Best Air Purifier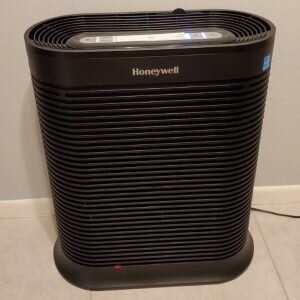 Click Here for More Specs & Review
Check Honeywell HPA300 Air Purifier price at a discount
Honeywell HPA300 is the best air purifier manufactured by the Honeywell company up to date. 2-stage mechanical filtration system is provided by Activated carbon filter and True medical-grade HEPA filter. Together they able to reduce household odors and filter out pet hair, dander and dangerous chemicals.
If you're asthmatic the next thing you are going to like above all: Honeywell HPA300 does not release ozone. Since it utilizes only mechanical filtration and has no additional UV or electrical filtration system, you can be sure it won't hurt you in any way if you have any breathing conditions or low tolerance for high ozone levels.
If we compare Honeywell HPA300 to another air purifiers in the same price range between 200 to 300 USD, this model will lead the performance chart with its powerful fan. On 3rd or 4th speed it works very efficiently, although producing noticeable sound. Fan speeds 1 and 2 are way quieter – you can watch TV and the air purifier sound won't bother you at all – but they also aren't as efficient as higher setting.
The air purifier is equipped with filter indicator that will let you know when it's time to change it. Overall, HPA300 filters should work for 12 months, but if you live in a polluted area, lifespan can be way shorter (sometimes 3-6 months).
Honeywell HPA300 is certified for spaces as large as 465 sq.ft with 5 air changes per hour. Use our ACH calculator & recommendations page if you don't know what it is.
Overall, Honeywell HPA300 is simple yet powerful air purifier that is capable of covering large spaces and filtering out dangerous and small to help you breathe fresh and clean air.
Honeywell HPA200: Balanced Approach
Check Honeywell HPA200 Air Purifier price at a discount
Honeywell HPA200 is less powerful but cheaper model in the HPA series. It is certified to work efficiently for rooms up to 310 square feet and the pre-filter should be replaced every 3rd month.
This model does the job as effective as HPA300, just covers less space. It is recommended to buy it if you want to have a reliable air purifier in your small to medium sized bedroom, bathroom or living room.
It is also consumes way less power than the pricier HPA300: 62W vs 100W. So picking HPA200 will result in lower electricity bills too.
Honeywell HPA100: Cheap, But Reliable
Check Honeywell HPA100 Air Purifier price at a discount
Honeywell HPA100 is definitely one of those purifiers that despite being priced at a way lower price than majority of other models, it delivers high performance and reliability. It is also quieter than HPA and HPA300, making it the best pick for small bedrooms.
HPA100 reduces asthma and allergy symptoms by removing 99.97% of tiny allergen particles presented in air. In circulates air 4.8 times in rooms sized 155 sq. ft. In smaller spaces air cleaning would be even more faster and efficient.
If you are looking for an air purifier for office or larger spaces, HPA100 is definitely not a good option. Otherwise, it's a great pick for small spaces for a little over $100.
Honeywell InSight HPA5300B for Large Rooms
Honeywell InSight HPA5300B is designed to clean air in a rooms up to 500 square feet. As other Honeywell air purifiers reviewed here, the HPA5300 features 2-stage air cleaning operation with Carbon activated filter and true HEPA air filter.
Due to its powerful motor the HPA5300 can clean air from germs, gases, odors, allergens and other harmful particles in large spaces. It also has a programmable timer to turn of after a selected number of hours (2,4 or 8).
The air purifier is AHAM-Verifide to deliver 4.8 air changes per hour in 500 sq. ft. room, making it totally worth the money for allergic people. The CADR ratings are as follows:
Smoke: 323 CFM
Dust: 335 CFM
Pollen: 335 CFM
The Honeywell HPA5300 comes at a fair price, so if you are looking for an air purifier capable of cleaning 500 sq. ft. of space, this one is one of the best you can get for the price.
Honeywell HFD320 Air Genius 5 w/ Washable Permanent Filter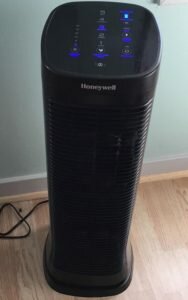 | | |
| --- | --- |
| Room Coverage: | 250 sq. ft. |
| CADR: | Dust 160 / Pollen 170 / Smoke 161 |
| Filter Life: | washable, permanent |
| Noise Level: | 60 dB |
| Power: | 40W |
| Dimensions (LxWxH): | 11.5" x 11.5" x 28.9" |
| Weight | 9.1 pounds |
Honeywell HFD320 Air Genius 5 isn't a true HEPA air purifier, but it comes with a permanent and washable air filter so you don't have to buy a new filter each time the old one runs out. And a built-in indicator will tell you when the filters (there are two of them!) need cleaning.
This air purifier has passed a verification from the Association of Home Appliance Manufacturers meaning its CADR rating is certified. In a 250 square feet room this air purifier achieves 4.8 air changes per hour, so if you are looking for one that can improve your health and help with allergies, this one offers a great performance in a small room up to 300 sq. ft.
Honeywell 50250-S True HEPA Air Purifier
Honeywell 50250-S True HEPA is quite an old air purifier which do not live by modern standards in terms of energy efficiency. You can calculate your electricity bills using our Electricity Usage Calculator. Apart from that, it's still a good air purifier.
50250-S is capable of filtering out tine particles as small as 0.3 microns in medium-sized and large rooms whereas not being too loud. And it is quiet too even on the highest speed.
Although we recommend getting the newer HPA300 model, if you find a good deal on the 50250-S you can be sure that it will work for years without any hassle. Just remember to buy filters in advance since Honeywell has this habit of stopping supporting products without any prior notice.
Discontinued items: Honeywell HFD360B, Honeywell HPA8350B, Honeywell HPA304, Honeywell HPA-250B, Honeywell HPA5200B, Honeywell HFD310, Honeywell HFD300, Honeywell HPA204, Honeywell Tower HFD-120-Q, Honeywell HFD230BV1, Honeywell HPA5100, Honeywell HPA104WMP, Honeywell HPA030, Honeywell HFD280B Air Genius 4, Honeywell HPA094WMP, Honeywell HPA060, Honeywell HFD010, Honeywell HPA020B, Honeywell HHT270W, Honeywell HFD360 Air Genius 6, Honeywell HPA160 Tower, Honeywell HPA600B.
Troubleshooting, FAQs, Fixes: