Last updated on January 1st, 2023
Germ Guardian was established in 2002 and now it's rivaling Levoit, Blueair, Coway, Honeywell and Winix in portable HEPA air purifiers category under brand GermGuardian on the US market and worldwide. The company also makes humidifiers, sanitizers, fans (heaters & cooling) and oils under brand names of PureGuardian and PureGuardian Spa. In January 2021 Germ guardian was acquired by Lasko Products, LLC.
Let's review most popular Germ Guardian portable HEPA air purifiers available on the market today in 2023.
GermGuardian AC4825: The Best Germ Guardian!
| | |
| --- | --- |
| Room Coverage: | 153 sq. ft. |
| CADR: | Dust 118 / Pollen 125 / Smoke 99 |
| Filter Life: | 6 months |
| Replacement Filter: | Check Price |
| Noise Level: | 55 dB |
| Power: | 53W |
| Dimensions (LxWxH): | 10.25" x 6.75" x 21.5" |
| Weight | 8.55 pounds |
GermGuardian AC4825 is the second most sold air purifier after Levoit Core 300 with tens of thousands of reviews. It is available in two colors: black (model number AC4825E) and white (model number AC4825W). Let's take look at its features and reasons why it is so popular.
The first reason for the AC4825 popularity is the price. The air purifier priced under $100 (white version adds a few more dollars) and Germ guardian offers 3 year limited warranty for the unit. It's a great deal for anyone who interested in getting their first quite durable air purifier, but doesn't want to spend a lot of money.
Despite low price, the GermGuardian AC4825 offers a great value for money. Judge for yourself: the air purifier employs 4-stage air filtration process that includes:
True HEPA filter that capture 99.97% of dust and allergens.
Activated Carbon filter for odor reduction.
UV-C light for reducing germs, bacteria, mold spores and viruses in air.
Titanium dioxide (TIO2) component to increase anti-bacteria capabilities and help decompose environmental pollutants.
All in all, this is one of the most buffed air purifiers you can get for the price. The only thing it lacks by modern standards is pre-filter which is used to add additional layer of air filtration (it captures large particles of dust, hair and such) and protects True HEPA filter from wearing out too early. But considering the price, the GermGuardian AC4825 is still a great deal.
As for the room coverage, the AC4825  can circulate the air 4.8 times per hour in 153 sq. ft. room. You can calculate air changes for your room using AHAM-verified CADR ratings for smoke, dust or pollen.
Regarding noise pollution and power consumption, the Germ Guardian AC4825 doesn't shoot for the sky. At a maximum (third) speed the air purifier produces ~55 decibels of noise and consumes 53 watts of energy. It's approximately 60 dollars per year if used 24/7 at a maximum speed. Use our calculator to estimate energy consumption for the air purifier. Plus $50 on replacement filters each year, totaling ~110 bucks. In reality you won't be running it at speed three 24 hours per day and maintenance costs will be under $100.
The air purifier is also equipped with 2 indicators that will let you know when to change filters or UV-C bulb. The first one require replacement every 6 months or so, and the lamp can last up to 12 months depending on usage.
All in all, the GermGuardian AC4825 is popular air purifier for a reason. If you looking for an air cleaner for your small bedroom, living room, bathroom or kitchen, this is a good pick.
GermGuardian AC5900WCA: High CADR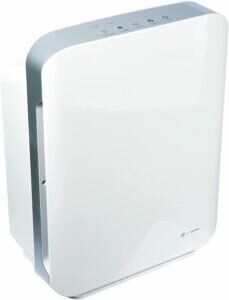 Shop GermGuardian AC5900WCA at a discount
GermGuardian AC5900WCA air purifier varies not only by design from the previously reviewed AC4825, but it has greatly improved air cleaning capabilities and got several powerful function. Let's review them all.
The AC5900WCA received new fan motor and now it's capable of cleaning 365 sq. ft. room in just 12 minutes or 881 sq. ft. space in 30 minutes. The new design also allowed for CADR ratings to be more balanced, so whether it's pollen, dust or smoke, the Germ Guardian AC5900WCA can filter it our at the same rate.
The UV-C bulb remained the same and it releases 0.001 parts per million (PPM) of ozone. It's way down below the minimum requirements, but the lamp can be turned off in a case you still don't feel safe about ozone emission.
The GermGuardian AC5900WCA has also got a programmable timer (allows to set up operations in 1, 2, 4 or 8 hours).
Due to the increased power, electricity consumption at a maximum speed rose to 86 Watts per hour, although that is still won't affect yearly costs that much. The real affect on increased maintenance costs have new larger (1.75″ x 13.5″ x 15 vs 1.29″ x 4.76″ x 15.77″) True HEPA and Carbon filters: replacement for them will cost you over $100 per year.
As a result, the GermGuardian AC5900WCA stands as a powerful, reasonably priced air cleaner for medium and large rooms. On the downside, the cost will greatly increase over time due to expensive filters. On third year of usage the price for replacement filters will be over $300 and overall price for the air purifier plus replacement filters will come close to the Airdog's X5 that uses washable filter.
GermGuardian AC5350B / AC5350W: Improved Performance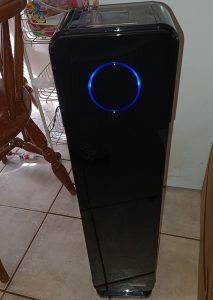 Shop GermGuardian AC5350B / AC5350W at a discount
GermGuardian AC5350 available in two colors: black (AC5350BCA) and white (AC5350W). The specifications are somewhat similar to the Germ Guardian AC4825, but the price has increased substantially. You may ask then, is the AC5350 worth the money?
TL; DR: no if you don't have spare money. Yes if:
The GermGuardian AC5350 is sold at a discount. Sometimes it's 30-40$ off.
You enjoy the design. This one has the most unique designs I've ever seen! Compared to the standard tower air purifiers, this one has a unique look. Dyson also manufactures their air cleaner with unique design but they have higher price tag.
You want to have more control over air filtration process with 5 speeds, the lowest is a great one for sleeping. Although it's impossible to turn off the lights completely.
You need a programmable timer (1, 2, 4 or 8 hours).
Maintenance costs for the GermGuardian AC5350B or AC5350C has slightly increased due to the higher replacement filter costs (although the filter itself is larger too, 1.75″ x 4.75″ x 19.25″ vs 1.29″ x 4.76″ x 15.77″) compared to the AC4825.
GermGuardian AC5250PT for Pet Odors
Shop GermGuardian AC5250PT at a discount
GermGuardian AC5250PT air purifier was designed with reducing pet odor in mind. Germ guardian has installed an additional antimicrobial pre-filter in additional to the Carbon and True HEPA filters. The AC5250PT also got CADR ratings slightly improved vs the AC4825, but the difference is negligible.
If you have pets in your house, then Germ Guardian AC5250PT is a way to go. Even more so if you can get this air purifier at a discount.
GermGuardian AC9400W with Auto mode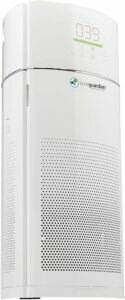 Shop GermGuardian AC9400W at a discount
GermGuardian AC9400W is the only air purifier designed for rooms over 400 sq. ft. in size. Compared to the other reviewed here Germ Guardian air purifiers, the AC9400W features an auto mode and 360-degree air intake. It also features night mode when air purifiers works silently and lights are completely turned off.
Another interesting function of the GermGuardian AC9400W is a display with Air Quality Index that provides detailed information on particulate matter inside a house.
The machine has also a built-in ionizer to help True HEPA filter capture allergens and freshen the air. On the other hand, it lacks UV-C light.
The AC9400W has a price tag of about $400, which is quite high if you compare it to the other Germ Guardian air purifiers. But it is to be expected with the increased coverage and additional functions. If you need an air cleaner that can automatically adjust its speed and you're planning to run the unit at night, GermGuardian AC9400W is a good pick.
GermGuardian AC4100: Tabletop air purifier
| | |
| --- | --- |
| Room Coverage: | 70 sq. ft. |
| CADR: | Dust 66 / Pollen 76 / Smoke 50 |
| Filter Life: | 4 - 6 months |
| Replacement Filter: | Check Price |
| UV-C Bulb Replacement: | Check Price |
| Noise Level: | 55 dB |
| Power: | 40W |
| Dimensions (LxWxH): | 7.5" x 6.38" x 10.38" |
| Weight | 5.15 pounds |
GermGuardian AC4100 is a portable desktop air purifier that available in grey and white (model number 4175W) colors. It's priced way below $100 and can be used on a desktop. It is able to purify only small area of space.
What makes the Germ Guardian AC4100 to stand-out among other personal or desktop air purifiers is that it has both True HEPA filter and UV-C Light, coupled with higher than average CADR ratings for dust and pollen. If you suffer from allergies in a small office or room, this can be a truly game changer for you.
Germ Guardian GG1000: Small Pluggable Air Purifier
| | |
| --- | --- |
| Room Coverage: | 56 sq. ft. |
| Bulb Life: | 10 - 12 months |
| Replacement Bulb: | Check Price |
| Noise Level: | 25 dB |
| Power: | 6W |
| Dimensions (LxWxH): | 4" x 3" x 7.5" |
| Weight | 0.7 pounds |
Germ Guardian GG1000 is a small, 7-inch pluggable air purifier that sanitizes the air from various germs and bacteria. It is one of the best air cleaners for travelers due to its size and portability.
Other Germ Guardian Air Purifiers Specs Comparison
Model
CADR (CFM)
Coverage
Power
Noise
Price
AC4900

Pollen: 112
Dust: 106
Smoke: 96

150 sq. ft.
~55W
~55dB

Discount

CDAP5500BCA

Pollen: 139
Dust: 118
Smoke: 110

171 sq. ft.
~50W
60dB

Discount

AC5300B

Pollen: 127
Dust: 114
Smoke: 108

167 sq. ft.
~50W
60dB

Discount

AC5000E

Pollen: 138
Dust: 132
Smoke: 122

189 sq. ft.
54W
~60dB

Discount

CDAP4500BCA

Pollen: 102
Dust: 99
Smoke: 96

148 sq. ft.
52W
50dB

Discount

AC4300BPTCA

Pollen: 116
Dust: 107
Smoke: 99

153 sq. ft.
53W
55dB

Discount

AP2200CA

Pollen: 159
Dust: 135
Smoke: 99

153 sq. ft.
55W
55dB

Discount

AC9200WCA

Pollen: 265
Dust: 216
Smoke: 216

335 sq. ft.
85W
50dB

Discount

AC5900WCA

Pollen: 237
Dust: 239
Smoke: 235

365 sq. ft.
83W
55dB

Discount
Disontinued: GermGuardian AC4825DLX.
I hope this review was helpful for you to decide which Germ guardian air purifier suits you best.