Last updated on January 1st, 2023
Filterless air purifiers are referring to air cleaners that do not utilize an air filter (mostly HEPA) as a primary means to remove harmful particles from the air. There are several types of filterless air purifiers, including ionizers, UV cleaners, ozone generators and PECO. On this page we are going to take a look at the best ionizers in 2023.
But how do they work? Ionizers use charged particles (ions) that attack allergens, bacteria, viruses and other particulate matter, making them heavier and thus falling on surfaces in a room (bed, floor, windowsill and so on). Later these particles can be picked up by a vacuum or during a cleaning session.
More advanced ionizers do have either a filter or a collecting plate that instantly collects the particles as they fall from the air. Some of them do have a combination of those (like Airdog air purifiers), making them very efficient in removing various pollutants, including smoke and other odors.
Now let's take a look at the best air ionizers available on the market today.
Airdog X5: The Best Ionizer in 2023
| | |
| --- | --- |
| Room Coverage: | 400 sq. ft. |
| CADR: | 220 CFM |
| Filter Life: | washable, permanent |
| Noise Level: | 22 - 63 dB |
| Power: | 60W |
| Dimensions (LxWxH): | 12.4" x 12" x 25.6" |
| Weight | 23.6 pounds |
Airdog X5 is truly the best portable air ionizer in 2023 due to its 5-stage air cleaning system and washable collecting plates. For more detailed information on how this purifier works I recommend checking my review, here I'm just going to mention its features that stand out the most:
This air electrostatic purifier has a pre-filter that collects large particles, including pet hair, pollen, dander. Other ionizers can't do that;
The Wire Frame generates an electric field that makes particles fall into the collecting plates. The collecting plates are washable and do not require a replacement compared to HEPA filters;
Additional Composite Catalyst Filter removes odors (including cigarette smoke), VOCs and freshens the air.
In addition to the multi-layered cleaning system, the Airdog X5 features Auto mode (set and forget), Sleep mode (low noise operation) and can be controlled via voice (Alexa/Google Home) or with a smartphone via app.
To sum up, this is my best pick for an ionizer in 2023 as it can remove virtually all kinds of air pollution, including mold, viruses dust and allergens at home.
Envion Ionic Pro Turbo TA500: Best Affordable Ionizer
Envion Ionic Pro Turbo TA500 is a cheaper, and less powerful solution for air cleaning that doesn't offer that good particle removal compared to the Airdog X5. However, its affordable price and nice room coverage make it very popular among many customers.
The Envion Ionic air purifier is also equipped with a collecting plate, yet it is smaller and requires more often cleaning compared to the previously reviewed X5. There are no WiFi or voice support, just 3 speed settings and an indicator that will let you know when to clean it.
There are filter for odor treatment, yet it includes the germicidal chamber for germs and bacteria removal.
Overall, the Envion Ionic Pro Turbo TA500 is an affordable ionizer to remove allergens, dust, bacteria and viruses from a living room, basement or large bedroom.
Nu-Calgon 4900-20 IWave-R for the Whole House
| | |
| --- | --- |
| Coverage: | Whole House |
| Max. Supported Airflow: | 2400 CFM |
| Self-cleaning: | |
| Noise Level: | Silent |
| Power: | 10W |
| Dimensions (LxWxH): | 6" x 4.8" x 2" |
| Weight | 1 pound |
Nu-Calgon 4900-20 IWave-R is a self-cleaning bi-polar ion generator for the whole house. It is installed into an internal or external duct inlet of the HVAC system of the house. I strongly suggest you checking my review of this extraordinary filterless air ionizer by clicking the link above as there are too many benefits of having one in a house. To name a few:
Doesn't produce ozone;
Cleans itself;
Insane airflow, 2400 CFM;
Up to 6 Tons;
Removes all kinds of allergens, dust, air pollution in general;
Keeps the air clean and fresh all time in the whole house.
There is a downside though – requires some knowledge on how to install it. However, there are a lot of videos on YouTube with a detailed installation process so it's not that difficult.
Airfree Onix P3000 Filterless Air Purifier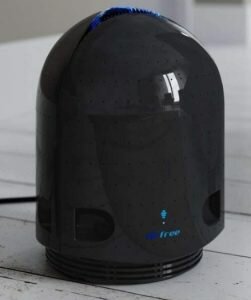 Airfree Onix P3000 is a filterless air purifier that uses the technology called TSS (Thermodynamic TSS Technology). This technology can clean the air not just from dust particles, but also from chemicals and allergens.
The Airfree P3000 is completely safe to use because it does not produce ozone particles or emit other toxins into the air. Unlike most noisy air purifiers that make a nuisance in the home, this model allows you to sleep through the night while it is running.
This filterless air purifier is the best to use in a bedroom or medium-sized living room.
Clarifion Air Ionizer for Bedroom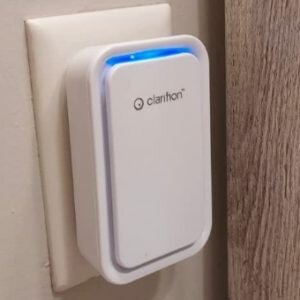 Clarifion air ionizer is a tiny cleaning system, mostly designed to be used in bedrooms, bathrooms and small spaces in general. It is quiet, portable and cheap. Doesn't remove heavy odors, but good to keep it to reduce allergens, bacteria and other air pollution in a room.
FAQ
Let's answer some frequently asked questions.
What's better: an ionizer or HEPA air purifier?
It depends on a particular ionizer and HEPA air purifier. Some of them are high-quality, others won't do any meaningful change in the air quality indoors. I prefer HEPA air purifiers, even though they require filter replacements from time to time. Some of them also feature a built-in ionizer, so they have even better air cleaning capapbilities.
Do ionizers work?
They do. But again, it all depends on a particular ionizer. Some of them might lack the power to cover the whole area in large rooms, so make sure a unit you want to buy can cover the whole space where you want to clean the air. Plus they do not remove heavy smells and gases as well as traditional air filters.
Do they kill Covid-19?
There are not enough studies that prove their ability to kill Covid-19. However, they can reduce the number of dangerous bacteria in a room.
Are ionizers safe for babies and pregnant women?
Most of the time they are safe and do not emit ozone. However, it's always good to ask before buying one.
Do they kill bacteria?
Most of them do.
Are filterless air ionizers worth the money?
As I said previously, it depends on the model you're going to get. Ionizers listed on this page are worth every penny you invest in them.
I want to know more about air purifiers, where do I start?
Go to the main page and start from there. You can find the latest reviews, guides, tools and other useful links that will help you get more knowledge about air purification.