Last updated on June 13th, 2023
Finding a reliable HEPA air purifier for your 600 sq. ft. room is not an easy task. Some of air purifiers that are capable of filtering out dangerous particles from the air release high amounts of ozone in the air; others aren't powerful enough for such large spaces.
I have decided to help you with this task by reviewing several air purifiers that I consider the best when it comes to air cleaning in 600 square feet spaces and large rooms in general. All air purifiers listed here have passed several checks:
High CADR ratings which are a must for large spaces;
They are all safe and can be used in any room of your house;
They clean air from various dust particles, allergens, bacteria, odors, VOCs and viruses. Some of them are better in cleaning air from one type of particles, whereas other are doing better job in cleaning air from other airborne pollutants.
The air purifiers listed here are reliable and should work for years to come.
Enough talking, let's see what are the best air purifiers for 600 sq. ft. rooms in 2023.
Blueair HealhProtect 7770i
Blueair HealhProtect 7770i is the newest development from Blueair company that specializes in designing and manufacturing portable air purifiers for homes in various price categories.
The HealthProtect 7770i was designed to target viruses and bacteria in mind among many other airborne irritants. To do that, the air purifier has a high AHAM-verified CADR rating of 435 CFM: with that it can cover spaces up to 674 sq. ft., delivering 5 air changes per hour (ACH).
That is a great news for allergic people too: they in a dire need of an air purifier that can deliver at least 4 ACH as this is a golden standard for air purifiers that aim to be considered an air cleaner for allergies. Read more about air changes per hour here.
The Blueair HealhProtect 7770i uses a combination of 2 filters: pre-filter to clean air from hair and other large particles and a HEPA filter that is also has an Activated Carbon filter. The HEPA filter filters out 99.97% of all airborne pollutants and charcoal filter helps to remove gases, chemicals, VOCs and odors from the air.
The filter uses a Blueair-developed technology called HEPAsilent, thus at a maximum speed it doesn't exceeds 53 decibels of sound. This is a great news for anybody, who is planning to use the air purifier 24/7 at a maximum speed: 53 decibels equal to a quiet office, so anybody can watch TV without noise interference from the running air cleaner.
The air purifier has an indicator that detects the quality of the filter and if it's below the required level it will blink red. The average lifespan of the Blueair SmartFilter is around 1 year. such long lifespan is achieved with Germshield that prevents growth of mold and bacteria on the surface of the air filter.
The HealhProtect 7770i is also has an app support. The app can be used to control the air purifier or to track the air quality data. It is also possible to set the air purifier in auto and forget about its existence as it will automatically adjust the speed based on air quality at home.
Overall, the Blueair HealhProtect 7770i is worth the investment. This non-zone air purifier is priced above $900, but if you want to have high-quality, durable and powerful air cleaner, capable of removing all kinds of airborne pollutants in a 600 sq. ft. space, you should seriously consider getting one.
Pros & Cons
Pros
24/7 protection against viruses and bacteria with GermShield technology
HEPASilent dual filtration for faster cleaning and reduced noise
In-app features for auto-adjustment and real-time tracking.
SmartFilter with real-time pollutant monitoring and filter life calculation
Quiet operation and energy-efficient.
Removes common allergens and odors
Cons
Connectivity issues with the app and Wi-Fi interface
Lack of integration with Alexa/Google Home
Alen BreatheSmart 75i
| | |
| --- | --- |
| Room Coverage: | 650 sq. ft. |
| CADR: | 347 CFM |
| Filter Life: | 12 months |
| Replacement Filter: | Check Price |
| Noise Level: | 25 - 49 dB |
| Power: | 1.8 - 45W |
| Dimensions (LxWxH): | 11.5" x 18.5" x 27" |
| Weight | 27 pounds |
Alen BreatheSmart 75i is another powerful portable air purifier for 600 sq. ft. rooms and spaces. Compared to the previously reviewed HealhProtect 7770i it is less useful in removing viruses and bacteria, but does great job in removing dust, pollen, pet hair, dander and other particles from the air.
The great advantage that the BreatheSmart 75i has is the air filter customization. There are 3 HEPA H13 filters available:
Pure true HEPA filter for allergens, mold, germs and dust
Fresh true HEPA filter for allergens, mold, smoke, VOCs, cooking smells and cigarette smoke
Pet & Odor true HEPA filter for allergens, mold, germs, dust, pet dander and odor
The BreatheSmart 75i with Fresh filter costs 20$ more and the price yet again increases by $10 if Pet & Odor filter is used. The last filter is great in removing pet smells, so if you have cats, dogs or some other pet in your home, this air cleaner is a must buy.
This air purifier has an Auto mode as well as Sleep mode. On the downside, there is no app support.
When it comes to noise levels, the Alen BreatheSmart 75i is extremely quiet and can be used 24/7 in a bedroom, living room, kitchen, basement, bathroom and any other place.
Pros & Cons
Pros
Smart sensor adjusts fan speed to filter air automatically
High efficiency True HEPA filtration captures 99.9% of particles as small as 0.1 micron
Helps improve air quality and reduce allergy symptoms
Suitable for various applications, including homes, offices, and public spaces
Cons
Some users may experience connectivity issues with the app and Wi-Fi interface
The appearance of the unit may not appeal to everyone
Limited control options for adjusting panel lights
Blueair Classic 680i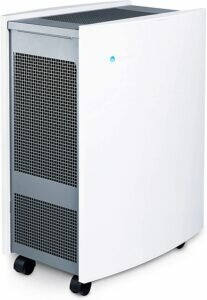 Blueair Classic 680i is another great air purifier from the Blueair company. It has Auto mode, but lacks app support.
The Auto mode is based on 2 sensors: dust sensor and gas sensor. The sensors detect the amount of respective particles and adjust the fan's speed accordingly.
The Classic 680i air purifier was also certified by AHAM and has the following CADR ratings:
Tobacco Smoke: 450 CFM
Pollen: >450 CFM
Dust: 400 CFM
This air purifier will do wonders in a 600 square feet spaces when it comes to removing pollen, allergens and smoke. The large filter is slightly less effective in capturing various dust particles, as it might require more time to capture all of them.
The Blueair Classic 680i doesn't release any ozone into the atmosphere, it's totally safe for babies, asthmatics and other people who suffer from various breathing conditions.
If you have a large 600 sq. ft. room, then Blueair Classic 680i is one of the best air purifiers you can get now. It is fairly priced, powerful HEPA air purifier with Energy Star certification and 5-year warranty.
Pros & Cons
Pros
HEPASilent technology captures 99.97% of airborne pollutants, including dust, mold, pet dander, and pollen
3 fan speeds, including whisper quiet operation, for undisturbed breathing and sleep
Wi-Fi connectivity and compatibility with Blueair friend app and Amazon Alexa for convenient control.
Cons
Pricey replacement filters
Blueair Blue Pure 121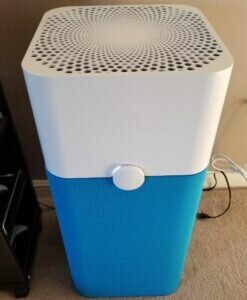 Blueair Blue Pure 121 is yet another portable air purifier for 600 sq. ft. rooms made by Blueair. It also doesn't release ozone and has 360º air intake for better airflow.
When compared to the air purifiers reviewed above, the Blue Pure 121 stands out mostly due to the price tag: it offers air cleaning for spaces over 600 sq. ft. for only $400 which is an extremely low price for an air purifier with such capabilities.
Obviously, there are a few downsides. First off, the air purifier doesn't have any additional functions like Auto mode or Sleep mode. It also doesn't have any WiFi capabilities.
Secondly, the HEPA filter used in the Blueair Blue Pure 121 is smaller. This results in lesser amount of airborne particles captured in one filtration cycle. CADR ratings are also capped at 400 CFM.
Finally, it not as good as air purifiers reviewed above in capturing gases, VOCs, chemicals and odors. But still very effective in removing dust particles or pollen from the air.
Despite these downsides, I consider the best budget air purifier for 600 sq. ft. rooms. If you are tight on money, this is the best deal you can ever get.
Pros & Cons
Pros
Two washable pre-filters included, capturing large particles and customizable with different colors
Quiet operation with advanced filters for higher air flow and lower noise level
Designed for 600 sq. ft. rooms, making it suitable for large bedrooms, kitchens, and living rooms
Significant improvement in air quality and reduction in dust and allergens.
Easy setup and operation.
Cons
Expensive replacement filters.
Limited options in noise levels (gap between whisper quiet and loud).
Levoit Core 600S
Click Here for More Specs & Review
Levoit Core 600s is the newest release. It was designed and manufactured by Levoit company which is known for their budget air purifiers.
The company tried to put as many features as you can get from an air purifier. This includes Auto mode, Sleep mode and various app functions. Unfortunately, the Core 600s is still plagued by some issues – bad WiFi connectivity is the prime example of them.
When the major issues will be fixed, the Levoit Core 600s might be considered the best budget air purifier for 600 square feet spaces under $300. It has a standard 3-stage air filtration with pre-filter, HEPA and charcoal filter, and can deal with odors, dust and pollen in large rooms.
Pros & Cons
Pros
VortexAir Technology for efficient air circulation and cleaning in 600 sq. ft. rooms
H13 True HEPA filtration captures 99.97% of airborne particles
Quiet operation for undisturbed sleep
Sensitive auto mode with accurate particle detection
Smart and voice control via the VeSync app and virtual assistants.
Energy-saving mode for lower power consumption
Sleek and modern design
Cons
Replacement filters can be relatively expensive
Some users may find the black panel design less appealing
While effective, it may not completely eliminate all dust
May require multiple units for optimal performance in rooms larger than 600 sq. ft.
Winix XLC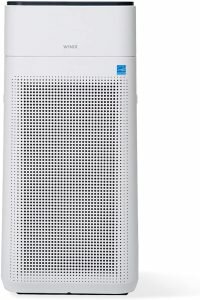 Winix XLC dual 4-stage true HEPA air purifier is certified by AHAM for 620 square feet rooms. The CADR ratings are as follows:
Tobacco Smoke: 400 CFM
Pollen: 400 CFM
Dust: 355
This Winix air purifier has large HEPA air filter that captures various particles such as dust, smoke, pollen and other allergens from the air.
This is the only air purifier listed here that comes with washable Activated carbon filter, meaning maintenance costs are very low. On the downside, the replacement for HEPA filter is quite hard to find. That's why I put it on the 6th spot of this chart as without available replacements the air purifier is just an expensive air blower.
Apart from this filter problem, the Winix XLC is a fairly-priced air purifier for smoke, pollen and other allergens and odors. Its air filter is slightly less effective in capturing dust particles though.
If you can find a reliable source of replacement filters for the Winix XLC air cleaner, you definitely should consider getting the one for your 600 sq. ft. room. Overall, the unit's performance justifies its price.
Pros & Cons
Pros
Effectively manages odors and clears the air after cooking
Smart App control allows remote monitoring and control of the unit
Washable pre-filter and carbon filter increase filter lifespan
True HEPA filter captures a high percentage of airborne allergens
PlasmaWave technology helps reduce the presence of airborne bacteria and viruses
Smart sensors and auto mode adjust fan speed based on air quality
Ultra-quiet operation, especially on the slowest speed
Cons
Smart features require a dedicated 2.4 GHz Wi-Fi network and reliance on Winix servers
Limited compatibility with smart home ecosystems like HomeKit or Home Assistant
See also: