Last updated on January 1st, 2023
In 2021 Air Health released their first portable air purifier called Skye – up to that point they were developing only in-duct air purifier. Does their first portable air purifier is capable of cleaning air? Let's find out in this review!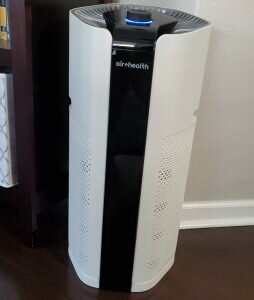 Specifications
Space Coverage
550 square feet (4 ACH)
Filter Efficiency
99.97%
Filtration Technology
5-stage air filtration technology
Filter Life
6 months for 4-in-1 Pre-Filter/True HEPA H13/Carbon Filter/PCO (check price)
Filter Size (HxWxD)
13.5″ x 10″ x 10″
UV-C Lamp Lifespan
12 months (check price)
CADR Ratings
293 (Smoke) / 301 (Pollen) / 288 (Dust)
AHAM-Verified
Max Airflow
420
Speed Settings
10
Auto Mode
Child Lock
Sensors

3 Particles Sensor (PM1.0, PM2.5, PM10)
VOCs sensor
Inorganic gases sensor
Temperature
Humidity

Noise Level
22 – 59 dB
Wi-Fi
App
Power
10 – 50 Watt (How much Electricity will it use?)
Energy Star Certified
Weight
30 pounds
Dimensions (L x W x H)
11.3″ x 11.4″ x 26″
Warranty
2 years on unit
My Air Health Skye Air Purifier Review
What's in the box
Air Health Skye Air Purifier unit
Air Filter
UV-C Lamp
User Manual
Review
Air Health Skye isn't something new in terms of design, size and weight. It measures 11.3″ x 11.4″ x 26″ and weights 30 pounds. It has built-in handlers on both sides of the unit, so it's not a hassle to move around.
The thing that that instantly caught my eye was 5-stage air filtration process with 4-in-1 filter. Look like Air Health has decided to throw every technology that exist today into this air purifier to make it clean air really good.
Large, 3 pound air filter features:
Pre-filter for trapping large particles including hair.
True HEPA H13 medical-grade filter for capturing dust, pollen, bacteria, viruses with 99.97% efficiency at 0.3 micron.
Activated Carbon filter for odor removal.
That would've been it for any conventional air purifier. But Skye isn't that! It also features an additional Pro-Cell filter that made of Titanium Dioxide (TiO2). In combination with 16-inch 254nm wavelength UV-C lamp present in the air purifier, it converts VOCs, gases and other chemicals into water vapor and Carbon Dioxide. And UV-C light deals with bacteria, viruses and fungi.
To sum it up, the Skye portable air purifier uses all possible layers of air filtration available today.
Controls & Functions
Now let's take a look at controls and smart functions of the Air Health Skye.
On the top of the device only 1 physical round button is present (turn on/off button located at the back). And this button is highlighted in different colors, depending on air quality index from blue (best) to red (worst). In Auto mode the top display do not show the data – you have to click on the button to have the AIQ and other info appear. This data includes:
Filter Indicator
UV-C Lamp indicator
Air Quality Index
Auto/Manual mode
To went into manual mode you have to click on the button again and then wheel it to the right to increase speed and to the left to decrease. The number of speeds is astonishingly high: 10 in total. On the lowest speed the Air Health Skye makes inaudible noise (22 db), on the highest it's noisy as a refrigerator (59bd) and you can clearly hear it. Big props for AirHealth to make such wide range of speeds (instead of low, medium, high) – the only company that does 10 speeds is Dyson, but their air purifiers are priced higher.
All these controls are available with the app AirHealth which is very similar to the Tuya Smart app. It's also possible to configure auto mode based on different sensors (there are total of 7!). For example, if you don't want to let PM2.5 particles go above certain level you can set up a limit and the Skye will keep them at bay, automatically fine-tuning the speed. The same triggers can be used for temperature, humidity etc. Schedule and timer are also available via AirHealth app.
Air Health Skye also supports Alexa, but it only can turn on or off the device. To perform other actions you have to configure it via the app.
The other downside I found is lack of Sleep mode. Come on, Air Health, it's 2023! The wide range of available speeds is great and on the lowest speed the Skye's noise is unnoticeable, but you could've installed a lights sensor, you already have 7 of them. Thankfully, in auto mode the only physical button illuminates from beneath and I can't say it's too bright, more like a dimmed light.
Suitable Room Size for Portable Air Health Skye Air Purifier
Air Health Skye went through the process of independent CADR testing from the AHAM organization and these are the results:
Smoke: 293 CFM
Pollen: 301 CFM
Dust: 288 CFM
You should use our ACH calculator to find out how effective is the AirHealth Skye for your living room. Here's a table with examples for different rooms:
| | | |
| --- | --- | --- |
| Room size | How long it takes to clean room | ACH |
| 272 sq. ft. | 13 minutes | 8 |
| 435 sq. ft. | 12 minutes | 5 |
| 550 sq. ft. | 15 minutes | 4 |
| 720 sq. ft. | 20 minutes | 3 |
| 1200 sq. ft. | 32 minutes | 1.9 |
If you suffer from allergy or experience any other breathing conditions you should look at ACH number to be no less than 4, preferably 5 or higher. If that's the case, the Skye is an ideal air purifier for medium-sized rooms of 400 to 500 sq. ft.
Maintenance Costs
Replacement Filters: ~$80 for 1 replacement filter every 6 months (check price). The filter includes H13 HEPA, pre-filter layer, Carbon and Pro-Cell.
UV-C Replacement bulb: ~$30 for the replacement lamp every 12 months (check price).
Electricity Costs: only ~$2,4 per month running 12 hours per day at a maximum speed. Use this Energy Consumption Calculator to estimate electricity usage and costs of the Air Health Skye air purifier based on your local electricity rates.
Overall Yearly Costs: $220.
Pros & Cons
The Good
5-stage air filtration
Decent at air cleaning
Removes allergens
Easy to change filter and lamp
Speed selection
The Bad
High maintenance costs
No Sleep mode
FAQs
Does Skye releases ozone?
It does, but negligible amount – only 0.001 PPM when California Air Resource Board's approves of devices that release 5 times more ozone (0.001 PPM). In other words, it's safe to use.
I bought the Skye air purifier and it doesn't start, what do I do?
Check whether you turned the cap at the bottom to the end, it should have clicked to let you know it's been assembled correctly.
Alternatives
If you are looking for an air purifier in range of $600-700 and specifically want to remove your allergy symptoms, Blueair Pro M is a decent pick.
Check Blueair Pro M Air Purifier price at a discount
It has even higher CADR rating for pollen (350 CFM) compared with the Air Health Pro, but it captures smoke and dust worse and certified only for 390 sq. ft. rooms. And it's a bit pricier too and lacks UV-C light and Pro-Cell.
IQAir also makes medical-grade air purifiers, their HealthPro Plus capable of 4 air changes per hour in 620 square feet room.

IQAir HealthPro Plus Detailed Review
Although IQAir HealthPro Plus features truly large (16 x 6 x 14 inches) medical-grade H13 HyperHEPA filter plus an additional pre-filter & odor filter, many consider it too expensive in 2023 and that's true. Although this air purifier is great at removing allergens, viruses, bacteria and unpleasant smell from air, the ultimate price is really high when it comes to buy replacement filters and paying electricity bills. Let alone the initial costs of over $800.
If you don't accept air purifiers without UV-C light in it and you don't have large space, take a look at Germ Guardian air purifiers. They range from small to medium-sized air cleaners, capable of covering up to 400 square feet rooms.
Wrapping Up the Review: Is Skye worth the Money?
Taking into account several-stage filtration system, large H13 HEPA filter and UV-C lamp, I'd say the Air Health Skye is a good portable HEPA air purifier for removing allergy symptoms and improving air quality in large rooms up to 550 – 600 square feet. It really cleans the air, but in spaces larger than that the ability to filter out gases, bacteria and other pollutants drops.
If you are in dire need of an air purifier for large spaces over 1,000 square feet you should take a look at Blueair air purifiers (Pro L, XL) or Tracs (TM 500, 950). But they are priced accordingly.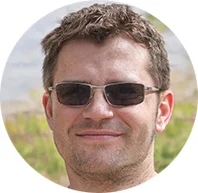 My name is Alex Evans and I own this website. I have been in air purifier industry for several years now and nowadays I write about air purifiers, their features, benefits and downsides. Cheers!