Last updated on October 23rd, 2022
Airdog X8 is one of the most powerful air purifiers designed for home use. It is capable of ventilating 470 cubic feet of air per minute, surpassing Nuwave Oxypure, Alen 75i and other air purifiers. On the other hand, the X8 model costs a way more compared to them. Read our review down below to know more about this product and is it worth the high price tag or not.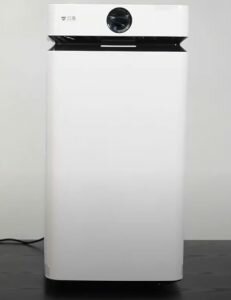 Check Airdog X8 price at official store
Specifications
| | |
| --- | --- |
| Space Coverage | 1,000 square feet (calculate ACH for your room) |
| Bacteria Removal | 99.99% up to 0.0146 microns |
| Filtration Technology | 5-stage TPA air filtration technology |
| CADR Ratings | 470 (Smoke) / 470 (Pollen) / 470 (Dust) |
| Max CFM of Air Moved | 470 |
| Speed Settings | 6 |
| Auto Mode | |
| Sleep Mode | |
| Sensors | Air Quality Sensor |
| Noise Level | 63 dB |
| Wi-Fi | |
| App | |
| Child Lock | |
| Power | 110 Watt (How much Electricity will it use?) |
| Weight | 43 pounds |
| Dimensions (L x W x H) | 15″ x 15″ x 30″ |
| Warranty | 1 year on unit |
Airdog X8 Review
What's in the box
X8 air purifier body
Detector
Collecting Plates
Generating Electrode
Cleaning Brush
Remote Control
User Manual
Features
The Airdog X8 air purifier uses TPA technology (patented), which ensures that the filter removes particles of 0.0146 microns and above. This is much lower than the traditional 0.3 microns that HEPA filters remove. It kills all virus and bacteria that uses high voltage to kill 99.99% of the pollutants it takes in. Traditional HEPA filters in comparison passively filter, that is, only collect and not kill, which can itself be harmful to your health.
The Airdog X8 air purifier comes with washable plates that do not require replacing like HEPA filters. The only thing required is to wash them regularly for reuse. This allows you to be more environmentally conscious as well as HEPA filters are non-recyclable like plastic. The X8 is known for its powerful CADR of 470 CFM and can clean an area of 1000 sq. feet. This means this air purifier is great for removing air pollution, dust, allergens in large rooms.
The X8 is made of V-0 which is a fireproof material so it is quite safe as well. It has 6 modes and a child lock that is often necessary for people who have young kids. The ionic wind filter technology ensures high efficiency and a very quiet unit.
The Airdog X8 also comes with a laser air quality detector which is detachable and can test PM 2.5, formaldehyde, humidity, and temperature. The sensor can be removed and placed in another room to test the air quality there. It also shows an air quality index, which is the number of particles detected. The number ranges from 0-800, the lower the number, the lesser the pollutants in the air.
The Airdog X8 features a 5-step cleaning process. First, the air flows through a pre-filter screen where it collects, heavy pollutants such as pet hair, dander, etc. Then the air passes through emitter wires that create an electro field which destroys harmful pollutants that have the potential to pass in our lungs. Then at the third stage, the charged particles are killed including bacteria, germs, viruses. It is known to kill 99.87% of viruses such as influenza in an hour. Next, the particles cling to the collecting plates, which remove dangerous toxins. This is why the plates are to be regularly washed for reuse. The fifth and the last stage is at the catalytic layer, where the odors are removed, ensuring a complete and thorough purification process.
Due to the ionization filtration system, the Airdog X8 has an extremely low sound when operating. The noise level of the device is below <63 dB(A) which makes it practically inaudible.
The Airdog X8 also features color indicators as the unit can monitor the air quality in real-time. The colors allow you to judge the state of the air in any room. Green means great, light yellow indicates, good, yellow represents moderately polluted, while red shows hazardous air quality.
The Airdog X8 is a Wi-Fi-enabled air purifier. This means you can control it from anywhere as long as you have the app downloaded on your smartphone. This is great for when you are going home and want the air purifier to be on before you reach.
My Experience with Airdog X8
As someone with recurring sinus problems, I had heard a lot of hype about the Airdog X8 air purifier. I placed it in my room as that is where I spent most of my time due to work from home. Setting it up was simple, I connected it to the wifi with ease and also downloaded the smartphone app. To my utter surprise, the air quality its sensor detected in the room was awful, as the red light depicted so. After starting it, only a few hours later the air quality got better, and the color turned green to reflect the good air quality around me.
My sinus problems, headaches, allergies, all got better without taking any anti-allergies. I kept it on for almost half of the day, every day, and was surprised that my electricity bill was not as bad as I was anticipating. In the past, I had used the Molekule air purifier, but it was nothing like the Airdog X8. The TPA technology and 5 step filtering proved to be useful as they filtered not only my cigarette smoke but also the odor left behind.
A feature of the Airdog X8 that stood out for me was that it can kill viruses such as influenza at an accuracy of 99.87%. The collecting plates attract all kinds of air-borne viruses, which is quite useful especially while we are living during a global pandemic caused by a virus.  The Airdog X8's collecting plates need to be washed regularly which is felt was an improvement from my last air purifier which required costly filter changes.
While I was glad to know it was wifi-enabled and the Airdog app was useful for many features but I still felt that the app could have been better. It disconnected a few times but overall, it was easy to use. I could set timers, change modes, and the speed from the app without having to get up.
One issue that I had with the Airdog X8 is that while it is a portable air purifier, it is still quite heavy to move around easily. I wanted to also move it to the tv lounge for some time, but since it was so heavy, I required additional help to move it. Hence, I cannot shift it from one room to another with ease. That being said, its large unit is quite useful as it can purify a room of about 1000 sq feet which is quite sufficient. It is also a must-have for people who have pets. Overall, I would highly recommend the Airdog X8 to my friends and family.
Suitable Room Size for Airdog X8 Air Purifier
Airdog X8 can effectively cover spaces up to 1000 square feet. It is even more effective in eliminating bacteria in smaller rooms.
| | | |
| --- | --- | --- |
| Room size | How long it takes to clean room | ACH |
| 440 sq. ft. | 8 minutes | 8 |
| 700 sq. ft. | 12 minutes | 5 |
| 1000 sq. ft. | 17 minutes | 3.5 |
| 1245 sq. ft. | 21 minutes | 2.8 |
| 1740 sq. ft. | 30 minutes | 2 |
| 2240 sq. ft. | 38 minutes | 1.6 |
Under normal conditions 2-3 air changes per hour is enough for bedrooms and living spaces. If you have allergies or asthma, you should look for air purifiers with 4 air changes per minute or better. Minimum 8 ACH is recommended in heavily smoked rooms.
If you want to calculate air changes per hour for your room using Airdog X8 for air purification and get a closer look what are the general recommendations, go to the ACH calculator & recommendations page.
Maintenance Costs
Replacement Filters: $0!
Electricity Costs: Less than 6 USD per month running 12 hours per day on maximum speed. Use our Energy Consumption Calculator to estimate electricity usage and costs of the Airdog X8 air purifier based on your local electricity rates.
Total Costs Per Year: ~$70.
Pros & Cons
The Good
Excellent for large spaces
No need to buy filters every year resulting in lower maintenance costs
Efficient in eliminating bacteria and viruses
Has extremely high airflow
The Bad
Emits a little bit of ozone
Pricey
Short warranty period
Check Airdog X8 price at official store
Airdog X8 vs Airdog X5
| | | |
| --- | --- | --- |
| Model | Airdog X8 | Airdog X5 (Review) |
| Image | | |
| Space coverage | 1000 sq. ft. | 450 sq. ft. |
| Main reason to buy | Efficient in large rooms | Lower Price |
| Speed modes | 6 | 4 |
| Rated Power | 110W | 60W |
| Check Price | Airdog X8 price | Airdog X5 price |
| Sylvane | | |
The Airdog X8 is an improved model of the Airdog X5. They both share many similarities, for instance, both rely on TPA technology to collect and destroy pollutants and odors. Both can remove particles as small as 0.0146 microns. They also rely on ionization and a 5-step filtration process to make sure the air is clean. Both also use collecting plates that are washable and environment-friendly. Lastly, both have a super quiet motor fan and are perfect for people who want a noiseless unit.
However, both the Airdogs do have some notable differences. The Airdog X8, as it is a successor of the X5, is faster and more efficient. The Airdog X5 cleans an area of 450 sq feet which is a lot less than its successor's. The X8 is also a much larger unit in size, which also makes it much heavier than the X5. Moreover, their costs also vary, where the X8 costs $1199 while the X5 costs $599. While both use the same technology the X8 is suited for bigger rooms while the X5 is better for smaller ones.
Airdog X8 vs Alen BreatheSmart 75i
| | | |
| --- | --- | --- |
| Model | Airdog X8 | Alen BreatheSmart 75i (Review) |
| Image | | |
| Space coverage | 1000 sq. ft. | 1300 sq. ft. |
| ACH | 3.5 | 2 |
| Main reason to buy | Efficient in large rooms | Cheaper |
| Washable | | |
| Requires filters | | |
| Speed modes | 6 | 5 |
| Rated Power | 110W | 45W |
| Official Store | Airdog X8 price | Airdog X5 price |
| Sylvane/Amazon | | |
The Airdog X8 and Alen BreatheSmart 75i are both highly popular air purifiers. While they both share some similarities, both are different for the most part. The Alen BreatheSmart 75i too is a highly noiseless air purifier – 49 dB when powered on the high mode. Like the Airdog X8, it too has an air quality sensor that helps monitor the air. Both air purifiers remove particles and bacteria from the air by almost 99.99%.
However, while the Airdog X8 covers an area of 1000 sq feet, the Alen BreatheSmart 75i purifies an area of 1300 sq. feet. The latter however runs on HEPA filter technology which only removes particles of up to 0.1 microns. It is however made of a carbon filter which helps remove odors as well. The X8 in comparison uses a washable filter and collects and destroys pollutants up to 0.0146 microns. Thus, choosing which one to go for primarily depends on which technology you prefer, one that is more environmentally friendly or not.
Airdog X8 vs NuWave Oxypure
| | | |
| --- | --- | --- |
| Model | Airdog X8 | NuWave Oxypure (Review) |
| Image | | |
| Space coverage | 1000 sq. ft. | 1245 sq. ft. |
| ACH | 3.5 | 2.1 |
| Main reason to buy | Efficient in large rooms | Lower price |
| Washable | | |
| Requires filters | | |
| Speed modes | 6 | 6 |
| Rated Power | 110W | 125W |
| Official Store | Airdog X8 price | NuWave Oxypure |
| Sylvane/Amazon | | |
The Nuwave Oxypure too is a great option for large rooms as it too cleans an area of 1000 sq. feet. They both eliminate 99.99% of bacteria in the air, and it is also wifi enabled air purifier. Both are energy efficient and help save up on energy costs. Both the air purifiers are environment-friendly and both also cost more or less the same.
However, both rely on different filtration technology. The Airdog X8 uses collecting plates that run on TPA technology while the Nuwave Oxypure uses a mix of pre-filter, bio-guard filter, ozone emission filter, and HEPA carbon filter.
The X8 may use more advanced technology but the Nuwave Oxypure too manages to remove all contaminants and odors like smoke, allergens, pet dander, viruses, etc. Another major difference is that the X8 removes up to 0.0146 microns particles while the Nuwave Oxypure removes particles of 0.09 microns from the air.
Choosing between the two is a tough choice as both serve the same purpose, but, indeed, the X8 is still slightly more efficient.
FAQs
Is the Airdog X8 better than HEPA filter air purifiers?
The Airdog X8 uses TPA technology to purify the air, which can remove particles as small as 0.0146 microns. HEPA filters in comparison only filter out 0.3-micron particles. Moreover, HEPA filters only collect and accumulate the particles which can be harmful as mold would just keep on collecting in the unit. The Airdog X8 however, collects and destroys. Additionally, HHEPA filter air purifiers need to be constantly replaced whereas X8 saves that cost as it features a washable filter. Lastly, X8 has a super quiet motor which is not the case with HEPA filter purifiers.
Is the Airdog X8 a safe product?
The Airdog X8 is known for its safety features such as smart control, anti-fire, child lock, and 3rd party verification. The smart feature makes sure that the current and voltage are not surpassing ad limits. In case of an abnormal situation, it notifies you. It is made of V-0 fire retardant materials that prevent overheating. The child lock is turned on when children are around so they do not accidentally change the settings. Furthermore, it has passed the safety requirements of CE, CQC, and FCC.
Is the Airdog X8 eco-friendly?
The best thing about the Airdog X8 is that it comes with an energy star rating which means it is not heavy on your electricity bill. Moreover, its reusable collecting plates save all the environmental costs associated with non-recyclable HEPA filters – that are made of fiberglass.
How do you know the Airdog X8 is cleaning the air?
The AQI (Air Quality Index) rating is reflected through the colored indicators located on the unit. Not only do you significantly feel the air around you is easier to breathe but the colors change according to the air quality.
Can the Airdog X8 filters be cleaned in the dishwasher?
While you should not put the entire unit of Airdog X8 in the dishwasher, the collecting plates are dishwasher safe. They do not require any special detergent or washing liquid. Before putting them back in the unit, make sure they have completely dried. Allow them to air dry for 24 hours.
Airdog X8 Manual/How to Use/Maintenance
The Airdog X8 is simple to use. A power button allows you to turn on or off the machine, while other buttons are also located at the top such as child lock, fan speed, sleep mode, etc. The indicator lights are also located at the top which represents the air quality rating. Its detachable air quality detector uses sensors to which read the air quality of the room. You can then also analyze how this compares to the air outdoors.
The Airdog X8 also has an automatic mode which when turned on uses the sensor technology to make adjustments to the fan speed and CADR selections (300, 500, 600, 700, 800).  However, if you do not want to use the unit to make adjustments you can simply download the Airdog app. All you need to do is sign up and voila. Connecting to the Wi-Fi is simple through the app but you can also click on the Wi-Fi button located on the remote.
Moreover, it comes with a cleaning brush to clean the washable pre-filter. Turn the power off first to remove and take out the collecting plates. After that place them in a container and clean them with a cleaning brush until the external metal is clean. Use plain water or detergent water, soaking it in the mixture is also recommended but only for about 10 minutes. Use a natural detergent instead of a laundry one. In case of stains, do not over brush them as the stains will not affect the effectiveness of the air purifier. Dry the collecting plates in the sun or with a hairdryer. Once dry, place them back as directed in the manual.
Conclusion
The Airdog X8 overall is a high-end purifier that features the best technology out there. It manages to stand out from not just traditional HEPA filters but those that are similar to it as well. Its 5-step filtration, connectivity to the Wi-Fi, environment-friendly and washable plates, as well as noiseless motor, make it a must-buy. While the initial cost may be high, you save up on the maintenance costs by washing the filter instead of replacing it each time.
Moreover, it is perfect for large rooms and makes sure the air around you is clean and fresh, without any viruses or air-borne bacteria. You can also get a cheaper deal if you get a promo code so do look out for those! Hopefully, this Airdog X8 air purifier review will help you decide whether it is made for you or not.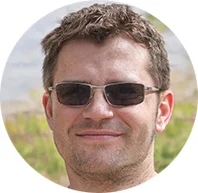 My name is Alex Evans and I own this website. I have been in air purifier industry for several years now and nowadays I write about air purifiers, their features, benefits and downsides. Cheers!