Last updated on February 21st, 2023
The Alen company has become active in recent years, releasing several air purifiers on the US market. One of them is Alen BreatheSmart 45i, advertised for medium and large rooms and capable of covering 800 square feet of space.
Is the Alen BreatheSmart 45i worth the price? Is it effective? Does it clean the air and what are the benefits and downsides of this air purifier? You will find out answers to this and many more questions in this Alen BreatheSmart 45i review.
Specifications
Space Coverage
800 square feet (2 ACH)
Particles Removal
99.99% down to 0.1 micron
Filtration Technology
3-stage:

Pre-Filter
True HEPA Filter
Ionizer

Filter Life
CADR
245 (Smoke / Pollen / Dust)
Speed Settings/Airflow

70 CFM
135 CFM
175 CFM
215 CFM

Auto Mode
Sleep Mode
Smart Sensor
Noise Level
23 – 49 dB
Power
1.1 – 50 Watt (How much Electricity will it use?)
Energy Star Certified
Weight
27 pounds
Dimensions (L x W x H)
8.5″ x 15″ x 25″
Warranty
Lifetime warranty (requires subscription on official website)
My Alen BreatheSmart 45i Review
What's in the Box
BreatheSmart 45i air purifying unit
True HEPA H3 filter
User manual
Now dive in further to learn more about the Alen BreatheSmart 45i in this review.
Design
Appearance matters! Well, let's be honest here. We all look at designs that will vibe with the room. What attracted me to this Alen Breathesmart purifier was its sleek design with a minimalist touch. It stands at 25-inch height and weighs around 15lbs. Also, one of the fantastic things about this product is occupying less space. It is adaptable to small, medium, and large areas.
What I like about this air purifier is the option to choose colors. They offer seven neutral shades: graphite, brushed stainless steel, espresso, oak, and white. You can select a color of your choice to give an aesthetic look to your indoor décor.
I commend Alen for their well-built products. The front panel is plain, while on the top, there is an LED indicator and controls. I loved the touch-screen button with a sensor. Also, the LED Color display enables me to see the air quality of the air at a glance. Because of its advanced sensor, it can detect the air quality and display it through the colors. Here is how it works:
Orange: It means the air quality is okay with moderate pollutants.
Blue: It means the air quality is excellent and zero presence of pollutants.
Red: It means the air quality is dirty and the presence of high pollutants.
Green: It means the air quality is excellent and minimal presence of pollutants.
There is also an auto-mode. When I activate it, it adjusts the air cleaning range to enhance the air quality.
Filtration
An air purifier is all about filtration. One of the critical aspects to consider before buying an air purifier is that it should have a True HEPA filter. It is the highest form for physical filtration of air. HEPA stands for High-Efficiency Particulate Air.
Why True HEPA filter? Unlike other air filters, the HEPA filter is fiberglass with tiny holes that can trap a PM2.5 pollutant. A True HEPA filter in the H13 variant captures 99.99% of harmful particles down to 0.1 microns.
Here is a fun fact: the PM 2.5 pollutant is thirty times smaller than your hair!
Alen Breathesmart purifier uses a True HEPA filter that takes care of allergens, dust, bacterial, mold, fungi, and odor. It uses a pre-filter to trap significant object pollutants like large dust or dog hair. The product also has an in-built ionizer, but it doesn't produce any ozone.
Alen Breathesmart 45i has four types of air filters that cater to different issues:
HEPA Pure

It is the standard air filter of the Alen Breathesmart air purifier. This filter helps to get rid of pollutants and dust particles. It helps to get rid of allergens and germs as well.
HEPA Fresh

This filter is an upgraded version of the HEPA pure air filter. It has an activated carbon filter that will help to get rid of household odors. This filter will remove light smoke and smells from cooking.
HEPA OdorCell
HEPA OdorCell designed to target all kinds of odor, including pet smell and diapers.
HEPA Heavy Smoke
It is Alen Breathesmart45i's ultimate True HEPA filter. The large 2 pound carbon filter wont pass any smell through, including smoke (wildfires too) and VOCs.
The filter life for this product is twelve months, and it needs to change the air filter according to the usage frequency. But if you want your air purifier to have more extended longevity, then it would be best to change filters timely.
Sound
One of the best aspects of this air purifier is its extremely low noise. I bet most of Alen's customers will commend their soothing sound. It has a pink noise frequency developed through Whisper Max technology. Unlike other air purifiers, it is quiet.
Here is what you should know about pink noise and white noise: pink noise has low-frequency sounds like it gives a soothing sound. In contrast, white noise sounds sharp or hissy. The pink noise provides calmness and peace that enables you to have a sound sleep. It gives the whole home a clean and pleasant aura. Often, I forget that I have an air purifier because of its extremely low noise.
Note that Air Breathesmart 45i is the only HEPA air purifier approved by the SleepScore Labs for sleep improvement. SleepScore Lab is the world's most advanced laboratory that runs a sleep tracking system. Good sleep is essential for a peaceful state of mind. And this air purifier helps in doing that.
Power consumption
I must say that one of the selling points of Alen Breathesmart 45i is its lower power consumption. It has already earned ENERGY STAR certification for its efficient use of energy which is a significant achievement. The power consumption of this air purifier is 50W at the maximum sped. It is pretty impressive because an air cleaner needs to run a long time to filter out smoke, pollen, dust, germs etc. from the air.
Price
The Alen Breathesmart 45i price is quite high. When I first looked at the product, I thought it would be costly and it does! The cost of the 45i model starts at $429 for the white color.
You will get the white color at a cheaper rate as compared to other colors. If you have money to spare, then you can choose the color of your choice. Also, you can wait for sale season if you don't want to spend money now. You might get a good discount.
Also, all the products from Alen have a lifetime warranty. So, if anything happens to your air purifier, then they will fix it without any charge. Currently, they are offering a 10% discount on the product if you refer their products to your friends or family. You can also timely check for a promo code or coupon on their official website to redeem their products at a lower price.
Manual
For every product from Alen, you will get a user manual. You don't have to worry about setting up the air purifier. The twelve-page manual will guide you on what to do. It covers almost everything that you will find very simple to follow. From setting up the air purifier and filter replacement, they got it all covered. Even for troubleshooting issues, they have provided guidelines. So, it would be best to keep the manual safe for reference when there is a problem.
How to use
After unboxing the package, you can easily set up this unit. Carefully lift the air purifier. There is a handle at the back so that you can grab it. The next thing you need to is open the front panel. You just need to pull the panel. It has a magnetic touch that makes it easy to open and change the filter—this is one reason I like this product. So, open the front panel and take out the air filter to remove the plastic cover. The whole process is simple and hassle-free.
Now, place the air purifier that is convenient for you. It would be best to put it near a power outlet. After plugging in, switch on and press the auto. And that's it. No hassle! Also, the manual has everything covered. So, you don't have to worry about it.
Suitable Room Size for Alen BreatheSmart 45i
You probably have seen the Alen BreatheSmart 45i description that says 'the air purifier can clean air each 30 minutes in 800 sq. ft. space'. Whereas it is undoubtedly true, the effectiveness of such cleaning is quite low and it will work only for bedrooms (take look at the ACH calculator & recommendations page). Even the living rooms require at least 3 air changes per hour. and that's under normal conditions! If you suffer from asthma, for example, you need at least 4 air changes per hour to be delivered by an air purifier.
You can use our calculator to figure out whether Alen BreatheSmart 45i works for your room or not. Alternatively, look at the table below (assuming you have 8 ft. ceilings):
| | | |
| --- | --- | --- |
| Room size | How long it takes to clean room | ACH |
| 270 sq. ft. | 10 minutes | 6 |
| 320 sq. ft. | 12 minutes | 5 |
| 400 sq. ft. | 15 minutes | 4 |
| 540 sq. ft. | 20 minutes | 3 |
| 800 sq. ft. | 30 minutes | 2 |
Alen BreatheSmart 45i Maintenance Costs
Replacement Filters: $69, $89, $99 or $119 per year, depending on which type of True HEPA H13 filter you want to use with the BreatheSmart 45i (Pure, Fresh, OdorCell or Heavy Smoke). Plus $19.99 for a pack of 4 pre-filters.
Electricity Costs: ~$5 per month running 24 hours per day on maximum speed. Use our Energy Consumption Calculator to estimate electricity usage and costs of the Alen BreatheSmart 45i air purifier based on your local electricity rates.
Total Yearly Costs: $150 – $190.
Some Tips
The maintenance of this air purifier is quite simple. However, there are certain things to keep in mind. While cleaning the front and top panel, it is advisable to use a soft cloth to avoid scratches. Also, be careful not to spill water into the unit.
You can also vacuum the pre-filter, that is, the black mesh filter in front of the filter, to have a proper efficiency of the unit. The pre-filter helps to get rid of large dust and hair. So, timely vacuuming is essential. Also, the filters are not washable and cannot reuse. Therefore, it is advisable to replace filters timely to prolong the life of your air purifier.
Pros & Cons
The Good
Long lifespan for True HEPA filter
Very quiet
Energy Efficient
Available in different colors
The Bad
Room coverage is lower than expected
Price
Alen Breathesmart 45i vs Alen Breathesmart 75i Air purifier
| | | |
| --- | --- | --- |
| Model | BreatheSmart 45i | BreatheSmart 75i |
| Image | | |
| Main reason to buy | Lower Price | Bigger Space Coverage |
| CADR | 245 | 350 |
| Speed Settings | 4 | 5 |
| Noise Level | 25 – 49 dB | 23 – 49 dB |
| Max Power | 50W | 45W |
| Price | Buy 45i | Buy 75i |
| Review | | |
Similarities
Filter
One thing about Alen's air purifiers is that they use only HEPA filters. Both air purifiers use a True HEPA H13 filter.
The overall filtration process is similar: pre-filter, True HEPA filter, ionizer (optional). If you want a bigger air purifier, then you can go for Alen Breathesmart 75i.
Power consumption
Both the models of Alen Breathesmart purifiers have ENERGY STAR certification. Their power consumption is low. Alan Breathesmart 75i consumes 45W, while the other Alan Breathesmart purifier consumes 50W running at the maximum speed (Turbo).
Sound
Alen Breathesmart air purifiers have extremely low noise. Both the air purifiers generate a soothing pink noise. However, Alen Breathesamrt 75i is very quiet. When the noise level is at the lowest setting, it is only 25 decibels – it's like quiet in a rural area during the night.
The noise level is only 49 decibels when it is at the highest settings. For the other unit, the noise level is also 49 decibels, even at the highest fan settings. So, when it comes to sound both Alen 45i and 75i are almost identical.
Differences
Price
Cost plays a huge factor in determining the purchasing power of a product. When I compared the prices of these two air purifiers, Alen Breathesmart 45i is way cheaper. Alen Breathesmart 75i falls under the high budget category. It starts at $749 for a basic white color.
Room Coverage
Alen BreatheSmart 75i has the most extensive room from all Alen air purifiers. It can cover 1300Sq ft. Even at low speed, it can clean 350 sq. ft. without any problem. This air purifier cleans only twice an hour. But if you have a smaller room, you can expect to have the clean air every twelve minutes or more.
The Alen Breathesmart 45i purifier covers an area of 800 sq ft. and has lower airflow of 245 CFM. It can't clean big rooms and overall performs worse.
Design and size
The Alen Breathesmart air purifiers have a similar design and look, but their size is different. Alen Breathesmart 45i is smaller in size that is perfect for a medium-sized room. Alen Breathesmart 75i stands at 27 inches high. Also, you get a variant of fourteen color choices. So, if you want a bigger size air purifier, then you can choose Alen Breathesmart 75i.
Frequently Asked Questions
If I have a problem not listed on the manual, what should I do?
In a situation like this, you can visit their official website, www.alen.com. They will respond to your queries.
How do I find the electrical specification for my unit?
You can check the rating label that you can find at the back of the unit. All the information starting from the unit's voltage, amps, outlet requirements, and hertz will be there.
When should I replace the air filter?
You will see three lights above the filter button. It is called a Filter life indicator. The green light illuminates most of the time. It shows the life of the filter. When the yellow light appears, it's a sign to replace the filter. Perhaps, it would best to order a new filter. The red light illuminates when you have to replace and put a new filter.
Can I wash True HEPA filter on the BreatheSmart 45i?
No!
What does an ionizer do? Will it emit ozone?
The ionizer produce negative ions that attach themselves to harmful particles, make them bigger and thus help the HEPA filter to catch them. Unfortunately, it does emit ozone (less than 0.001 PPM). On a good side, you can turn off the ionizer.
The Verdict
The Alen BreatheSmart 45i is a quite durable air purifier with a customizable True HEPA filter for heavy odors in a bathroom. That's definitely a good thing, considering you can pick a filter that will suit your needs. The variety of color options are a good addition too.
On the downside, filters are quite pricey and the unit itself isn't cheap too. It is not efficient in 800 square feet rooms (or similarly-sized spaces), so if you have a small room, you may also take a look at the Winix PlasmaWave 5500-2 or Coway Airmega AP-1512HH which are cheaper air purifiers but have similar capabilities in cleaning air.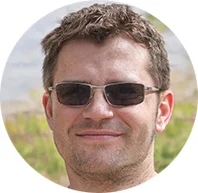 My name is Alex Evans and I own this website. I have been in air purifier industry for several years now and nowadays I write about air purifiers, their features, benefits and downsides. Cheers!