Last updated on June 5th, 2022
EOS SecureAire portable air purifier designed and manufactured by SecureAire Inc. isn't cheap by all means. But what does it offer for the price? In this review I did my best to explain what EOS SecureAire purification system does and how it performs.
Specifications
| | |
| --- | --- |
| Model | APS-100X |
| Space Coverage | square feet (calculate ACH for your room) |
| Bacteria Removal | 99% |
| Filtration Technology | 4-stage with MERV 15 air filter, Ionizer |
| Filter Life | 12 months (Replacement Filter) |
| CADR Rating | 600 CFM |
| Noise Level | 45-50 dB |
| Weight | 22 pounds |
| Dimensions (L x W x H) | 15.35″ x 12″ x 16.75″ |
| Warranty | 5 years on unit |
My EOS SecureAire Air Purifier Review
Before I start my review I remind you that EOS Portable Air Purification System is designed for large rooms over 1,000 sq. ft. in size. In a case you have a small room, the EOS won't worth the price for you and you better get yourself any Winix, Coway or Honeywell air purifier. The best models are more or less the same.
EOS SecureAire air purification system doesn't require any skills to install or operate the unit. It comes fully assembled and ready to do its job from the get-go.
The most interested things I have found about this air purifier are:
Certified large, high-quality MERV-15 air filter that is proven to remove harmful bacteria from the air. MERV-15 rated air filters applicable in hospital inpatient care.
High airflow at 600 CFM. Only a few portable air purifiers manage to reach this number. For example, portable Tracs air purifier processes just 250 cubic feet of air per minute. It's extremely durable and medical-grade HEPA filter is great for smoke, but in extra-large rooms it might underperform a bit. And similarly powerful solution is available only as a ceiling mounted air cleaner.
The EOS SecureAire cleans air in the following way: the fan pulls the air inside of the machine, where the ionizer makes airborne particles heavier, thus making them stick to the air filter. If the particles aren't "heavy" enough, they get through the system again not until they get captured. Ozone is not generated during the process.
Despite the high airflow, the noise levels are very low. The air purifier produces 50 decibels of sound at maximum level.
Suitable Room Size for EOS SecureAire Air Purifier
So what spaces can EOS SecureAire cover? Here is a table for you to see how it performs in various rooms:
| | | |
| --- | --- | --- |
| Room size | How long it takes to clean room | ACH |
| 750 sq. ft. | 10 minutes | 6 |
| 940 sq. ft. | 12 minutes | 4.8 |
| 1500 sq. ft. | 20 minutes | 3 |
| 2200 sq. ft. | 30 minutes | 2 |
For the reference, ACH of 4.8 is considered the standard for allergy and asthma sufferers. More on ACH see here.
Pros & Cons
The Good
Filter is proved to clean air from bacteria
Powerful but quiet fan
High airflow
Made in the USA
90 days Money Back guarantee
5 year warranty
Doesn't generate ozone
Wrapping Up
EOS SecureAire is a powerful air purifier with MERV-15 rated air filter that is certified for cleaning air from all bacteria. It also can be considered an allergy air purifier if used in rooms up to 940 sq. ft. It also can purify air in spaces up to 2000 square feet.
Is it worth the price? Yes, you intended to place the EOS air cleaning system in a 1000 – 2000 sq. ft. room.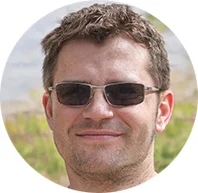 My name is Alex Evans and I own this website. I have been in air purifier industry for several years now and nowadays I write about air purifiers, their features, benefits and downsides. Cheers!