Last updated on January 12th, 2022
The iWave air purifier unit is a device that you mount in your air conditioning system to help clean the air in your home. As air moves through the iWave, the device's ion generator helps to destroy bacteria and other airborne contaminants, resulting in a fresh air coming out with no harmful chemicals.
More details of the iWave air purifier I uncover in this review.
Specifications
| | |
| --- | --- |
| Model | Nu-Calgon iWave 4900-20 |
| Max CFM of Air Moved | 2400 |
| Self-cleaning | |
| Ion Output | 160 mil ions/cc per polarity (320 million total ions/cc) |
| Power | 10 Watt (How much Electricity will it use?) |
| Voltage | 24 – 240VAC |
| Frequency | 50/60HZ |
| Weight | 1 pound |
| Dimensions (L x W x H) | 6″ x 4.8″ x 2″ |
| UL & cUL approval | |
| Warranty | 3 years on unit |
My iWave-R Air Purifier Review
What's in the Box
iWave-R air purifier unit
User manual
What's the iWave-R
Some people looking for iWave air purifier review do not understand one thing: this is not your conventional air purifier that you plug in and it runs until you have to replace filter every 3 to 6 or so months. It does not have a fan to move the air in and out of the unit and it cannot be used out of the box right away.
So what's the iWave-R then? It is powerful ion generator that designed to be installed into air conditioning system. The A/C system must have flush, external duct mount so the iWave can be installed correctly.
How iWave Functions
When the air flows through the A/C system with installed iWave, the latter releases ions that releases the equal amount of negative and positive ions (similar to NuWave Oxypure). This is called needlepoint bipolar ionization technology is someone's interested.
After the ions released into the air, they attach themselves to VOCs, gases and other harmful particles that flow through the air conditioner. During the process particles get bigger and bigger until they get caught by an air ventilation filter.
In short, iWave helps an air ventilation system catch harmful chemicals, viruses and bacteria. The A/C system must have working filters, otherwise you'd spend over $300 for useless ion generation.
Installation
Installation process isn't hard but some people may find it difficult. Plus, Nu-Calgon (the company that manufactures iWave) warranty requires you to use a certified HVAC or electrical technician to install the unit, otherwise the warranty terminates in an instant. That's an obvious downside, but if you want to install it yourself there aren't a better explanation other than this video down below. It explains how to install iWave air purifier in a few minutes:
If you decided to install the unit yourself just makes sure that all other wires and metal surfaces are at least 2 inches away from the tip ends of the high voltage emitters.
After installation iWave is ready for work. When powered, a green LED indicator should illuminate. That means everything is ok and you can set up the iWave to do the air cleaning.
Air Cleaning with iWave
iWave-R works in two ways: all the time or when there is airflow.
To make iWave air purifier work 24/7 connect it to the power supply and let it run 24 hours per day.
To make it work when air is flowing you have to interlock the iWave-R with a fan.
Either way, it is recommended to let it run continuously for the first first days after installation, to clean the air in the room as quick as possible. Regarding electricity consumption, it is negligible – around 10 watts per hour.
Self-cleaning
iWave has self-cleaning feature and by default it runs cleaning operation every third day. Although it is possible to set up cleaning every 1, 5 or 10 day. To change cleaning cycle you have to enter cleaning mode by pressing the button. LED light should start flashing and you should hear the stepper motor starts the cleaning process. After that:
To clean iWave-R every day: press the button and hold it for three seconds.
To clean every 3rd day: press the button, hold it for three seconds and press it once again.
To clean every 5th day: press the button, hold it for three seconds and press it twice.
To clean every 10th day: press the button, hold it for three seconds and press it three times.
Additionally, you can wipe ion generator with a dry cloth every 2-3 months. This ensures high performance and fresh air throughout the whole life of the iWave-R.
Other Air Purifiers from iWave
The iWave-R, iWave-V, iWave-M and iWave-C are the four versions of iWave purifiers. The iWave-R is a low-maintenance air purifier designed for home use. The iWave-V is a residential air purifier that needs little maintenance. The iWave-M is a ductless and other HVAC systems' mini flexible air purifier. The iWave-C is a low-maintenance air purifier that can be used in both commercial and residential settings.
How Fast iWave-R Cleans Air
iWave-R can ionize 2400 cubic feet of air per minute. Here's an example table of how fast the ionizer can clean air in a room of different sizes.
| | | |
| --- | --- | --- |
| Room size | How long it takes to clean air | ACH (What's that?) |
| 1500 sq. ft. | 5 minutes | 12 |
| 3000 sq. ft. | 10 minutes | 6 |
| 4700 sq. ft. | 15 minutes | 3.8 |
| 9600 sq. ft. | 30 minutes | 1.9 |
| 18000 sq. ft. | 1 hour | 1 |
If you want to check how fast iWave can clean air in your room size use our calculator.
Maintenance Costs
IWave maintenance costs are almost non-existent. It adds a few bucks per year in your electricity bills but nothing more! No filters or any other additional accessory replacement ever!
Pros & Cons
The Good
The iWave-R is efficient in cleaning and freshening the air
Helps reduce asthma or allergy symptoms
Self-cleaning unit
Could be installed in residential air conditioning systems
Great for large rooms, offices, kitchens
No ozone generation
FAQs
Does iWave-R release ozone?
No, it does not.
I have a lot of dust, will it remove it?
Definitely! iWave very effective in collecting dust, you may have to change filters of your air conditioning system more frequently after installing this ion generator.
Does it help with mold?
It can be effective in reducing mold spores, but it mostly depends on humidity levels in a place where you are planning to install this device.
Can I wire iWave-R and plug it to AC outlet?
Yes, you can wire it and plug in to an AC outlet.
If I buy from Amazon, am I eligible for the warranty?
Yes.
Conclusions
iWave-R definitely works and cleans air by generation ions that clean air and deal with bacteria and viruses. It comes in small, handy package and can be installed ether by a technician or yourself (and there are plenty of videos how to do it). It a bit pricier that other generic on generators, but they either do not at all or have short lifespan. IWave-R can work for years without any hassle. Must buy if you already have an air ventilation system and you want to breathe fresh air all day!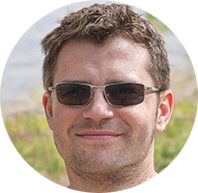 Hello, I'm Alex Evans the owner of this website. Here you may find my honest air purifiers reviews that I use at the moment. Cheers!