Last updated on January 1st, 2023
The IQAir HealthPro Plus air purifier is known best for its ability to eliminate ultrafine dust particles and air contaminants. With its long-lasting filters, it acts as a shield for asthma patients and allergic sufferers. It uses Swiss technology for robust performance in releasing fresh and breathable air.
Before we go into the in-depth review, let's start with some specifications of the IQAir HealthPro Plus.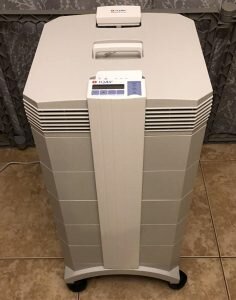 Specifications
| | |
| --- | --- |
| Space Coverage | 1,125 square feet (calculate ACH for your room) |
| Particles Filtration | 99.97% |
| Filtration Technology | 3-stage air filtration technology w/ filters |
| Filter Life | |
| Max CFM of Air Moved | 330 |
| Speed Settings | 6 |
| Noise Level | 25 – 59 dB |
| Power | 27 – 215 Watt (How much Electricity will it use?) |
| Weight | 35 pounds |
| Dimensions (L x W x H) | 16″ x 15″ x 28″ |
| Warranty | 10 years on unit (requires registration) |
My IQAir HealthPro Plus Air Purifier Review
What's in the box
IQAir HealthPro Plus + Filters
Remote control (including battery)
Power Cord and plug
Casters
Certificate of performance
User Manual
It's really difficult to know whether an air purifier is working exactly as it claims to. Many times, what companies claim can be totally different than what the product actually offers. After using the IQAir HealthPro Plus for a few months, my opinion about air purifiers has changed. Several consumer reports mention that the allergy symptoms of customers who had allergies have drastically improved. With continuous recognition from organizations like Buy Consumer Digest, Allergy Buyer Club, Extreme Makeover and many more, IQAir has quite outdone itself with its flagship HealthPro Plus.
Still not convinced? Keep reading to find out more exclusive features of this magnificent purifier.
Design & Build
When I first saw the IQAir HealthPro Plus, it looked like a very heavy machine, close to a thick pillar. Surprisingly, it wasn't as heavy as it looked, with a weight of just 35 lbs. It is definitely a sturdy-looking purifier with 28 inches in height and 15 inches wide body. It does not necessarily have a fancy build or a stylish look, but it can fit well into any modern or traditional house. If you have a large indoor living area, the HealthPro Plus purifier is for you. It also fits well for offices with a large floor area. Aside from that, you can use it for your kitchen or bedroom as well.
Curious about how the airflow of this purifier works? Well, it uses the bottom-to-top airflow technique, where it takes in all the contaminated air from the base of its body. Then, it cleans all the pollutants, even the most minute particles, with the help of the filters attached inside the unit. After the air is purified, clean air is then passed out from the air outlet located on top of the machine. The clean air gets distributed all over your house, making you and your house feel pure.
The body of this purifier is made with an outstanding quality of stainless steel. It has an arch-like bottom on the front side. The Swiss-made machine also has a set of 4 wheels, optional for use. This makes it easy for me to take it around the house. An impressive technology that HealthPro Plus uses is the 3D Ultra Seal Technology. The first operation of this feature is to ensure that the filters are tightly sealed within the frame. Second, it ensures a heavy sealing between the housing and the filter frame. And lastly, it makes sure the housing is airtight.
The HealthPro air purifier isn't one designed by IQAir. Here's more IQAir air purifier reviews
Another unique feature of The IQAir HealthPro Plus is that it uses the EvenFlow diffuser technology on its air outlet area. This feature creates a 360-degree air distribution in your house and ensures an even air flow in every corner.

The IQAir HealthPro Plus is the right choice for those who are looking for a cheaper version of the GC MultiGas, another exceptional model from IQAir. The two siblings have a similar design and build.
Filtration System
An air purifier is nothing without its filtration system. Powerful filters change the whole air-purifying game. If a particular purifier has a low quality and less effective filter, it is an absolute waste of money buying that machine. With an experience of 50 years in the air purifier business, there is no doubt that IQAir is capable of offering a world-class product. In the case of IQAir's HealthPro Plus purifier, the filters used are unmatchable to its competitors in the market. It has a 3-stage filtration system that enables air cleaning of the tiniest dust particle.
What you need to know is that this purifier uses a combination of unique filtration processes. Here are the four filters that make IQAir HealthPro Plus a top-notch product in the air purifier industry:
PreMax filter
The first step of filtration inside this purifier happens in the PreMax Filter. This filter can remove both fine and coarse particles such as pet dander, hair, pollen, and mold spores. The PreMax filter also saves the other two filters from getting damaged and clogged. The total surface area of the filter is 2.8 sq meters. The filter is made of a material called non-woven glass microfiber. This material increases the filter's efficiency enabling itself to trap particles up to 0.3 microns. I know that's a lot of science to grasp. But what matters is IQAir incorporates innovative technology to up its game.
V5-Cell Filter and Pelletized Chemisorption
Next up in the IQAir HealthPro Plus filtration system is the V5-Cell Granular Activated Carbon Adsorption Filter. Although the name sounds complicated, the function of this filter is quite simple. This filter has two parts. One filter is responsible for adsorbing odor and gases, and the other oxidizes the pollutants to give out fresh air. Hence, this is an advanced filter that utilizes both chemisorption and adsorption feature to eliminate odor.
What's special about this filter is that it contains granulated activated carbon and activated alumina. The advanced technology of this filter helps fight kitchen odor, tobacco smoke, and other harmful gases like formaldehyde present in the house. Unlike other standard activated carbon filters which weigh less than 2 pounds, this one weighs 5 pounds.
HyperHEPA filter
Let us now address the elephant in the room – the HyperHEPA filter. This filter is the most important filter of this entire filtration system of IQAir's HealthPro Plus air purifier. This one is a non-woven microfiber True HEPA filter that can easily trap 99.97% of 0.3-micron dust particles. It can also trap 95% of 0.003-micron ultrafine particles.
The HyperHEPA has a proven 99.5% total system efficiency, which is way more than ordinary HEPA filters that have 30-50% system efficiency. But wait, that's not it. The IQAir's HyperHEPA also has a very long lifespan as compared to normal HEPA filters. You may only be required to change the filters once in 4 years, whereas other HEPA filters last you only for 6-9 months.
So, what does this brilliant filter really do to purify the air? It destroys combustion particles, viruses, bacteria, and all other fine and ultrafine particles in the atmosphere around you.
Performance
To ensure effectiveness and performance, IQAir regularly tests all their products in the factory. True to their claims, there are proofs of the successful tests that the company has undertaken many times. These test details and results are compiled in the Certificate of Performance. This is a hand-signed document that the company ships with the product box on the purchase of this item. In my experience, the HealthPro Plus has outdone itself over the last few months of its use. There is a visible difference in my house. It is easily one of the best air purifying devices that one can get his/her hands on.
Room coverage
Just like any of the IQAir's flagship products, the HealthPro Plus also has excellent room coverage. It can cleanse the air of a room, which spreads up to 1125 sq ft. With a phenomenal Air Changes per Hour (ACH) rating, this air cleaner can release fresh air in a room at least eight times in an hour.
It takes 8 minutes for the purifier to clean a 280 sq ft room with highly contaminated tobacco smoke. For a 450 sq ft room with allergens, it only takes 12 minutes for the purifier to clean the room. A normal room in size 1125 sq ft can be cleaned within 30 minutes.
In standard conditions, the CADR of IQAir HealthPro Plus can go up to 776 cfm, but usually, it is 300 cfm for a 450 sq ft room size. The company recently added a New Edition fan which can produce up to 41% cleaner air.
Noise
Most people turn away from buying air purifiers due to the noise that disturbs mental peace, especially while sleeping. Therefore, many purifier manufacturers have started coming up with noiseless technology to attract more customers. IQAir has made a league of its own with ultra-quiet purifiers. In fact, all of its models come with sound-proof features.
The HealthPro Plus or the HealthPro 250 (as known in Switzerland) has a new edition fan that creates 32% lesser noise. The fan is well placed inside a double-walled housing which ensures the powerful fan's sound from penetrating outside its unit. To protect the fan from shocks, IQAir has fitted eight absorbers isolating the fan. These absorbers also help the fan reduce its noise. Thanks to all these superb technologies, the fan creates noise as low as 49 decibels with the lowest fan speed. When the fan is at its highest speed, the noise level is 71 decibels.
Price
The Swiss-made air purifier from IQAir is a premium product with best-in-class filters and advanced technology. The HealthPro Plus air purifier is no ordinary air cleaner. It gives you an experience like never before. I think with a premium quality like this, it is only right for the brand to charge an exorbitant amount for their products.
With this said, the brand is not only trying to capture the market but also proving its worth to its potential customers. A budgeted buyer may hesitate to buy this sky-high-priced air purifier. But its durability and performance cover the high price. This is great because you don't have to spend money replacing its filters every other month. Let's kill your curiosity now and tell you how much this vertical cleaner costs. The IQAir's HealthPro Plus costs a whopping $899. If you think the price is too much for you, you can always look up for promo code or coupon on the website or search it up on your web browser for a discounted price of the product.
Manual
When you buy the IQAir HealthPro Plus, it comes with a comprehensive manual in the same box. The user manual has everything from the general instructions, setting up, component description, control panel and remote-control guide, filter replacement guide to maintenance. This manual makes setting up the device an easy task for you. It also gives you enough information on the dos and don'ts of the product. It will ensure safe usage and a long lifespan of the air cleaner.
How to Use
Once the HealthPro Plus gets delivered to you, open up the box and slowly remove the unit from the box. With the help of the guide, fix the casters (wheels) to the bottom of the unit mentioned in the manual. Once the purifier is on wheels, you can slowly push it to the corner where you want to place it. The best advice is to position the purifier nearby a power outlet.
Once you have placed your brand new HealthPro Plus in the perfect position, connect one end of the cord to the power inlet in the unit and the other end to the power outlet. After it is plugged in, switch on and start using the air cleaner.
The purifier has a power key button that will enable you to switch on or off the unit. It also has a menu, arrow, and enter keys that will enable you to change the fan speed, filter life reset, set timer, language, and other settings. All of these settings and processes are mentioned in detail in the manual. You can also use the remote control to control the purifier as you wish.
Maintenance
The maintenance of the IQAir HealthPro Plus air purifier is not a tough job. It comes with a fan that does not require any maintenance as such, so you don't have to worry about cleaning the fan. Even the filters are built in such a way that there is no need for washing or cleaning. However, you may consider cleaning the outer body of the unit occasionally. Before you start cleaning it, unplug the machine from the socket. Use a dry clean cloth to wipe off any dirt on the surface of the machine's body. In case of tough stains that are non-water soluble, you can use a silicon spray. If there is a water-soluble stain, use a window cleaner to remove the stain. That's all you need to do to keep your HealthPro Plus lustrous.
See? I told you, the maintenance is easy-peasy lemon squeezy.
Suitable Room Size for IQAir HealthPro Plus
The manufacture suggest the IQAir HealthPro Plus can effectively cover rooms up to 1125 square feet. Here's table with some examples of how fast IQAir HealthPro Plus can clean air:
| | | |
| --- | --- | --- |
| Room size | How long it takes to clean room | ACH |
| 500 sq. ft. | 12 minutes | 5.0 |
| 820 sq. ft. | 20 minutes | 3.0 |
| 1125 sq. ft. | 27 minutes | 2.2 |
| 1400 sq. ft. | 33 minutes | 1.8 |
| 1700 sq. ft. | 40 minutes | 1.5 |
Under normal conditions, ACH 2-3 is enough for bedrooms and living spaces. If you have pollen allergies and/or asthma, you should look for air purifiers with air changes per minute rating around 4-5 or better. Minimum ACH rating of 8 is recommended in a heavily smoked room.
If you want to calculate air changes per hour for your room using IQAir HealthPro Plus for air cleaning and get a closer look what are the general recommendations, go to the ACH calculator & recommendations page.
Maintenance Costs
Replacement Filters: You'll have to replace Pre-filter and V-5 Cell filter every 2nd year, whereas HyperHEPA filter requires replacement every 4th year.
$0 first year
$0 third year
Electricity Costs: ~$10 per month running 12 hours per day on maximum speed. Use our Energy Consumption Calculator to estimate electricity usage and costs of the IQAir HealthPro Plus air purifier based on your local electricity rates.
Total Yearly Costs: ~$120 first year for electricity, ~$288 second year, ~$120 third year and ~$487 4th year.
Pros & Cons
The Good
Rated high on performance and functionality
Exceptional fan power
Massive floor coverage up to 1125 sq ft
Swiss technology
Multiple filter filtration: HyperHEPA, PreMax, and V5-Cell
Long-lasting filters
Low sound operation
Remote control
The Bad
Pricey
The big body requires large space
Expensive filters
Alternatives
With Covid -19 affecting so many people worldwide, it has become necessary to take extra measures in protecting our respiratory system. IQAir HealthPro Plus may be one of the best in this game, but it has its set of rivals, giving it good competition. Here are three air purifiers from three different brands that you can consider an alternative to IQAir HealthPro Plus:
Nuwave OxyPure
NuWave Oxypure comes with additional filters that save maintenance costs in the long run. It does feature permanent filters that are
washable
and won't need replacement after several months of use.
In terms of CADR rating it NuWave Oxypure quite similar to the IQAir HealthPro Plus and can effectively eclean air in large spaces. I would recommend you to check out review (the link is below) to know more about this air purifier.
Shop NuWave OxyPure w/4 filters on Official Website
Airdog X8 Air Purifier
The Airdog X8 air purifier is pricier compared to the IQAir HealthPro Plus but it does feature more powerful fan that capable of moving 470 cubic feet of air per minute cleaning air faster and more efficient in large spaces.
Maintenance costs are also reduced in the long run, since washable plates on the Airdog X8 are washable compared to the non-washable filters installed in the IQAir.
Molekule Air Pro Air Purifier

Molekule has become quite known brand in the last few years due to their marketing. Their Molekule Air Pro air purifier designed to clean air in large spaces, eliminating and capturing harmful particles with their PECO filters.
Frequently Asked Questions
With all of the information provided above, there is hardly any room left for further description and review on this product. However, these are some general queries that you may have after you buy the HealthPro Plus purifier:
Can I clean or wash the air filters of the HealthPro Plus purifier?
No, under no circumstances may you clean the filters of this purifier. They are not built for washing.
Where can I buy the purifier and its replacement filters?
You can find all the replacement filters of IQAir up for sale on Amazon, or you can also purchase them from IQAir's official website.
Where should I place the HealthPro Plus purifier in my house?
Ideally, the HealthPro Plus cleaner should be placed at any place where you like to spend most of your time. It could be the living room, bedroom, or the kids playing room of the house. If you're someone who works from home, you can place the air cleaner at the office as well.
What can I do to increase the lifespan of the device?
The lifespan of the air purifier depends on its usage and air pollution levels. If the indoor air quality or pollution of the room is low, the purifier will last longer. Occasional use also saves it from exhausting itself soon. If the usage is regular and pollution levels are high, the purifier may not last long as expected.
The Verdict
Finally, we come to the end of this review with my final verdict on the HealthPro Plus air purifier. I think that this purifier deserves all the praises that it gets, and I would highly recommend it to anyone willing to shell out good money on an air purifier. While we tend to hesitate when investing in a high-end product, we should not put too much thoughts while purchasing an expensive air purifier. And definitely not when buying this particular air purifier. No doubt that the IQAir's HealthPro Plus air cleaner will be one of your most expensive buys, but watch out for its performance – it will leave you stunned!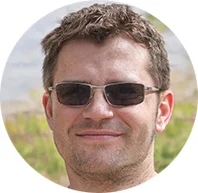 My name is Alex Evans and I own this website. I have been in air purifier industry for several years now and nowadays I write about air purifiers, their features, benefits and downsides. Cheers!