Last updated on January 1st, 2023
The Avari 600 air purifier isn't your ordinary HEPA air cleaner. It's an electrostatic air purifier, that is capable of removing particles down to 0.1 micron in the room.
In this review I more thoroughly explain the way Avari 600 works and how to use it with a maximum efficiency.

Specifications
| | |
| --- | --- |
| Room Coverage | 200 square feet |
| Particles Removal | 99.97% at 0.1 micron |
| Filtration Technology | 3-stage air filtration technology |
| Filter Life | 18 months (Replacement Filter) |
| CADR Rating | 46 CFM |
| Speed Settings | 3 |
| Noise Level | 9 – 36 dB |
| Power | 5 Watt |
| Weight | 7 pounds |
| Dimensions (L x W x H) | 12.5″ x 11″ x 14.5″ |
| Warranty |  years on unit |
My Avari Air Purifier Review
What's in the Box
Avari 600 air purifying unit
ESF Filter
User Manual
Review
The Avari 600 isn't an ordinary air purifier. It's an electrostatic air purifier with an air filter that captured pollen, dust, odor, allergens and other bacteria and pollutants down to 0.1 micron in size. But how it works?
Static electricity is used in electrostatic air purifiers, and in the Avari in particular, to charge particles that move through the filter. As a result, charged particles are getting attached to the internal filtration system's sides and are removed from your indoor air.
Electrostatic air purifiers do not utilize HEPA filters which rely only on mechanical air filtration. Instead, every four to six weeks, owners should clean out the internal filtration system.
Basically, electrostatic Avari filter isn't as efficient at first and can degrade with time if the filter isn't cleaned properly, but you don't have to worry about regular pricey filter changes. For example, a regular HEPA filter has to be replaced every 3 months on average and it is priced at $20 minimum. The ESF filter used in the Avari 600 costs around $40, but it has a lifespan of 18 months.
Another great advantage the Avari has is it's extremely low noise level. Conventional air purifiers rely on motor inside that has to be powerful in order to circulate air and get it thought the filters. So they are always noisy. The electrostatic air purifier doesn't have to do so, that's why at minimum speed it doesn't exceeds 8 decibels and at maximum speed reaches only 36 dBA! For comparison, Rabbit air purifiers are considered one of the quietest on the market today (obviously I'm talking about air purifiers that do clean the air and not pretending), but at the lowest speeds even they cannot go below 20 dB.
As a result, this air purifier doesn't disturb anybody during their sleep as it's basically noiseless on speeds below high.
Suitable Room Size for Avari Air Purifier
When it comes to the room coverage, that's where the Avari 600 isn't showing great results. In short, it can be used in rooms up to 200 sq. ft., any room above that size is simply too big for this air purifier. However, you can always buy two units and place it in different corners to cover the whole area. However, as I said before, it's not designed to clean air in larger rooms, so you better take a look at other air purifiers.
Here are my lists of best air purifiers for different room sizes:
Maintenance Costs
Replacement Filters: ~$40 for the filter every 18 months (check availability).
Electricity Costs: ~$0,25 per month running 12 hours per day on maximum speed. Use our Energy Consumption Calculator to estimate electricity usage and costs of the air purifier based on your local electricity rates.
Total Yearly Costs: $3 for the first year and $43 for the second year.
Pros & Cons
The Bad
Won't work efficiently in any room over 200 sq. ft.
Avari 600 vs Avari 500 Electrostatic Air Purifier
| | | |
| --- | --- | --- |
| Model | Avari 600 | Avari 500 |
| Image | | |
| Lowest Sound Level | 9 dB | 9 dB |
| Highest Sound Level | 36 dB | 36 dB |
| Room Coverage | Up to 200 sq. ft. | Personal air purifier |
| Power Consumption | 5 Watt | 2.5 Watt |
| Price | | |
FAQs
How do I clean the Avari filter?
Use a vacuum cleaner. Do not wash it!
Does it produce ozone?
The Avari isn't an ionizer, it doesn't release any ozone into the air.
Wrapping Up
I recommend buying this air purifier either to remove bathroom smells or to keep the air clean in a bedroom. It's portable and small, so should fit any table or sofa. The operating costs are non-existent, so running it 24/7 won't add anything but 3-6 bucks per year. The filter is also can be cleaned by a vacuum cleaner and used for 18 months on average.
The Avari's noiseless operation allows for placing it really closely to a person who suffers from allergies, RSV, asthma or any other breathing conditions. During the night it will continue to clean the air from allergens, pollutants and bacteria. No more sniffing, sneezing or blowing your nose in the morning!
However, as I mentioned earlier, this electrostatic air purifier coverage is limited to clean the air in 200 sq. ft. rooms or smaller.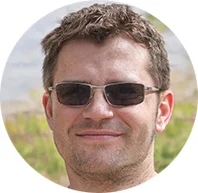 My name is Alex Evans and I own this website. I have been in air purifier industry for several years now and nowadays I write about air purifiers, their features, benefits and downsides. Cheers!