Last updated on June 3rd, 2022
Megawise is another brand that popped up recently and doesn't have a huge recognition. Does it mean that you shouldn't buy it? Or there are other factors that you should take into the consideration?
In this review I talk about the Megawise air purifiers and explain what it has to offer for an ordinary consumer.

Specifications
| | |
| --- | --- |
| Space Coverage | square feet (calculate ACH for your room) |
| Particles Removal | 99.97% at 0.3 micron |
| Filtration Technology | 3-stage air filtration technology |
| Filter Life | 3 – 6 months (Replacement Filter) |
| CADR Ratings | 134 CFM |
| Speed Settings | 3 |
| Auto Mode | |
| Sleep Mode | |
| Sensor | |
| Noise Level | 24 – 60 dB |
| Power | 50 Watt (How much Electricity will it use?) |
| Weight | 9.33 pounds |
| Dimensions (L x W x H) | 8.2″ x 8.2″ x 16.1″ |
| Warranty | 1 year on unit |
My Megawise Air Purifier Review
What's in the Box
Megawise EPI235A air purifier unit
User Manual
Power Cord
3-in-1 HEPA filter
Review
To save your time, I'm going to say straight off the bat: this is not a reliable, good or reasonably-priced air purifier. It doesn't have any functions that make it worth paying for. Auto mode isn't something new and child lock isn't a deal maker. And do you really need that function?
What also has put me off, is false advertising. The Amazon page clearly states that 4-Stage Filtration filters 99.97%. However, I couldn't find the promoted 4-stages. There are a HEPA filter that is sort of includes an outer layer known as pre-filter, and also a layer of activated carbon. So that's 3 stages of air purification, where have you hide the 4th one, Megawise? I couldn't find nor ionizer nor anything else that would indicated it takes part in the air cleaning process.
So what for people buy the Megawise air purifier for $200? To my understanding, words like "large room" and a number of 1008 sq. ft. But can this air cleaner cover such large space? Spoiler: NO!
Suitable Room Size for Megawise Air Purifier
To calculate room size that the Megawise air purifier can actually purify we need to have CADR ratings in our hands. To simplify it, CADR is a basic metric that is used to calculate how much of air is cleaned in one minute and measured in cubic feet per minute (CFM) in the USA. The manufacturer didn't provide us this data, but we can still figure it out thanks to this CADR calculator.
It gave us 134 CFM and now we can to take a look at how this air purifier performs in a rooms of different sizes:
| | | |
| --- | --- | --- |
| Room size | How long it takes to clean room | ACH |
| 125 sq. ft. | 8 minutes | 8 |
| 168 sq. ft. | 10 minutes | 6 |
| 201 sq. ft. | 12 minutes | 5 |
| 250 sq. ft. | 15 minutes | 4 |
| 340 sq. ft. | 20 minutes | 3 |
| 504 sq. ft. | 30 minutes | 2 |
ACH stands for air changes per hour, or in other words, how many times the air in one specific room will be cleaned from dust, pollen and other bacteria and pollutants in one hour. The bigger this number is the better. Here's ACH calculator & recommendations page, I recommend taking a look at it. You can also calculate ACH for your room.
So, what does this table above tells us about the performance? Nothing extraordinary, to say the least. In other words, the Megawise air purifier is overpriced and do not worth the price it's asked for. You can get the better and cheaper air purifiers from Blueair or Levoit, there are plenty of them to select the one for your needs.
The Megawise air purifier cannot purify air in large rooms, let alone 1008 sq. ft. as it doesn't have such power. At best, it can do somewhat good job in 200 – 300 square feet of space. If you have breathing conditions like asthma, or suffer from allergies, the Megawise won't help you, especially in such large rooms. Here's my list of best air purifiers for 1000 sq. ft. areas.
Maintenance Costs
Replacement Filters: ~$40 every 3 to 6 months (check availability).
Electricity Costs: ~$2,5 per month running 12 hours per day on maximum speed. Use our Energy Consumption Calculator to estimate electricity usage and costs of the air purifier based on your local electricity rates.
Total Yearly Costs: $110 – $190.
Pros & Cons
The Bad
Low CADR ratings
False advertising
High initial and maintenance costs. compared to the performance
FAQs
How often do I have to change the filter?
You should replace it at least every 6 month.
Can I clean the filter?
You can vacuum the filter, but do not wash it!
Wrapping Up
Let's sum up the review: is Megawise air purifier worth it? In short, no. Because of:
Low CADR rating: effective only in rooms up to 200 sq. ft.
3-stage filtration system, instead of advertised 4-stages
Price: there are cheaper and better alternatives
Megawise replacement filter costs too much, if change it 3 times per year the price goes up way above $100 per year.
So no, I do not recommend buying this air purifier. If you have to clean air to help you with allergies in a 500 q. ft. room, there aren't better cleaners rather than ones presented in this list. If you are on a tight budget then I can recommend getting either the Winix 5500-2 or Coway AP-1512HH. Both are excellent air purifiers from the reliable Korean manufacturers.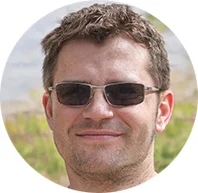 My name is Alex Evans and I own this website. I have been in air purifier industry for several years now and nowadays I write about air purifiers, their features, benefits and downsides. Cheers!