Last updated on January 1st, 2023
Before I go jump into the details about air purifiers that can quickly and effectively catch dog hair, remove allergens (like dander) or odor from the air, let me quickly explain to you why I have selected exactly these air purifiers and not some else. To do that let's take a look at the thickness of average dog hair and the size of allergen or odor particles.
So, theory comes first!
Theory First
Dog hair can be divided into three categories:
primary, also known as "guard" – it protects them from moisture or sunlight;
secondary, a.k.a. fur that provides insulation;
tactile that works as a sensor.
Different breeds have different ratios of these types of hair – some may have no undercoat at all, thin and short hair – Greyhounds or Dalmatians are the best examples. Others may have dense primary hair and thick secondary coat – Labradors come first to mind.
Age also affects the ratio of each dog hair type: puppies are born with short, secondary hair which is quite soft compared to adults. As they grow up, their primary hair grows as well – but the speed of its growth depends on the puppy's breed.
To sum up, dog hair thickness may vary depending on breed and age. But in most cases hair thickness averages between 50 to 80 micron (1 micron = 1/25,000 inch; for comparison, human hair is around 70 micron). There are some exceptions too – Yorkshire terrier hair has an average hair thickness of 30 micron:
Dog hair isn't tiny in size – even a cheap MERV-1 rated air filter can capture it, if a fan can generate enough airflow. Airflow in air purifiers is designated as CADR – it stands for Clean Air Delivery Rate and is measured in cubic feet per minute (CFM). More on that here. The higher CADR is the more area the air cleaner covers and the more effective it becomes in catching various particles, including large ones – like dog hair.
The situation changes when we are talking about dog allergens – secretions and dander (dead flakes of skin). A particle of dander is several to 10, 20 or even 30 times smaller than any dog hair and measures from 2 to 5 micron. A cheap filter won't do the job as its media is not thick enough to catch these tiny irritants. In this case you should look at least for a MERV-14 air filter that has an efficiency rate of 90% for particles measured 1 to 3 micron. However, the most efficient way of getting rid of allergens, including dog ones are air purifiers with HEPA filter – the latter stands for High efficiency Particulate Air and can catch particles as small as 0.3 micron at 99.97% efficiency.
Finally, let's talk about dog odor. Sometimes they catch bacteria and start smelling really bad, and sometimes the breed you own just stinks – English bulldog, Beagle, Yorkie, Pug, Saint Bernard, Cocker spaniel are the smelliest ones. Whatever the case, dogs produce odors and you don't want to put up with it more often than not.
The best way to deal with dog smells – apart from keeping them clean and healthy – is to use an air purifier with an Activated Carbon filter. Activated carbon is known for absorbing smells and not just dog ones but also smoke, bathroom odors, food and others.
To sup up, an effective air purifier to remove dog hair, catch allergens and absorb odor must have:
Good airflow (high CADR rating);
HEPA filter;
Carbon filter;
Based on these requirements I have selected the 5 best air purifiers for dogs to deal with the problems I've mentioned before. Let's take a look at them!
Alen BreatheSmart 75i: Best Overall
| | |
| --- | --- |
| Room Coverage: | 650 sq. ft. |
| CADR: | 347 CFM |
| Filter Life: | 12 months |
| Replacement Filter: | Check Price |
| Noise Level: | 25 - 49 dB |
| Power: | 1.8 - 45W |
| Dimensions (LxWxH): | 11.5" x 18.5" x 27" |
| Weight | 27 pounds |
Alen BreatheSmart 75i is the best air purifier for dogs and pets in general. It comes with a customized HEPA filter and a 2-pound Activated Carbon filter to catch dog hair, effectively remove dander and other allergens from the air and to keep the air clean from various smells. In addition to these two filters, the unit has a built-in ionizer that freshens the air in a room.
The air cleaner has a high CADR rating of 347 CFM at the maximum speed. It means it can do a great job of filtering airborne pollutants in large rooms over 600 square feet in size whilst keeping the noise level at the minimum level. You won't find many air purifiers that can cover large spaces and at the same time produce less than 49 decibels.
When it comes to maintenance costs, the BreatheSmart 75i is very effective as well. Power consumption is low and the filters require a replacement once a year. The built-in smart sensor helps to maintain the unit too – it regulates speed based on the number of pollutants present in the air, so when the air is clean the unit lowers the speed and keeps both noise levels and power consumption at the minimum level.
Overall, I can say that this air purifier made by Alen is a masterpiece of modern technology when it comes to air cleaning, especially when you have dogs at your house.
Medify Air MA-112: for Large Homes and Rooms
| | |
| --- | --- |
| Room Coverage: | 1050 sq. ft. |
| CADR: | 667 CFM |
| Filter Life: | 4 months |
| Replacement Filter: | Check Price |
| Noise Level: | 70 dB |
| Power: | 95W |
| Dimensions (LxWxH): | 16" x 15" x 28" |
| Weight | 33.5 pounds |
Medify Air MA-112 is another powerful air purifier for home use, that easily catches airborne particles, including dog allergens, hair, viruses and bacteria. By removing dangerous pollution in large homes it keeps the air clean and helps to maintain your and your family healthy.
The major benefit this air purifier comes with is its extremely powerful fan that easily sucks in the air inside the unit. With an extremely high CADR rating of 667 CFM the cleaner delivers 4.8 air changes per hour in a 1050 square feet room. This is great news for asthmatics and people who suffer from various allergies as they require a constant supply of air free of any kind of allergens and bacteria. This unit will also help your dog, cat and other animals if they suffer from allergies or asthma.
There is an optional ionizer as well. You can turn it off if you are intolerant to it – even without it the unit's large HEPA and Carbon filter do a great job of removing allergens, dust, pollen, bacteria and other harmful particles.
Its PM 2.5 pollution sensor and dust sensor monitor the air quality 24/7 and adjust the purifier's speed whenever necessary. There is also a timer (0-8 hours range), sleep mode, filter replacement indicator and child lock to prevent your kids or pets from accidentally changing settings.
Compared to the previously reviewed Alen air purifier, the Medify MA-112 maintenance costs are higher, but that's not surprising at all: higher airflow requires more electricity and the filters get wear out faster too. That's the thing with all Medify air purifiers.
Winix PlasmaWave 5500-2: for Medium Rooms
| | |
| --- | --- |
| Room Coverage: | 360 sq. ft. |
| CADR: | Dust 243 / Pollen 246 / Smoke 232 |
| Filter Life: | 12 months |
| Replacement Filter: | Check Price |
| Noise Level: | 27.8 - 54.8 dB |
| Power: | 70W |
| Dimensions (LxWxH): | 8.2" x 15" x 23.6" |
| Weight | 14.8 pounds |
Winix PlasmaWave 5500-2 is a powerful and affordable air purifier with an AHAM-verified CADR rating of 243 CFM for dust, 246 CFM for pollen and 232 CFM for smoke. Its air filtration consists of 3 mechanical stages (pre-filter, HEPA filter, Activated Carbon filter) and one electrical stage that is powered by an ionizer. The latter can be turned off.
This air cleaner is one of most popular today in the US – it has over 20 thousand reviews on Amazon and I have reviewed it as well – check the link above. I value the PlasmaWave 5500-2 for its price, good filters, specs and great performance – whenever the filters need to be replaced they are dirty and clogged with hair, fur or whatever it catches from the air. By the way, the pre-filter and Carbon filter are washable – but you still have to replace the latter while the pre-filter is permanent and it's damn good at catching the dog hair.
In the end, I can only tell you that if you may not have enough money to spend on the Alen or Medify air purifier, the Winix 5500-2 is a good and affordable alternative.
Blueair Blue Pure 411 Auto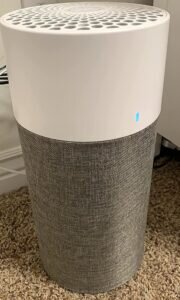 | | |
| --- | --- |
| Room Coverage: | 190 sq. ft. |
| CADR: | 123 CFM |
| Filter Life: | 6 months |
| Replacement Filter: | Check Price |
| Noise Level: | 18 - 48 dB |
| Power: | 2 - 10W |
| Dimensions (LxWxH): | 8" x 8" x 16.7" |
| Weight | 4 pounds |
Blue Pure 411 Auto is designed by the Blueair company, which is known for its affordable, reliable and effective air purifiers. This unit is small and designed for small rooms like bathrooms or bedrooms.
It does come with Auto mode, but that's it – no more additional features. However, considering its low price, good air filtration, low noise level, extremely low power consumption and low maintenance costs I'd say it's a good investment of your money.
Bissell Air400: Affordable and Reliable
| | |
| --- | --- |
| Room Coverage: | 423 sq. ft. |
| CADR: | 206 - 307 CFM |
| Filter Life: | 6 months |
| Replacement Filter: | Check Price |
| Noise Level: | 30 - 65 dB |
| Power: | 108W |
| Dimensions: | 9.65" x 16.1" x 24.37" |
| Weight | 22 pounds |
Bissell Air400 offers a 3-stage air filtration and uses only filters to remove airborne pollution. The filters include one pre-filter, one HEPA filter and one Activated Carbon filter (honeycomb-styled, similar to Winix 5500-2). The unit doesn't release any ozone and is completely safe for humans and dogs alike.
When it comes to filtration, all Bissell air purifiers are good at it and the Air400 is no exception. The 3-stage air cleaning process is enough to filter out allergens, remove dog smell and keep the harmful particles at bay. The pre-filter also reduces the amount of dog hair you would usually find in your room.
Overall, a decent piece of technology to keep your home clean from harmful particles associated with dogs and pets in general.
FAQs
Are air purifiers safe for dogs?
They are 100% safe for dogs and pets. Do not confuse HEPA air purifiers with ozone generators – these aren't safe for either pets or humans alike.
Can air purifiers make my dog sick?
No, an air purifier won't make your dog, cat or any other pet sick.
Does an air purifier help with dog hair?
Air purifiers do help with dog hair, but they ought to produce enough airflow to do that. The air cleaners I listed above are the ones that can do it.
Can an air purifier help with dog allergies?
Definitely! HEPA air purifiers are extremely good at catching allergens in the air, whenever they come from your dog or outside.
Can an air purifier help with dog smell?
A good Activated Carbon filter is a must when it comes to the removal of dog smell. As I said previously, all air purifiers that I reviewed on this page are coming with one Activated Carbon filter for this exact purpose – remove unwanted dog odor from your house.
What is the best air purifier for dog urine?
Alen Breathesmart 75i is the best to remove this smell.