Last updated on September 28th, 2022
What's the difference between the Blueair air purifiers 211+ and 211+ Auto? They look so similar, are they identical? Find out here!
If you don't see the whole table, scroll it horizontally
| Model | Blue Pure 211+ | Blue Pure 211+ Auto |
| --- | --- | --- |
| Image | | |
| Reason to Buy | Lower Price | Auto Mode |
| Price | Under $350 | Under $350 |
| Room Coverage | 540 sq. ft. | 550 sq. ft. |
| CADR | 350 CFM | Dust 347 / Pollen 380 / Smoke 353 CFM |
| Filter Replacement | Check Price | Check Price |
| Auto Mode | | |
| Noise Levels | 31 - 56 dB | 23 - 56 dB |
| Power Consumption | 30 - 61 Watt | 4 - 38 Watt |
So, what's the main difference between the Blue Pure 211+ and Blue Pure 211+ Auto? The answer is simple: Auto mode.
The built-in Auto mode on the pricier model allows you to set up the unit and let it go, automatically correcting the speed when it senses higher amount of pollution in the air.
For example: you have placed this air purifier in a kitchen and turned Auto mode on. Whenever you stark cooking, the air purifier will "sense" the cooking odor and increase its speed to remove it from the air. After the smell is removed and air is clean, the speed automatically goes down to the lowest level, to keep the air quality at a stable level.
In a nutshell, this function saves a few moves you would have to do in a case with the basic 211+ model. In my opinion, it worth additional 30-40 bucks.
In addition to that, the Blueair model with Auto function also produces less noise at the lowest speed (23 dB vs 31 bB) and consumes less energy.
One more word about replacement filters for Blueair Blue Pure 211+ and 211+ Auto. Despite they look identical on paper, in reality a replacement filter for the 211+ model won't fit the 211+ Auto and vice versa. So keep that in mind, in a case you change filters on these air cleaners.
That's it for this comparison, hopefully this information was of any help for you.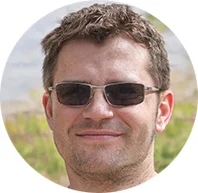 My name is Alex Evans and I own this website. I have been in air purifier industry for several years now and nowadays I write about air purifiers, their features, benefits and downsides. Cheers!