Last updated on October 23rd, 2022
Both Winix PlasmaWave 5500-2 and HoMedics TotalClean 5-in-1 Deluxe 360° tower air purifier are similar in many ways. Their room coverage is almost identical, whilst CADR and other specs are also similar to each other. And they both employ an ionizer.
However, there are still some differences which I'm going to uncover in this comparison.
Winix vs Homedics Comparison Table
If you don't see the whole table, scroll it horizontally
Model

Winix PlasmaWave
5500-2

HoMedics TotalClean Deluxe
AP-T45WT

Image

Reason to Buy

Better for Dust, Pollen, Allergies

Better for Viruses

Price

Under $250

Under $250

Room Coverage

360 sq. ft.

343 sq. ft.

CADR

246 CFM (Smoke)

229 CFM

Purification Stages

4

5 CFM

Filter Life

12 months

12 months

Filter Replacement

~$80

~$60

UV-C Light

Noise Levels

27.8 - 54.8 dB

40 - 55 dB

Power Consumption

6 - 70 Watts

65 Watts

Weight

14.8 pounds

13 pounds

Dimensions (L x W x H)

8.2" x 15" x 23.6"

12" x 12" x 27"
Similarities
Both air purifiers utilize true HEPA air filter to remove particles down to 0.3 micron at 99.97% efficiency;
Both air purifiers have pre-filter for larger particles and additional protection;
Activated carbon filter is present on both air cleaners;
The Winix 5500-2 uses PlasmaWave technology as its ionizer option; the HoMedics uses similar ionization technology. You can turn ionizers off on both models;
Auto and Sleep modes are present on both air purifiers;
Pre-filter on both models should be vacuumed once a month.
Differences
The Winix PlasmaWave 5500-2 uses separate filters: HEPA and Carbon filters can be replaced independently from one another. In addition, the carbon filter is washable.
The HoMedics uses 2-in-1 air filter, that features a HEPA layer for fine particles and Carbon layer for odor treatment.
The HoMedics TotalClean features UV-C light, that kills germs, prevents growth of mold and is more effective in reducing virus particles which are otherwise may get past through the filter, pushing the number of air cleaning stages to 5 (4 on Winix). However, you need to replace the bulb after 12-18 months of usage.
The air purifier from HoMedics also has the essential oil tray with 3 pads.
The HoMedics Deluxe draws in air 360-degrees, whilst the Winix can only do that from from the front.
A replacement filter for the Winix 5500-2 is slightly cheaper.
The Winix also operates at a lower noise levels and has in-built air quality indicator.
Which air purifier to buy?
All in all, both air cleaners are definitely worth the price and often it mostly comes down to which one you like more in terms of design. For example, my winner would be the Winix.
The HoMedics advantage is an additional UV-C light, that provides an additional treatment for viruses. That may be a reason you want to buy it in our Covid-19 times.
If you main reason for getting an air purifier is dust, smoke and allergies, I'd picked the Winix over the HoMedics as it performs slightly better when you have to deal with the air pollutants. Plus it produces less noise on lower speeds, making it more more feasible to run at night in a bedroom or living room.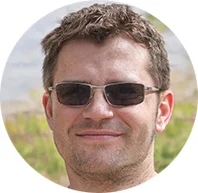 My name is Alex Evans and I own this website. I have been in air purifier industry for several years now and nowadays I write about air purifiers, their features, benefits and downsides. Cheers!