Last updated on December 1st, 2022
Blue Pure 311 and 411 is a part of budget Blueair air purifiers called "Blue Pure". Both air cleaners have very similar design and feature HEPA filtration for particles down to 0.3 micron, also known as PM2.5. However, there are some differences that I'm going to explore in this comparison.
If you don't see the whole table, scroll it horizontally
| Model | Blue Pure 311 | Blue Pure 411 Auto |
| --- | --- | --- |
| Image | | |
| Reason to Buy | Larger Coverage | Cheaper |
| Price | Under $250 | Under $140 |
| Room Coverage | 388 sq. ft. | 190 sq. ft. |
| CADR | 250 CFM | 123 CFM |
| Filter Life | 6 months | 6 months |
| Filter Replacement | ~$40 | ~$24 |
| Noise Levels | 23 - 53 dB | 18 - 48 dB |
| Max Power | 35 Watts | 2 - 10 Watts |
| Weight | 6.8 pounds | 3.8 pounds |
| Dimensions (W x D x H) | 10.2" x 10.2" x 20.5" | 7.9" x 7.9" x 16.7" |
Room Coverage
First and foremost, the major difference between the Blueair Blue Pure 311 Auto and Blue Pure 411 Auto is larger coverage by the larger and pricier 311 model. It can effectively clean air in rooms up to 400 square feet with 8 ft. ceiling whilst the smaller model only capable of cleaning air in 200 sq. ft. spaces. In areas above that size the Blue Pure 411 won't be effective.
CADR
Increased performance on the 311 model is explained by the fact it has twice as high CADR rating (250 CFM vs 123 CFM) and bigger HEPA filter. It not only can physically capture more particles at the same time, but also provides faster cleaning compared to the less powerful and smaller air filter installed in the Blue Pure 411.
Power Consumption
Obviously, the more powerful Blueair 311 consumes three and half times more power. But that's only 40 dollars per year if you are planning to run it continuously for 24/7 at maximum speed. Use this energy consumption tool to figure out how much electricity any air purifier consumes throughout the year.
Noise Level
The Blue Pure 311 is also noisier. However, 53 decibels of sound won't bother you that much. For comparison, 60 dB is similar to an ordinary conversation.
Design, Size, Weight
Both air purifiers are almost identical in terms of design, the 311 model is just bigger in size. Both portable air cleaners will fit in a small bathroom, kitchen or bedroom.
Price
The Blue Pure 311 price tag is almost twice as high as 411's. However, if you follow the link I give above, you can get this air purifier way cheaper most of the time. So it's not worth to get two 411's, it's better to buy just one 311.
Similarities
Both air purifiers feature Auto mode. By turning it on, the air purifiers will automatically adjust the fan's speed based on the air quality inside the area. It it's good, the speed goes down, and if it's bad – the speed goes up until the air quality improves.
360° design
Same filtration system, that includes a pre-filter, HEPA filter and charcoal filter
Which one to Get?
The Blueair Blue Pure 311 definitely worth the price. If you need an air purifier for 300 – 400 sq. ft. room, 311 is the best option due to its power and air filter.
However, in a case you need to clean air in a small rooms up to 200 square feet, then the Blueair 411 Auto will be the smartest option that will save you some money in long term too.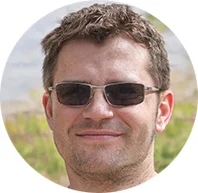 My name is Alex Evans and I own this website. I have been in air purifier industry for several years now and nowadays I write about air purifiers, their features, benefits and downsides. Cheers!