Last updated on January 1st, 2023
The Honeywell HPA300 true HEPA Air Purifier is one of the most popular air purifier on the market today. Being one of the most trustworthy and respectable brands, it's natural that they'll do a good job. But, is the air purifier perfect for your space and can it offer you clean breathing? This Honeywell HPA300 Air Purifier review will tackle that question and other doubts you have.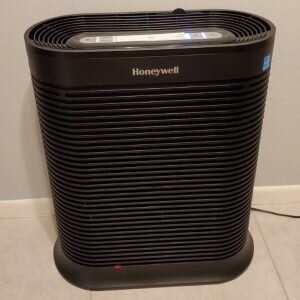 Specifications
| | |
| --- | --- |
| Space Coverage | 465 square feet |
| Air Changes per Hour | 4.8 (AHAM-verified, read ACH recommendations for rooms) |
| Allergen Removal | 99.7% |
| Filtration Technology | 2-stage air filtration technology |
| Filter Life | |
| CADR Ratings | 300 (Smoke) / 300 (Pollen) / 320 (Dust) |
| Max CFM of Air Moved | 300 |
| Speed Settings | 4 |
| Auto Mode | |
| Sleep Mode | |
| Sensors | |
| Noise Level | 48 – 71.2 dB |
| Power | 100 Watt (How much Electricity will it use?) |
| Weight | 17 pounds |
| Dimensions (L x W x H) | 20.8″ x 10.83″ x 22.38″ |
| Warranty | 5 years on unit |
| Energy Star Certified | |
| Available in | Black, White (the latter is often out-of-stock though) |
My Honeywell HPA300 Review
In this review section, I'll be covering several performance aspects of the Honeywell HPA300. After reading this section, you'll have a fair idea about the appliance. From the design to the noise and features, this section discusses it all.
What's in the Box
Honeywell HPA300 air cleaning unit
1 Activated carbon pre-filter
1 True HEPA filter
User Manual
CADR Ratings
The Honeywell HPA300 has the AHAM certification. The Association of Home Appliance Manufacturers (AHAM) tests and certifies the appliance for its functions. At the end of the inspection, all devices receive a CADR rating. CADR is an acronym for Clean Air Delivery Rate.
This rating measures the air cleaning potential of the air purifier. The ratings take into account three different typical air pollutants. Here are the Honeywell HPA300's CADR rating for various pollutants:
Smoke: 300
Dust: 320
Pollen: 300
AHAM also rates the air purifier and its maximum coverage area. With a capacity of cleaning an area of 465 square feet, it's a perfect addition to your living room. With this phenomenal CADR rating, it can deliver about five air changes every hour.
Design
Honeywell has a reputation for being conventional. This rectangular-shaped unit has rounded corners on the top surface.
The air intake occurs from the front of the appliance. The Honeywell HPA300 delivers clean and purified air from the top of the unit.

For the convenience of carrying and portability, the appliance also features handles. The unit stands to be about 2 feet high. The width of the Honeywell HPA300 is 20 inches. Also, the overall weight is about 17 pounds.
The HPA300 has nothing much to offer to the interior decor. Some users claim that the all-black color seems too harsh for wooden-furnished homes. For the body, Honeywell HPA300 is made of ABS plastic.
Unlike many other air purifiers, that HPA300 is stable and does not wobble. The bottom line is that the design and looks are decent.
Control Panel
Thankfully, you don't need to be a technology nerd to get the appliance up and running. You'll find the control on the Honeywell HPA300 on the top. There are different buttons for different purposes, such as:
Console light dimmer
Auto timer selection
Clean mode selection
Filter replacement lights
Main power button
You'll find four different cleaning modes on the Honeywell HPA300 – the germ, generally clean, allergen, and turbo modes. The unit automatically sets the fan speed according to the mode and the target pollutants.

The manufacturer suggests users equip the germ mode for winters. Similarly, the spring and pollen season calls for switching the HPA300 to the allergen mode. The general clean mode is apt for all situations, and the turbo mode is when you want a quick clean.
I love it when I enter my house after a long day at work and get to breathe fresh and clean air. For this to happen, the Honeywell HPA300 has an auto-timer. You can use the features to shut off the unit at preset time durations.
I also appreciate the dimmer switch that shuts off all the lights on the control panel. It comes in real handy when you want a pleasant and undisturbed sleep.
You'll also spot two indicators on the Honeywell HPA300. One indicator represents the pre-filter, and the other one is for the HEPA filter. These indicators calculate the running duration of the appliance.
You need to change the HEPA filter just once every year. The pre-filter will require replacement more often.
Air Purification
It is one of the most weighing performance aspects of this review. It would help if you significantly based your buying decision on the HPA300's purification abilities. Let's face it, that if the unit cannot purify air properly, it's next to useless.
The Honeywell includes a two-step process of purification. There are two air filters in the unit:
Activated carbon pre-filter
True HEPA filter
Activated Carbon Pre-Filter
Pre-filter is the first filter responsible for removing all the visible and extra-large particles like lint, hair, dust, and fur. Additionally, this filter also comes with a layer of carbon. This carbon layer is effective in eliminating odor, volatile compounds, and gases.
The filter does a pretty good job of eliminating the listed pollutants. Just make sure to change it every three months, and the filter will keep doing its magic.
True HEPA Filter
Your room will be 99.7% free of micropollutants that are 0.3 microns in size thanks to the HEPA filter. HEPA stands for High-Efficiency Particulate Air. Your room will be free of mold spores, dust, pollen, aerosols and ragweed because of the HEPA filters.
The genuine HEPA filters can also remove particles as small as 0.01 micrometers. With this filtration effectiveness, you can get rid of bacteria and viruses from your home. However, the filters on the Honeywell HPA300 offer decent performance.
View the best deal on Honeywell HPA300 Replacement Filters Pack
Noise Level
As I mentioned earlier, the Honeywell HPA300 can cover a large room. And it's indeed a large unit. As a result, the model equips a large and noisy fan. At the turbo mode, the top setting, the HPA300 decibel ratings can spike to 70 decibels.
On the quietest setting, which is the germ mode, the sound rating is around 45-48 decibels. For you to understand, 40 decibels is comparable to the hushed sound at a library where you can hear a pin drop. Therefore, you shouldn't be disturbed when you're asleep.
However, the 70 decibels sound is equivalent to the thrumming of a washing machine. Now, you don't want all that sound while sleeping. The turbo mode might be disturbing even while it is sitting in your bedroom in broad daylight.
Sound Test:
Suitable Room Size for Honeywell HPA300
Honeywell HPA300 is AHAM-certified for rooms sized 465square feet with 4.8 verified air changes (ACH) per hour. Here is a table for different room sizes and how long it takes for Winix 5500-2 to clean air:
| | | |
| --- | --- | --- |
| Room size | How long it takes to clean room | ACH |
| 350 sq. ft. | 9 minutes | 6.4 |
| 465 sq. ft. | 15 minutes | 4.8 |
| 650 sq. ft. | 17 minutes | 3.5 |
| 960 sq. ft. | 26 minutes | 2.3 |
| 1240 sq. ft. | 33 minutes | 1.8 |
If you have allergies and/or asthma, you should look for air purifiers with ACH rating 4 or higher. If you don't have any breathing conditions, ACH 3 is enough for living rooms and as low as 2 is enough for bedrooms. ACH 8 as a rule of thumb is recommended in heavily smoked rooms.
If you want to calculate air changes per hour for your room using the Honeywell HPA300 and get a closer look what are the general recommendations, go to the ACH calculator & recommendations page.
Maintenance Costs
Replacement Filters:
Electricity Costs: ~$5 per month running 12 hours per day on Turbo speed. Use our Energy Consumption Calculator to estimate electricity usage and costs of the Honeywell HPA300 air purifier based on your local electricity rates.
Total Yearly Operating Costs (Replacement Filters + Electricity): approximately 120 USD.
Check Honeywell HPA300 Air Purifier price at a discount
Pros & Cons
The Good
Powerful, yet not much energy consuming
Ozone-free
5 year warranty
The Bad
The unit is quite noisy in Turbo mode
May smell plastic at the beginning
Carbon filter isn't washable
Honeywell HPA300 vs Winix 5500-2
The main competitor of the Honeywell HPA300 is a Korean made Winix 5500-2. In the table down below we listed main differences between these air purifiers.
| | | |
| --- | --- | --- |
| Model | Honeywell HPA300 | Winix 5500-2 |
| Main Reason to Buy | More power: more cleaning | Lower Costs |
| Image | | |
| Space coverage | 465 sq. ft. | 360 sq. ft. |
| Best CADR | 320 | 246 |
| Air Cleaning Stages | 2 | 4 |
| Max Noise Level | 71.2 dB | 54.8 dB |
| Smart Sensors | | |
| Auto/Sleep Mode | | |
| Washable Filter | | |
| Check Discount | Honeywell HPA300 | Winix 5500-2 |
Frequently Asked Questions
How many filters do I have to replace in the Honeywell HPA300?
In the Honeywell HPA300, you have to replace two filters. The unit uses a True HEPA filter and a carbon activated filter. You have to replace the carbon filters every three to to twelve months, depending on your how often you run your HPA300 unit . Speaking of the HEPA filters, replacing them once a year is sufficient.
How much power does the Honeywell HPA300 consume?
The Honeywell HPA300 can consume up to 100 watts. If you are running the unit for about 12 hours a day at top speed, it'll cost you about $5.50 in electricity charges. That's about $66 a year on average. It's also worth mentioning that the product is an energy-star certified appliance.
Is Honeywell a reliable brand?
Honeywell is one of the most famous brands in the industry. With years of experience and a slew of high-quality products, it has carved a niche for itself. Air purifiers from Honeywell are durable and offer value for money. Besides, they also provide a warranty on almost all their products.
What allergens can the Honeywell HPA300 remove?
The Honeywell HPA300 has a design that can remove common allergens from your space. It can get rid of dust mites, dust, pet dander, ragweed, smoke and pollen. However, with the absence of UV light, it might not be effective on all types of allergens.
What is the cost of pre-filters and how long do they last?
Around $20, sometimes less. Their lifespans various, but it's recommended to change them every 3 to 6 month.
Alternatives
Check out these Honeywell Air Purifiers
You might be thinking of an alternative that is better than the Honeywell HPA300 in terms of price and efficiency. In this section, I'll throw light on some of the other options for the HPA300. You can check them out below:
NuWave OxyPure Air Purifier
Nuwave Oxypure smart air purifier is way more powerful and capable of effectively cleaning air in spaces as large as 1,245 square feet. It has several additional features the HPA300 does not. Additionally, 4 filters are included for free when this purifier is purchased at the official website.
I have reviewed this air purifier already, if you haven't read that review – check it out here.
Winix AM90 Air Purifier
If you are looking to purify smaller area and having WiFi enabled air purifier, the Winix AM90 PlasmaWave is your go-to option. The unit is AMAH-verified to cover up spaces up 390 square feet. Not only is the price of the AM90 lesser than the Honeywell HPA300, but it also sports a few extra add-ons.
You'll be content to know that the Winix AM90 has Wi-Fi accessibility and also features a timer. Plus, it can identify the indoor air quality and projects them via colored LEDs. There's a sleep mode and four fan speed settings.
What's more, AM90 also harbors an auto mode that detects the ambient air quality and adjusts itself. Besides, the AM90 offers voice control by connecting pairing up with Alexa.
Honeywell HPA200 Air Purifier
The difference between the
HPA300
and
HPA200
is that the latter is more cost-effective and covers a smaller space. You should know that the little sibling of the HPA300 cannot purify air very fast.
If you want an air purifier for your smaller room, the HPA200 is a great pick. However, for study and living rooms, the HPA300 is an ideal choice.
Also, like the HPA300, the HPA200 has a noisy fan. But in terms of power consumption, the HPA200 consumes way less energy compared to the HPA300 resulting in lower electricity bills.
Final Verdict – Yay or Nay?
If you are looking to purify a large room, the Honeywell HPA300 can be your buddy. However, the unit doesn't have a UV light. Therefore, it's not suitable for people with severe allergy ailments.
It carries out air filtration via 2-step filters. You won't come across any bells and whistles in the HPA300. It means that there's no remote control unit, no Wi-Fi, and also no sensor for air quality. Nevertheless, the unit itself is intuitive and straightforward.
It comes with a 5-year warranty so that you can rest easy. The best part is that it can handle a room as large as 465 square feet. Also, when you put it against the wall, it looks good and saves floor space.
However, if you don't like the Honeywell HPA300, I've also listed out some alternatives.
Check Honeywell HPA300 Air Purifier price at a discount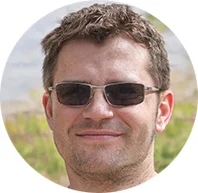 My name is Alex Evans and I own this website. I have been in air purifier industry for several years now and nowadays I write about air purifiers, their features, benefits and downsides. Cheers!