Last updated on October 8th, 2022
Both 200s and 300s Levoit air purifiers are utilizing 3-in-1 true HEPA air filter to clean indoor air. But there are some differences you should know about.
In this Levoit Core 200s vs 300s I explore these differences.
If you don't see the whole table, scroll it horizontally
| Model | Core 200s | Core 300s |
| --- | --- | --- |
| Image | | |
| Reason to Buy | Cheaper | Simply Better |
| Price | Under $90 | Under $150 |
| Room Coverage | 183 sq. ft. | 219 sq. ft. |
| CADR | 118 CFM | 141 CFM |
| Filter Life | 6 months | 6 months |
| Filter Replacement | Check price | Check price |
| Noise Levels | 24 - 48 dB | 22 - 50 dB |
| Max Power | 37 Watt | 23 Watt |
| Weight | 6.6 pounds | 5.95 pounds |
| Dimensions | 8.1" x 8.1" x 12.6" | 8.7" x 8.7" x 14.2" |
Room Coverage
The major reason why you should pick the Levoit Core 300s over the 200s is the larger room coverage. It can achieve 4.8 air changes per hour (one of the metrics to determine the quality of an air purifier) in a 219 square feet room (bathroom, kitchen, bedroom etc.).
The Core 200s achieves 4.8 air changes per hour in a 183 square feet.
If you suffer from asthma or any other breathing conditions or have an allergy, then you should definitely pick the Core 300s. If you have no such conditions, the cheaper model can do the trick if indoor air quality isn't too bad.
CADR
Levoit Core 300s has a higher CADR rating: 141 CFM vs 118 CFM. It means, the air purifier can clean air in larger spaces and performs faster & better whilst removing pollen, dander, hair, dust and smoke particles from the air.
Power Consumption
Levoit Core 300s is a clear winner in this comparison: it need only 23 Watts of power despite the increased performance when compared to the 37 Watts used by Core 200s. If you value energy efficiency, the Core 300s is a top pick.
Noise Level
The Levoit company has managed to keep noise levels relatively similar. Both models produce very similar noise when run at a high, medium or low speeds.
Design, Size, Weight
Levoit Core 300s is lightly larger than Core 200s. The bigger housing allows for usage of a larger HEPA air filter which in turn has a positive effect on the air cleaning capabilities.
In addition, the Core 300s features particle sensor (PM2.5). This particle sensor tracks the number of airborne pollutants present in the air and you can see the data for yourself.
In terms of design both air cleaners are similar.
Similarities
Both air purifiers use 3-in-1 true HEPA air filter with pre-filter, carbon filter and HEPA filter.
They both have Auto mode, Sleep mode and app support.
Both air purifiers do not release ozone.
Levoit offers 2 year warrant for both units.
Which one to Get?
I recommend getting Levoit Core 300s because:
It offers better & faster cleaning;
Consumes less energy;
Employs bigger air filter;
Covers larger space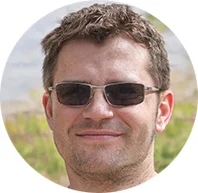 My name is Alex Evans and I own this website. I have been in air purifier industry for several years now and nowadays I write about air purifiers, their features, benefits and downsides. Cheers!