Last updated on January 1st, 2023
Levoit Core 600S is the newest release among Levoit air purifiers. It offers air cleaning for large rooms up to 635 square feet with many smart functions.
What are these smart functions, how does Levoit Core 600S perform, pros and cons and many more I cover in this in-depth Core 600S air purifier review.
Apply Coupon AP01 to get $50 OFF
Specifications
| | |
| --- | --- |
| Space Coverage | 635 square feet (calculate ACH for your room) |
| Particles Removal | 99.97% at 0.3 micron |
| Filtration Technology | 3-stage air filtration technology |
| Filter Life | 6 months (Replacement Filter) |
| Filter Size & Weight | 12″ x 12″ x 13″; 2 pounds |
| CADR Ratings | 410 (Smoke, Pollen, Dust) |
| Speed Settings | 5 |
| Auto Mode | |
| Sleep Mode | |
| Sensors | |
| Noise Level | 26 – 55 dB |
| Wi-Fi | |
| App | |
| Power | 49 Watt (How much Electricity will it use?) |
| Energy Star Certified | |
| Weight | 13.7 pounds |
| Dimensions (L x W x H) | 12.3″ x 12.3″ x 23.6″ |
| Warranty | 2 years on unit |
My Levoit Core 600S Air Purifier Review
What's in the Box
Levoit Core 600S air purifier
Pre-installed 3-stage True HEPA filter
User Manual
Quick Start Guide
Core 600S comes plug-in-ready, meaning you don't have to assemble it or anything like that. Just plug it in, push the power button and let it do its job. HEPA air filter is already installed inside the air cleaning unit.
Review
I'd say that Levoit engineers did a pretty decent job at keeping the air purifier powerful (about that later) yet lightweight when it comes to power/weight ratio. It's fairly small at only 23.6 inches in height and 12.3″ in length & width.
The ajority of the space inside takes a 2-pound 3-stage air filter that includes:
Pre-filter to filter out pet hair and fur, lint, fibers and dust. It also protects other filters from wearing out too fast.
True HEPA H13 air filter that is considered the best when it comes to filtering out airborne particles like dust, allergens, mold spores and pet dander.
Activated Carbon filter to capture odor. Cigarette smoke, fumes, different cooking and bathroom smells are now dealt with.
Features
Levoit Core 600s is packed with features. Just look at that:
Auto Mode: based on AirSight Plus sensor data adjusts the speed automatically according to the number of particles present in the air.
Sleep Mode: in this mode, the Core 600S goes to the slowest speed (lower than "Low", not available in manual mode) and turns the display off (the filter indicator is still on though). Running the air purifier in a bedroom isn't a problem at all as it's very quiet (lower than 26 decibels) and doesn't produce any sound.
Alternatively, it's possible to turn Light Detection via the VeSync app. If this setting is on, the display shuts off if the room goes dark and Core 600S won't go into speeds higher than Medium in Auto mode, no matter the air quality. I'd say this is an alternative to the Sleep mode if you prefer having quiet regular white noise inside your room to help you drop asleep.
QuietKEAP technology is responsible for keeping the noise down. The Core 600S is probably the quietest air purifier out there: at low speed, it makes inaudible noise (~26db) and at the highest speed only 55 decibels that equal to the sound of a quiet neighborhood or ordinary conversation. Considering the Core 600S employs a powerful fan and high CADR ratings I'd say this is quite an achievement in itself.
5 speeds: 4 available in manual mode: Low, Medium, High and Turbo. The quietest speed is available only in Sleep mode.
Display locking allows blocking all buttons on the air purifiers, working as a child and pet lock.
App & Alexa support: the app offers additional functionality and with Alexa, it's possible to control Levoit Core 600S with voice.
Controls
Levoit managed to stay out of today's unfortunate trend when the air purifier has only a power on/off button and a button to switch speed physically present on the unit whereas everything else is controlled via an app. Sometimes apps are buggy, sometimes WiFi doesn't work, you name it. It's always good to have real physical buttons present on the air purifier to have the ability to change settings at any time and don't be dependent on an application only.
At the top of the Levoit Core 600S located several buttons:
Power on/off
Timer (range 1h – 12h)
Button to reset the filter indicator
Sleep Mode button
Fan Speed button with indicators at the top
Auto mode button: switches between Core 600S auto and manual modes
Button to set display off. How many air purifiers lack it…
Button to lock display, i.e. Child/Pet Lock
In other words, if the app doesn't have access to the Core 600S you still have full control over the air purifier and its functions.
The three rings of dots you see in the picture above are responsible for the air quality: Blue stands for Very Good air quality, Green means Good, Orange = Moderate and Red = Bad. Numbers represent the number of particulate matter equal to or smaller than 2.5 microns (a.k.a. PM2.5) present in the air inside a room.
On the top of Core 600S also located:
Filter indicator
WiFi indicator
Light Sensor
Timer Display
App
Levoit Core 600S uses the standard VeSync app (Android/Google) to control the air purifier. Registration is needed for the app to work properly. I don't see a reason to describe the step-by-step registration process as it's straightforward as it can be.
App offers additional control over the Core 600S, most notably it allows to turn on light detection. 90% of all functions are available via the physical control panel on the top of the unit.
Suitable Room Size for Levoit Core 600S Air Purifier
What I really like about the Levoit Core 600S is its high CADR rating. This machine is really powerful considering the price!
Levoit put the number "635" as recommended room coverage and the Core 600S is really capable of filtering out pollutants in such area. Take a look at the table below:
| | | |
| --- | --- | --- |
| Room size | How long it takes to clean room | ACH |
| 382 sq. ft. | 8 minutes | 8 |
| 510 sq. ft. | 10 minutes | 6 |
| 635 sq. ft. | 12 minutes | 4.8 |
| 770 sq. ft. | 15 minutes | 4 |
| 1040 sq. ft. | 20 minutes | 3 |
| 1550 sq. ft. | 30 minutes | 2 |
ACH means air changes per hour. For an air purifier to be considered worth investing in it needs to have at least 4 air changes per hour and the Levoit Core 600S recommended space coverage definitely fits this recommendation. People with breathing conditions (asthma, allergies, etc.) usually require 5 air changes per hour and the Core 600S is capable of providing clean air to breathe with its 410 CADR rating.
The air purifier can be used in larger rooms too, yet it's less effective the larger the space. If you are in dire need of a household air purifier for extra-large rooms more than 1000 square feet you should take a look at Blueair air purifiers (series Pro, models XL or L) or Tracs air purifiers (TM500, TM950 or Industrial). But they are priced way over the Core 600S. For the price, this Levoit-made air purifier offers excellent room coverage.
See also:
Maintenance Costs
Replacement Filters: ~$59 for a replacement of the 3-in-1 filter (model LRF-C601-WUS) every 6 months (check availability).
Electricity Costs: ~$2,5 per month if used 12 hours per day at a maximum speed (check electricity usage in your area). In reality, it will be lower as at the lowest speed the Core 600S consumes very few watts of power per hour.
Total Maintenance Costs for Levoit Core 600S: ~$150 yearly including filter replacements and electricity bills.
Pros & Cons
The Good
Price
High CADR rating
Perfect for large rooms
Quiet & Powerful
Auto mode & Sleep mode
Physical controls
The Bad
Filter indicator doesn't go off in Sleep mode
Shop Levoit Core 600S | Apply Coupon AP01 to get $50 OFF
Levoit Core 600S vs 400S
The major difference between the Core 600s and 400s is effective space coverage. See the table below for more differences between them.
| | | |
| --- | --- | --- |
| Image | | |
| Model Number | Core 600s | Core 400s |
| Room Coverage | 635 sq. ft. | 403 sq. ft. |
| CADR | 410 CFM | 260 41 CFM |
| Noise Level | 55 dB | 52 dB |
| Power | 49 Watt | 38 Watt |
| Weight | 13.7 pounds | 14.2 pounds |
| Dimensions (L x W x H) | 12.3″ x 12.3″ x 23.6″ | 10.8″ x 10.8″ x 20.5″ |
| Price | Check Price | Check Price |
Levoit Core 600S is more powerful when compared to the Core 400S. It features increased CADR ratings and larger filter for better and faster air filtration. It totally worth the price difference if you have a room over 400 square feet.
Levoit Core 600S vs 300S
The major difference between the Core 600s and 300s is effective space coverage. See the table below for more differences.
| | | |
| --- | --- | --- |
| Image | | |
| Model Number | Core 600s | Core 300s |
| Room Coverage | 635 sq. ft. | 219 sq. ft. |
| CADR | 410 CFM | 141 CFM |
| Noise Level | 55 dB | 48 dB |
| Power | 49 Watt | 26 Watt |
| Weight | 13.7 pounds | 5.95 pounds |
| Dimensions (L x W x H) | 12.3″ x 12.3″ x 23.6″ | 8.7″ x 8.7″ x 14.2″ |
| Price | Check Price | Check Price |
Levoit Core 600S is a beast compared to the Core 300S. It has 3 timer higher CADR and more power, making it great air cleaner for large spaces. On the downside, it produces more noise and consumes more electricity but it is to be expected anyway.
FAQs
Does Levoit Core 600S produce ozone?
The air purifier is completely ozone-free.
Can I wash the filter?
No, you can't wash the Core 600S filter. It will break apart its ability to filter out particles.
How often should I change the filter on the Core 600S?
The indicator will let you know when to replace the filter. On average you should replace it every 6 months.
Wrapping Up the Review
The Levoit Core 600S is worth investing $300, that's for sure. It offers large room coverage with 4.8 air changes per minute in 635 sq. ft. rooms at a maximum speed, has all the necessary filters to clean different kinds of pollutants and comes with several smart features that make sense and aren't some useless fancy stuff.
The price and features make the Levoit Core 600S stand out among many competitors and I'm pretty sure it's going to be among the most popular portable air purifiers in 2022 and in years to come.
2023 UPDATE: The unit is still working and with the latest updates I consider it to be one of the best on the market today.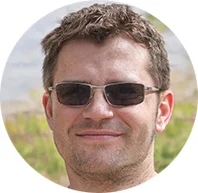 My name is Alex Evans and I own this website. I have been in air purifier industry for several years now and nowadays I write about air purifiers, their features, benefits and downsides. Cheers!