Last updated on January 1st, 2023
Alen BreatheSmart Classic is one of the oldest air purifiers made by Alen. It has high CADR rating and filters pollutants using True HEPA H13 filter. On the other side it's a bit pricey, features older-generation ionizer, not energy efficient compared to the newer versions and doesn't have a remote or WiFi function.
Does Alen BreatheSmart Classic worth the money? This and many other questions I answer in this review.

Specifications
Space Coverage
1100 square feet (2 ACH)
Particles Removal
99.99% down to 0.1 micron
Filtration Technology
3-stage:

Pre-Filter
True HEPA Filter
Ionizer

Filter Life
CADR
300 (Smoke / Pollen / Dust)
Speed Settings/Airflow

150 CFM
185 CFM
225 CFM
290 CFM

Auto Mode
Sleep Mode
Smart Sensor
Noise Level
42 – 56 dB
Power
1.6 – 105 Watt (How much Electricity will it use?)
Weight
21 pounds
Dimensions (L x W x H)
10″ x 17.5″ x 26.7″
Warranty
Lifetime warranty (requires subscription on official website)
My Alen BreatheSmart Classic Review
What's in the Box
BreatheSmart Classic air purifying unit
True HEPA H3 filter
User manual
Now dive in further to learn more about the Alen BreatheSmart Classic in this review.
Alen BreatheSmart Classic Air Purifier marketed itself with certain features which interest me. Being someone with allergies and pet dander, I was also looking for a cleaner. Since I was already aware of the cleaner via consumer reports and on certain commercial websites, the product has a rating of 4.7 out of 5; so in a heartbeat, I got BreatheSmart Classic home, and I can proudly say that 'I was right.' The purifier changed the air around my surrounding. Now I breathe healthy air, and my home looks and feels clean. It's been a while since I stopped using medications for my allergies, and I don't regret making this purchase.
I also found out some fascinating factors about the cleaner. The unit is ozone-free, which means the unit manufactures negative ions that collect particles and makes it simpler for confining molecules inside the HEPA filter. There is 0 PPM when the unit is detached and below 0.050 PPM when engaged with an optional ionizer. Also, the unit requires 1.6-105 watts of power consumption which is relatively standard for a practical yet powerful purifier and power supply of 120 AV, 60HZ. If you use the cleaner for 8 hours every day, you may spend only $43 every year.
What amazed me is that the BreatheSmart air purifier provides a lifetime warranty and assures that the products are free from any defects. If found any, the company will issue for replacement. Moving on, I also discovered that the cleaner consists of adaptable HEPA type filter which comes in various options to address particular needs such as-
HEPA-Pure, which is the standard HEPA filter traps 99% of pollutants and gets rid of dust and ordinary allergens
HEPA-FreshPlus incorporates an activated carbon filter, which helps to remove household odors and proves helpful to people with sensitivity towards VOCs
HEPA-Silver can be a little more pricey than the rest, but if you want to be free from mold spores or bacteria, this filter will help with its anti-microbial silver-ion threads.
HEPA-OdorCell is known as the ultimate HEPA filter due to its distinctive Alen's Molecular Conversion Powder, which gets rid of cigarette odors and heavy airborne odors
These filters are no ordinary ones as they fall under H13 HEPA filters and remove every small particle. The filters can last for 12-15 months despite using them daily. These filters range from $79 to $119, and you can replace them once a year. It's been nearly a year since I made my purchase, and it looks like my filter is still doing great.
All About Alen BreatheSmart Classic
You should be aware of specific requirements and safety measurements for installing a BreatheSmart Classic into your homes. To know more, keep reading.
Placement Requirements
Utilize a measured surface of around 6″ to maintain space between sources like heaters.
The air purifier is meant only for indoor operation
Avoid blocking any air vent entrance of the purifier
Do not place the cleaner on soft surfaces nor insert finger or objects into the vents
These are the basic requirements you should remember while placing the purifier. Now let's look at some safety measurements.
Safety Requirements
Never connect the unit to any damaged electrical socket
Place the filter correctly before starting the unit
Make sure the air purifier is off before disconnecting
Keep the cleaner away from heat sources and water
Do not use the cleanser on a window, adapter, or an extension cord
Always unplug the cleaner before replacing the filter or servicing
Never exceed the ranking of the electric outlet to avoid unwanted accidents
Change the filter as recommended and avoid inserting or pulling out of plugs with wet hands
Do not repair the unit independently and seek professional help
Do not drop, spray inflammable sprays, place dense items, climb or sit on the unit
Attach the cleaner to the proper socket type and never run it without a filter
Now that we are conscious of safety let's go to the next step, which will guide us on how to use the cleaner.
How to operate Alen BreatheSmart Classic?
Here are few innovative yet straightforward steps on operating the purifier.
Insert the air purifier into a proper electric outlet
Press the power button to run the unit
Once the unit starts, the lights will be on. To switch off the unit's light, press the power button. If you wish to turn off the unit, press the power button again after the lights have turned off
You must be aware of the air quality sensor that changes color and is near the power button. Blue light indicates a low amount of air particles, yellow hints average amount of particles, and red signifies a notable quantity of particles
If you wish to operate the ozone-safe ionizer, press ION, which will allow the unit to withdraw unwanted particles. You can press ION again to deactivate
The purifier consists of a filter life indicator with three lights- green, yellow, and red. The green light illuminates till the filter life, while yellow light ignites till the filter requires replacement. The red light illuminates when the time arrives for filter replacement
Once you change the filter, keep holding the filter life button for five seconds for the red light to shift to green
Since you can customize the purifier, select TIMER to let the unit run for the desired number of hours
To obtain the fan speed, you desire, press SPEED. Usually, people use speeds 2-3 to maintain speed stability for cleaning and noise. In case the air is dirty, choose speed T (Turbo).
To operate the automatic mode, press AUTO. The auto mode uses Smart Sensor technology to regulate the unit's speed which depends on the number of particles in the air
Alen BreatheSmart Classic Features
With detailed information on how to operate the cleaner, let us now understand the features which make it a trusted product.
The ionizer in the unit allows better filtration
HEPA filter helps capture pollutants
The unit comes with four fan speed options along with a timer which will enable customization for controlling the air circulation
The filter change indicator helps in scheduling filter replacement
The cleaner features an automatic mode for ace performance
The unit consists of a touch button
It comes with auto-off safety features in case the unit's front cover gets removed
How to maintain Alen BreatheSmart Classic
After learning in-depth about the purifier, it's time we know the particulars on caring for and maintaining the product for the best outcome.
Switch the lights on/off
You need to know that the unit won't turn off despite turning the lights off by pressing the power button. It will help if you press the power button twice to turn the cleaner off. Such knowledge will help you avoid unnecessary accidents and save electricity.
Replace filter
It is necessary to know that the filters used in BreatheSmart Classic purifiers are not for cleaning, washing, or reusing. With time, the filters tend to become overburdened with airborne particles, which decreases their performance. Hence, it is highly advisable to regularly practice replacing filters to expand the longevity and production of the air purifier.
Why replace the filter?
Firstly, the core reason to thoroughly replace filters is to avoid excessive pressure on the air purifier. Also, the purpose of getting the cleaner is to upgrade your indoor air quality, and by changing filters, you can maintain air quality according to your requirement. Often, dirty filters lead to compromising with the measure of clean air the purifier can deliver.
Steps to replace the filter
While installing the filter, keep the unit unplugged
You can differentiate between the front and back of the filter as the front consist of foam secured with velcro
Pull out the front cover and lift it apart from the unit
Remove the pre-used filter with the help of pull strings and insert it in a bag      to avoid re-entering dust
You can now place a new filter inside the air cleaner while the pull strings clad outside
Place the top of the front cover followed by the lower cover
Reboot filter life indicator
Once you finish putting back the new filter, press on the filter life button of the unit to restore it to green
Cleaning the Smart Sensor
The Smart Sensor helps expose air particles, but sometimes, massive dust accumulation on the lens can affect the sensor's functionalities. Hence the unit can become dysfunctional, and that's why you need to clean the Smart Sensor. You can begin by turning off the purifier and wetting the ends of a cotton swab, and wiping the lens. Make sure to dry the lens too. It would be best if you made a habit of cleaning the Smart Sensor lends every time you change the filter for outstanding achievement.
Suitable Room Size for Alen BreatheSmart Classic
Alen BreatheSmart Classic can clean room 1100 square feet in 30 minutes. Some of you may think that this is quite an achievement, but in reality it is not. 2 air changes per hour is minimum you should expect from an air purifier and if you have any breathing conditions, you should look for at least 4.
You can figure out your room size using our ACH calculator (there are also a table with recommended ACH for different rooms) and down below you may take a look at the table featuring different room sizes and how effective Alen BreatheSmart Classic performs.
| | | |
| --- | --- | --- |
| Room size (8 ft. ceiling) | How long it takes to clean room | ACH |
| 370 sq. ft. | 10 minutes | 6 |
| 450 sq. ft. | 12 minutes | 5 |
| 560 sq. ft. | 15 minutes | 4 |
| 750 sq. ft. | 20 minutes | 3 |
| 1100 sq. ft. | 30 minutes | 2 |
Alen BreatheSmart Classic Maintenance Costs
Replacement Filters: $79, $89, $99 or $119 per year, depending on which type of True HEPA H13 filter you want to use with the BreatheSmart 45i (Pure, Silver, FreshPlus or OdorCell). 10% off if subscribed. Plus $19.99 for the pack of 4 pre-filters.
Electricity Costs: ~$10 per month running 24 hours per day on maximum speed. Use our Energy Consumption Calculator to estimate electricity usage and costs of the Alen BreatheSmart Classic air purifier based on your local electricity rates.
Total Yearly Costs: $220 – $260.
Pros & Cons
The Good
BreatheSmart purifier is a portable air purifier as you can place it on the floor or a table
High CADR rating
Has an auto mode feature that adjusts the fan speed for cleaning the air
Designed to complement the interiors of your home with stylish and glossy panels which come in different variants.
The Bad
High replacement filters cost
Actual space coverage is lower
High maintenance costs overall compared to other air purifiers in the same price range
Noisy
Alen BreatheSmart Classic Alternatives
Why should you have an alternative? It isn't because the product is unreliable, but sometimes the product and your requirements might not match. Hence, here are few high-end product alternatives for Alen BreatheSmart Classic that either has the same price or just powerful and better overall.
Nuwave OxyPure
The OxyPure purifier provides 1,200 sq. ft. coverage and fits perfectly with the smart home ecosystem. The cleaner comes in 14.2 x 14.2 x 26.3 inches and has Clean Air Delivery Rates (CADR) with 332 cubic ft/minute. The unit can remove .09 microns of airborne particles.
Being a smart device, it has a 2.4GHz WiFi adapter with a mobile app for easier usage. The app can also support Alexa and Google to help you with automation. The unit helps eliminate impurities like dust, pollen, smoke, and other airborne pollutants and consists of washable and reusable filters with 20 years of longevity.
Alen BreatheSmart 75i
The BreatheSmart 75i is one of the flagship products of Alen as it has a high CADR rating of 350. Alen BreatheSmart 75i is one of the best and preferred large space air purifiers as the unit claims to cover up to 1,300 sq. ft. area. The cleaner has an air quality sensor with six ranges to display live data on air quality. The unit is also energy-efficient with 45W max.
The 75i runs very quietly and is considered one of the quietest air purifiers with only 49dB level. The purifier can attain two air changes in an hour, which means the particular area's air is filtered every 30 minutes. 75i setting has 5 fan speeds. Despite being on the pricey side, this purifier provides a lifetime warranty, which is the cherry on top.
IQAir HealthPro Plus

The IQAir HealthPro is also one of the flagship products of IQAir, which has won awards from many respected organizations. Aside from being robust, the purifier is more desirable compared to IQAir GC MultiGas for being affordable.
The IQAir has a four-stage cleaning system. It also consists of distinctive filters like- granulated activated carbon, pelletized chemisorption, PreMax, and HyperHEPA. With the medical-grade HyperHEPA filter, it removes 99.5% particles down to of 0.003 microns. The unit offers a HyperHEPA filter that can remove particles 100 times smaller than a classic HEPA. IQAir comes with the 3 stage air filtration system without releasing ozone making it safe for people with asthma.
FAQs
Does the Alen BreatheSmart Classic air purifier produce ozone?
Alen BreatheSmart Classic does produce ozone if ionizer is on (less than 0.050 PPM). It is possible to turn it off.
Can I place the purifier sideways?
You cannot place the unit sideways as the product's design is for erecting on a base. If you put it on the side, there is a risk of obstructing the airflow, adding involuntary stress, and reducing the unit's lifespan.
Till what period can I use the filters?
Everything depends on the pace-setting of the cleaner. If you continuously run the unit or the air quality is poor, the replacement of the filter will arise within every 6 to 12 months. But if your cleaner is not operated regularly or does not run at the maximum speed, the filter can last for 12 to 18 months. Alen also provides customized True HEPA filters, which function according to your requirements and can last 6 to 15 months.
I have a room that is larger than the mentioned coverage area of the purifier. Will it work if I install it?
How air purifiers function depends on the number of air exchanges that happen every hour or when air replacement within the room happens. A purifier that meets the standard of six exchanges/hr is known to be excellent, and yes, despite having a space that exceeds the coverage area of the purifier, it can still function and clean your room. Although, the rate of air exchanges may decrease, meaning you might not enjoy all the benefits. Therefore, always try to get a purifier which meets your requirement.
Does the Alen purifier come with a carbon filter or only HEPA?
The Alen BreatheSmart purifier exclusively presents a HEPA-Pure filter, but they also provide separate customized filters which contain activated carbons for getting rid of chemicals and household odors. These filters are HEPA-Silver (best for chemical odors) and HEPA-FreshPlus (best for household odors).
Is Alen Breathesmart Classic noisy?
Yes, if we compare the unit to the other air purifiers in the same price range.
Can the cleaner remove oak tree pollen?
Yes. If the pollen passes through the electrostatic plates, the HEPA filter will trap it.
What kind of stage air filtration does this purifier have?
The Alen Breathesmart Classis purifier has three-stage filtration system.
Does the Alen BreatheSmart Classic purifier come with a pre-filter?
Yes, all Alen BreatheSmart purifier comes with a pre-filter, which helps manage massive particles like hair and dust.
Conclusion: Is Alen BreatheSmart Classic Worth Buying?
In 2023 Alen BreatheSmart Classic is probably not so good anymore. Yes, it clean air, but it is noisy even on the lowest speed, pricey when it comes to filters and generally speaking do not matches in quality with other air purifiers: some (like Levoit Core 600S) are cheaper and have additional functions, others are just better in everything (Tracs comes to mind).
But if you don't care about the noise and maintenance that much, BreatheSmart Classic could work for you for years.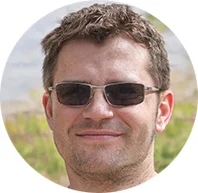 My name is Alex Evans and I own this website. I have been in air purifier industry for several years now and nowadays I write about air purifiers, their features, benefits and downsides. Cheers!