Last updated on October 8th, 2022
The major difference between Blueair Blue Pure 121 and 211+ air purifiers is room coverage. The pricier variant comes with a more powerful fan and a higher CADR rating resulting in an increased room coverage Take a look at the table below to see the full list of differences between those air purifiers.
If you don't see the whole table, scroll it horizontally
| Model | Blueair 121 | Blueair 211+ |
| --- | --- | --- |
| Image | | |
| Reason to Buy | Larger Coverage | Cheaper |
| Price | Under $450 | Under $350 |
| Room Coverage | 620 sq. ft. | 540 sq. ft. |
| CADR | 400 CFM | 350 CFM |
| Filter Life | 6 months | 6 months |
| Filter Replacement | Check price | Check price |
| Noise Levels | 56 dB | 56 dB |
| Max Power | 61 Watts | 61 Watts |
| Weight | 18.2 pounds | 13 pounds |
| Dimensions | 13" x 13" x 28.4" | 13" x 13" x 21" |
Room Coverage
As I mentioned previously, the Blueair Blue Pure 121 has more power when compared with the cheaper Blueair 211+. It can effectively clean larger spaces from pollen, smoke, dander, pet hair and other airborne contaminants.
When it comes to the exact room coverage, the Blue Pure 121 is 15% more effective overall: Blueair recommends to use the 121 version of their air cleaner in rooms up to 620 sq. ft. with 8 ft. ceiling. However, this air purifier can achieve 4 air changes per hour in a space of up to 750 sq. ft. That means, if you are tight on a budget, but want to combat any kind of air pollution inside your house including allergens, this air purifier can effectively clean air in such large space. I consider it one of the best air purifiers for 600 sq. ft. rooms, as well as large spaces in general.
The Blueair Blue Pure 211 Plus is also a great air purifier, but smaller and less powerful. The manufacturer recommends to use it in rooms up to 540 sq. ft., but it also can achieve a fantastic result of delivering 4 air changes per hour in any 650 sq. ft. space.
So, if you want to clean space that exceeds 700 square feet, go with the Blueair Blue Pure 121.
CADR
Blueair Blue Pure 121 delivers 50 cubic feet of air per minute more, than the cheaper Blue Pure 211+. It affects the overall amount of air that is cleaned, resulting in faster and more efficient cleaning. The bigger your room is, the larger air purifier you need and Blue Pure 121 is a winner once again.
Power Consumption
Both air purifiers consume 61 watts of energy per hour if they run at maximum speed. It roughly translates to 35 dollars per year in electricity costs, if a unit is used 12 hours per day.
Noise Level
The manufacturer managed to keep the noise down on the Blue Pure 121, despite the increased performance. It's a good sign, as 61 decibels is an equivalent of an air conditioner or normal conversation between 2 people. If it seems too loud for you, you can check Rabbit air purifiers. They are known for their silent performance.
Design, Size, Weight
Blue Pure 121 is taller when compared with the 211+: it measures 28.4 inches versus 21 inches. This is expected, as the larger air purifier is, the better motor and larger it has. As a result, air circulates better and more particles are trapped inside the HEPA filter.
Similarities
Noise Level
Wattage
Design
Air cleaning process
Which one to Get?
They are both great air purifiers and the major reason you want to buy the Blue Pure 121 is its improved coverage. If you see that the Blue Pure 211 isn't covering the whole area you want to have cleaned from airborne pollutants, then the 121 version is definitely  better option.
Blueair 211+ Auto
Apart from this I want to note that Blueair 211+ Auto is also available with a sensor and Auto mode. If you are not familiar what that means let me help you out.
An air purifier has a few speeds it runs at, usually it's 3 (low, medium, high) or 4. However, sometimes air purifiers have built-in sensor that can detect the amount of PM2.5 (particulate matter, a.k.a. particles). Based on the amount of the particles, an air purifier automatically adjusts the speed of the motor. If amount of particles is low, an air purifier will run at low speeds, whilst if it detects a high amount of particles flying around, it automatically speeds up the fan, increasing airflow and speed.
The exact same system is installed inside the Blueair Blue Pure 211+ Auto. If you don't want to bother manually selecting the speeds and want to "outsource" it to the air purifier, then this model is a great option as an air cleaner. It's priced slightly higher than the ordinary Blue Pure 211+, check the price here.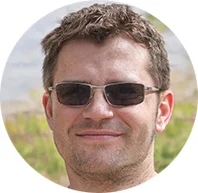 My name is Alex Evans and I own this website. I have been in air purifier industry for several years now and nowadays I write about air purifiers, their features, benefits and downsides. Cheers!