Last updated on August 28th, 2022
I've already made a review of a pricier Greentech Environmental GT 3000 air purifier – you can check it here. Now the time has come to see what the smallest Greentech model can do to remove odors or improve the general air quality. Welcome to my review of Greentech Environmental pureAir 500!
Specifications
| | |
| --- | --- |
| Room Coverage | up to 850 square feet (says manufacturer) |
| Filtration Technology | 3-stage air filtration technology |
| Filter Life | 1 year (Replacement Filter) |
| Ionizer | |
| Cleaning Modes | 3 |
| Power | 10 Watt (How much Electricity will it use?) |
| Weight | 26 oz |
| Dimensions (L x W x H) | 6.25″ x 6.25″ x 9″ |
| Warranty | 1 year on unit |
My Greentech Environmental pureAir 500 Air Purifier Review
What's in the Box
Greentech Environmental pureAir 500 unit
User manual
Review
The unit is really small – it measures only 6.25″ x 6.25″ x 9″ and is even smaller than many desktop air purifiers. And weights just 26 ounces – an incredibly lightweight and portable air purifier.
Controls are located at the top of the unit: the power button and the button so you can switch between 3 modes.
Now, what does the Greentech Environmental pureAir 500 do, to clean the air?
In theory, this model utilizes an ionizer and a HEPA+Carbon combo air filter to remove odors and allergens. Reality is somewhat different.
Firstly, the unit is extremely underpowered. It uses only 10 Watts of power and I am yet to see a good air purifier that can be that energy effective and really make a difference in a room, especially a room that is 600 or 800 square feet.
Secondly, the HEPA filter (you can read more about HEPA filters and air purifiers here) is washable and lasts up to 1 year. "What's bad in that?" – you'd ask. Well, washing any HEPA filter destroys its ability to capture fine particles (dust, pollen, whatever) – more on that here. The air filter used by the pureAir 500 isn't HEPA at all, however it is marketed as one.
Lastly, this air purifier doesn't generate enough airflow, so the filters are kind of useless anyway.
So, what this unit does?
In a nutshell, the Greentech Environmental pureAir 500 is an ion generator that produces releases ozone as a byproduct. The unit has 3 running modes, and the last one called "Away mode" is the most powerful. However, you can't stay in the room when it's on as too much ozone is released into the air and it is dangerous to your health and the health of your pets.
Suitable Room Size for Greentech Environmental pureAir 500 Air Purifier
Now, does this air purifier lives up to the expectations? Well, it lived up for mine, that's for sure! 🙂
When I first saw it, I knew that it probably won't be effective against odors and air pollution in large rooms – and I was right. It's just too small and doesn't have enough power – come on, 10 Watts is nothing! And the manufacturer doesn't say anything about CADR for obvious reasons – it's just too low.
In my tests – and other people saying the same in their reviews – this air purifier does the job in small rooms, 200 – 300 square feet in size. But it performs the best when used in the "Away mode" – but again, you have to leave the room otherwise you'd be too exposed to ozone.
Maintenance Costs
Replacement Filters: $15 per year.
Electricity Costs: pennies, just ~0,5$ per month running 12 hours per day on maximum speed. Use our Energy Consumption Calculator to estimate electricity usage and costs of the air purifier based on your local electricity rates.
Total Yearly Costs: $20.
Pros & Cons
The Bad
Overpriced
Air filter isn't a HEPA-one
Releases harmful ozone
Wrapping Up
As you probably guessed, I cannot recommend this air purifier. It has similar problems to the Greentech GT 3000 – too overpriced and too dangerous for health. this is not what you should expect from a good air purifier. The Greentech Environmental pureAir 500 is more of an ozone generator – but the best ozone generators are powerful, cover large spaces and can remove even the heaviest smells (tobacco, grease, etc.).
If you want to have a HEPA air purifier in your home and keep doing what you doing in the room without having to leave it or exposing yourself to the harmful ozone, check out the following air purifiers for 600 sq. ft. and 800 sq. ft. rooms. They come with true HEPA filters that can capture the tiniest particles of dust, allergens, bacteria and odors.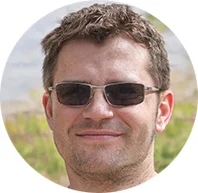 My name is Alex Evans and I own this website. I have been in air purifier industry for several years now and nowadays I write about air purifiers, their features, benefits and downsides. Cheers!