Last updated on July 11th, 2022
New Comfort air purifier is an interesting air clear. It has UV-C light to kill viruses and bacteria, washable HEPA filter and ozone generator to remove odors and freshen the indoor air. Continue reading this review if you want to know more about 6-stage New Comfort CA3500 air purifier & ionizer.
Specifications
| | |
| --- | --- |
| Model | New Comfort CA3500 |
| Space Coverage | 3500 square feet (calculate ACH for your room) |
| Viruses Removal | 99.99% |
| Bacteria Removal | 99.98% |
| Mold Removal | 97.03% |
| HEPA filter | Removes 99.97% particles down to 0.3 micron |
| Ion Output | ≥5 x 106cm³ (or ≥ 2.5 x 106/cm³) |
| Filtration Technology | 6-stage air filtration technology |
| Filter Life | 6 months (Replacement HEPA Filter) |
| Filter Size | 7.75″ x 6.5″ x 0.5″ |
| UVC bulb Life | 6 months (Replacement Price) |
| CADR Rating | 106 CFM |
| Speed Settings | 3 (Low, Medium, High) |
| Noise Level | 35 – 50 dB |
| Power | 40 Watt (How much Electricity will it use?) |
| Weight | 14.5 pounds |
| Dimensions (W x D x H) | 9″ x 11″ x 12″ |
| Warranty | 3 years on unit |
My New Comfort Air Purifier Review
What's in the Box
New Comfort Unit
1 HEPA filter
1 Carbon filter
1 Pre-filter
1 Tio2 photo catalytic filter
1 UVC Bulb
2 Ozone plates
User Manual
Review
There are no app or a remote to control the air purifier, all controls are located at the front panel:
Radio button on the left controls ozone generator on the New Comfort. Selector on the right turns on/off UV light and controls the speed of the fan. Power swithc is located at the back.
New Comfort air purifier has several interesting features that conventional air cleaners usually lack. Let's take a closer look at them.
UV-C Light
The major selling point of the New Comfort air purifier is its UVC bulb. Such bulbs are known to kill the tiniest viruses and bacteria exposing them to Ultraviolet germicidal radiation. Even Coronavirus is affected by this light as shown in this FDA study. UV-C radiation is a proven technology and have been used in hospitals to disinfect air for decades now.
Obviously, there is no guarantee that using UV-C light at home will prevent you from catching any virus. But it will definitely improve the general air quality and remove majority of bacteria and viruses that are floating around.
The UVC bulb needs replacement on average every 12 months.
HEPA Air Filter
UV-C Light is accompanied by the washable HEPA air filter. It is designed to catch particles down to 0.3 micron at 99.97% efficiency. The primary example of such particles would be dust particulates. This filter is expendable, it runs from 6 to 12 months before it has to be replaced.
Along with HEPA filter, the New Comfort air purifier employs the permanent washable pre-filter and an additional Carbon filter. Pre-filter catches large particles (hair is the best example) whereas Carbon filter reduces odors. The latter also requires replacement every 6 to 12 months, depending on how often you run the air purifier.
Ozone Generation
New Comfort has also built-in ozone generator inside the unit. It can be turned off when necessary.
The primary reason people use ozone generators is to remove smells (kitchen, bathroom odors, acrylic smells, etc.) and freshen up the air. After running the ozone generator for a few hours any smell disappears in the whole house.
New Comfort requires ozone plates to be installed before it can start generation ozone. The unit comes with 2 plates; they usually expire in 1 year or so.
Beware though, New Comfort isn't passed California's CARB regulations and excessive ozone emission might be harmful for people with severe breathing conditions.
Suitable Room Size for New Comfort Air Purifier
Despite New Comfort's claim the their air purifier & ozone generator covers 3000 square feet of space, the real coverage depends. When it comes to viruses, bacteria and ozone generation, this air cleaner is works extremely good as it delivers on the promises.
But when it comes to particulates like dust, pollen and others, that's where the New Comfort shows it's weakness. The primary reason for that is low airflow which equals only 106 CFM. CFM means how much of air measured in cubic feet passes through air filter and gets cleaned along the way.
With this number in numb let's take a look at what room coverage you can expect from the New Comfort air purifier:
| | | |
| --- | --- | --- |
| Room size | How long it takes to clean room | ACH |
| 100 sq. ft. | 8 minutes | 8 |
| 160 sq. ft. | 12 minutes | 5 |
| 200 sq. ft. | 15 minutes | 4 |
| 400 sq. ft. | 30 minutes | 2 |
| 3000 sq. ft. | 200 minutes | 0.3 |
For your reference, ACH means air changes per hour. If you suffer from allergies or have any breathing conditions, then 4 air changes per hour is a bare minimum you should aim for while looking for an air purifier. As you can see from the table above, when it comes to this metric, New Comfort is definitely is not the one you should buy.
By the way, you may calculate ACH for your space on this page.
If allergies your major concert then better take a look at the Tracs UV air purifiers: they not only employ UVC light to kill viruses and bacteria but are also very efficient in capturing odors and removing chemicals and dangerous particles from the air without releasing ozone.
Maintenance Costs
Replacement Filters:
~$35 every 6 months for washable New Comfort HEPA filter (check availability).
~$30 for a new Carbon filter every 6 months (check availability).
Replacement Ozone Plates: ~$26 every year (check availability).
Replacement Bulb: ~$24 every 12 months (check availability).
Electricity Costs: ~$2 per month running 12 hours per day on maximum speed. Use our Energy Consumption Calculator to estimate electricity usage and costs of the New Comfort air purifier based on your local electricity rates.
Total Yearly Costs: ~$205 per year.
Pros & Cons
The Good
Washable filters
UV-C Light kills viruses and bacteria
Freshens air
Price
The Bad
Low Airflow
High maintenance costs
FAQs
How to use New Comfort air purifier?
Plug it in, and set the power switch to ON. You can manually select one of three speeds for the fan inside the unit. Additionally, ozone generator (O3) can be turned on as well if you want to remove odors from your house.
How to clean New Comfort air filters?
Scope down the filters with a vacuum cleaner first. Then run the filter underneath warm water a couple times on each side. Do this until the water is clear after washing the filters. Make sure the filters dry completely before you re-enter them into the air purifier.
Wrapping Up
New Comfort is definitely an interesting purifier that worth investing into, but it's not for everyone. Given that it's main feature is to generate ozone, it may be harmful for you health if you have asthma or any other breathing conditions. In this case I recommend previously mentioned Tracs UV air purifiers: they are durable, US-made air cleaners that use medical-grade HEPA air filters which do not require replacements so often. On top of that they come with 5-year warranty.
Another downside of this air purifier is it's high maintenance costs. New Comfort filter replacements, bulb, ozone plates and electricity bills add up to over $200 per year. So if the initial price may seem too good to be true, in the long-term this air cleaner isn't cheap.
If you major concern is Coronavirus or any other disease and you don't care much about ozone, then New Comfort is definitely worth it. Just keep in mind that it's not quiet (it produces 35 decibels at the lowest setting) and lights might be irritating if you are intended to put it into your bedroom. I'd recommend putting it into a living room as that's where it becomes the most effective air cleaner without a downside.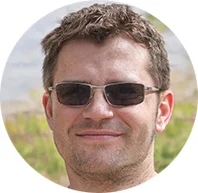 My name is Alex Evans and I own this website. I have been in air purifier industry for several years now and nowadays I write about air purifiers, their features, benefits and downsides. Cheers!