Last updated on January 1st, 2023
Not so long ago I've stumbled upon the Greenote air purifier. The advertised space coverage of 430 sq. ft. got my attention, so some time later I've decided to give it a shot.
Was this venture worth the money? Is Greenote air purifier a reliable air cleaner or it's another cheaply made Chinese product that doesn't work? Find out in this review!
Specifications
| | |
| --- | --- |
| Model | AP10 |
| Space Coverage | 430 square feet (advertised) |
| Particles Removal | 99.97% at 0.3 micron |
| Filtration Technology | 3-stage air filtration technology |
| Filter Life | 6 months (Replacement Filter) |
| Filter Size | 6.61″ x 6.61″ x 5″ |
| Airflow | 287 CFM |
| Speed Settings | 4 |
| Sleep Mode | |
| Noise Level | 22 – 55 dB |
| Power | 65 Watt (How much Electricity will it use?) |
| Energy Star Certified | |
| Weight | 5.44 pounds |
| Dimensions (L x W x H) | 7.68″ x 9.25″ x 14.37″ |
| Warranty | 2 years on unit |
My Greenote Air Purifier Review
What's in the Box
Greenote air purifier
True HEPA H13 filter
AC Adapter
User Manual
Warranty Card
Review
Greenote is easy-in-use air purifier, that's for sure. It doesn't have any smart functions; this is how control deck located at the top of the unit looks like:
Power button.
Speed selector: Low, Medium, High. Lines illuminate depending on a selected speed.
Timer with 2H, 4H or 8H.
Filter indicator. Illuminates when the filter has worn out and needs a replacement.
Turn on/off Sleep mode. In this mode air purifier is producing only 22dBA of sound.
So in regard to controls & features Greenote offers nothing fancy, just basic functionality.
What about true HEPA H13 filter? The seller claims it's designed by Japanese company Toray that specializes in chemistry of different kinds: synthetic, polymer and bio. But to me it looks like a standard 3-in-1 HEPA air filter manufactured in China for modern air purifiers with 360° air intake.
Suitable Room Size for Greenote Air Purifier
Greenote CADR isn't specified anywhere, but good that seller has provided information of how many times it is capable of cleaning air in 430ft² which is 5 times per hour. Using this CADR calculator we can determine Greenote airflow – 287 cubic feet per minute. Let's use it as a CADR rating:
| | | |
| --- | --- | --- |
| Room size | How long it takes to clean room | ACH |
| 270 sq. ft. | 8 minutes | 8 |
| 430 sq. ft. | 12 minutes | 5 |
| 515 sq. ft. | 15 minutes | 4 |
Looks good right? But here's one trick: airflow doesn't always equals the ability of air purifier to clean smoke, pollen, dust and other airborne pollutants. Yes, the unit can circulate air in a room, but it will clean just a part of the air that passes through the filters.
And the trick with Greenote is that it didn't went through any independent testing like AHAM. The 3-in-1 air filter inside the unit is very small: 6.61″ x 6.61″ x 5″. Compare that with the gigantic filter on Air Health Skye (great air purifier by the way, recommend) which measures 13.5″ x 10″ x 10″ and has passed all independent tests.
What I mean by that? The large Air Health Skye filter has AHAM-Verifide CADR rating of ~290 sq. ft. with the filter twice the size of Greenote's. Under no circumstances the Greenote air purifier is going to have CADR rating of 287 CFM, more like 130 – 140 at best.
With all these in mind let's use 130 CFM as Greenote CADR rating:
| | | |
| --- | --- | --- |
| Room size | How long it takes to clean room | ACH |
| 122 sq. ft. | 8 minutes | 8 |
| 195 sq. ft. | 12 minutes | 5 |
| 244 sq. ft. | 15 minutes | 4 |
As you can see now, the real room coverage of Greenote air purifier is not really 430 square feet, but closer to 200 sq. ft.
Maintenance Costs
Replacement Filters: ~$30 every 6 months (check availability)
Electricity Costs: ~$3 per month running 12 hours per day on maximum speed. Use our Energy Consumption Calculator to estimate electricity usage and costs of the air purifier based on your local electricity rates.
Total Yearly Costs: ~$96.
Pros & Cons
The Good
Sleep Mode
Cheap replacement filters
The Bad
Small filter
Not the best in terms of energy consumption
Cheap materials
FAQs
Will it help me with allergies?
I would recommend getting more powerful air purifier than Greenote when it comes to allergies. Previously mentioned Air Health Skye is good, IQAir HealthPro is also good, but it costs more.
Do I have to replace all filters in Greenote every 6 months or just one?
Greenote replacement filter has 3 layers (pre-filter, HEPA H13 and Carbon) that cannot be detached from one another. The replacement filter includes all layers.
Wrapping Up The Review
I've put Greenote air purifier in my small (≤ 200 sq. ft.) bedroom and run it for a few days, occasionally lighting up a cigarette to see how it removes smoke. It did remove some of the smell after one hour or so, but I could still feel the light presence of it in the air. Only after several hours the smoke disappeared completely. There were also less dust all around visibly.
Mind you, the air purifier was running at the maximum speed at which it produces quite a lot of sound. I could've run it at a Medium speed, but that would require even more time to clean the air.
Wrapping up this review, I can't say that Greenote air purifier is the best for the price, definitely not. If you need an air cleaner for a small room, there plenty of cheap Germ Guardian or Levoit air purifiers that offer a wide selection of products starting at $50. And these companies have been present for years on the market, they wont disappear one day leaving you without any filter replacement.
I've seen people were saying in their reviews that their units didn't power up. I didn't have this problem with my purifier, but I only used it for a few days. The warranty card says 2 years, but who is going to fix the broken unit if the company vanishes all of a sudden?
All in all, there are better alternatives for Greenote air purifier on the market.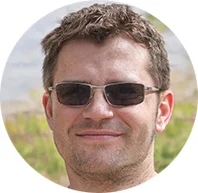 My name is Alex Evans and I own this website. I have been in air purifier industry for several years now and nowadays I write about air purifiers, their features, benefits and downsides. Cheers!