Last updated on June 13th, 2022
OdorStop has been selling their 5-stage UV air purifier with HEPA H13 filter for years now. It's not the most popular air cleaner out there, but it has its pros and cons. Let's see what it offers for the price and whether you should buy it or not.
Specifications
| | |
| --- | --- |
| Model | OSAP5BW |
| Space Coverage | 1000 square feet (advertised) |
| Particles Removal | 99.97% down to 0.3 micron |
| Filtration Technology | 5-stage air filtration technology |
| Filter Life | 3 months (Replacement Filter) |
| CADR Ratings | 160 CFM |
| Speed Settings | 5 |
| Auto Mode | |
| Sleep Mode | |
| Particle Sensor | |
| Noise Level | ~54 dB |
| Power | 50 Watt (How much Electricity will it use?) |
| Weight | 4 pounds |
| Dimensions (R x H) | 8″ x 13″ |
| Warranty | 3 years on unit |
My OdorStop Air Purifier Review
What's in the Box
OdorStop OSAP5BW air purifier
3-in-1 HEPA Filter (installed)
User Manual
Review
In this review I'm going to break down all features that OdorStop has.
5 Air Cleaning Stages
3-in-1 HEPA filter. This is pretty standard for the industry nowadays. The 3-in-1 air filter includes HEPA H13 filter for fine particles, pre-filter for larger particles and Activated Carbon filter to capture odors (cat litter, pets, smoke and so on).
UV Light. This is something I really like to have if I'm concerned about viruses. This light disinfects the air and inactivates viruses in the air.
TiO2. Titanium dioxide helps UV Light to break down viruses and bacteria.
Basically, the OdorStop 5-stage air purifier not only targets harmful particles and chemicals in the air, but also can deactivate viruses and bacteria.
360° air intake. This is not something unique anymore. Majority of today's air purifiers starting from $50 to several hundred USD have this feature.
Another Functions
Auto mode. The OdorStop air purifier for home is equipped with a particle sensor. This sensor tracks down the amount of particles present in the air and based on this information switches between speeds 1 and 5.
Sleep mode. Produces lower noise during night.
Child Lock. Locks the display so a kid or pet wont be able to change settings.
Suitable Room Size for OdorStop Air Purifier
Now onto the not so good stuff. OdorStop claims that their air purifier can clean air in up to 1000 square feet rooms, but that's an exaggeration to say the least. Their CADR rating stands at 160 CFM which is good for the price, but too low to do anything is large rooms up to 1000 sq. ft.
Thing is, the easiest way to see how effective an air purifier is is to calculate air changes per hour. Here is table that does exactly this in regards to the OdorStop air purifier:
| | | |
| --- | --- | --- |
| Room size (8 ft. ceilings) | How long it takes to clean room | ACH |
| 150 sq. ft. | 8 minutes | 8 |
| 200 sq. ft. | 10 minutes | 6 |
| 250 sq. ft. | 12 minutes | 4.8 |
| 300 sq. ft. | 15 minutes | 4 |
| 400 sq. ft. | 20 minutes | 3 |
| 600 sq. ft. | 30 minutes | 2 |
Under normal conditions, 2-3 air changes is enough for bedrooms and living spaces. If you have allergies and/or asthma, you should look for an air purifier that provides at least 4-5 ACH. For heavy smokers recommended ACH stands at 8.
As you can see yourself, OdorStop is the best for rooms under 300 sq. ft. and it somewhat good for rooms under 600 sq. ft. In any space over that size OdorStop is useless. Or you have to buy another unit to put it in another corner to cover the entire room.
If you want to know more about air changes per hour, go to the ACH calculator & recommendations page.
Maintenance Costs
Replacement Filters: ~$35 every 3 months for 3-in-1 HEPA replacement filter OSAP5FIL (check availability).
Electricity Costs: ~$2,5 per month running 12 hours per day on maximum speed. Use our Energy Consumption Calculator to estimate electricity usage and costs of the air purifier based on your local electricity rates.
Total Yearly Costs: $170.
Pros & Cons
The Good
5-stage air filtration
Filters out smells, fine particles and inactivates viruses & bacteria
Child Lock
The Bad
High maintenance costs
Not eligible for large rooms due to low CADR
FAQs
Does the OdorStop air purifier produce ozone?
Yes, it does produce ozone and isn't available in California.
What about the noise levels, is the OdorStop noisy?
On level 1 and 2 it's quiet, maximum 30 decibels that equal to soft music or whispering. The maximum speed is noisy, higher than average home sound at about 52-54 dBA.
Wrapping Up
Despite the OdorStop has been launched years ago, it's still good. The price they ask for their 5-stage HEPA air purifier is fair: compared with the popular industry-leading Winix, Honeywell, Coway and Levoit air purifiers it offers either the same features or even more.
You shouldn't expect the OdorStop to clean large rooms, however. Despite company's claims it can purify air in 1000 square feet spaces it cannot do it: the filter is too small and fan isn't powerful enough to circulate so much air and pass it through the filter. You either have to buy 2 or 3 units, or go with the more powerful machines.
These machines include Airdog, Alen or Tracs air purifiers. The first one is interesting because it features washable filters which save up a crazy amount of money in the long term and the latter is an excellent US-made air purifier with a high-quality hospital grade HEPA filter.
Also take into account that OdorStop filters are quite fast to wear out. On the one hand it's good as it  proves the air purifier is working, on the other it increases maintenance costs: in the first year be ready to spend over $200 on replacement filters and electricity.
Other than that, OdorStop HEPA air purifier is definitely a good air cleaner for small rooms under 300 sq. ft.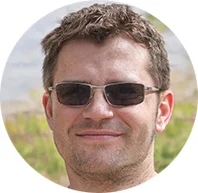 My name is Alex Evans and I own this website. I have been in air purifier industry for several years now and nowadays I write about air purifiers, their features, benefits and downsides. Cheers!