Last updated on October 11th, 2022
Pomoron MJH3 is the latest release of Pomoron air purifiers. It become available on the market in late March – yearly April 2022. I haven't got my hands on the previous Pomoron releases, but this time I decided to give it a chance.
Here's my review of the Pomoron air purifier, written shortly after I bought one for my home.
Specifications
| | |
| --- | --- |
| Space Coverage | 248 square feet |
| Particles Removal | 99.97% at 0.3 micron |
| Filtration Technology | 4-stage air filtration technology |
| Filter Life | 2 – 4 months (Replacement Filter) |
| Filter Size & Weight | 7.09″ x 7.09″ x 7.87″;  1.1 pounds |
| CADR Ratings | 165 CFM |
| Speed Settings | 4 |
| Sleep Mode | |
| Noise Level | 23 – 55 dB |
| Power | 40 Watt (How much Electricity will it use?) |
| Weight | 5.9 pounds |
| Dimensions (L x W x H) | 8.3″ x 8.3″ x 14.4″ |
| Warranty | 1 year on unit |
My Pomoron Air Purifier Review
What's in the Box
Pomoron MJH3 air purifier
1 air filter
User manual
Review
After getting my hands on this air purifier (I decided to go with a black color), I was able to get it to work in a matter of minutes. It comes with an air filter, so I quickly put it inside the unit, powered it up and selected the first (lowest) speed to see how it works in my small bedroom and let it run for an hour or so. My bedroom is about 200 square feet, so based on the Pomoron specs, it shouldn't be a problem to clean air in an area of this size.
After getting back the air did felt better, more fresh I should say. Visually there were less dust all around. So the Pomoron does the job in small rooms, that's for sure. I should also mention that it did keep the noise levels extremely low at around 23 – 25 decibels.
But what about larger rooms? In my large living room I have put the air purifier to work for one hour running at the lowest speed. However – and this wasn't a surprise for me – at the lowest speed it didn't manage to do anything due to the lack of power. After selecting the maximum speed and setting up the timer for 5 hours (8, 12 and 24 hours are also available) my Pomoron produced quite a lot of noise reaching 55 – 57 decibels at some time.
But did it manage to clean the air? I kept it running for 5 hours at a maximum speed and yes, the air quality did improve. However, it gets loud in the turbo speed mode and if you are looking for an air purifier that can clean air in larger rooms without much noise you should look elsewhere. Rabbit air purifiers are powerful and silent, for example.
The last thing I wanted to mention is the cleaning stages. The Pomoron employs one HEPA H13 air filter that includes:
pre-filter
antibacterial layer
H13 air filter layer
Activated Carbon layer
With all the things combined, it can deal with various airborne pollutants (dust in my case) and odors. I used it in a place where my dog likes to be, and it did remove the smell.
Suitable Room Size for Pomoron Air Purifier
AS I mentioned before, the Pomoron air purifier is better to use in a small rooms. It is also backed up by its CADR rating of 165 CFM. Take a look at the table below – it provides an estimated of how many air changes per hour (ACH) this air purifier can do. It will come in handy for people who suffer from allergies and such, as they need to look at air purifiers that can provide at least 4 air changes per hour in the room.
| | | |
| --- | --- | --- |
| Room size | How long it takes to clean room | ACH |
| 154 sq. ft. | 8 minutes | 8 |
| 206 sq. ft. | 10 minutes | 6 |
| 248 sq. ft. | 12 minutes | 5 |
| 310 sq. ft. | 15 minutes | 4 |
| 620 sq. ft. | 30 minutes | 2 |
Maintenance Costs
Replacement Filters: ~$28 every 2 to 4 months for a replacement HEPA filter (check availability).
Electricity Costs: ~$2 per month running 12 hours per day on maximum speed. Use our Energy Consumption Calculator to estimate electricity usage and costs of the air purifier based on your local electricity rates.
Total Yearly Costs: $108 – $136.
Pros & Cons
The Good
Removes dust and odors
At the lowest speed produces a tiny amount of noise
Works great for small bedrooms
FAQs
How often do I change the filter?
Pomoron filters have a lifespan of 2 to 4 months. The air purifier has the filter indicator – it will light red when time comes to replace the filter.
Does it produce ozone?
No, the Pomoron does not produce ozone.
Wrapping Up
So, is Pomoron air purifier any good? Considering the price and the results I had and shared with you here, I'd say yes. Air purifiers under $100 aren't designed for large room, no matter what marketers put in the title. They mostly range in additional features, like auto mode or/and app support. The Pomoron has neither of it, but it in no way affects its ability to clean the air. If you really need these functions for the same or a little higher price, take a look at Levoit air purifiers.
However, as I already mentioned earlier, you should take this air cleaner only for your bedroom and other small places. In larger rooms it will produce a noticeable noise and the overall cleaning capabilities are greatly reduced in larger areas. IF you are looking for an air purifier for larger spaces , take a look at my best picks for 300 sq. ft., 500 sq. ft. and 600 sq. ft.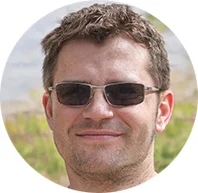 My name is Alex Evans and I own this website. I have been in air purifier industry for several years now and nowadays I write about air purifiers, their features, benefits and downsides. Cheers!