Last updated on May 29th, 2022
Welcome to my guide on Winix air purifier red light. It has two meanings and I explain them here.
Winix Air Quality Indicator Stays Red
The red color on the Winix air quality indicator means the sensor detected a lot of air pollution. It's ok, just let the air purifier run at a high speed for some time to clean the air. After that, the air quality indicator will change the color from red to Amber or Blue. Here's the full Winix color codes chart. It is suitable for Winix C545, PlasmaWave 5500-2, 6300-2 and other Winix-made cleaners.
If the Winix air quality indicator stays red for quite some time, turn off Auto mode, set the speed at a maximum level, and let it run for a few hours. If the issue proceeds, contact Winix customer support as in this case an air purifier sensor is probably malfunctioning. Sometimes turning an air purifier on/off can fix it, but you don't want to have a malfunctioning air quality indicator and it's better to return the broken unit before it's too late.
Winix Red Light Blinking
If you see that one day an indicator on top of the unit started blinking red – don't worry. It simply means that the air filter has worn out and you need to change it.
Replace your old air filter with a new one and then press and hold the reset button to turn the flashing light off. See my guide on how to reset the filter light on Winix air purifiers.
When you reset the filter indicator, the red light stops flashing and you can use your Winix air purifier once again.
I hope this quick guide was helpful for you.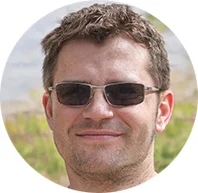 My name is Alex Evans and I own this website. I have been in air purifier industry for several years now and nowadays I write about air purifiers, their features, benefits and downsides. Cheers!