The Alen T500 Tower air purifier is one of the best compact air purifiers suitable for medium-sized homes, study rooms, living rooms, bedrooms, offices, and resting lounges. It can capture airborne pollutants so that your space is full of clean air. It's capable of seizing 95% of all airborne contaminants in your room. Besides, you can quickly move the air purifier from one room to another since it's very portable. It's designed to have a low power consumption rate.
Are you constantly trying to eliminate foul odor from your home? Do you wish to breathe fresh air free of allergic causing pollutants? If your answer is yes, then you should consider getting the Alen T500 Tower air purifier. This review will let you in on the details you need to consider before placing that order. Let's dive right in!
The Good
It has an excellent design which fits nicely in most spaces.
Its energy-efficient and saves energy.
Easy to place the cleaner
The product comes with a lifetime warranty
It has the best heap-filters, which last longer, and can be customized to your needs.
Washable pre-filters
It comes with filter options which are a perfect fit.
The Bad
It isn't quiet when running.
It cleans a smaller room area.
It becomes expensive to replace the filters
It has manual controls which are not as effective as intelligent sensors.
Features
Cost  
One of the best features of the Alen T 500 is its affordability. There are similar air cleaners in the market with almost the same features and functionality that cost more. So, for a high-quality product that cleans you're your whole home, the pricing is perfect. You can get it at a lower price if you use your promo code or coupon.
Warranty
A major selling point for this product is its lifetime warranty. Based on the product's competitive pricing, a lifetime warranty is something you would love. Unfortunately, similar products within the same price range do not come with a lifelong warranty. You, therefore, need to grab this opportunity and get your air cleaner.
Design

The Alen T 500 comes with an intuitive design. It has a minimalistic and classy design that matches the earlier air purifier designs, which also fit most of your interiors because it comes in cool colors.
Additionally, it's portable and compact. You can carry it for your camping trips at any given time. It stands at 22 inches and weighs 9 lbs. Nothing will stop you from packing it in that travel bag and hitting the road. What's more, it can easily fit in smaller rooms which are not spacious.
Performance
Another feature that many homeowners would love is its average power usage. It consumes an average of 53 watts. Compared to other brands that consume up to 84 watts, you will indeed be relieved with the T 500 power consumption. If you leave your air purifier on for eight hours a day, you will spend an average of $ 20 per year.
Usability
Don't we all love devices that are easy to use? The T 500 is easy to set up in just a few minutes. In addition, the controls are adjustable to ensure the air quality in a room is good.
HEPA Filter
Another amazing feature of the Alen T500 Tower air purifier is its 3-stage air filtration system which gives it the ability to capture a variety of airborne pollutants. It can seize bad smells, allergens, chemical contaminants, and microbes. So say goodbye to coughs, sneezing due to the high concentration of mold spores, pollen, and dust, and say hello to a transformed space with fresh air. The high-quality HEPA filter captures a high concentration of airborne contaminants. It has four filters which ensure that the air is clean and fresh. Its filters are designed to meet different cleaning needs.
Coverage
The T500 cleans a small room coverage. It covers around 500 square feet. So if your home is more extensive or 500 square feet, the air cleaner will clean your whole home just once per hour. However, with 121 smoke and 159 pollen (cfm), it's not adequate for keeping the air in your home clean enough.
Noise Level
As it cleans your room, the T500 air purifier has a high noise level. When it's at its lowest speed, it produces 42db However, when it switched to its highest level, it produces 56db. To ensure a quiet environment, you can vary the cleaning methods to ensure low noise levels and clean air.
Filter replacement
For your filter to work efficiently, you need to replace it periodically. Unfortunately, replacing filters becomes expensive over time. The T500 air purifier has a replaceable and disposable filter. You will spend close to $30 every year replacing the filter. In addition, if the air filters are not returned from time to time, the filter will not work efficiently to clean the air in your home.
Verdict
The T500 Tower air Purifier performs well, and it's very affordable. However, its noise level is a bit high. It is one of the best cleaners and the lifetime warranty is something commendable.
Even though the air purifier lacks some modern features such as intelligent connectivity and intelligent sensor, which are standard features for other models within the same price range, it has excellent features. For instance, the LED indicator and the Timer are essential in the replacement of filters. While the elements are crucial, they are what you need to have the air purifier fully operational.
Manual: How to Use Alen T500
Keep it away from the Walls in a Flat Place
If you have never used an air purifier and are wondering how to use it, you need to know that the positioning of an air purifier is critical. Cleaners have front air intakes and side air intakes, and the outlets are located at the top. So, it would help if you placed your air purifier in a location that blocks air intake or any outlet. It should be 15cms away from walls and objects. At this position, things will not stop air intake. Instead, it absorbs all allergens and microorganisms for a cleaner room.
The location should also not be humid for efficient cleaning.
Ensure the windows and doors are closed
Air purifiers are designed for indoor use. First, ensure all the doors and windows are closed. Ventilation helps in the removal of pollutants indoors and stale air. At the same time, leaving the doors and windows open introduces new pollutants such as smoke, dust, and pollen. Or it can remove clean air.
Always remember that air purifiers work efficiently in closed spaces. It removes microorganisms and allergens efficiently and faster. Lastly, it distributes air in closed areas ensuring that you have an adequate supply.
Keep your air purifier on at all times
The air purifier should run at all times. However, for energy efficiency, ensure it's at a slower speed. In addition, your air purifier may come with auto mode features that provide high-quality air in your whole home.
If sensors detect that there's a high level of pollutants, the speed will automatically increase. The Alen T500 tower air purifier has four fan speeds which work faster at a higher level. Even at a high rate, it consumes less power and saves on your electricity bill.
Ensure that the filters are replaced regularly
Filtration systems have two to five filters. The T500 tower comes with a pre-filter which can be cleaned and replaced after a year. If they are well cleaned, they offer efficiency at all times.
Suppose the filter status indicator turns red; it's time to replace the filter. It's easy to replace the filter since the guidelines are usually handed to you, including your purchase price. You should regularly wash the cleaner's body to wipe acceptable debris or dust using a microfiber cloth. Do not use a wet cloth since it can cause electrical shocks on the cleaner.
How to Maintain
Just like an air conditioner, an air purifier needs to be maintained over time. One advantage of an air cleaner is that it's not complicated to maintain, you don't need a technician to clean. Instead, follow the above simple steps to clean your air purifier all by yourself.
Turn off the air purifier
You'll need to turn off your air purifier and disconnect it from the power socket to clean it effectively and avoid power shocks.
Dismantle all the components
Open the air purifier and check out the parts. If you can pull to bits the air filter, move to the next step.
Clean the HEPA Filter.
The HEPA filters are designed to seize the smallest pollutants and trap them permanently. Therefore, the ability to trap those pollutants such as smoke, pollen, and dust effectively makes the HEPA filter the most critical component of a filter-embedded air purifier.
You need to clean this element carefully since it's costly to replace. Keeping it clear and clean ensures proper working for a long time and ensures durability without constant replacement. In addition, smart sensors provide that the system is monitored, and it alerts you when you need to change the filter. It also lets you know the time left to replace the filter.
Once you have cleaned the HEPA filter, you should also clean areas around it and the whole air cleaner. Thereafter, return the parts effectively to ensure it works appropriately.
Other general considerations on usage and maintenance include:
Ensure that you place your air filter in a clean spot always.
Regularly check the filter indicator to see when you need to change the filter.
Check the permanent filter every week.
Clean the permanent filters as often as once in three months
Use a dry cloth to clean inside an air purifier.
Turn off the air purifier before you unplug it.
Do not use detergents or solvents to clean an air purifier.
Do not place anything on top of an air purifier.
Wash pre-filters as regularly as you can.
Ensure the air purifier is placed in a position where it can clean the air quickly.
Always replace a worn-out filter with a new filter. A life indicator on the filter will alert you when to replace the old one.
Frequently Asked Questions
Will the air purifier make the air around my whole home dry?
You don't need to worry since air purifiers do not have dehumidifying factors. So it will not make the air dry. Humidity levels will remain the same in your home. It traps pollen, dust, and smoke particles by the use of micron air filters. If the air is dry in your home, get a humidifier that will improve the mood around your space. In addition, it will reduce nose bleeding cases.
My room is more than 350 sq. feet; can I still get the T 500 air purifier?
The efficiency levels of any air purifier depend on the air exchange per hour or the number of times within one hour when the air is completely replaced. If an air purifier exchanges six times per hour, it's very efficient. The T 500 can clean your room, but the rate will be lower. However, the rate will not drop to lower levels, so; you will still receive allergen-free and fresh breathable air. If your room is smaller, then the T 500 will efficiently clean your room.
Do I need an air purifier in every room?
Not at all. If you buy an air cleaner for every room, it will be costly. Again, your electricity bill will go up. Most cities are not heavily polluted, so an air purifier for every room is not necessary. If you must, consider getting air cleaners for rooms that primarily get odors, such as the bathroom, living room, and kitchen. Also, if a family member has a respiratory disorder, you can consider getting an air purifier in their room.
Should an air purifier run all the time?
Yes. This ensures the air purifier works efficiently. Air pollution occurs when air pollutants accumulate compounds and odors in the air around your home. To ensure clean air, you need to keep your air purifier running all the time.
If you need to cut down on your electricity costs, consider using natural methods to increase the air purifier's efficiency. It's also advisable to consistently run your air cleaner at low speed for low energy consumption. Other tricks you can use to ensure the air around your whole home are clean are to use non-toxic cleaning agents and cook with open windows.
You can also preset your air cleaner to increase the speed level if the air quality deteriorates in your home. In addition, the Alen T 500 Tower air purifier consumes less power which will not increase your electricity bill.
Do I go for a pre-configured air purifier or a customizable option?
If you already know the kind of air cleaner you need and the HEPA filters that will meet your needs, you can pick the customizable option which allows the air purifier to meet your exact specifications. Pre-configured air purifiers are designed to help you avoid compositing air filters from the ground. Configured options are designed with different needs in mind, such as pet odors, allergies that have specific additional filters, and air purifiers to fit the job. What is important is that you can customize the options and choose different panels to suit your needs.
Why would I need an air purifier?
You need an air purifier if the air quality is not good around your home. If you notice dump odor in your home, constant sneezing, allergic reaction to dust, and difficulty in breathing for occupants with conditions such as asthma, then it's time to get an air cleaner.
Do air purifiers use a lot of energy?
Well, it depends on the brand. In most cases, you will find energy-efficient air purifiers. Many brands have energy-saving standard which does not consume a lot of energy. As mentioned, vary the speed and use other natural ways to make the air around your home clean.
Should I sleep with my air purifier on?
Letting your air purifier run while you sleep is an excellent idea to help you have a peaceful sleep. It will clean the air around your bedroom by removing the pollen, dust, and other particles that cause air pollution; thus removing all contaminators from the air.
Do air purifiers offer value for money?
Yes. Most air purifiers have activated carbon filters that absorb pathogens, odors and remove gases that cause them from the air. We also have other air purifiers with a heavy-duty carbon filter, they are thicker but cost more. However, even with a high price tag, they offer you efficiency and fresh air at all times. In addition, there are also portable air purifiers.
Does the use of an air purifier bring about any specific side effects?
Some of the side effects of using an air purifier include coughing, shortness of breath, irritation, and exposure to risks of respiratory diseases. Ozone air purifiers are composed of ion generators referred to as ionizers. Such ions, when consumed over time, cause respiratory infections.
Alternatives
Honeywell HPA 300
Do you need an air purifier with a true HEPA filter? Do you need an air purifier that cleans a larger room quickly? If the answer is yes, you can consider the Honeywell air purifier.
At a slightly higher price, you get this cleaner which has a True HEPA filter. It also has four cleaning levels, including the Germ, allergen, Turbo, and generally clean. The Alen T500 has a less effective air purifier. On the other hand, the Honeywell HPA offers more efficiency. Its ability to capture 99.9% of microscopic allergens and trap 0.3 microns from the air ensures your whole home is clean.
Generally, your home will be free from certain airborne germs and reduced VOCs. If you prefer a gadget with better electronic control, then Honeywell HPA is a perfect fit. It comes with easy-to-use electronic controls. Unlike the Alen T500 Tower air purifier, which is a bit noisy, Honey well operates quietly. With five air changes per hour in a 456 ft. room, you have nothing but all smiles for an efficiently cleaned room. Lastly, it's also energy-efficient, its control panels are adjustable, and doctors also recommend it for those suffering from allergies.
Coway Mighty Air Purifier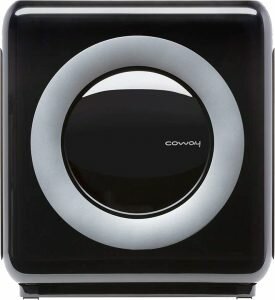 Unlike Alen T500, the Coway Mighty air purifier was specially designed for small rooms. It has a four-stage filtration system and can seize and remove 99.97% of particles. Besides, it's able to reduce fickle organic composites. It has an amazing sensor that communicates the quality of air in your room in rea-time. It also features a lifetime filter indicator and 3 stage fan speeds which can be regulated both manually and automatically. Similar to the Alen T500 tower, the Coway Mighty air purifier also has a lower power consumption with an Eco Mode which saves energy when no pollution is detected and is quiet during operation as compared to the Alen T500 Tower air purifier.
Winix 5500-2
Winix 5500 air purifier is yet another alternative to the Alen T500 tower air purifier. Similar to Alen T500, it comes with a True HEPA filter and a cleanable AOC Carbon filter from activated carbon for the elimination of domestic odors. An amazing feature that comes with this air purifier is the PlasmaWave which serves as a permanent filter to cautiously disintegrate allergens, pollutants, and odor without harmful ozone. Besides, it has an embedded smart sensor that evaluates the air within your room and automatically adjusts the fan to filter should the need arise. With a CADR of 360, the Winix 5500 air purifier cleans a smaller coverage as compared to the Alen T500 tower air filter.
Conclusion
If you need an air purifier that is well designed, portable, easy to use, and economical in terms of power consumption, then the Alen T500 is the perfect choice for you. You will not have a hard time setting it up. Moreover, the air filter is affordable and performs well. The T500 offers you value for money. It has a washable filter that traps large particles such as dust mites and pet hair; its second filter traps odors and eliminates tiny molecules.
Additionally, the air filter has ozone-safe ionizers which produce negative healthy ions that help to clump together small particles by using electrostatic energy for easier removal. You can be certain that all the pollen, spores, pet dander, and smoke will be removed from the air. It covers up to 500Sq feet which is the standard size of most homes. You will find it more compact than other models. You need to, however, clean it appropriately to ensure it works best. If there is a technical hitch under warranty, ensure that it's checked in time to avoid further damage.
On the other hand, the air cleaner does not clean a wider area. Therefore, if you have a bigger home, it may take longer to clean the whole area. In addition, the T500 does not perfectly give the true HEPA performance.
With our comprehensive review giving you all the details about the Alen T500 air purifier, we hope you'll be able to make an informed decision on whether or not it meets your specific needs.