Last updated on July 6th, 2022
Some time ago I reviewed older model made by Brondell, you may check the review here. Now it's time to see what the newer Aurabeat AG+ sanitizing air purifier (also known as Brondell Pro) is capable of.
In this review I'm going to take a look at its interesting air cleaning system, see what area it covers and does it really clean air from Coronavirus (SARS-CoV-2) and other viruses.
Specifications
| | |
| --- | --- |
| Space Coverage | up to 1,665 square feet (calculate ACH for your room) |
| Particles Removal | 99.97% at 0.3 micron |
| Filtration Technology | 5-stage air filtration technology |
| Filter Life | 8 months (Replacement Filter) |
| CADR Ratings | 221 CFM (Smoke, Pollen, Dust) |
| Speed Settings | 3 |
| Particles Sensor | |
| Auto Mode | |
| Sleep Mode | |
| Child Lock | |
| Noise Level | 35 – 62 dB |
| Power | 95 Watt (How much Electricity will it use?) |
| Weight | 19.2 pounds |
| Dimensions (L x W x H) | 15.4″ x 8.3″ x 24.7″ |
| Warranty | 3 years on unit |
My Aurabeat AG+ Air Purifier Review
What's in the Box
Aurabeat AG+ Sanitizing Air Purifier
Pre-Filter
HEPA H12 Filter
Nanocrystalline Air Filter
User Manual
Review
The Aurabeat air purifier is made from high-quality ABS plastic and is eligible for 3 year warranty. For comparison, for the same price you can get Tracs air purifier that would be made from durable steel and the manufacturer offers 5 year warranty for their machine.
At the same time Tracs doesn't offer 5-stage air filtration system which is the main reason people buy Brondell Pro. This system includes:
Large pre-filter. It makes great work at capturing large particles such as hair, dust, fiber. This filter also protects other internal filter from getting dirty, thus, prolonging their lifespan.
HEPA H12 filter. This is the major air filter installed in the Aurabeat sanitizing unit. The mission of the HEPA filter is to capture tiny particles including bacteria and mold, which are known as PM2.5 particles. The air purifier is equipped with a PM2.5 Air Quality Indicator that displays number of such particles in real time. Auto mode is also sets the fan speed based on a built-in PM2.5 sensor.
Usually air purifiers employ an Activated Carbon filter to catch odors, gases and VOCs. It is considered a standard filter for odor removal, but the Aurabeat air purifier isn't a standard one. To remove VOCs, gases and odors it features Nanocrystalline Filter.
What's the difference you would ask? To put it simply, to remove strong smell you have to have a powerful air purifier with high CADR ratings or several pounds of carbon put into a filter, and many air purifiers fail to do either of that. Nanocrystalline filter is made from polycrystalline material which are basically crystals. These crystals have higher density and are super small in size (~3-5 nanometers). The smaller their size is, the more of them can fit into a filter, making them great at absorbing different odors, gases and VOCs that otherwise would've passed through.
UV Lamp for air disinfection and sanitizing. Such lamps are used in hospitals and other facilities which require 100% clean air. The lamp also extends the filter life.
An ionizer. It generates negative ions that deactivate airborne bacteria. The ionizer generates a small amount of ozone (~0.005 ppm), and can be turned off at any moment.
Basically, the Aurabeat AG+ air purifier provides fill range of air cleaning techniques that are available on the market in 2022.
But does it clean the air? Very much so. The Brondell Pro was tested by MRIGlobal (leading non-commercial research institute founded in 1943) and it was revealed that 99.9% of Covid-19 virus particles are removed in a 538 sq. ft. space within 15 minutes. Here is a link to the full study. Incredible performance!
In another independent test performed by Swiss company SGS, 99.99% of H1N1 and H3N2 influenza viruses were removed from the air within one hour.
What Aurabeat Air Purifier Lacks
From my personal perspective, Aurabeat AG+ lacks two things:
A remote or an app support would be nice. For example, the portable Air Health Sky air purifier also offers great air cleaning with its high AHAM-Verified CADR rating and a 5-stage air purification system. Can definitely recommend it if your main concern is dust or pollen.
Another things that I dislike about the Brondell Pro is that it lacks speed control. There are only 3 options: Low, Medium, High. In Sleep mode lights are dimmed and the air purifier operates quietly and slowly. The air purifier is also lacking lights sensor, so you have to put it into this mode manually.
Apart from this minor inconveniences, the Aurabeat AG+ works greatly sanitizing the air, removing dangerous particles from the air and absorbing household odors.
Noise
Speaking about noise levels, Aurabeat does not produce irritating sounds at the low and medium speeds. But it's loud at a high speed, making a sound that can be compared to the noise produced by an air conditioning unit at 100 feet distance. It may be disturbing, but for the most part the air purifier doesn't have to run at such speed for the whole time: after setting it up let it run for a few hours in Auto mode and then set to Low after initial air pollution has been cleared up.
If noise is your main concern, then I'd recommend Rabbit air purifiers. They have a bunch of powerful air purifiers that are super quiet even at the highest speeds when compared to any other air cleaners on the market today.
Suitable Room Size for Aurabeat AG+ Air Purifier
With a CADR rating of 221 CFM airflow the Aurabeat air purifier has a decent space coverage. The room coverage is not super large (like Blueair Pro L or XL have to offer), and I wouldn't recommend it for rooms over 1,000 square feet.
| | | |
| --- | --- | --- |
| Room size | How long it takes to clean room | ACH (What's that?) |
| 200 sq. ft. | 8 minutes | 8 |
| 265 sq. ft. | 10 minutes | 6 |
| 334 sq. ft. | 12 minutes | 4.8 |
| 414 sq. ft. | 15 minutes | 4 |
| 530 sq. ft. | 20 minutes | 3 |
| 800 sq. ft. | 30 minutes | 2 |
Under normal conditions, ACH 2-3 is enough for bedrooms and living spaces. If you have allergies and/or asthma, you should look for air purifiers with air changes per minute rating around 4-5 or better.
If you want to calculate air changes per hour with Aurabeat AG+ air purifier, go to the ACH calculator & recommendations page.
Maintenance Costs
Replacement Filters: ~$150 for a filter replacement pack every 8 to 12 months (check availability). Includes pre-filter, HEPA H12 filter, Nanocrystalline filter.
Electricity Costs: ~$4,6 per month running 12 hours per day on maximum speed. Use our Energy Consumption Calculator to estimate electricity usage and costs of the Brondell Pro Aurabeat air purifier based on your local electricity rates.
Total Yearly Costs: ~$206 per year on average.
Pros & Cons
The Good
Proved to remove 99,99% of viruses and bacteria
Very effective in absorbing household odors
Large, high-quality filters
Longer filter lifespan
UV Lamp to disinfect the air
The Bad
Lacks remote or app control
Only 3 speeds
Wrapping Up
Brondell has make a great job at improving their previous model and releasing Aurabeat AG+. This air cleaner is definitely a great pick if your major concerns are viruses, Covid-19 in particular. Nowadays many air purifiers are advertised as a "virus killer", but only a few of them can do the job. Aurabeat AG+ is one of them.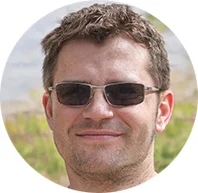 My name is Alex Evans and I own this website. I have been in air purifier industry for several years now and nowadays I write about air purifiers, their features, benefits and downsides. Cheers!